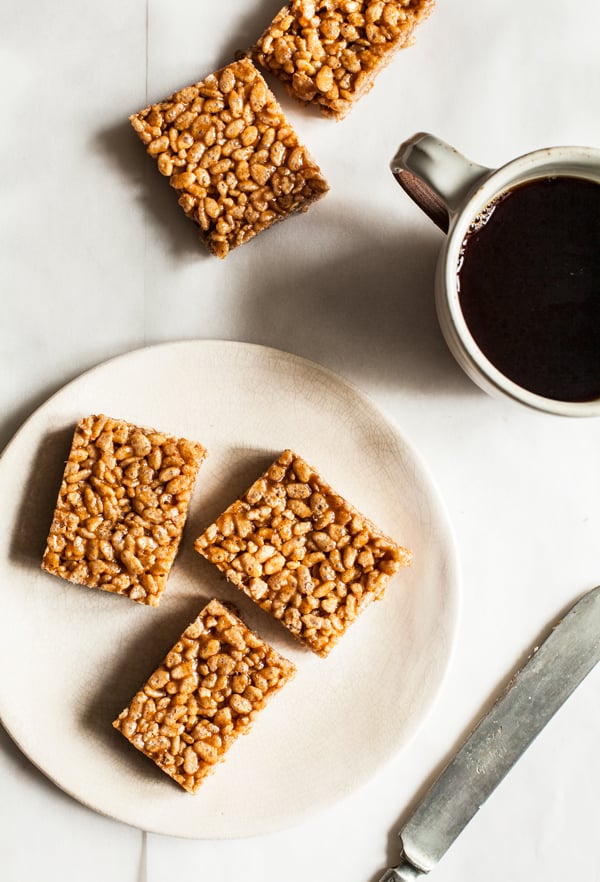 I've never been a cold cereal person. It's a little weird, I know. Even as a kid, when most of my friends ate milk and cereal every morning for breakfast, it wasn't my thing. Instead, I gravitated to the warm and starchy: cream of wheat, oatmeal, slices of toast or English muffins. Never something cold and crunchy.
This did't stop me, however, from enjoying sweet things made with and from cereal, rice crispy treats included. They were one of my favorite treats as a kid, and these vegan caramel cinnamon crispy treats are a grown up tribute to the sweet, sticky squares I remember so fondly.
What makes the squares just a little more adult-friendly, I think, is the heaviness of cinnamon, the generous pinch of sea salt, and the fact that, unlike the childhood treats I remember, these aren't aggressively sweet. I'm a firm believer that dessert should taste like dessert, sugar included. But I don't like when sweetness drowns out other flavors, like nuttiness or spice, and I love the balance in this recipe.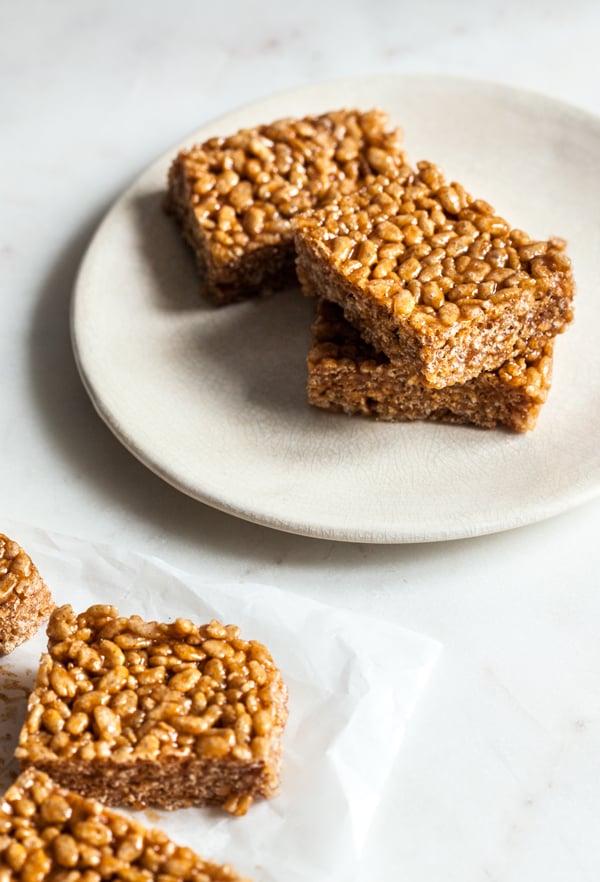 The crispies I'm using are also a little grown up–a wholesome departure from the rice crispies I remember. They're 100% whole grain crispy brown rice from Erewhon, a brand that makes simple breakfast cereals using whole grains as a base. I was introduced to the brand long before I wrote this post, because I happen to be living with a cereal lover.
Unlike me, Steven ate cereal for breakfast pretty much every day as a kid, and he continues to do so now. When we first started dating, I was amazed that he could enjoy the same thing daily: I have my standard rotation (breakfast tostadas, oats), but my love of breakfast tends to express itself as an interest in variety and trying new recipes.
Steven's does not. He loves breakfast, too, but part of what he loves is the reliability and constancy of the meal, the fact that–unless it's a weekend, and I'm making something special–he knows what he's going to eat, and he knows he'll like it. I can certainly understand the comfort and value of his ritual.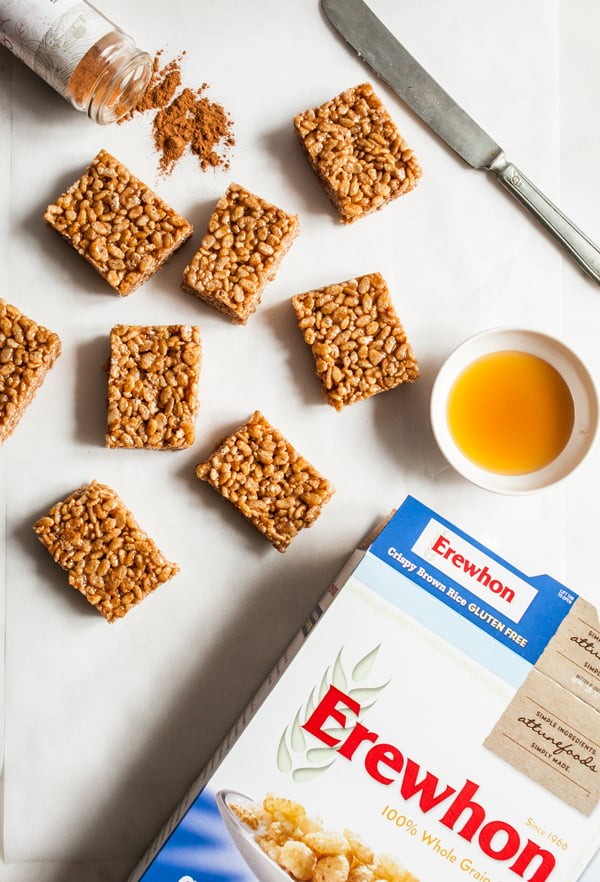 Steven introduced me to Erewhon crispies after finding them at our local health food store. He's also a fan of the brand's Harvest Medley, which is also gluten free and simple (a mixture of sorghum, brown rice, and quinoa). The crispies are impressive: so reminiscent of the ones I remember from childhood, but with a slight nuttiness. I use the plain crispies in this recipe, but it's worth saying that Erewhon also makes cinnamon crispies, which helped to inspire these squares.
Erewhon is one of the brands, along with Peace Cereal and Sweet Home Farm Granola, that makes up Attune Foods. All of the Attune products are made with whole grains, many are made without dairy, and the company offers a variety of vegan and gluten products as well. Nearly every one of their brands features at least one vegan cereal. Peace Cereals are Steven's favorites (the granola options contain honey, but most of the flakes and clusters don't), and I can see why: you can really taste the hints of vanilla and cinnamon along with the wholesome flavor of whole grains.
Even though I probably won't become a cold cereal convert, it's been fun to get to know these brands, and it's useful for me, too, since one of the top questions that clients tend to ask me is whether or not I can recommend a good cereal brand. Cereal is a convenient, easy breakfast option for busy people, and it's great to see that whole grain, vegan-friendly, flavorful options are around.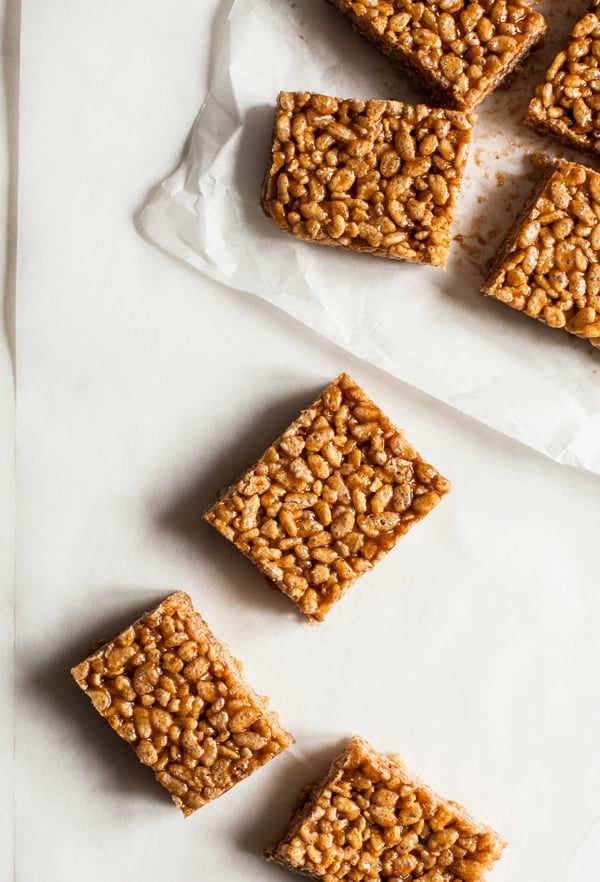 Back to the crispy treats. There are so many different ways I could have approached these: I could have made them with cocoa, or carob. I could have stuffed them with nuts and dried fruit and called them snack bars. I thought about drizzling them with a chocolate ganache. But what I really wanted these to taste like was cinnamon, and the caramel overtones–thanks to sea salt, a hint of vegan butter or coconut oil, and brown rice syrup–were a really happy surprise.
Once I'd tasted them, I knew the crispy treats didn't need any fancy embellishment or adornment or mix-ins. And this is a good thing, because as it is, the recipe is delightfully simple. It's something to make when you want a homemade sweet, but you don't have the time for a baking project. The bars are indulgent but light, perfect for serving with coffee or tea, and just a little nostalgic.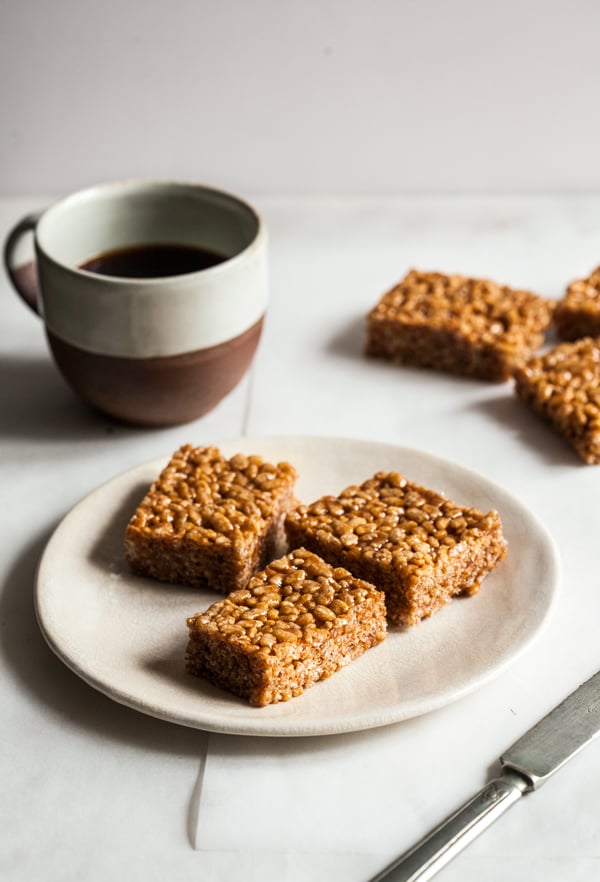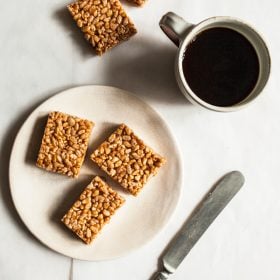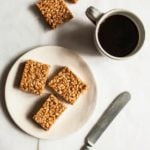 Caramel Cinnamon Crispy Treats
Author -
Yields:
9
-12 crispy treats
Place the crispies into a large mixing bowl. Line an 8 x 8 square baking dish with parchment or saran wrap.

Place the buttery spread or coconut oil into a small saucepan over low heat. When the buttery spread has melted, add the cinnamon, salt, vanilla, brown rice syrup, and almond butter. Whisk rapidly, until the ingredients are evenly combined and just beginning to bubble. Remove the saucepan from heat and pour the mixture over the crispies.

Use a spoon or spatula to mix the crispies with the coating. The crispies will start to get sticky and firm, so it's important to mix quickly. Transfer the crispies to your prepared baking dish and use a spatula to smooth over the top. Place the dish in the fridge for an hour before cutting the crispies into 9-12 squares. Enjoy the crispy treats right away, or wrap individually and store in a cool, dry place for up to 5 days (if they last that long!).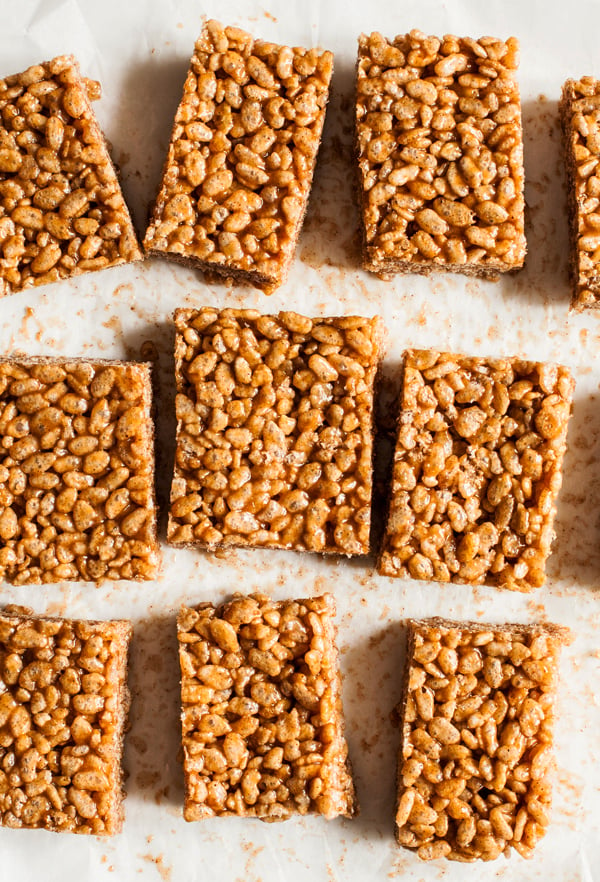 I don't have many fond recollections of childhood sweets: my eating disorder began so early that a lot of the favorites young people enjoy regularly were lost on me. So I cherish the happy dessert memories that I've held on to. They include chocolate chip and oatmeal cookies, my best friend's family recipe for snickerdoodles, sampling the season's first batch of New Hampshire maple syrup each fall, and making birthday cake–straight from the box!–with my mom.
They include rice crispy treats, too. I'm so happy to have a new, vegan version to savor. And I'm grateful to have a whole grain base to make it with. Hope you try the recipe sometime, too, and that you'll enjoy its simplicity and sweetness.
xo
This post is sponsored by Attune Foods. All opinions are my own, and I love these whole grain products. Thanks for your support!