Happy Saturday, guys.
It has been a beautiful day in NYC, which I spent cheerfully darting between clients and an author event. It is also the 25th anniversary of Meatout. What's Meatout? Since you asked:
On (or around) March 20 — the first day of spring — thousands of caring people in all 50 U.S. states and two dozen other countries get active to host educational Meatout events. Activities include colorful festivals, lectures, public dinners, feed-ins, cooking demos, food samplings, leafleting, information tables and more.
The occasion is the world's largest and oldest annual grassroots diet education campaign. Meatout 2010 is the 25th Anniversary! Every spring, thousands of caring Meatout supporters educate their communities and ask their friends, families, and neighbors to pledge to "kick the meat habit (at least for a day) and explore a wholesome, compassionate diet of fruits, vegetables, and whole grains."
Pretty cool, right? I confess that I didn't have a chance to participate in any Meatout activities today–I was too busy commemorating various feminist anniversaries–but every day in casa Gena is an exploration of wholesome and compassionate foods! And I did have a chance to make a tasty, veggie-ful dinner.
Daikon radish is one of those foods–like goji berries, bean curd, seaweed, or alfalfa sprouts–that's practically a punchline in healthy eating jokes. One of my clients who was trying to lose weight used to jokingly ask me "Gena, do I have to eat daikon radish??" I actually never quite understood the question–as far as I know there's nothing inherently slimming about daikon, aside from the fact that it's low in calories and a mild diuretic–but I got the point: daikon is one of those vegetables that's toted as a detoxifier, cleanser, and magical convoy of health. I'm not so sure about these claims, but I do know that daikon is high in vitamin C, tasty, and versatile.
It actually took me quite a long time to warm up to daikon. I despise regular radishes, and was skittish about trying these giant ones. I also hated the smell of daikon as I boiled it in soups or broths: let's just say that it's distinctively "earthy"–imagine the smell of broccoli or cauliflower as it steams, and then intensify it a bit. Yeah. But there's an easy solution: eat daikon raw! Which is precisely what I did tonight. Some say that daikon helps with the absorption of beta-carotene, and using that truism as inspiration, I decided to marry grated daikon radish and carrots together in a salad that's fresh, crunchy, and refreshing. As a dressing, I'd originally imagined a simple tahini and lemon blend. But since I had some carrot juice in my fridge, I decided to put it to good use, and carrotini dressing–destined to be a new favorite–was born. Here's how it all comes together.
Carrot and Daikon Salad with Carrotini Dressing (serves 4)

For the salad:
2 large carrots, grated
2 daikon radish, grated
For the dressing (this yields 2 1/2-3 cups)
3/4 cup tahini (raw is preferable, but roasted is OK if you can't find it)
1 cup carrot juice
2 tbsp nama shoyu
1 1/2 inch piece of ginger
2 tbsp lemon juice
2 tbsp olive oil
1-2 pitted dates (optional)
Blend all ingredients in a high speed blender till creamy. Thin with water if it's too thick.
Grate carrot and daikon and mix well. Divide into four bowls and dress each serving with about 3 tbsp dressing. Serve over a massaged kale salad for variety of texture and some green power!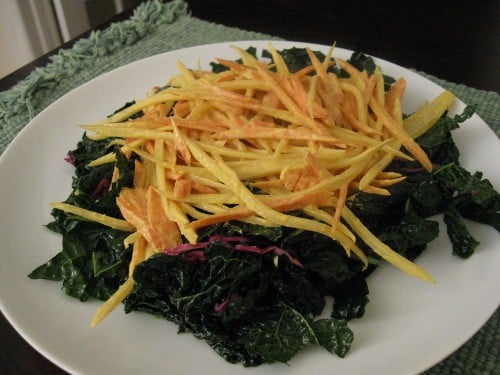 This meal, which I served with some of Lydia's amazing luna nori crackers, welcomed the warm weather perfectly.
Any big daikon fans in the audience? What are some other "healthy foods" you love to eat and redefine? I'd love to hear about them. But for now, enough writing. I've got reading to do, and I look forward to enjoying a balmy breeze as I do it!
Get outside and enjoy the evening, friends.
xo