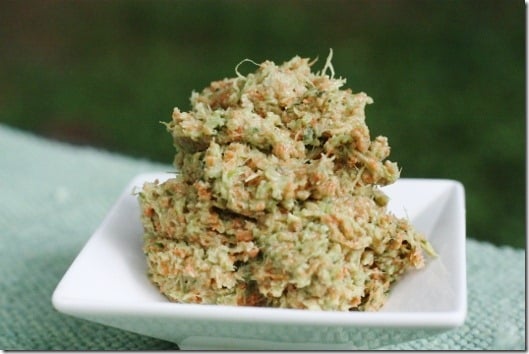 So happy you guys liked my latest hurry up vegan recipe! That quinoa salad was polished off last night, and the leftovers were good to the last drop. I hope some of you get a chance to test it soon.
Speed is the theme of today's post, too: it's a recipe that takes about five minutes to prepare, and I'm hoping to finish this post in about that amount of time. I know I've been giving you guys a lot of juice pulp recipes these days—and I'm sure that's a blessing for some readers, and a drag for others—but I'm going to have to ask you to bear with me, since I am trying to juice consistently throughout this busy time, and more juice means more pulp to recycle.
One of my favorite uses for juice pulp is to make dips and spreads, as well as my customary juice pulp crackers. I make a green guacamole that I love, and there's also a carrot dill spread that's near and dear to my heart. Today's little recipe is really no different from these—you'll see in a moment how totally repetitive it is—but it's worth sharing some photos so that you can see how wonderful 4-ingredient recipes with cooking castoff materials can be.
Carrot Avocado Pate (raw, vegan, gluten free)
Serves 2
1 heaping cup carrot, celery, and cucumber pulp (any carrot combo would be great)
1 small avocado
1 squeeze lemon juice
1 tbsp tamari/nama shoyu
Process in a food processor till mushy. Eat however you like. In my case, that means serve it with salad and some raw crackers of your choosing.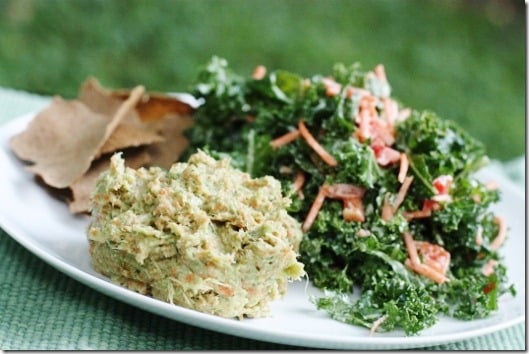 If you are into juice pulp, try this soon! Sometimes, the fastest foods can be the tastiest.
And now, it's back to work I go. I'll have a special restaurant review for you tomorrow!
xo