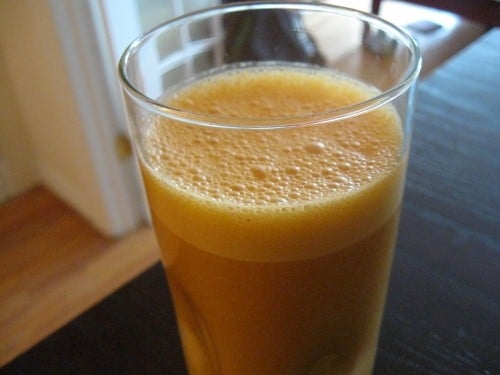 Hello readers!
I'm often asked whether it's necessary to own a Vitamix to enjoy a high-raw lifestyle. The answer is no, absolutely not! I was eating raw foods long before I got my Vitamix. This said, having a good blender will enhance and contribute to a raw or semi-raw lifestyle immensely. With a decent blender, you can make soups, smoothies, and salad dressings; you can grind nuts, chop vegetables, and even whip up raw ice cream. Yum!
The only downside of having a good blender at home is that one tends to become spoiled; as soon as I grew accustomed to my blender (and, later, my Vita), I found myself longing after homemade smoothies and soups when I was traveling.
Enter the Tribest personal blender. This incredible little contraption allows you to whip up blended foods and beverages wherever you may roam. Small, transportable, and super high-powered, it's an unbelievable tool if you're looking to bring healthy habits on the road. My Tribest has lived under my office desk, has traveled home for the holidays with me, has accompanied me on two business trips, and is a terrifically easy to clean alternative to my Vitamix. In many ways, I depend on it more than the Vita, if only for its conveniance. To operate it, you need only put food or beverage contents in the custom cups that come with the blender, screw on the blade attachment, put the blade and cup into the motor base. You press and twist the blending cup, and in moments you have homemade soup, salsa, tapenades, smoothies, or ground nuts and seeds. Best of all, the pieces are easy to dissassemble and clean up–a rarity among appliances!
Various raw foodies have blogged about and promoted the Tribest blender. You can check out my girl Ani Phyo's review here, and my friend Ingrid's review here. Suffice is to say, the blender is super popular in the raw community, and with good reason!
Now, you all have a chance to try the Tribest out, too. The good folks at Tribest have generously agreed to share not one, but two models with me.  They have models to suit a range of needs, and models PB-150, PB-250, and PB-350 all feature BPA free blending containers.
The PB-350 Mason Jar Personal Blender, which Tribest sent me to sample and review, offers glass containers with blending and grinding containers. In the past two months, I've used it to make the following:
Green smoothie for Christmas morning:
Salad dressing with fresh basil: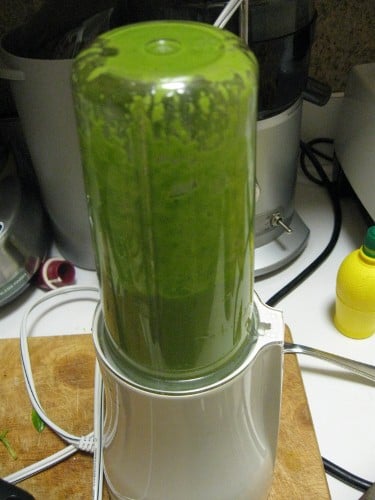 Ground almond meal:
…in addition to a ton of raw soups and dressings. Check out the incredible glass jar collection: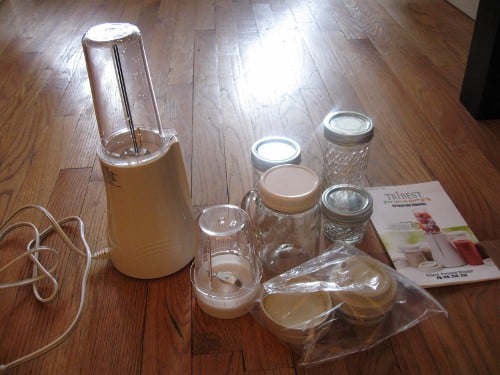 The verdict? The PB-350 is an awesome home kitchen device. Best of all, it's allowed me to bring raw soups and smoothies to the office!
As if this gift wasn't generous enough, Tribest has sent me a second model, the PB-250, to share with all of you! This blender features:
• Personal Blender Motor Base – 110V
• one Blending Blade Assembly
• one Grinding Blade Assembly
• two 16 oz BPA Free Blending Containers
• two 8 oz BPA Free Grinding Containers
• one commuter sipping lid
• three Regular Lids
It yields about two servings, and of course you can take it on the go anywhere, anytime.
So, what do you have to do to enter this giveaway? I dislike being forced into fourteen various entry steps, so I'll keep it pretty simple:
1) Leave a comment on this post, telling me what the first thing you'd make with a new Tribest blender would be
and
2) If you want an additional entry, Tweet OR mention the giveaway on your blog and then leave a comment saying you did it.
I will announce the winner on Wednesday, Feb. 24th!

I wish you all luck!!
Finally, a friend and client emailed me on Friday with the following request:
Hey Gena! I have really been wanting carrot cake type flavor lately…think there is any kind of smoothie recipe for that??
I'm sure there are a ton of options, but my own kitchen fiddling gave birth to this one. Of course, I used my Tribest blender to make it!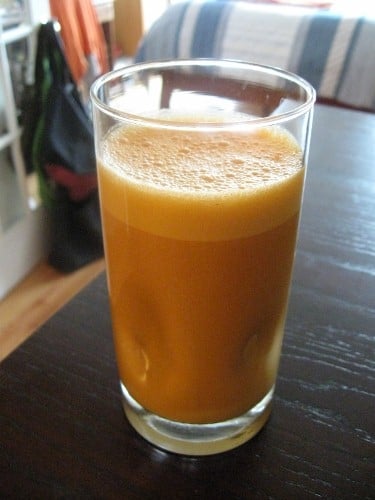 Carrot Cake Smoothie
1 1/2 cups carrot juice
1 cup ice
1/2 cup cashews, raw
1/2 tsp cinnamon
1/4 tsp allspice
Blend all ingredients on high. This will yield at least two servings.
OK, guys. Enough about me. Get commenting, and good luck!
xo