It was 3 p.m. on Tuesday afternoon, and it was time to face facts: my throat hurt. In spite of six hours of optimism—"it's allergies, it's dust, it's because I sang Girl Talk too loudly in the shower last night"—I could no longer deny the discomfort when I swallowed, nor the stuffy nose, nor the the fact that I was just a bit too hot to the touch. With a heavy heart, I returned home, and woke up the next day with a good old fashioned sore throat. Awesome.
I'll confess something: I'm not a good patient. I hate being sick. It's the injustice of it all—I can't exercise, I can't enjoy my food, I can't get anything done at work, I can't enjoy a brisk city walk with my iPod. At the least, I can't do any of these things with my usual enthusiasm. Being sick makes me feel as though I've been benched from the biggest game of the season: the world goes about its merry way, and I'm watching listlessly from the sidelines.
But I am a mortal, and we mortals catch seasonal colds. I suppose I ought to be grateful that it doesn't happen often, and when it does, it's typically pretty mild. Yesterday's sore throat, while annoying, was hardly anything to call my mother and whine about (even though I did call my mother and whine), so I decided to muster up my courage and fight back with some sleep, some positive thinking, and—of course—some juice.
One of the first things the average American does when he or she is getting sick is to reach for some orange juice. OJ is full of vitamin C, which is why we tend to guzzle it (or slurp down packets of Emergen-C) when we don't feel well. The problem with this logic is that Vitamin C isn't actually a proven cold remedy: there are weak links between Vitamin C and reduced incidence of colds, but C hasn't been proven to reduce either the severity or longevity of colds at all. Furthermore, lots of the commercial fruit juices people drink when they're sick are loaded with added sugars or made from concentrates: fruit juice is naturally sweet, and there's no reason to tax the body's already fragile immunity with more sugar.
For that reason, I try to focus on juices that are fresh and nourishing—especially when I'm not feeling my best. Sometimes I stick to very simple combinations: grapefruit juice, orange juice, or a cranberry apple mix. My usual go-to when I'm not feeling well is carrot, celery, and ginger: the celery helps replenish sodium and electrolytes (especially good if you've got a stomach bug), the carrot has numerous vitamins (C, yes, but also Vitamins A and K, which support vision and lungs) and the ginger feels terrific if you've got the chills. Yesterday, I decided to try something a little different: orange and carrot together. And instead of using ginger for heat, I thought I'd be brave, and sprinkle some cayenne in the juice.
Bold move, yes, but worth it: this juice cleared up my nasal passages, warmed me up, and tasted amazing. I can't wait to drink it when I'm not feeling under the weather!
Carrot Cayenne Elixir (serves 1-2)
1 1/2 cups fresh carrot juice
1 cup fresh orange juice
Dash cayenne pepper
If you're making this in a home juicer, you'll need about 2 oranges and about 6 large carrots. If you don't have a juicer, don't worry! Try to find a local juice bar where they'll make a carrot orange juice, and bring it home to mix in the cayenne. If worse comes to work, pick up some bottled OJ and carrot juice (Odwalla is pretty high quality) and mix in the cayenne.
I actually used a blender to mix the juice, since cayenne tends to settle, but you certainly don't have to.
I drank the juice up right away before dinner last night:
And repeated it first thing this morning:
And guess what? My sore throat has steadily retreated all day long. I'm still a little stuffy, but the throat ache never erupted into a full blown head cold after all. Phew! Who knows if my new juice had anything to do with it—maybe not—but who cares? I have a favorite new concoction. And I also ended up with plenty of carrot pulp, which—as I mentioned recently in my Veggie Girl Power Series Interview—is one of my favorite snacks when mashed up with some avocado, lemon, and salt, like so: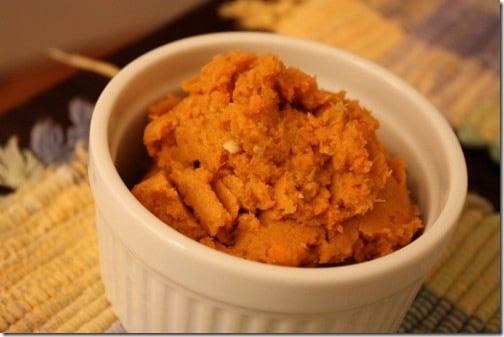 I'm partial to simple food when I don't feel my best. Last night, I had my juice and juice pulp mush along with a new salad (which I'll be posting this weekend—so tasty!):
And tonight, with my appetite returning, I had the juice pulp mush along with kale salad and some simple quinoa:
My juice mush looks disturbingly like tuna salad in that photo, doesn't it? I assure you, it's all veggie.
For other ideas on using juice pulp, check out this post. And for my top ten favorite juice recipes, check out this one! Finally, to read more of my tips on staving off or treating colds, check out my post on carrot fries.
Hope you're all enjoying healthy weeks. But if you aren't, you may want to give this juice recipe a shot–at the least, cayenne seems to be a much better decongestant than any Vicks concoction I've tried! Have a great night, guys.
xo