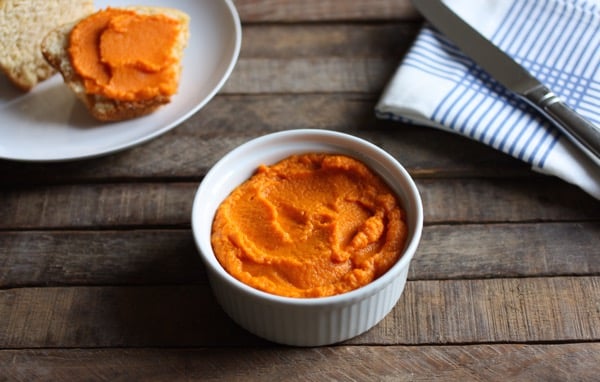 Angelica Kitchen is one of my favorite New York City restaurants. It's hearty, healthy, and absolutely delicious, and I love the low-key, community-oriented atmosphere. The menu at Angelica is full of wonderful offerings–too many to name–but the restaurant's "breads & spreads" selection features two kinds of cornbread and two dips: a miso-tahini spread, and a carrot ginger spread. I love them both. The miso tahini is salty and rich and full of umami. The carrot ginger is light and gorgeously colored. I've always wondered what it would be like to combine these two concepts, forming something that has the sweetness of pureed carrot but the savory, salty richness of miso paste.
Now I know.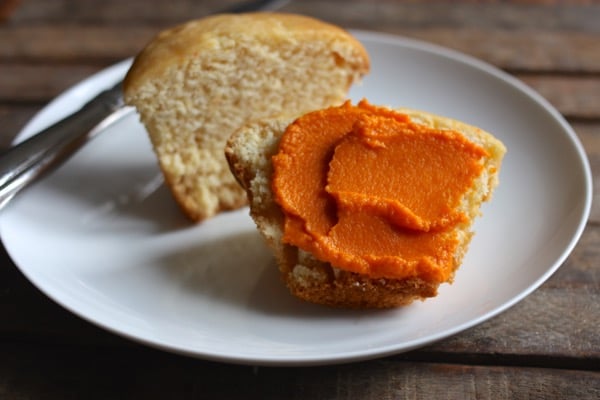 Thanksgiving is upon us, and perhaps you'll have a nice big basket of vegan cornbread at your table. If you do, I urge you to consider serving this in place of Earth Balance or olive oil as a dip/spread. It's so delicious, and so bright. Perhaps I'm biased because I'm the perfect audience (a fiend for all things sweet + savory), but really, this dip is worth a try. As you'll see, you could choose to customize this in tons of ways, but I wanted to give you the simplest, most basic version, which is plenty flavorful in its own right.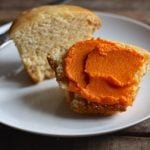 Carrot Miso Butter
Author -
Place the carrots into a pot of simmering, salted water. Simmer for 10-15 minutes, or until the carrots are very easily pierced with a fork. Drain the carrots, reserving about a half cup of the cooking liquid.

Place all of the ingredients into a food processor, and process till smooth, stopping often to scrape the sides of the bowl down. Add water as needed to get a light, yet still spreadable texture (about 1/4-1/3 cup, but used your judgment and the photos as an example!).

Store the butter in an airtight container in the fridge. It will keep for up to five days. Serve over crusty bread, cornbread, as a dip for veggies, or as a toast topper at breakfast!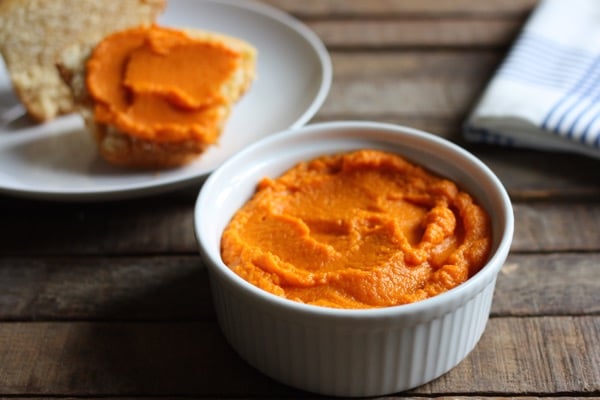 A couple of groovy flavor additions:
Sesame oil
Turmeric or ginger
Cinnamon or nutmeg
Thyme or rosemary
Apple cider vinegar
Almond butter or peanut butter
…and the list goes on. The butter is totally adaptable, and you can make it sweeter or more savory according to taste.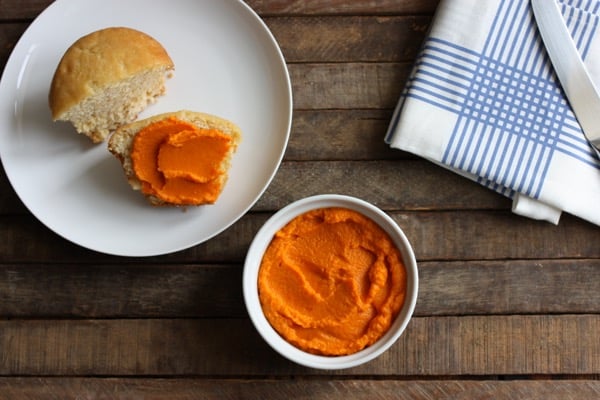 I guess this has been the autumn of yellow/orange flavored mushy food, evidenced in my roasted carrot hummus and my five-ingredient maple sweet potato pudding. Sorry not sorry. Hope this tasty spread can brighten up your holiday table — or brighten your mood at any time of the year. The cornbread pictured above, by the way, is my no-fuss vegan cornbread from "The New Veganism," baked into muffins. A perfect snack or bread basket offering.
And speaking of Food52, notice the cute napkin/towel in that photo, above? It's the tea towel from Food52 Provisions, my favorite destination for totally lust-worthy kitchen items, specialty foods, and serveware. Tomorrow, I'll be hosting a seasonal giveaway from this awesome site. Tune in to enter!
xo