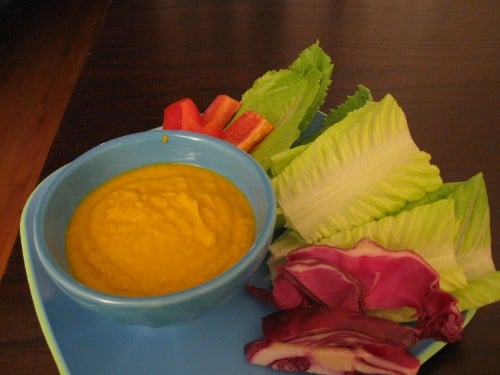 My friend Mary seems to be giving me lots of culinary inspiration lately!
Last week, you guys saw firsthand that Mary knows how to concoct a good salad. This week, she serves as the inspiration for what is fast becoming a new favorite dressing: raw carrot miso dressing.
See, there's this dressing Mary loves. It's the carrot miso dressing from Candle 79, and I can see why: the stuff is delicious, neutral for food combining, and oil free (for those of you who have a reason to be seeking out lower fat dressing options). Mary loves this dressing so much that when I recently visited her at the Jersey Shore, I witnessed her whip out a bottle of it from a lunch cooler she had packed in the middle of a restaurant lunch. Clearly, Mary won't settle for mediocre restaurant dressings.
A girl after my own heart.
In honor of Mary, I decided to take a stab at my own quick version of the dressing at home. Full disclaimer: my dressing isn't *quite* as scrumptious as the real thing. But it is pretty darn tasty, it's nearly oil free, and it doubles as a great dip for salads and veggies. It'll remind you of a slightly less salty version of the house carrot dressing you get in Japanese restaurants — only you'll have the satisfaction of knowing that you made it yourself! Behold, the recipe: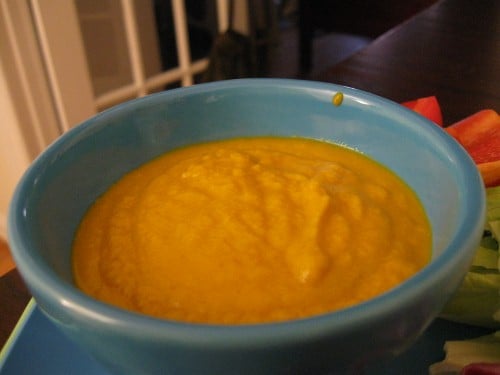 Carrot Miso Dressing (makes 3 cups, or so)
3-4 very large carrots (or 7-8 small — size varies dramatically from carrot to carrot, so estimate accordingly), chopped
1 cup water
3 tbsps mellow white miso
1 tbsp nama shoyu
1 tbsp lemon juice
3 large, pitted medjool dates
1 inch ginger, peeled
1 tbsp toasted sesame oil
Blend all ingredients save the sesame oil in a Vitamix. You'll have to start on low and work the speed up; your machine will sound a little angry, but once it gets blending, it'll simmer down! When you have a creamy, even mix, turn the speed to high and drizzle the sesame oil in. Check the texture: if you'd like it thicker, add some more chopped carrots! Otherwise, serve on top of a salad or as a dip for some veggie snacking (as I did), and enjoy!
Now, I know what you guys are thinking: will a regular blender work? The answer is no, it won't, not with raw carrots. Don't try. But if you want to make a raw-ish version of this yummy dressing, you could use steamed carrots in a normal blender. Just wait until they cool off before you make the dressing. You could also use carrot juice in lieu of carrots and water and follow the rest of the recipe, but in this case you'll want to reduce the liquid to 3/4 cup and prepare yourself for a thinner consistency.
Hope you give one of these options a try at home. A big thank you to Mary for being my culinary muse this week!
I'll be back before the weekend with a very special Choosing Raw interview. Then it's off to the New York Capital Region Vegetarian Expo, where I'll be an exhibitor this weekend! That's right, I'll be in Saratoga Springs, NY, hocking my wares and spreading a little bit of raw love. I'll be back next week with a full recap of the event and my mini-vacation upstate!
And I'd like to close by sharing this link, which my buddies Heather and Diana sent to me not long ago. Look familiar?
Hey, at least raw soft serve is getting the popularity it deserves.
But I'll pass on the cow's milk, thanks 😉