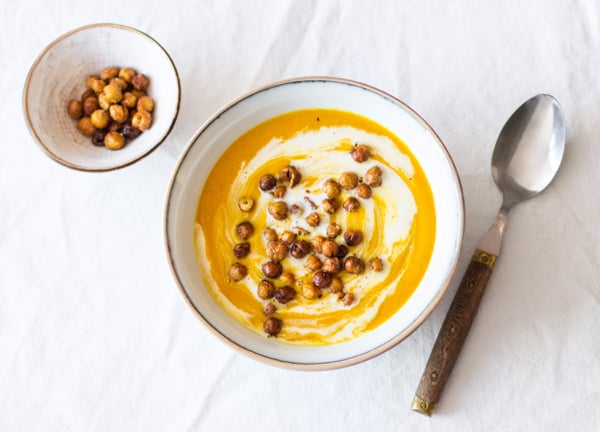 In the last two days, New York City has finally been treated to the first few telling signs of spring: melting ice, non-parka temperatures, warm and lasting late afternoon sun. I've always had an unusual relationship with spring; the season is a relief in so many ways, but it also makes me a little melancholy and nostalgic. The fresh beginnings and feelings of renewal that most people seem to associate with March, April, and May typically come to me in the fall, which is always my most energetic season (I'm sure that has something to do with the fact that I've been a student for a long time).
This year, though, I'm ready for spring. I've been feeling cooped up and cabin feverish, and it's time for a change. What I don't want to change is the steady rotation of warming, spiced soups I've been enjoying lately, and this carrot, turmeric, and ginger soup with cumin roasted chickpeas is my favorite.
Steven and I are developing something of a weekend food "rhythym." On Sunday, I make a big casserole: something filling, which will last us two nights; I get home late on Mondays, so this makes life easy, and it's a nice end-of-weekend ritual to layer something in a casserole dish, or prepare some other sort of one-pot wonder. On Saturday nights, I take it easy with cooking. It's usually either a dinner salad or a soup/salad combination. This past Saturday, it was a big kale salad paired with a warm, fragrant, and soul-lifting bowl of this carrot soup.
This is certainly not my first carrot soup on CR, and it's likely not my last. It is, however, my first carrot soup that puts freshly grated turmeric to use. Turmeric is known for its anti-inflammatory and healing properties, and it has become one of my favorite ingredients. I add it to a variety of dishes: nut pates, soups, tofu scrambles, and even a turmeric milk (which is heavenly). I often use ground turmeric, but lately I'm finding that freshly grated turmeric root adds even more flavor and color to food, and I love it in this soup. If ground turmeric is what you have, that's totally fine: it'll still add plenty of flavor.
Whatever you do, don't skimp on the roasted chickpeas. They add so much character to the dish! I love thick, pureed soups, but I think it's really important to give them a touch of texture for garnish (be it nuts, seeds, the addition of chopped greens, or what have you).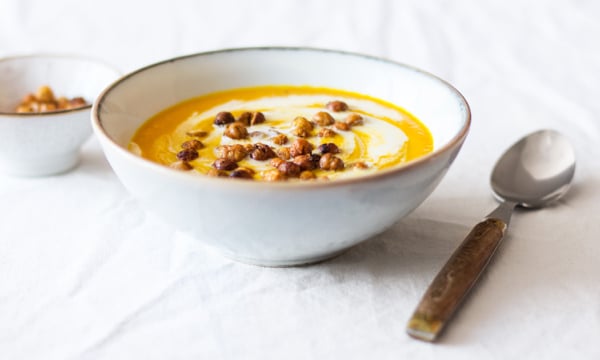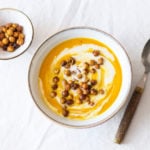 Carrot, Turmeric, and Ginger Soup with Cumin Roasted Chickpeas
Author -
For the soup:
1

tablespoon

olive

grapeseed, or melted coconut oil

1

small yellow or white onion

diced

2

cloves

garlic

minced

2

tablespoons

turmeric root

grated (or 1 1/2 teaspoons, ground)

1

tablespoon

ginger

grated (or 1 teaspoon, ground)

1/4

teaspoon

cinnamon

ground

1/2

teaspoon

salt

and more to taste

Dash red pepper flakes

1 3/4

pounds

peeled and roughly chopped carrots

about 6 cups

4

cups

vegetable broth

1/2

cup

cashew cream or full fat coconut milk
For the cumin toasted chickpeas:
First, roast the chickpeas. Preheat your oven to 400F. Toss the chickpeas in the oil, cumin, chili, and paprika. Spread them onto a parchment-lined baking sheet, and season generously with salt and pepper. Roast the chickpeas for 35 minutes, or until they're quite golden brown and a little crispy. Give them a stir a few times during roasting to prevent sticking. Chickpeas can be stored in an airtight container for up to one week.

To make the soup, heat the olive oil a large Dutch oven or heavy bottomed pot over medium high heat. Add the onions. Cook, stirring frequently, for 5-7 minutes, or until the onions are clear and soft. Add a few tablespoons of water as you go along to prevent the onions from sticking. Add the garlic, turmeric root, and ginger, and cook for another two minutes, or until everything is very fragrant.

Add the ginger, cinnamon, salt, pepper flakes, carrots, and vegetable broth. Bring the broth to a boil. Reduce heat to a simmer and cover the pot.

Simmer the soup for 30 minutes, or until the carrots are totally tender. When the soup is ready, transfer it to a blender (in batches, if necessary), and blend carefully until it's totally smooth (stand back from the blender, as hot soups tend to spatter). Alternately, you can use an immersion blender to blend the soup till smooth. If the soup is too thick for your liking, add another 1/2-3/4 cup broth.

Stir in the

cashew cream

or coconut milk. Check the soup for seasoning, and season to taste with salt and more pepper, if desired. Serve, topping each bowl with about a 1/3 cup roasted chickpeas. Soup will keep in an airtight container in the fridge for up to four days, and it can be frozen for up to a month.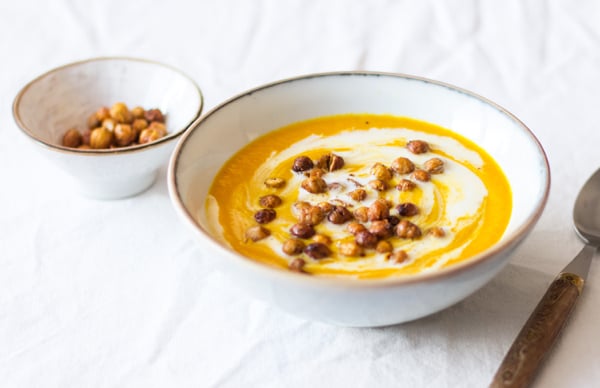 By the way, you'll see that I offer both cashew cream and coconut milk as options here. I personally prefer the more neutral flavor of cashew cream, but either is fine. I often prepare cashew cream at the start of a week to use in soups, stews, and/or creamy pasta dishes. It's an incredibly handy recipe to keep around.
Serving ideas! I'd pair the soup with a hearty salad (something with grains, root vegetables, and/or legumes, and perhaps a nice sprinkle of nuts/seeds) or a nice vegetable side dish and a serving of baked tofu or tempeh. No matter how you serve it, I hope love it. Happy Tuesday, friends.
xo
Images courtesy of Lighter