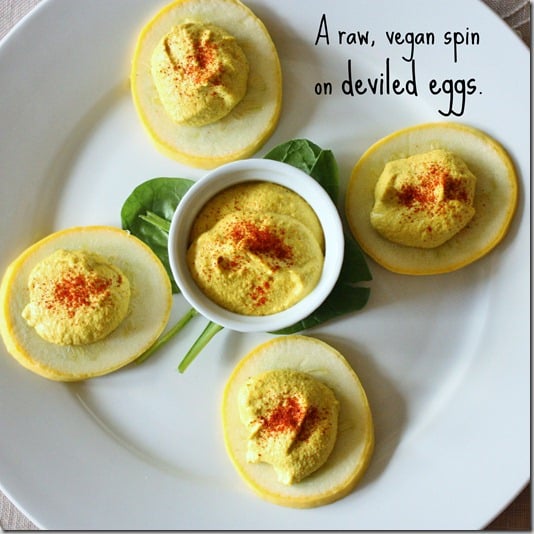 As I've mentioned before, in spite of the fact that I was raised Episcopalian, the Easter I tend to celebrate is Greek Orthodox Easter (which is really, really late this year). Even so, I like to create at least a couple of holiday dishes every year at this time. Last year, I prepared an easy raw, vegan Charoset for Passover. This year, I thought I'd try to recreating the appetizer that accompanied every (Western) Easter celebration of my childhood: deviled eggs. I think my raw, vegan version turned out pretty well—and it was a lot of fun to make!
The process for these deviled eggs is easy. Simply whip up a creamy cashew pate (with curry and turmeric for yellow color), slice some raw zucchini or yellow squash diagonally, into ovals, and top them with a rounded tablespoon of the pate. Sprinkle with paprika if you want to be all traditional-like, and serve.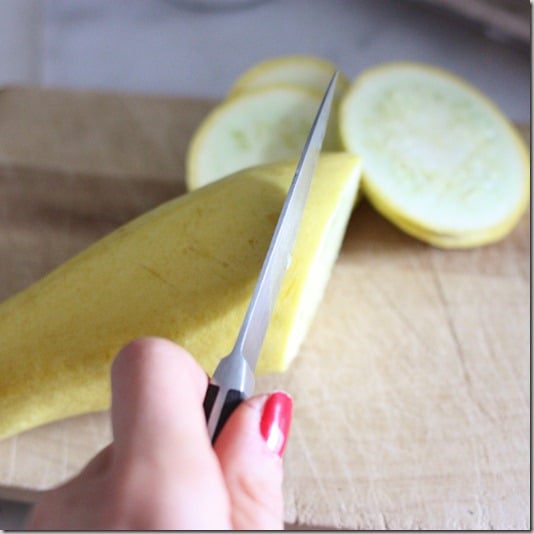 These will make a fantastic hors d'oeuvre for holiday gatherings, or a cute appetizer for the table. And though I had a family tradition from childhood in mind when I thought to make deviled eggs, it occurred to me that hard boiled eggs are included in Seder plates as well, so perhaps this recipe will come in handy both for Easter and Passover gatherings this year!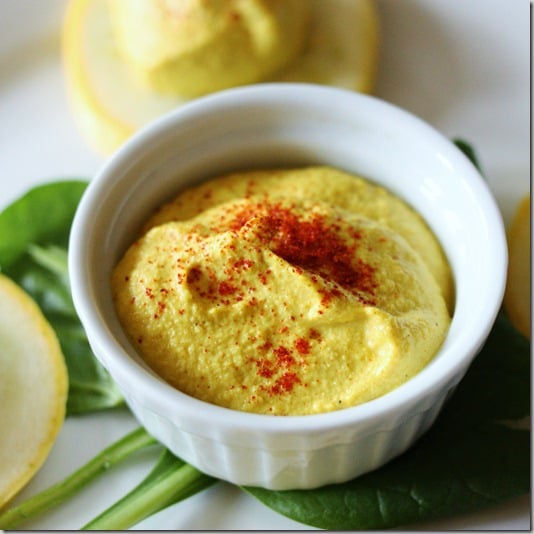 Raw, Vegan Cashew and Squash Canapés ("Deviled Eggs")
Author -

Gena Hamshaw
1 cup cashews soaked 2-3 hours
1/4 - 1/2 tsp sea salt to taste
3/4 tsp curry powder
1/2 tsp turmeric
1 tbsp lemon juice
1/3 cup water
Dash paprika
1 zucchini or summer squash cut diagonally into ovals
Place the cashews in a food processor fitted with the S blade. Add the salt, spices, and lemon. Pulse till the cashews are broken down.

Run the motor and drizzle the water in. Continue blending till the pate is silky smooth, stopping frequently to scrape the sides of the bowl down. You'll have one cup of pate.

Place a rounded tablespoon of pate on each zucchini oval. Sprinkle lightly with paprika, and serve.

Serves many--you can reserve extra pate for crudites or wraps!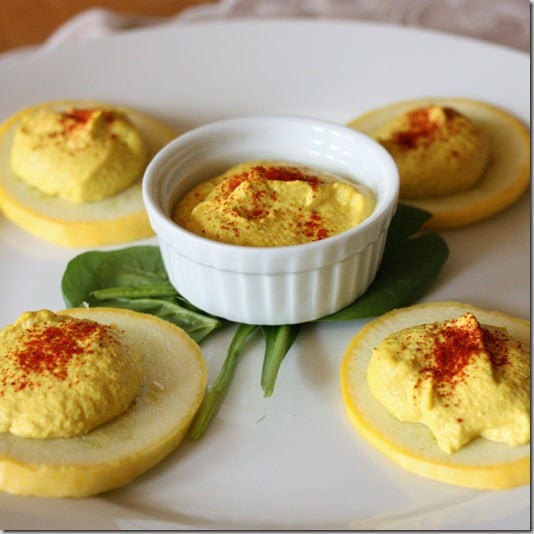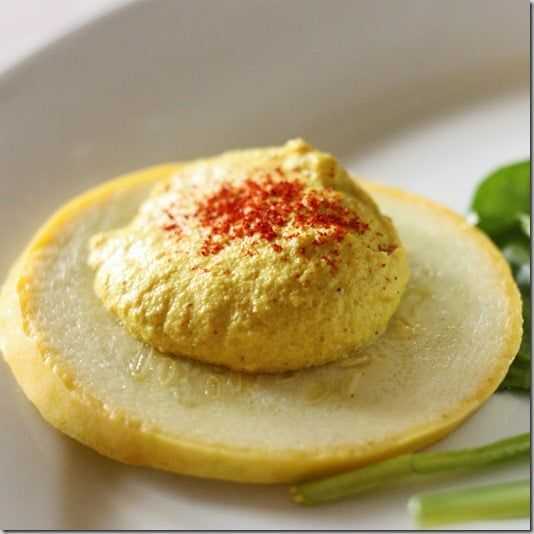 So cute and authentic!
I have to say, the filling for this canapé really does taste a lot like the center of deviled eggs (maybe a little less thick). If you don't believe me, believe my Mom, who tasted one soon after I whipped them up. She looked at me, wide-eyed, and exclaimed "it tastes just like an egg!" My mother is incredibly supportive and open minded about vegan food, but she's not one to pretend that something is a "dead ringer" if it's not. I took her words as a high compliment.
The idea of "cravings" is always a little loaded in conversations about veganism. Critics of veganism, some former vegans among them, often cite cravings for animal food as proof that veganism is incomplete or unnatural. But cravings for food, for drink, and for substances are everywhere, all the time, and they don't necessarily have to suggest some kind of insidious deficiency. Sometimes, cravings are an expression of our desire for stimulation; I crave cigarettes all the time, and I'm perfectly capable of craving a soy latte when I've already had three or four cups of coffee for the day, but this doesn't mean I need either. It usually means I'm bored, tired, or frustrated with studying. Sometimes I crave a particular food simply because I'm hungry; as soon as I have something to eat, whether or not it's the thing I was daydreaming about, I feel satisfied.
Sometimes persistent cravings really do indicate that a person isn't eating enough of a particular food. People who are on super low-carb diets tend to crave carbs because they are so obviously deprived of readily accessible energy. When I was obsessed with eating low fat—as I always was in my disordered periods—I craved fatty foods relentlessly. In this instance, the cravings certainly were an indication of something imbalanced in my diet. And yes: if a vegan happens to be craving animal foods, the craving might indicate that he or she isn't eating enough fat, or enough protein. This is not to be minimized or brushed aside, and it's something that a vegan-savvy R.D. or health care practitioner can help to troubleshoot.
It's worth noting, though, that the food one craves isn't necessarily the very food one must eat in order to feel better. When I was fifteen and ravenous for fried dumplings and pizza, it wasn't because I needed those two foods in particular. It was because I was crying out for fat. I could have satisfied my cravings with some pizza, sure, but I might also have satisfied them by welcoming all kinds of fats into my diet more regularly. If you are new to plant-based eating and you're struggling with persistent cravings for something that isn't vegan, a health care provider (one who is knowledgeable about plant based diets) can take a look at what you're eating, help you to identify why you're craving that particular food, and work with you to correct imbalances. You may find that the craving was an expression of something broad and global—not a literal command from your body to eat animal foods in particular.
As a vegan, the cravings I've had most often are not, like the cravings described above, an expression either of boredom or of something amiss in my diet. They are an expression of nostalgia. Food is charged with meaning and emotion, and it's natural to crave dishes or ingredients that evoke a feeling or a particular time in our life. Sometimes I miss laughing with my mom as we piled our plates of spaghetti high with parmesan cheese, or eating turkey wraps from a café that used to be around the corner from my high school, or cups of coffee turned the color of light caramel with half and half. It's not so much that I can't live without these foods; it's that they're a part of the fabric of my past. The good news is that there are now vegan foods that can help to replace them, both commercial and homemade, and there are other foods that satisfy the craving even if they don't simulate the food precisely. Piling a bowl of spaghetti high with hemp seeds and/or nutritional yeast replace some of the texture, salt, and umami I miss from cheese.
Obviously, cashew pate situated on top of a zucchini slice is no real replacement for a deviled egg. Egg lovers certainly won't be fooled, and the nutritional profile isn't the same. But if we're talking about cravings for the spirit of a dish—the flavor, the taste, the mouth feel—this dish might just fit the bill. It's creamy and rich in fat. It's salty and gently spiced. It has a contrast of textures. And, most importantly, it's delicious, and worthy of sharing. I may have left out one kind of craving that a vegan might feel, which is a craving for the inclusiveness and shared experience that comes with eating a more conventional diet. The best way to address this craving is to create vegan food that will be savored by all. If my mom gives these little appetizers her ringing endorsement, then I guarantee you she won't be the only one.
Happy holiday weekend, friends!
xo