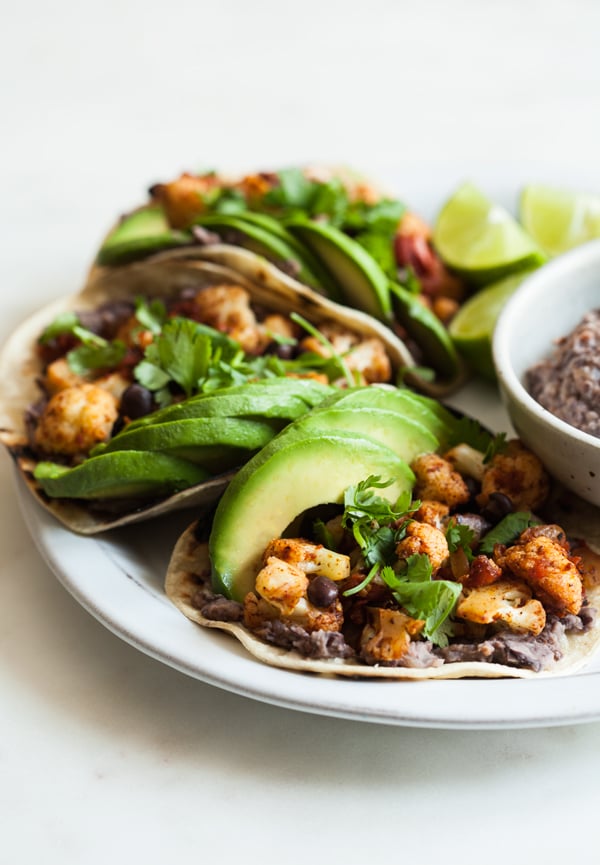 Morning, friends! I'm writing from back in NYC, where I'm catching up on work and putting some finishing touches on schoolwork after the long weekend. One of my favorite parts of returning home from a trip–even a short trip–is settling back into my kitchen. These flavor-packed vegan cauliflower huevos rancheros have been a wonderful welcome home.
One of the highlights of traveling to LA over the weekend for our friends' wedding was the opportunity to sample some of the local restaurants and farmers markets. The highlight, for me, was eating at Real Food Daily, which has stood out as a favorite in past trips, too. For brunch on Sunday I enjoyed the restaurant's no-huevos rancheros, a hearty plate of scrambled tofu, potatoes, black beans, tempeh bacon, sautéed peppers & onions, and fixings on whole wheat tortillas. It inspired me to experiment with a no-huevos brunch recipe of my own, and while my dish is certainly more humble than RFD's, I think it's plenty delicious–and I love using skillet scrambled cauliflower in place of eggs.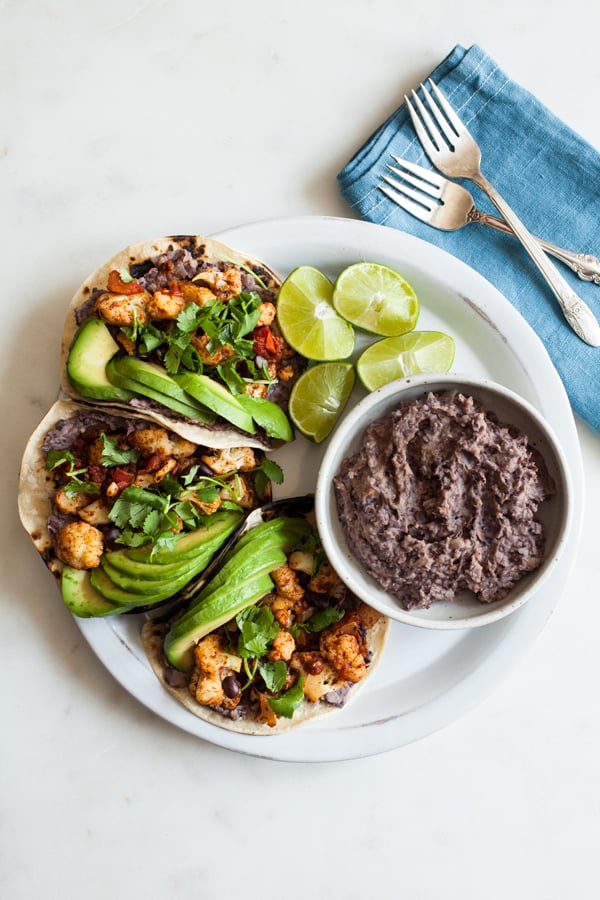 This recipe involves a bunch of steps, but only a single skillet, which is a plus as far as cleanup goes. You start by creating some easy homemade refried black beans, and then you add cauliflower, onion, and tomato to the skillet. A bold spice blend and a little pan searing create a cauliflower filling that's crisp-tender and incredibly flavorful.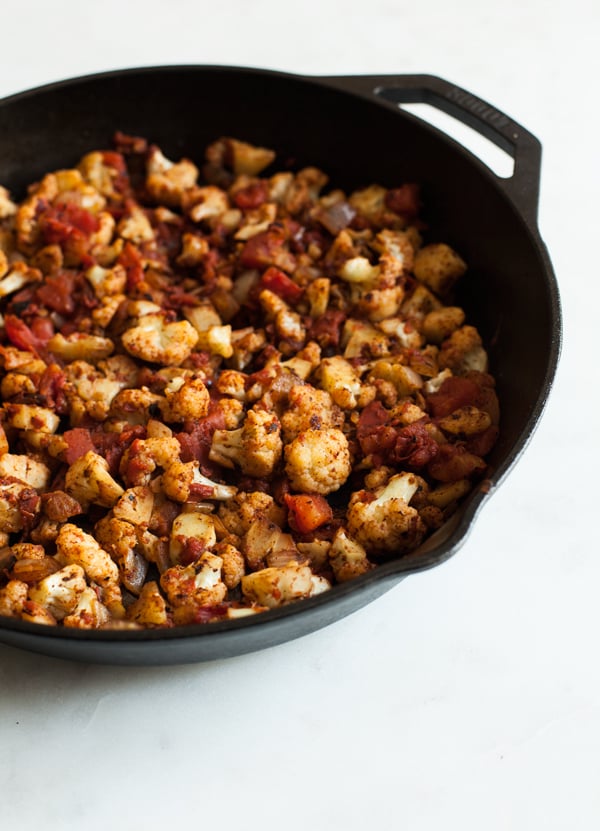 To finish the dish, you pile the refried beans, cauliflower, and all the fixings you like–guacamole, avocado slices, hot sauce, cilantro, extra black beans, or my amazing cashew queso sauce–onto warm corn or flour tortillas. The finished dish is hearty, homey, and perfect for a summer brunch. Here's the recipe.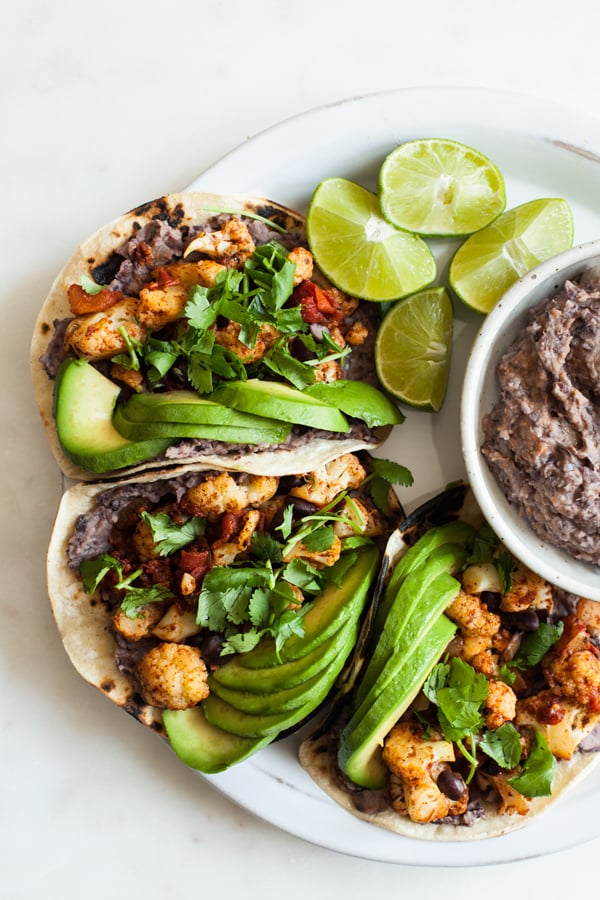 Cauliflower Huevos Rancheros
Author -
2

tablespoons

olive oil

1

large white or yellow onion

chopped (about 1 1/2 cups)

1

poblano pepper

chopped

1

clove

garlic

finely minced

2

cups

cooked black beans

or 1 can black beans, drained and rinsed

1-2

tablespoons

lime juice

to taste

1/4 cup water

1 1/2

teaspoons

ground cumin

3/4

teaspoon

salt

4

cups

cauliflower

chopped into small (about 1/4-1/2 inch) pieces

1

teaspoon

chili powder

1/4

teaspoon

smoked paprika

Cayenne pepper to taste

1 14.5-

ounce

can diced tomatoes

fire-roasted, diced tomatoes are best if you can find them, drained of extra liquid

8 6-

inch

corn or wheat tortillas
For serving (use as many of these as you like!):
2

avocados

pits removed and cut into chunks or slices, or 1 cup guacamole

1-2

chops chopped romaine lettuce

1

cup

chopped cilantro leaves

1/2

cup

cashew cream

1/2

cup

cashew queso sauce

1

cup

chopped cucumber

Lime wedges
Heat one tablespoon of the olive oil in a large (12 inch) cast iron skillet or sauté pan over medium heat. Add half of the onion (3/4 cup) and the poblano pepper. Sauté the onion, stirring frequently, for 5 minutes, or until the onion is clear. Add garlic and sauté for another minute. Add the black beans and sauté them for 1-2 minutes more, or until the beans are warmed through.

Transfer the beans to a food processor fitted with the S blade. Add lime juice, 1/4 cup water, 1/2 teaspoon ground cumin, and 1/2 teaspoon salt. Pulse the beans until they're mostly smooth, but some whole or partial beans and overall texture remain (you don't want this to be as smooth as hummus). Season the bean mixture to taste with extra lime juice, cumin, or salt and set aside until you're ready to assemble the hues rancheros.

Using the same skillet, heat the remaining tablespoon olive oil over medium high heat. Add the remaining chopped onion (another 3/4 cup). Cook the onion, stirring frequently, for about 3 minutes, or until it's turning clear. Add the cauliflower pieces and spread them out evenly in the pan. Allow them to sizzle and cook for 4 minutes, or until the pieces are lightly browning on the bottom. Give the cauliflower a stir and allow it to continue browning (the onions will brown a bit, too, and that's OK!) for another 3-4 minutes, or until the cauliflower is tender and crispy on the outside.

Reduce the heat to medium low. Mix together the remaining teaspoon cumin, the chili powder, smoked paprika, and cayenne pepper. Sprinkle this spice mix over the cauliflower pieces and stir well to coat the cauliflower evenly with the spices. Sprinkle the cauliflower with the remaining 1/4 teaspoon salt and a pinch of cayenne pepper, if desired. Stir in the diced tomatoes. Mix everything well, taste, and adjust the seasonings (more salt, chili, etc.).

To assemble the huevos rancheros, gently toast each corn or wheat tortilla over an open burner on the stove. You should use a low flame, watch the tortilla carefully, and flip after about a minute, or until the side you're toasting is getting nice and crispy. Repeat on the other side, and with all of the remaining tortillas.* Spread each tortilla with about a quarter cup of the refried beans, a half cup of the cauliflower and tomatoes, and whatever toppings you like. Enjoy!
*If you don't feel like toasting the tortillas one at a time, you can simply preheat the oven to 275 before you start cooking, wrap all of your tortillas in foil, and keep them in the oven until you're ready to assemble and serve.
This is an untraditional spin on a very beloved dish, to be sure. But it's full of taste and texture, and if you ask me, it evokes the spirit of huevos rancheros really nicely. And that's what veganizing a dish (or reinterpreting a dish to fit any unconventional eating style) is all about!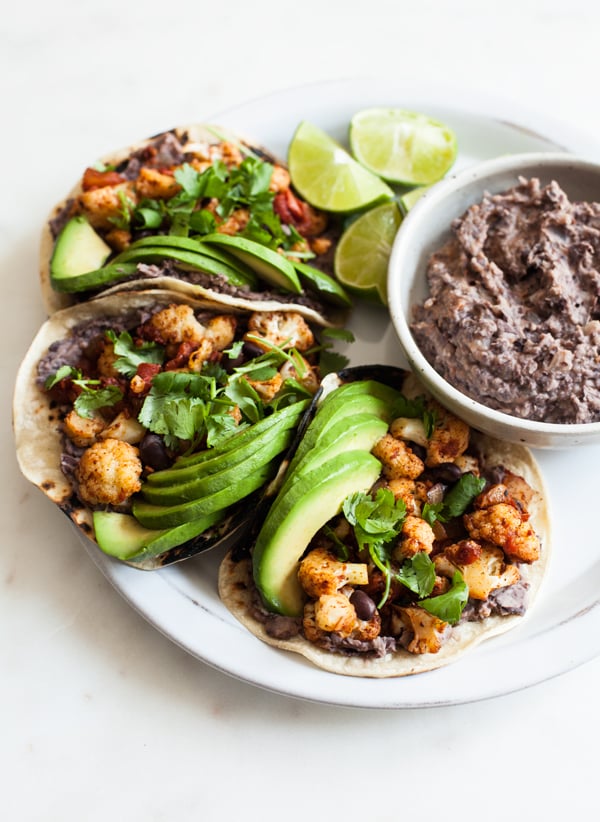 If you're short on time, you can simplify the recipe by using packaged refried black or pinto beans in place of the homemade ones. I hope you'll try the recipe soon, and if you do, let me know how you like it. Feel free to tag me (#thefullhelping) on Instagram if you snap a pic!
I'll be back later this week with an easy, protein rich recipe that can be used in many different ways. Stay tuned, and have a great start to the week.
xo