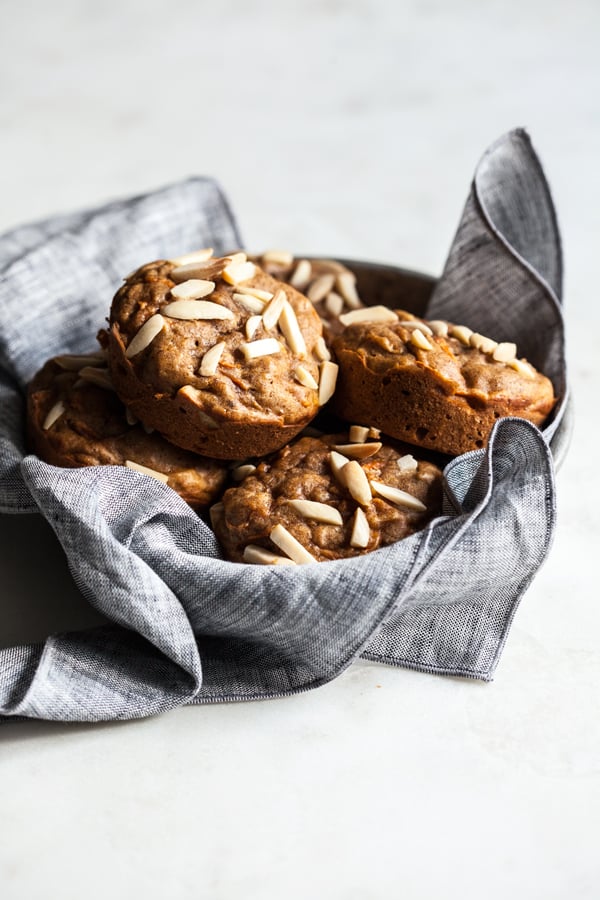 Most of the recipes featured on Valentine's day involve ribbons of chocolate, swirls of frosting, or heart-shaped cookie cutters. I love these recipes. I look forward to them every year. But if I'm being honest, they're not the types of treats I make often in my home. When it comes to everyday sweet cravings, I'd almost always rather have something simple and versatile on hand, like a loaf of my classic vegan banana bread, or my snack-worthy oatcakes. I like to bake things that can serve as a light breakfast, a packable snack, or a sweet-but-not-too-sweet dessert.
So, as I was thinking about something to bake this year for Valentine's Day, I decided to go with my gut, and whip up a batch of fragrant, chai spiced carrot almond muffins. In terms of wow factor, they're no match for a dense chocolate torte, a towering layer cake, or a decadent batch of homemade truffles. But they're just what I've been craving in the wintery weather, and that makes them the Valentine's Day treat for me.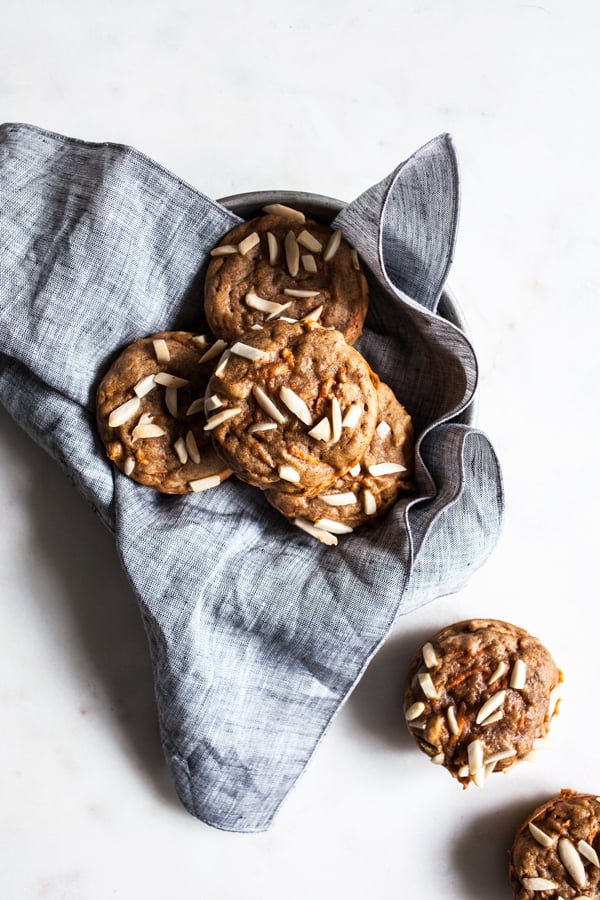 I'm a little biased here, since muffins are my favorite type of baked good. I like muffins so much that a friend and I have an ongoing joke that we're going to collaborate on an all-muffin cookbook. Back when I had an office job, I used to bake muffins every single week, freeze them, and take them to work as snacks.
I've fallen out of this excellent habit, but I do still relish baking a batch of muffins and enjoying them as the week goes by. These particular muffins are especially cozy and fragrant, thanks to the chai-inspired spices. I also added a touch of almond extract, which I keep around for baking projects, to the recipe. I love how its nutty sweetness compliments the spice mixture. If you don't have almond extract, that's totally OK, because the vanilla goes a long way. But it's a nice touch if you do.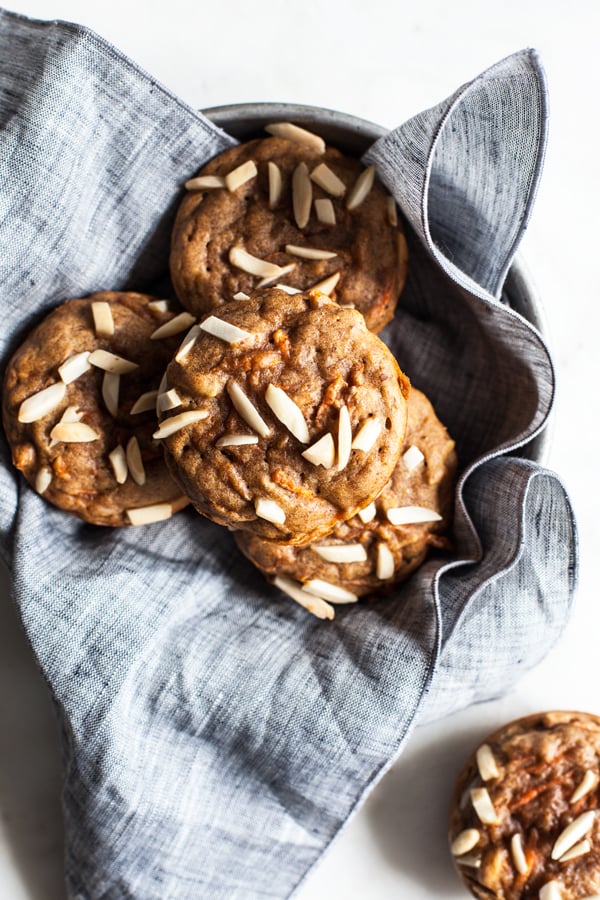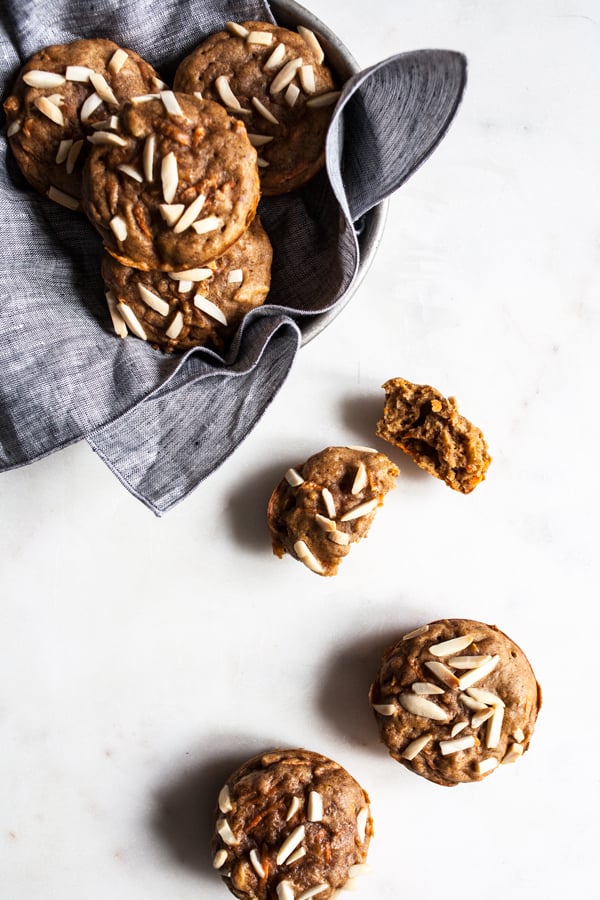 You can definitely play around with the muffin mix-ins here: I used slivered almonds because that's what I had, but walnuts, pumpkin seeds, and sunflower seeds will all work well. I think chopped dates would be a great addition, personally, but so would currants or raisins. Even the amount of sweetener is variable–3/4 cup worked for me, but if you'd like to reduce it or you're modifying the recipe for kids, 2/3 cup or even 1/2 is fine. So long as grated carrot meets ginger, cinnamon, and cardamom, the muffins will be right on track.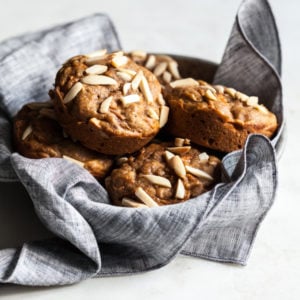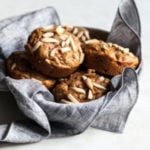 Chai Spiced Carrot Almond Muffins
Author -
2

cups

whole wheat pastry or light spelt flour

substitute all-purpose flour or a tried-and-true gluten free flour blend

1 1/2

teaspoons

baking powder

1

teaspoon

ground ginger

1/2

teaspoon

ground cinnamon

1/4

teaspoon

ground cardamom

1/4

teaspoon

ground nutmeg

1/4

teaspoon

ground cloves

1/4

+ 1/8 teaspoon salt

1

teaspoon

apple cider or white wine vinegar

1

cup

almond or soy milk

1

flax egg*

1/3

cup

vegetable oil

grapeseed, avocado, and olive oil all work nicely

1

teaspoon

vanilla extract

1/2

teaspoon

almond extract

optional

2/3-3/4

cup

brown sugar

adjust to taste

1 1/2

cups

grated carrot

1/3

cup

sliced or slivered almonds

plus more for topping
Preheat your oven to 350F. Lightly oil or line a baking sheet with muffin liners. In a large bowl, mix together the flour, baking powder, ginger, cinnamon, cardamom, nutmeg, cloves, and salt.

In another bowl, whisk together the vinegar and non-dairy milk. Add the prepared flax egg, vegetable oil, extracts, and sugar. Mix to combine. Add these wet ingredients to the dry ingredients and mix until just evenly combined. Fold in the carrot and almonds.

Transfer the batter to the prepared muffin sheet. Bake muffins for 14-16 minutes, or until the tops are firm and just barely golden. Allow muffins to cool before enjoying.
*To prepare a flax egg, mix together 1 tablespoon ground flax meal and 3 tablespoons warm water. Allow the mixture to thicken, then proceed with recipe.
Muffins will keep in an airtight container at room temperature for up to 4 days. They can be wrapped and frozen for up to 1 month.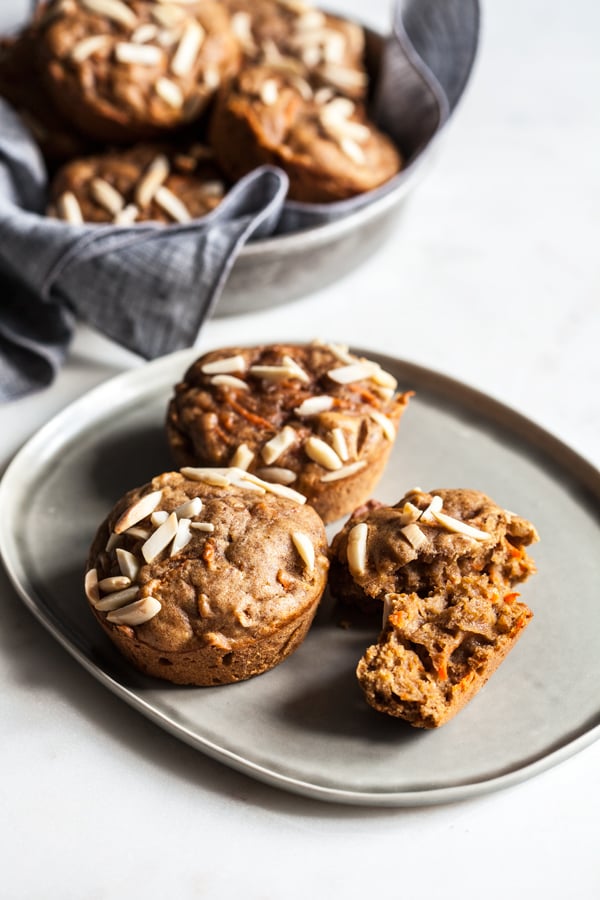 As far as sweets-for-my-sweet goes, these are actually a perfect choice. Steven loves muffins almost as much as I do, and he's always happy when he can pack them up for a snack. (He's also allergic to chocolate, which eliminates a lot of more traditional Valentine's Day treats, anyway.) I'm excited to share this batch with him for breakfast with him this morning–and I wish you all very sweet day.
xo