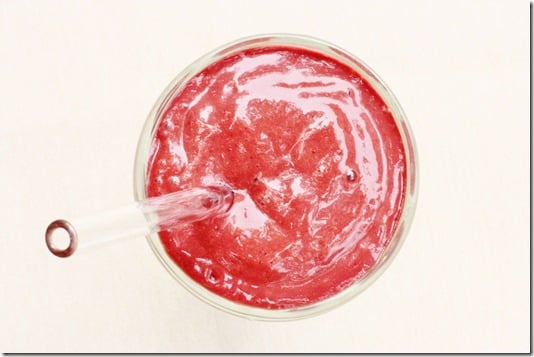 Thanks so much for the enthusiasm about Epic Yoga! Make sure to read through to the end of this post to hear more exciting yoga news.
Ironically, Epic Yoga is located directly above a little coffee, yogurt, and smoothie bar called Yola. Valerie introduced me to Yola a long time ago, and it's become a favorite spot for coffee rendez-vous, studying, and smoothie breaks. One of my favorite offerings on their menu is the "black cherry smoothie," which is black cherries, strawberries, avacado, cocoa powder, almond milk. It took me some time to figure out—or start to suspect—that the cherries are actually dried cherries, and lend sweetness that way. Yesterday, I decided to make a fresh version of the smoothie, which is almost always my top pick at Yola (you can see all offerings on the website). I absolutely loved the result, and wanted to share.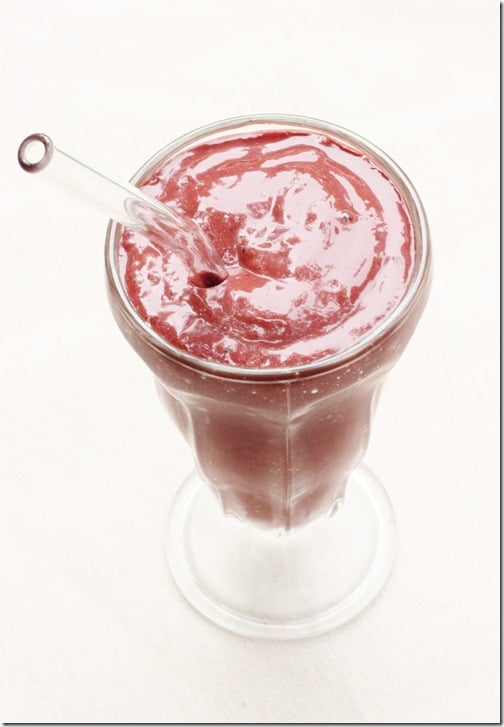 Cherry Berry Beet Avocado Smoothie
Serves 1
1 cup frozen or fresh strawberries
1/2 cup (heaping) frozen or fresh, pitted cherries
1 cup almond milk (more as needed for blending) or coconut water
1/4 avocado
2 tbsp cacao or carob powder
4 large romaine or baby bok choy leaves
1 small beet (raw if you have a high speed blender, roasted if you don't)
Stevia to taste
Blend all ingredients on high. Serve!
This smoothie is so rich and delicious. You'll notice that I used fresh cherries rather than dried; I may try dried when fresh is no longer seasonal, but it seemed like a shame not to use fresh ones when they are seasonal (and divine). I also substituted romaine lettuce for boy choy, though I gave you the option. I want to love bok choy in smoothies, and maybe I will someday, but the idea is a little weird to me.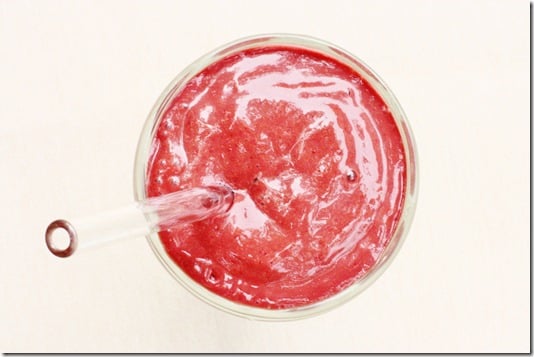 I have a feeling that this smoothie is destined to become a full time regular in my house. The cherries, beets, and cocoa marry together beautifully, and I love avocados in smoothies for creaminess and the light, fluffy texture they bestow. A winner, all around.
So before I sign off to deal with a long day of physics review, I wanted to mention a special upcoming yoga event. I was excited about yesterday's response to my post on Epic, so it's only appropriate to let you all know that one of Epic's best teachers, Rob Hess, has teamed up with one of my favorite former Down Dog instructors, Colin Brightfield, to create a new initiative called Jai Rhythm. They offer retreats, community outdoor classes, and they spread awareness about the interchanges between movement, self-realization, yoga, and the arts. From Oct. 27 to Nov. 3 of this year, they're hosting the Jai Rhythm yoga and surf retreat in beautiful Baha, Mexico. The retreat will include the following each and every day:
Morning Vinyasa/Prana Flow Yoga Session
Plenty of Time for Adventures, Excursions, Surfing, Beach, Hiking, Shopping, Diving, Whale Watching, Snoozing, Poolside Relaxing
Evening Vinyasa/Prana Flow Yoga Session
3 Gourmet Meals with the freshest local ingredients, many from onsite gardens
I don't often dedicate whole sections of posts to plugging events, but I'm mentioning this one because I love Colin and Rob, and I know that they're precisely the kind of people who can bring new and advanced yogis together in an incredible, community building experience. I also love their mission with Jai Yoga—to offer accessible, affordable yoga that is heavily intertwined with artistic expression—and beyond all that, yoga retreats mean a lot to me. If you've never done one before, it's hard to imagine how and why they're so life changing, but I can attest to it.
About four or five years ago, fresh on the heels of a soul crushing breakup and overdue for a vacation (I hadn't taken a trip in over four years of working life), I took myself on a yoga retreat in Tulum for eight days. I can't fully tell you how much I grew on that trip, but I can try. For one thing, the retreat forced me to deepen and connect with my (still relatively young) yoga practice. For another, I connected with kind strangers, but I also treated the trip as a solo experience, and learned a lot from my contemplative time there. And finally, though this is not the typical goal of yoga retreats, I confronted a lot of my lingering food demons in those eight days, and left many of them behind me. If you are looking to deepen your experience with yoga, or you simply have the means to take an overdue trip and want to grow, I really recommend considering a yoga retreat. None are inexpensive, but neither is most vacationing, and a yoga retreat is so much richer (I think) than the average beach trip.
Colin and Rob's retreat will feature locally sourced, organically grown food that's from the retreat center's own premises. The retreat center is run on solar power and water is re-used for irrigation of their gardens. There's a pool and lounge area, rooftop balcony, a stone labyrinth for contemplative strolls, miles of pristine white sand beaches, mountains and desert, and activities from surfing to whale watching. If you're interested, you can check out all of the details here. There's an early bird special right now that ends on August 15, so do consider it if you're looking to escape! I wish I could join myself, but school and MCAT study won't allow it. This time.
And now, my final announcement of the day: I have a winner of the Breville Juicer giveaway!!!! Thank you to the many of you who participated and showed interest in this giveaway; I am so grateful. I promise more fun opportunities, so if you missed this one, there will be others. The winner is #1475, Heather Holmberg. Heather, I am going to be in touch with details and next steps for claiming your new juicer!!!
Ever made veggie burgers that didn't turn out right? Ever feel like they're all destined either to be mush or to crumble? It happens to the best of us. Tomorrow, my top veggie burger tips, and a delicious recipe. Stay tuned
xo