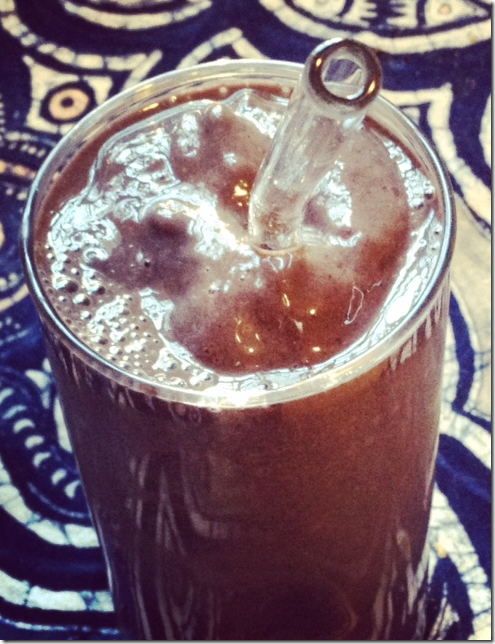 So on Thursday, I mentioned that one of the ways to cut a weekly raw food's grocery bill is to replace nuts with seeds, and dates with raisins (or prunes), and I gave you a raisin and seed ball recipe in keeping with the theme. Today, I'm here to talk about a purchase that is NOT budget friendly: frozen cherries.
Frozen cherries appear in supermarkets rarely, or so I've found. Having never been a fan of cherries until I first tasted my berry, cherry, and PB bliss smoothie, I've since come to see them as a very special, very precious treat. Fresh cherries from a farmer's market in the summer are indulgent enough, and quite costly; frozen cherries in the unseasonal dead of winter are a true, true luxury, and one I only treat myself to rarely.
As it turns out, I did get my hands on a precious frozen bag, right before the Christmas holiday—a little "get through finals" push, if you will. I've used it sparingly, so sparingly that I had just about a cup left yesterday morning, when I went to make a smoothie (true to form, I've proven that I don't crave warm foods more in the winter this week with a ton of smoothie breakfasts). I also had some Vega Sport Vanilla protein (a leftover sample from the kind Vega folks), some spinach, and plenty of fresh, homemade almond milk. From that combination, this delicious green smoothie was born.
Cherry Vanilla Smoothie (raw, vegan, gluten & soy free depending on which protein powder you use)
Serves 1
1 heaping cup frozen cherries
1 serving vanilla protein powder (I like Vega or Rainbow Light Protein Energizer)
4 ice cubes
1 heaping cup baby spinach
2 chlorella tablets (optional–just enhances the green power)
1 1/4 cups almond milk
Blend all ingredients together on high. Serve, sip, and bliss out.
This is a perfect "intro" green smoothie because it's so sweet, and the vanilla makes it reminiscent of a dessert! You won't taste the greens in this indulgent treat. Try it soon, and let me know what you think.
Before I go, the lovely Heather (recently featured in Green Recovery) tagged me in a game of 7 random facts. Here are mine!
1) The only vegetables I dislike to the extent that I'll barely eat them are radishes. So bitter! I've never understood the appeal.
2) You guys have probably heard this one before, but I lived in the same 40 block radius for the first 28 years of my life. True story. My move to DC was the first time I've ever left New York for more than a month or two.
3) I studied Latin until the age of 16. Salvete! I don't remember much, but it comes in handy for crossword puzzles.
4) 80% of my wardrobe was purchased on eBay. For real. This is in part so that I can reduce waste, in part because a lot of the materials in faux leather aren't environmentally friendly, so I prefer to buy them used, and mostly because I just don't like spending too much money on clothing. I have zero reservations about wearing used clothes and shoes.
5) I went to an all girls' high school. A lot of people who share this history feel traumatized by it, or as though they didn't have a "real" high school experience. I absolutely loved it. It's true that I didn't really socialize with a member of the male gender until I was eighteen, but I'd do it again in a heartbeat, in part because the female friendships I formed were so strong and so important, and because it taught me to value the company of women.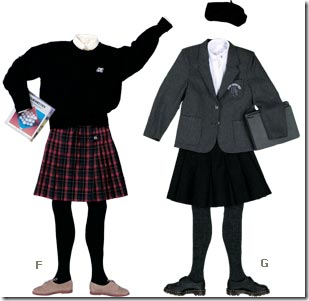 6) Among the foods I've "warmed up to" because I write a food blog are: onions, garlic, eggplant, parsnips, and most fruits aside from bananas and apples. Writing Choosing Raw has broadened my taste buds a lot!
7) My favorite hours of the day are 6 am to 10 am. Everything is so peaceful, so bright, and the day is still so full of promise. I'm a dedicated morning person.
(source)
I'm not tagging anyone in return, because it's too hard to pick out recipients, but I invite anyone who reads CR to jump in and pass the game on with seven facts of his or her own!
Back to studying I go. I hope that many of you get tomorrow off, and that you enjoy a lovely long weekend!
xo