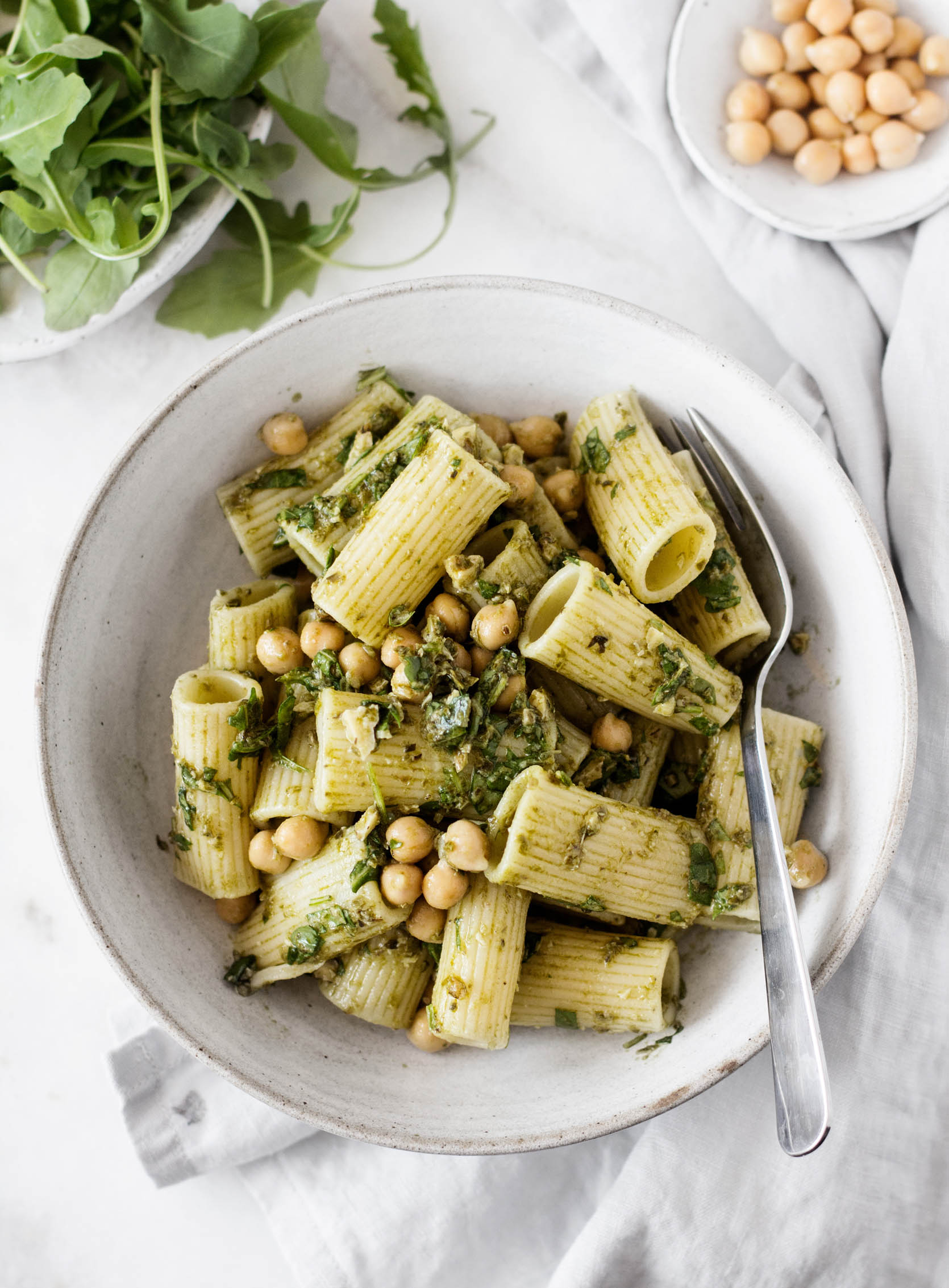 I made this chickpea pesto pasta salad last weekend. It grew out of a desire–which I'll explain in a minute–to create something that would feel seasonal and special without costing me a lot of time. The dish succeeded in both ways. It's fresh and unmistakably summery, but it's also low stress. Even better, the leftovers keep well, which means that it's a good option for weekend batch cooking.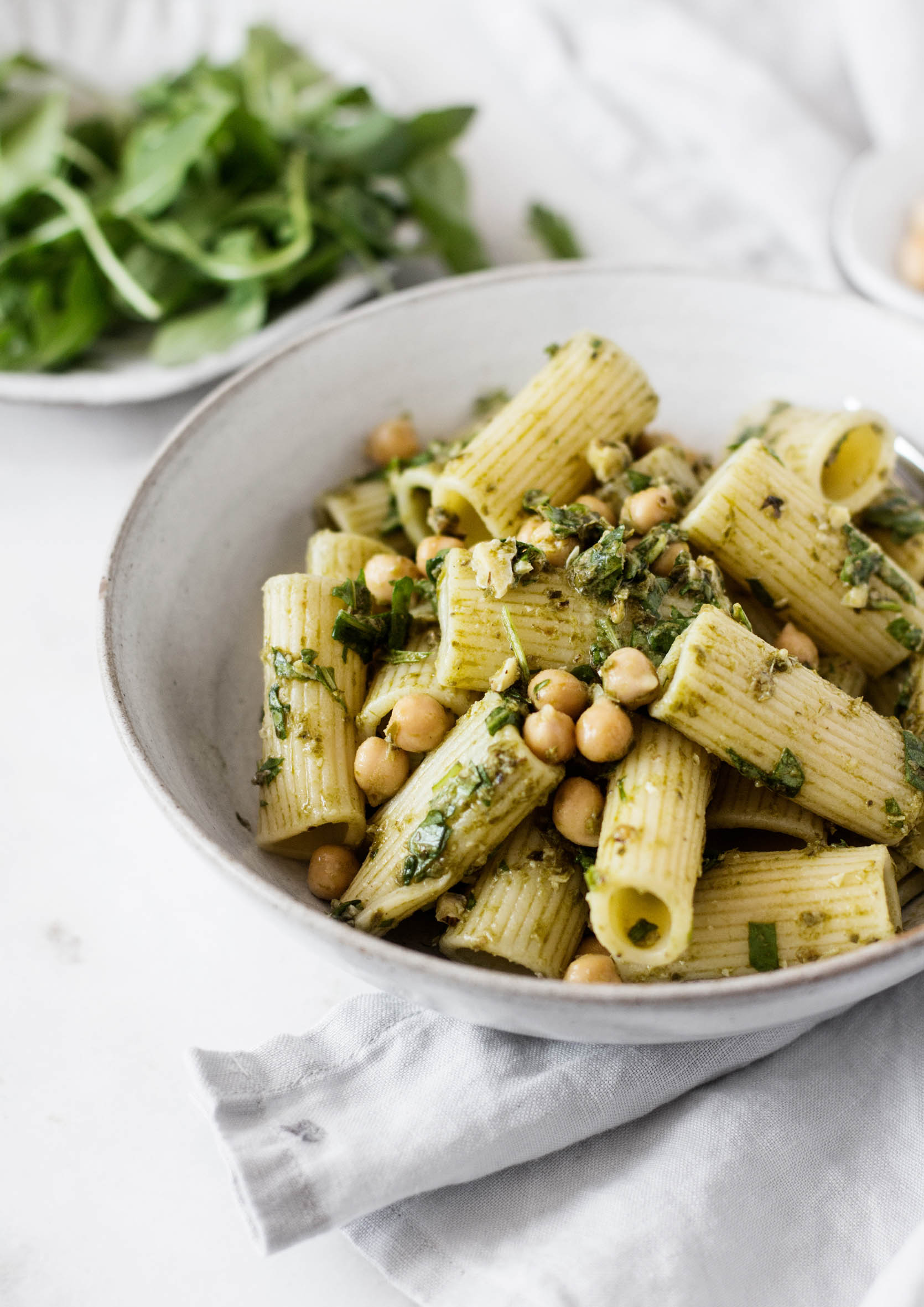 During my post-bacc years, I wrote about academic woes all the time. I'd study, write about studying, take an exam, write about my anticipation of said exam, and then show up here to vent about the frustrations that followed. It was what I needed at the time, I guess–communication, confession, whatever. But of course I look back over those posts and cringe at all of the drama and the oversharing.
I've kept my life academic life to myself since I started my RD program, mostly because I'm happier with school now, and there's less to vent about. When things are difficult, I try to avoid the trap of once again bringing each and every disappointment to the blog. But this week was especially hard, a buildup of stress and some very meticulous, demanding assignments for my MNT class–assignments on which, frankly, I fell short. I've waited a long time to take this class, which is my first taste of material that's directly applicable to dietetic practice, so there's pressure–whether real or self-imposed–to perform well.
But as I wrote about last week, I'm working on not creating grand dramas around moments of struggle, on knowing how to distinguish between what is and isn't worth real heartache. Striving without grasping, stumbling without despair. Resilience, humor, perspective. I don't have it figured out, but I'm trying.
I remember something a dear friend once said to me during my post-bacc. He was saying it to himself as much as to me, because it was something we all needed to hear at the time: when things are tough, you simply take a breath, double down, and push forward. I remember finding his understated determination so heroic, because it contrasted sharply with my own tendency to get overwhelmed.
Right now, "pushing forward" means prioritizing my class as much as possible until the end of the month, when my summer term is over, without gritting my teeth or struggling too much.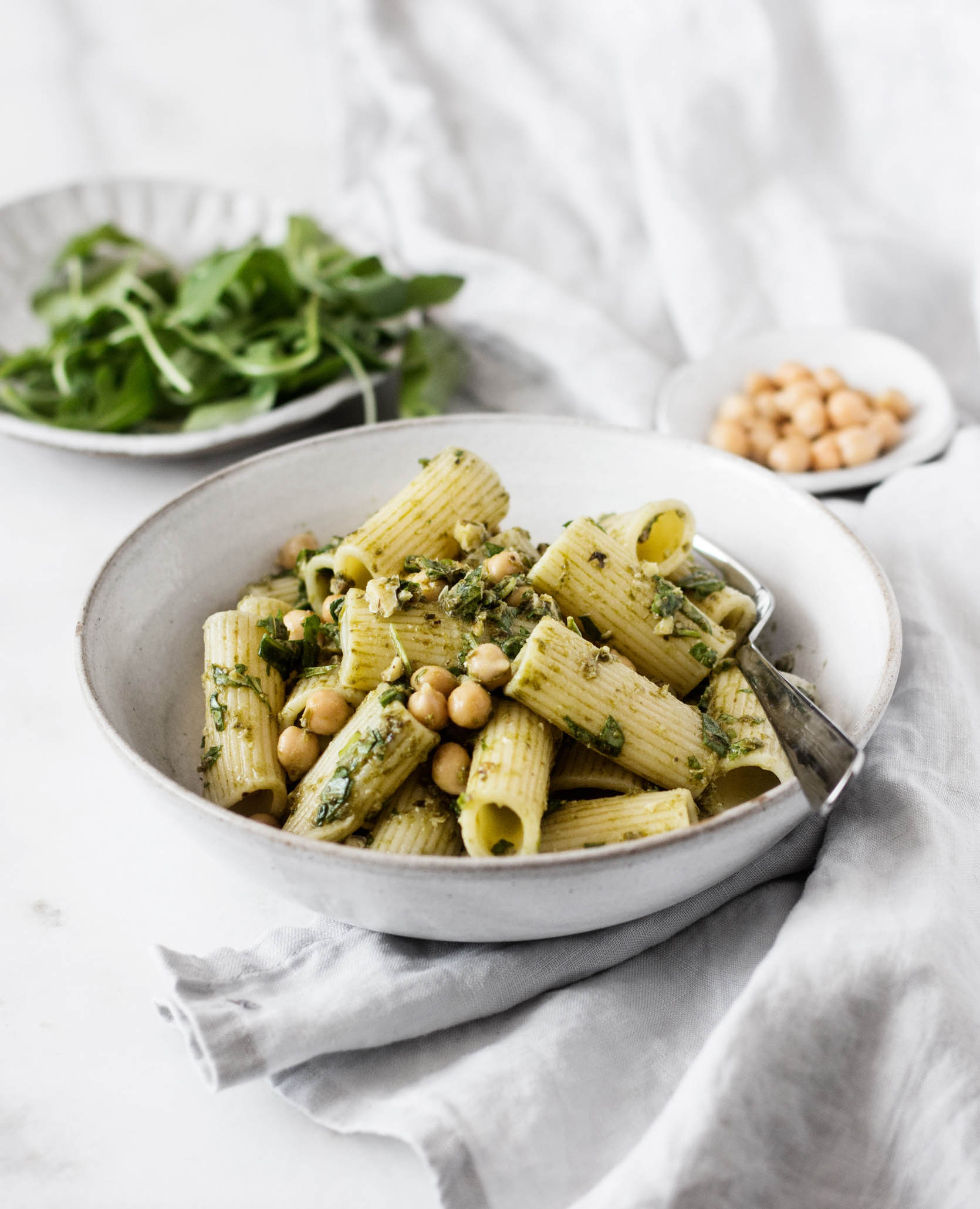 Cooking food that's both pleasurable and efficient helps me to prioritize work while nurturing a sense of wholeness. Since it's summer, and summer means glorious and fragrant batches of pesto, here's a pesto pasta salad that's just a little heartier and more nutritious thanks to fresh chickpeas. It combines a lot of ingredients I love, and I hope you'll love it, too.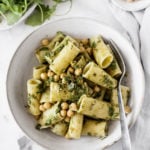 Chickpea Pesto Pasta Salad
Author -
For the pesto:
2

cups

basil leaves

or 1 cup basil and 1 cup arugula, kale, cilantro, or parsley

1

clove

garlic

roughly chopped (2 cloves if you prefer more garlic)

1/4

cup

walnuts

1/4

cup

olive oil

2

tablespoons

lemon juice

1/2

teaspoon

salt

3-4

tablespoons

nutritional yeast

to taste

Black pepper to taste
For the pasta salad:
8

ounces

penne or fusilli (whole wheat

gluten free, or any other pasta you like(

1 1/2

cups

cooked chickpeas

1 can chickpeas, drained and rinsed

1

cup

chopped arugula

optional
Bring a pot of salted water to boil. Add the pasta and cook according to package instructions.

While the pasta cooks, place all pesto ingredients into a food processor. Pulse a few times, and then process till smooth and uniform. Scrape the bowl down and process a little more, adding an extra tablespoon oil (or warm water) if needed, to thin the pesto.

When the pasta is ready, add it to a large mixing bowl along with the chickpeas. Add the pesto and mix everything well. Fold in the arugula, if using, and serve.
Leftover pasta will keep for up to three days in an airtight container in the fridge.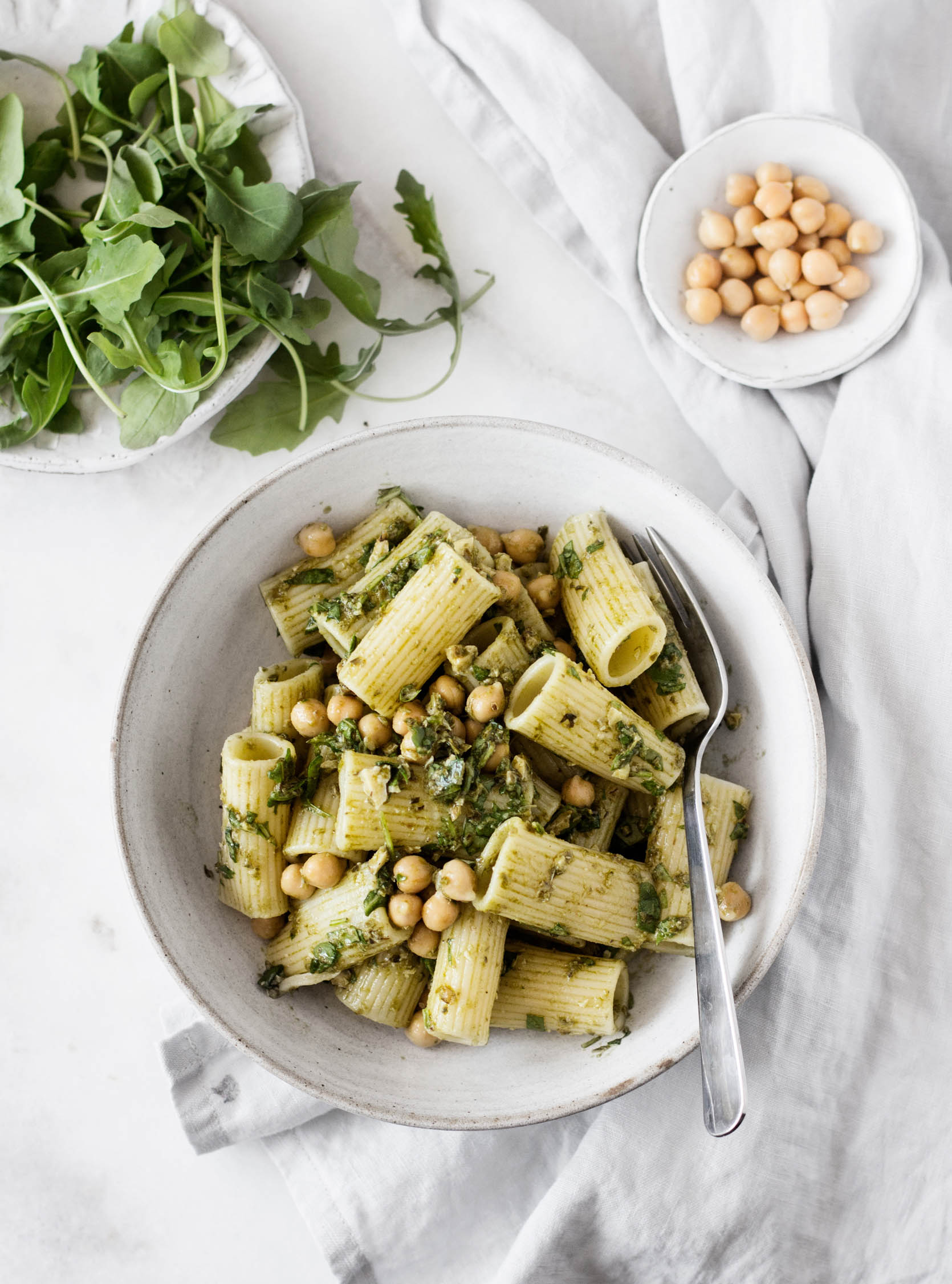 A few things about this dish: first, I want to add chickpeas to every pasta dish now. They add so much texture contrast, and I love the fact that they add some protein and extra fiber, too.
Second, the addition of chopped arugula was at least 50% circumstantial: I had just a little bit left in the fridge, and since it was the weekend and almost time for me to do a weekly grocery haul, I wanted to use up the greens I had. Steven found the idea of arugula in pasta to be pretty weird, but he ended up really liking the combination, as did I. The arugula gives this pasta salad a hint of crunch and peppery flavor. I'm excited to make the pasta salad with other legumes, like white beans, and perhaps to add some other greens or veggies the next time I try it.
So there you are, an unfussy dish for summer. Whether it finds you calm or struggling or glad or sad, I hope you'll enjoy it. If you make it, let me know how it goes.
See you this weekend for some weekend reads and recipes. Have a great end of the week.
xo