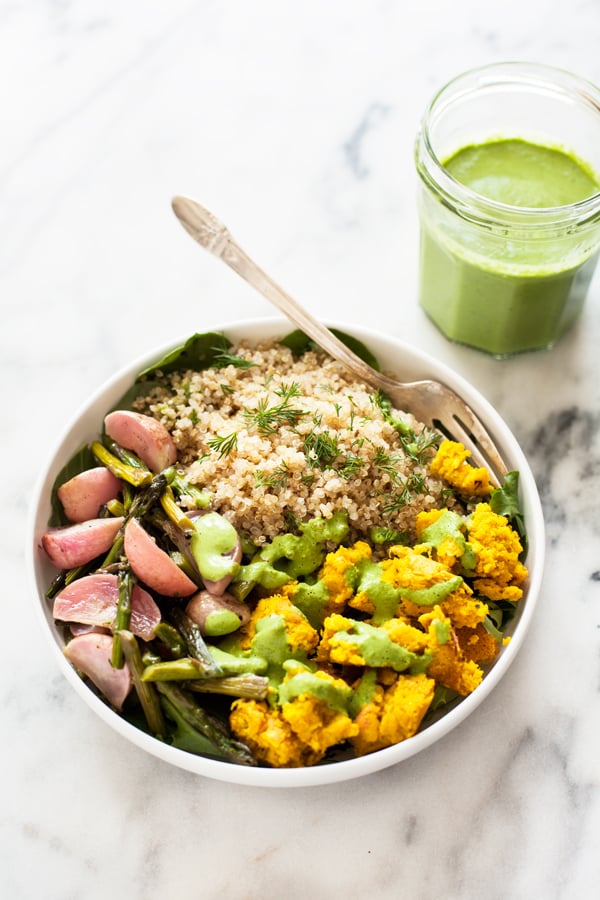 When I shared my tips on putting together a perfect vegan lunch bowl a few weeks ago, at least one reader asked if I might share some tips on assembling breakfast bowls, too. The answer is yes, and these colorful chickpea scramble breakfast bowls with roasted spring vegetables are a great place to start.
I'm a big believer in the power of a hearty, well-rounded breakfast. Macronutrient balance within meals is a big part of my food philosophy overall, but I think that breakfast is especially critical because it sets the tone of the day ahead. Imbalanced breakfasts–ones that fail to deliver enough energy-sustaining complex carbs or satiating fats and protein–can contribute to hunger or overeating as the day goes on. Breakfast has to be followed up by balanced meals and snacks, of course, but it's a powerful opportunity to establish a nourishing pattern at the start of a day.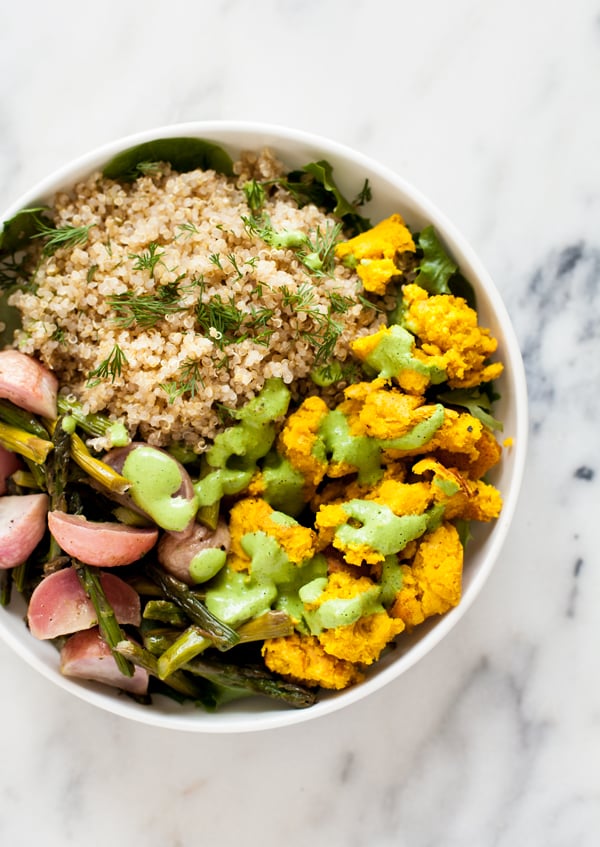 These bowls combine a protein rich combination of chickpea flour scramble–which is quick and easy to prepare, and a nice alternative to tofu scramble if you happen to have a soy allergy–and quinoa.
They also channel the freshness and beauty of spring by incorporating fresh greens, roasted spring vegetables, and a light, bright drizzle of my delightfully green tahini dressing. For this recipe, I used dill in place of both spinach and parsley in the dressing; I love the flavor, and I associate it strongly with this time of year. Spinach, parsley, cilantro, and basil all work perfectly in the dressing, so feel free to highlight an herb or green that you love.
To make the chickpea flour scramble, you basically just combine equal parts chickpea flour and water, nutritional yeast, a touch of turmeric, salt, and pepper. Let the batter rest for about 30 minutes before heating it a small saucepan with some olive oil. The process is similar to making socca or pudla, but as the batter firms up, you use a spatula to gently break up the chickpea flour mixture and scramble it around in the pan, letting it get nice and toasted as you go. The result is a scrambled, savory mixture that's perfect for this bowl, for a breakfast wrap, or even for topping salads.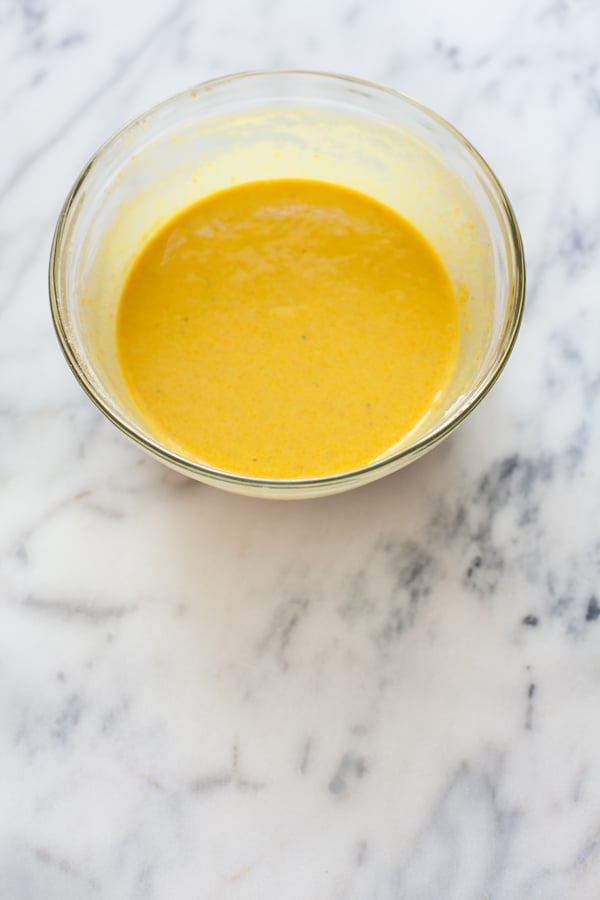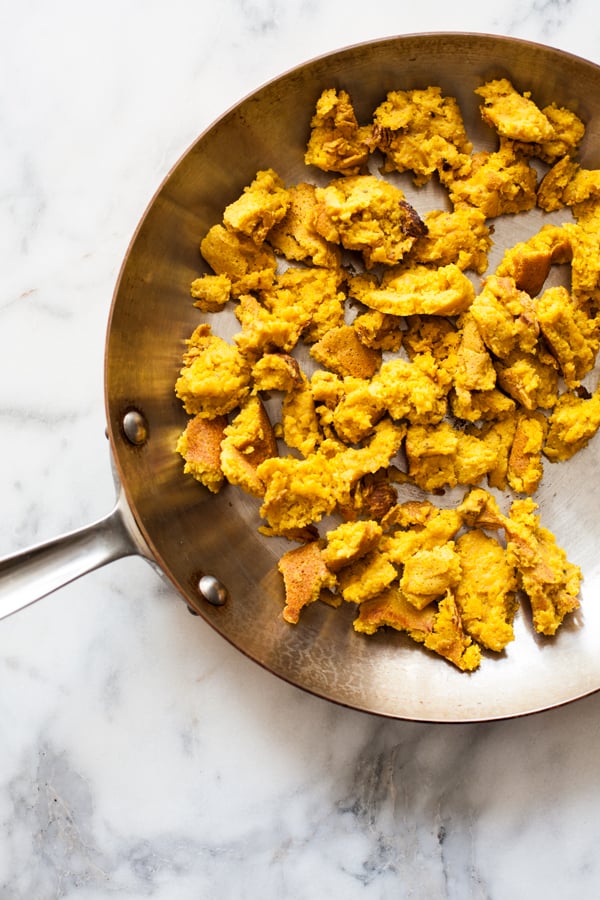 Before you make the scramble, you'll roast up some of your favorite spring veggies–for me, this was asparagus and sweet roasted radishes–and whip up a pot of fluffy quinoa. Once everything is ready, you can pile the ingredients high in a serving bowl and get ready to add your dressing.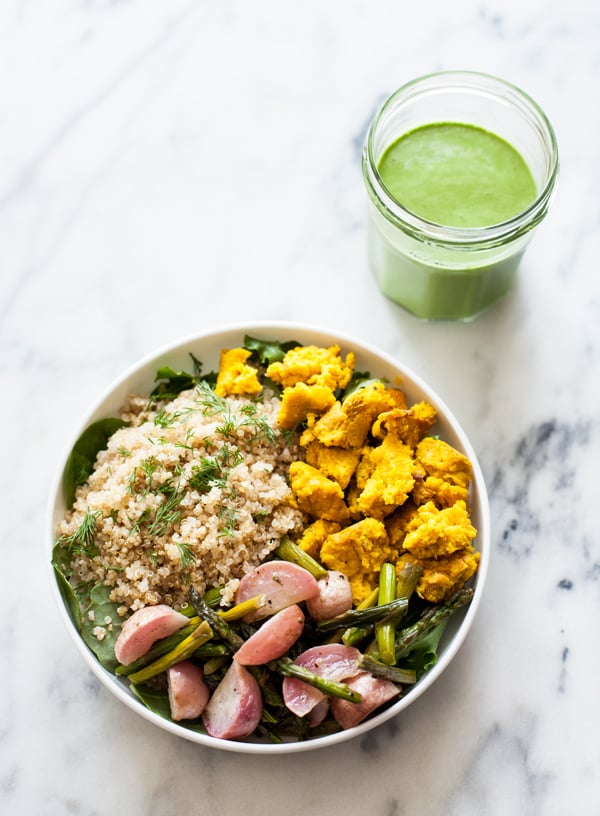 To make assembly easy, try preparing the dressing or the roasted veggies a day or so in advance. The recipe makes four portions, but you can also cut it in half or you can make it all and keep the components–the roasted veggies, the grain, the dressing, and the scramble itself–to use in other ways throughout the week. I served the scramble on toast the day after I tried this bowl, and it was a great (if slightly messy) decision.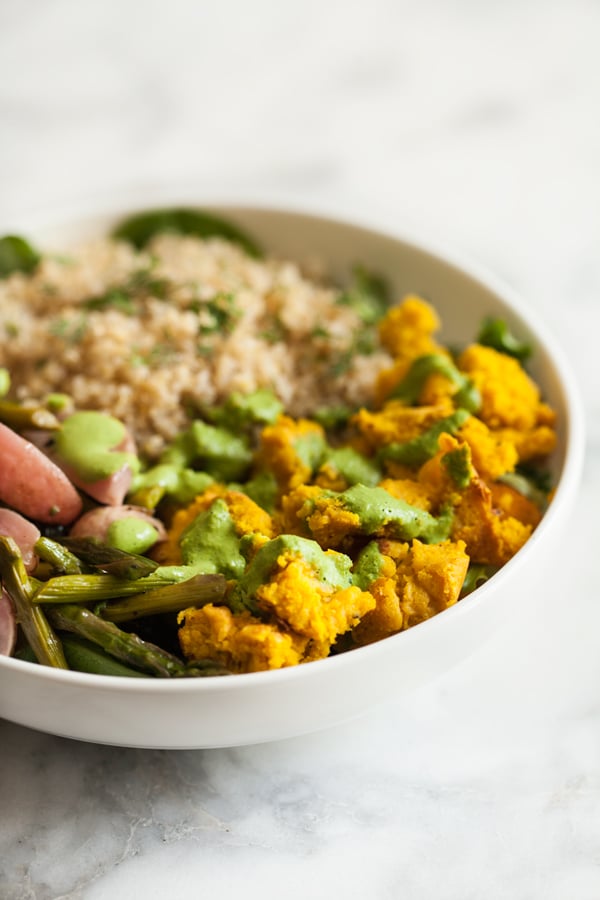 Chickpea Scramble Breakfast Bowls with Roasted Spring Vegetables
Author -
For the chickpea flour scramble:
1

cup

chickpea flour

1

cup

water

1/2

teaspoon

ground turmeric

more if you love the flavor

1/2

teaspoon

salt

1/4

teaspoon

freshly ground black pepper

2

tablespoons

nutritional yeast

2

teaspoons

olive

grapeseed, safflower, or another vegetable oil
For the bowls:
1

small bunch asparagus

ends trimmed and spears cut into 2 inch pieces

1

bunch radishes

cleaned and tops trimmed, cut into quarters

1

tablespoon

olive or vegetable oil

Salt and pepper

1

cup

dry quinoa

4

heaping cups arugula

mesclun, mache, or other mixed salad greens

1

batch delightfully green tahini dressing

substitute your favorite spring herb for the spinach, if desired, or another dressing/vinaigrette of choice
Begin by making the scramble batter. Whisk together all of the scramble ingredients until no clumps remain, then allow the batter to rest for at least thirty minutes. You can refrigerate it and let it rest overnight, whisking in about a quarter cup water before preparing, or you can allow it to rest on a countertop for up to two hours prior to making the recipe.

Preheat the oven to 375F. Toss the asparagus and radishes with the olive or vegetable oil and arrange them on a parchment or foiled lined baking sheet. Sprinkle with salt and pepper. Roast for 25-30 minutes, stirring halfway through, or until vegetables are tender.

While the vegetables roast, rinse the quinoa in a fine sieve under running water. Add it to a medium sized saucepan with 2 cups water. Bring to a boil and reduce to a simmer. Simmer, covered, for 15 minutes, or until the grain has absorbed all of the water. Fluff the quinoa with a fork, cover again, and allow it to steam until you're ready to use it.

Finally, prepare the scramble. Heat the olive oil in a small saute pan or skillet over medium high heat. Add the batter. Allow it to cook for 2-3 minutes, or until the bottom is golden and a few bubbles have formed at the top. Use a spatula to gently break this giant pancake apart, then gently scramble the whole mixture so that the pieces start to cook on every side. It will take about 2 minutes. Once all of the pieces are golden and cooked through, remove the scramble from heat.

To serve, toss the greens with a few tablespoons of the dressing. Divide them into four bowls, then top each serving with a quarter (each) of the quinoa, chickpea scramble, and roasted veggies. Drizzle with extra dressing and serve.
Leftover scramble will keep in an airtight container in the fridge for up to 4 days. Leftover quinoa and leftover dressing will keep for up to 5 days. Leftover roasted vegetables will keep for up to 3 days.
It's funny: right before making this recipe over the weekend, I'd been writing about how most of my meals between now and the end of my semester needed to be super quick and streamlined. This recipe isn't exactly a huge undertaking, but it's not a twenty minute meal, either: there are steps and moving parts.
In the end, what prompted me to put it together wasn't only that I loved the idea of a new breakfast bowl. It was the fact that I'd had an emotionally draining weekend, and I was feeling as though I needed nourishment that wasn't only nutritional. For me, the cooking process really is nourishing in and of itself, a restorative and life-affirming act. It has been since the very early days of my anorexia recovery.
And so, when it feels as though things are falling apart a little, cooking is my way, however small, of piecing them together. Or piecing something together–in this case, a couple of nutritious plant foods that add up to a lovely, seasonal morning meal.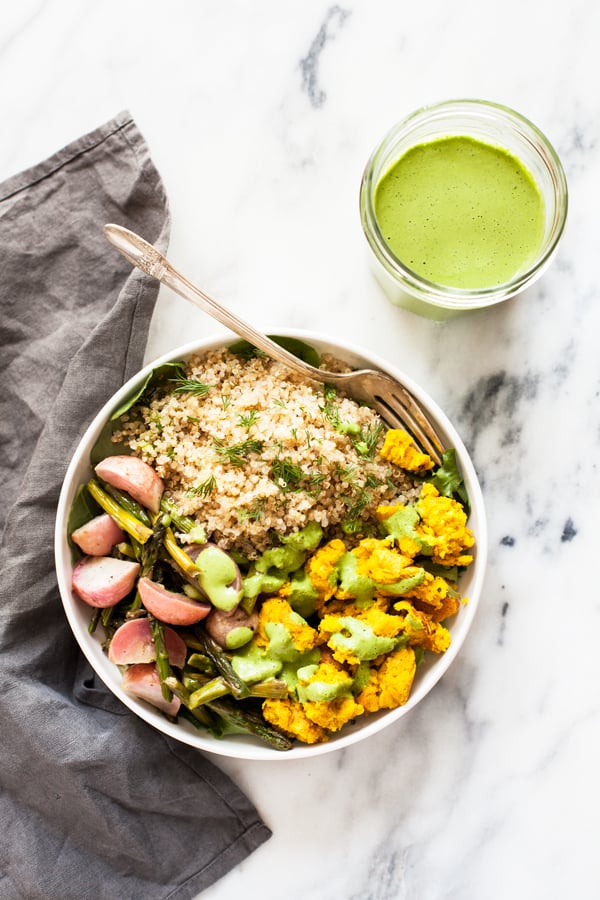 I hope you enjoy this recipe as much as I did. Happy Tuesday, and I wish you all a great start to the week.
xo