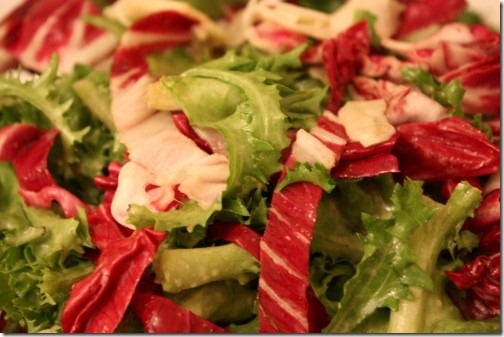 Tis the season for…salad?
I've mentioned before that I'm not the most seasonal eater. I happen to be on a breakfast smoothie kick, even though it's freezing in NYC right now. I often find myself going through juice crazes or raw food crazes in the dead of January and February (part of me wonders if this is my desire—emotional or biological—for freshness in the middle of a dead season). And it's also not unheard of for me to roast, bake, and sauté my way through portions of the summer. In short, there seems to be only a vague correlation between outside temperatures and the temperatures of my food.
This has been a week of salad. All salad, all the time—different sorts, with different greens (butter lettuce, kale, spinach, frisee). I've had a nutrient dense salad every night for the last four, and many midday salads, too. Part of this is time management—salads are always my fastest and most simple dinner option. But that can't be all of it. Perhaps, in keeping with the logic above, my body is preparing itself for the barrenness of winter with tons of fresh, raw vegetables. Or perhaps it's that I'm a little stressed out, and I'm seeking out my favorite comfort food (yes, salad is my idea of comfort food). I know for a fact that I crave salads—which are easy for me to digest and always leave me feeling particularly well—when I've got a lot of external pressure to handle. Whatever the case, the first week of advent has brought in one salad after another. A much better holiday remembrance than the milk chocolate they stuff into advent calendars, right?
The salad I'm about to share was my favorite of last week. It's the embodiment of winter: spicy and bitter, but made festive with a sweet, tangy dressing and the crunch of fennel. I like my greens cold and crunchy, but I made a last minute choice to warm up the dressing for a while in my VitaMix, and it was genius. Cool greens meet warm dressing. What could be a better way to enjoy raw foods in December?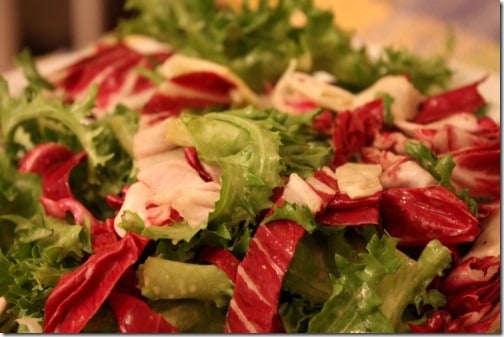 Chicory Salad with Warm Mustard Dressing (serves 2)
For the dressing:
1/4 cup olive or flax oil
1/4 cup nutritional yeast
2 tbsp dijon mustard
2 tbsp agave nectar
2 tbsp apple cider vinegar
1 tbsp white balsamic vinegar
salt and freshly ground pepper to taste
For the salad:
1 head chicory, washed, chopped, and spun
1/2 cup fennel, thinly sliced
1/2 cup torn raddichio leaves
To assemble the salad, mix all the veggies together. To make the dressing, blend all ingredients in a blender till thoroughly mixed. If you have a high speed blender, leave the dressing in there for an extra moment, so that it gets warm. If not, heat this gently (only so much that you can still touch your fingertip to it) in a saucepan.
Dress the with as much dressing as you like, and enjoy!
The perfect textures, tastes, and colors for a cold weather salad: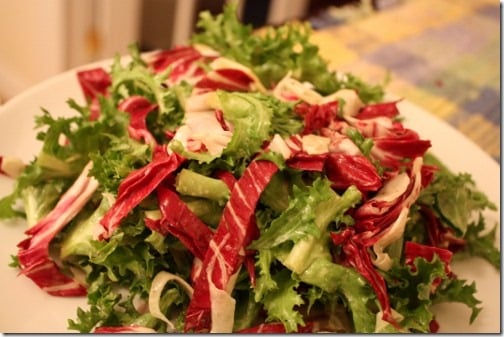 With a perfect "bite." I served mine with veggie juice pulp mush: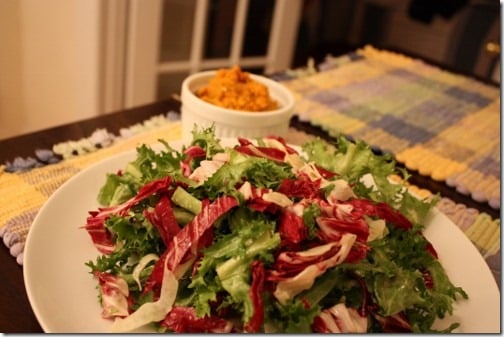 And from a nutritional perspective, it's a powerhouse: more than 33% of your daily Vitamin A, a good dose of Vitamin C from the chicory and the fennel (both good sources) and some calcium. Even if Vitamin C doesn't ward off colds, I'll pretend this salad has magical preventative powers. Gives me an excuse to eat it again.
Hope you're inspired to get some fresh greens into tomorrow's meals! What are your favorite winter salads?
xo