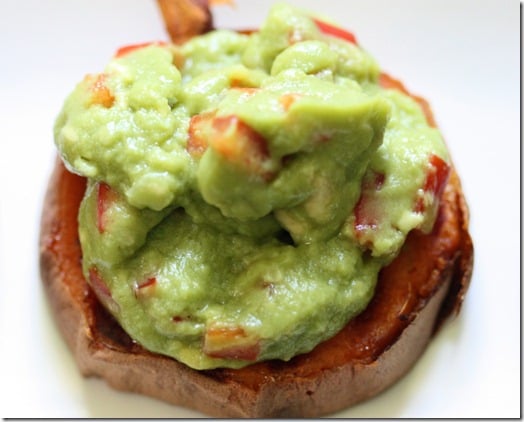 Before we get into the deliciousness above, let me thank you all for making this year's NEDA week post—sharing your ED story with a partner or friend—so lovely. I appreciated all of the comments, especially those from people who are just on the brink of sharing with their partners. I hope you all find strength and support in the CR community! NEDA week is still up and running, so please keep these issues fresh in your minds. And, fellow bloggers, let me know if you write NEDA posts of your own!
I don't think I have to say too much about the deliciousness above. Guacamole. Sweet potatoes. Sweet potatoes grilled with a spice rub. What more could one ask for, except seconds and thirds? Seriously, sweet potatoes are one of my favorite foods: they're one of the more healthy and natural ways to get your carb attack on, and their sweetness gives them tremendous versatility. They're standard dinner fare for me, but I can easily eat them for breakfast, as we all just learned when I posted my sweet potato breakfast salad with almond butter protein dressing: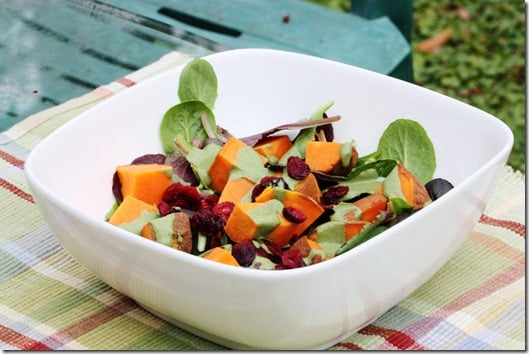 Today's recipe is quick and easy, but it's also an impressive appetizer dish to share at parties or as a first course for dinner at home. I grilled my sweet potato rounds on my Cuisinart indoor grill/griddle (this year's holiday request), but baking them will work every bit as nicely. And of course, if you have an outdoor grill, have at it. Grilling sweet potatoes brings out their caramel flavors, and it's a great opportunity to crack out a spicy, smoky mixture of seasonings.
Chili-Rubbed Sweet Potato Rounds with Guacamole (vegan, gluten free, soy free)
Serves 4
For the chili spice rub:
2 tbsps chili powder
1 tsp paprika (I use regular here, but use smoked paprika if you want a smoky flavor!)
1 tsp coriander
1/2 tsp cinnamon
1/2 tsp sea salt
Dash cayenne pepper (omit if you don't want the heat)
For the dish:
1 large sweet potato, sliced into 1/4 inch rounds
Coconut oil (optional)
1 recipe classic Choosing Raw guacamole
1) If you're baking your sweet 'taters, pre-heat oven to 425 degrees. If you're grilling them, first prepare a pot of boiling water with a steamer insert.
2) Mix spices together for the rub.
3) Oven method: Brush or spray potatoes lightly with coconut oil (you can omit this if you're avoiding oils). Sprinkle them with the spice rub. Roast round for about 12-15 minutes, or until golden on the bottoms. Flip and roast for another 12-15 minutes.
Grill method: Steam sweet potato rounds for about eight minutes–you don't want them cooked through, but you do want them to be most of the way there. Remove from steam heat, spray or brush lightly with coconut oil (totally optional), dust with chili rub, and transfer to grill. Grill for about 4-5 minutes on each side, until nicely browned.
4) Whip up a batch of classic CR guacamole. Transfer it to a plastic bag, and snip one corner of the bag so that you can pipe out the guac (I almost wrote "pipette out" the guac–too much biochem lab).
Pipe the guac onto the rounds as if you were frosting cupcakes. (NB: My guac didn't look much better after piping than it might have if I'd used a spoon. So this step, while nice, is definitely optional).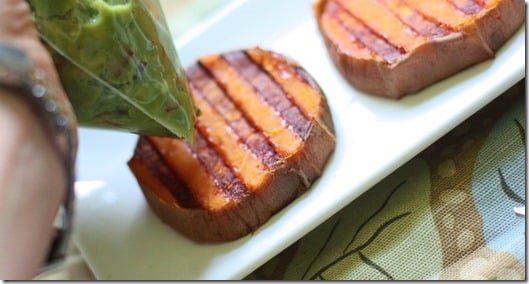 5) Serve, savor, swoon.
The light, bright, lemony guacamole pairs perfectly with the dense, sweet, and smoky sweet potatoes in this scrumptious recipe. Added bonus? Lots of complex carbs and healthy fat make this an incredibly satiating—as well as a supremely delicious—snack or appetizer.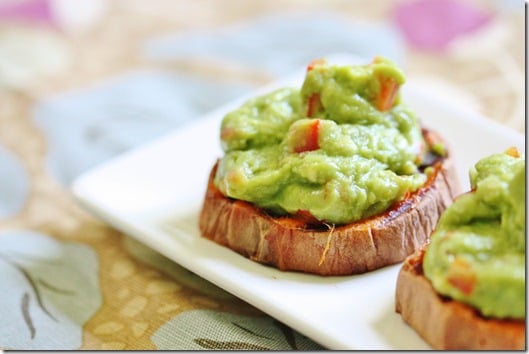 Healthy, simple, and satisfying. The best kind of party food.
Hope you keep this recipe in mind for either winter or summer entertaining; one of its benefits is that it features produce from both seasons, and it's very versatile!
With that, it's back to a long day of biochem lab and Orgo reports. Happy hump night.
xo