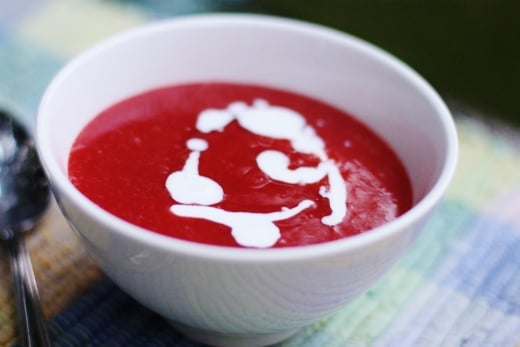 It's Friday!
In spite of a exam looming on Tuesday, I'm delighted to be facing a weekend. Happy, too, that you all enjoyed the raw nori rolls yesterday—do not fear sushi making, folks! It's so fun and such an easy way to turn an everyday meal into something beautiful and elegant
It's September, which means that autumn, my favorite time of year, has officially begun. Today is the first cool and crisp day we've had here in the swamps in a long, long time, and I'm excited for all the little details of the coming season: apples, nubby sweaters, boots, scarves, hot cocoa, and, most importantly, the best farmers' markets of the whole year. Sure, I like a July farmer's market, with its abundance of berries and heirloom tomatoes, but I think that September is really the best time of year to soak up local produce. You have all of the marvelous bounty of fall rolling in—broccoli, autumn squashes, green beans, kale—and you've still got fresh corn, tomatoes by the bushel, and even some late summer peaches. What more could any of us ask for?
Last week, a bunch of plums appeared in M's produce box. Plums embody the summer/fall transition nicely, since their season spans May-October (depending on where you live, of course). I was glad to have them, but aside from my vegan sugar plum muffins, I really couldn't think of what to do with them. Then it occurred to me that, as we kiss summer goodbye, we're also bidding au revoir to the season of chilled soups. I decided to make a dessert soup for a change, featuring these beautiful scarlet fruits. The result—a really simple plum purée, spiced with cinnamon and topped off with cashew cream—was a delicious sweet treat.
Chilled Plum Soup With Cashew Cream (vegan, gluten free and soy free)
Serves 4
5-6 plums, pitted and quartered
1/4 cup dermarara sugar (agave would be alright, too)
1/2 cup water
2 tbsp orange juice (optional)
1 tbsp orange zest or 1 tsp lemon zest (optional)
2 tsps cinnamon
1 tbsp arrowroot or tapioca starch
For the cashew cream:
1 cup cashews, soaked for a few hours
1 1/4 cup water
2 tbsp agave
1 tbsp lemon juice
1 tsp vanilla extract
1) To make the cashew cream, put the soaked cashews in your Vita-Mix or food processor along with the agave, vanilla, and water. Blend until mixture is very creamy.
2) Place plums, sugar, water, OJ, zest, and cinnamon in a medium pot and bring to a boil. When it boils, reduce to a simmer and cook, stirring occasionally, for 15 minutes.
3) Add arrowroot or cornstarch and raise heat slightly. Whisk as you cook for another 5-10 minutes, until soup has thickened a bit and is bubbling.
4) Transfer soup to a blender and blend till very smooth. (Careful! Hot liquid will expand and spatter if you don't keep your blender lid on very tightly!). Let cool to room temperature, then transfer to fridge and cool completely.
5) To serve, ladle into bowls and top with a swirl of cashew cream. Enjoy either as a sweet accompaniment to lunch, or as a dessert!
Just look at that spectacular hue:
This is the perfect celebration for the end of summer, or a light, bright way to end a richer autumnal meal.
Obvious question: why not raw? Honestly, because I tried making it raw, and didn't love it; here, simmering the plums really brings out a deeper sweetness and a better texture. But if one of you manages to perfect this soup in the raw, come back and tell us about it!
Looking for other things to do with plums? Give my sugar plum muffins a try!
Have a stellar Friday night, everyone. See you this weekend!
xo