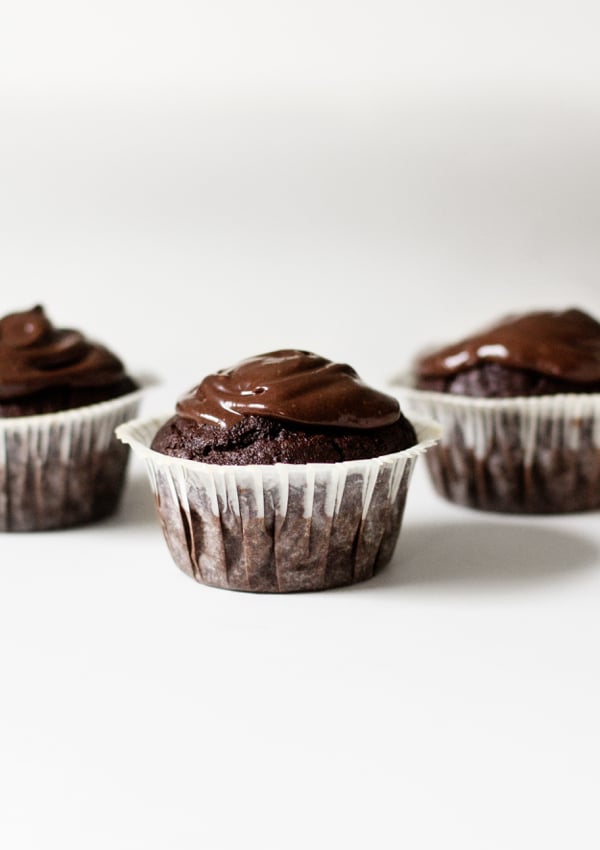 Thank you for such an enormous and wonderful outpouring of love on my birthday! You all know how to make a gal feel special. Thank you so much, and I'm glad that the turning 30 theme struck a chord with many of you.
Yesterday, I showed you my absolutely scrumptious birthday gift to myself: chocolate avocado cupcakes with chocolate avocado frosting.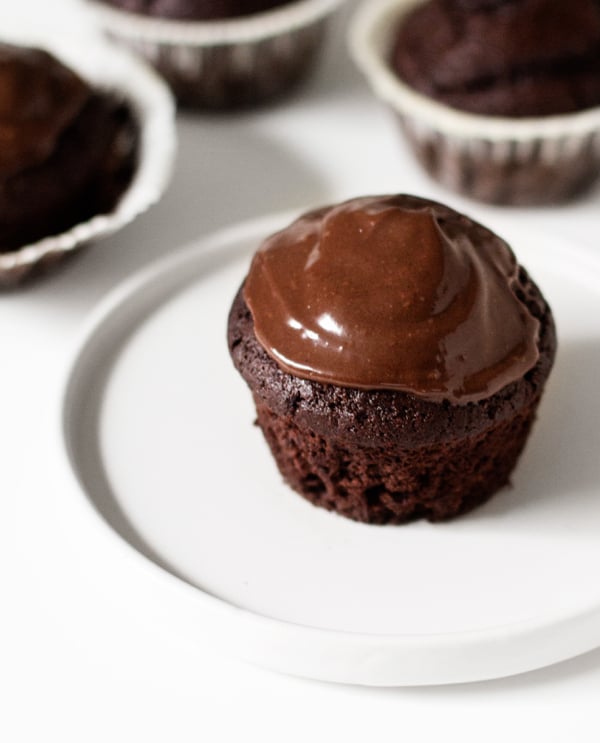 Inspiration from this recipe comes from the lovely Nicole, who recently posted a smashing recipe for gluten-free chocolate avocado cupcakes on her blog. I thought they were beautiful and ingenious; it had never occurred to use avocado in a baked good, but what a wonderful way to add healthful fats to a batter! In the end, I used a mix of avocado and oil in my recipe (Nicole used avocado only), but I still loved the idea of adding a whole foods fat source to a cupcake, all the while keeping it light and fluffy.
Since I was using avocado in the cupcake, it felt perfectly reasonable to use avocado on the cupcake, too. I've made many a batch of vegan chocolate icing with a standard mix of confectioner's sugar, Earth Balance or vegan shortening, and almond milk. It's great, but truth be told, I'm equally happy with a batch of chocomole. It's one of my favorite raw dishes, and it's every bit as good on top of cupcakes as it is eaten with a spoon. You can use any icing you want for these cupcakes, naturally, but I'd encourage you to give the chocomole a shot!
Here's the recipe.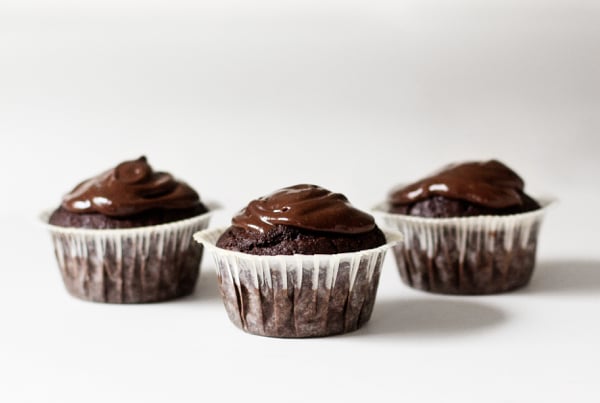 Chocolate Avocado Cupcakes and Frosting
Cuisine:
vegan, soy free, tree nut free
Author:
Prep time:
Cook time:
Total time:
1 1/2 cups whole wheat pastry flour
1/4 cup cocoa powder
3/4 teaspoon baking powder
1 teaspoon baking soda
1 cup coconut sugar or cane sugar
1/4 teaspoon sea salt
1/2 avocado, peeled and flesh scooped out
1/4 cup vegetable oil (such as safflower or grapeseed)
1 cup warm water
2 tablespoons maple syrup or agave
2 teaspoons apple cider vinegar
1 teaspoon pure vanilla extract
For the icing:
2 large avocados, pitted and flesh scooped out of peel
6 tablespoons cocoa powder
1/3 cup maple syrup or agave
1 teaspoon vanilla extract
Dash sea salt
Dash cinnamon (optional)
Preheat oven to 350F. Grease 8 muffin tins or line them with cupcake liners.
Mix together the flour, cocoa powder, baking soda, baking powder, sugar, and sea salt.
Place your avocado, water, maple syrup, vinegar and vanilla in a blender, and blend till smooth. Add this mixture to the dry batter. Whisk until the batter is evenly mixed. Pour batter into a greased muffin tin. (This recipe yields 8 cupcakes, so pour it into 8 of the tins!) Bake for 18-22 minutes, or until a toothpick inserted into the center of a cupcake comes out clean.
While cupcakes cool, mix all icing ingredients in a food processor or a high speed blender till smooth and creamy. Ice the cupcakes and serve!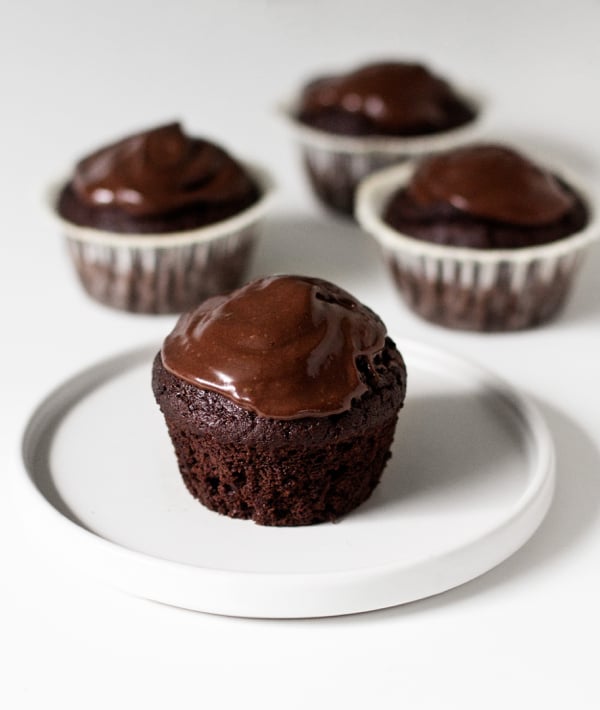 I'm sure that many of you are wondering whether or not you can taste the avocado in here? Well, you can probably taste it in the icing. But not in the cake! You won't taste a thing, but you will get the benefits of all those wonderful, polyunsaturated fats. Win, win.
These cupcakes epitomize the creativity that comes from using whole foods in your baking. I hope they make you (or someone close to you) as happy as they made me. I rarely bake anything fancy for myself, but I'm so glad I treated myself to these. And if those weren't enough, one of my post-bacc friends made me a raw, vegan birthday cake, all from scratch. He used this recipe!
So incredibly sweet–literally and figuratively. I'm a lucky birthday girl.
Have a great start to the weekend.
xo