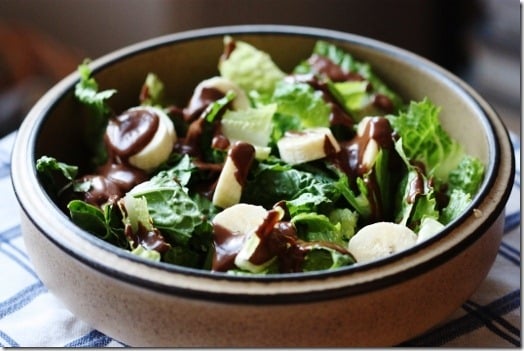 Happy Friday!!! I can't believe that NYE is upon us. Time, as they say, flies.
All morning, I did the annoying thing where I excitedly tweeted about an "awesome" recipe and then refused to say what it was. I should make a point of not doing this, because when I do, the pressure to deliver something fabulous is really high. The recipe in question—a chocolate avocado sauce and matching breakfast salad—is really one of the simpler things I've made in a while. But I know my readers, and something tells me that you guys love my more simple and sweet recipes. In that spirit, I hope you'll love what I have to share today.
This recipe is of course a spin on my famous chocomole, which many of you have tried and loved. The avocado and chocolate combination never fails to raise eyebrows, but fortunately it also never fails to win people over. I have made my regular chocomole, my mexican spiced chocomole, and my sweet potato and chocomole for countless friends (including Melissa) and the reviews are always two thumbs way up.
Why, then, not turn this classic raw foodie favorite into a sauce?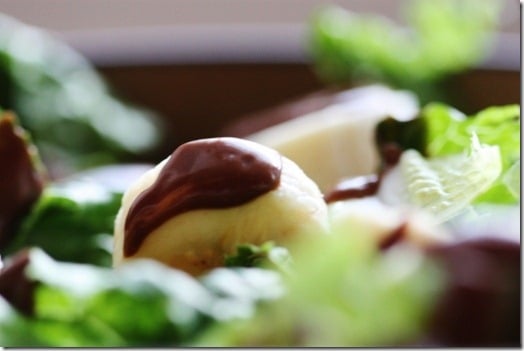 Today, I woke up craving something on the green side. But it was too cold for a green smoothie, and to be honest, I prefer to chew my greens than to puree them. I've always enjoyed breakfast salads, but this is the first one I've thought to post about. If you guys dig it, it may be the first of many.
The salad itself is about 4 cups romaine and 1 banana. To be clear, you can use any kind of favorite fruit in this recipe. Banana is my personal favorite, so that's what I did, but mango and apple would also be great. So would fresh berries! The possibilities are endless. But no matter what you do, don't forget the chocolate.
Chocolate Avocado Sauce (raw, vegan, gluten free, soy free)
Makes about 1 1/2 cups
1 small avocado
1/4 cup cocoa powder (I use raw cacao powder from Navitas naturals)
3/4 cup water
1 tbsp almond butter
1/4 cup agave syrup
Dash salt
Stevia to taste
1 tsp vanilla (optional)
Blend all ingredients in a high speed blender till smooth. Add stevia to taste: I prefer making this recipe less sweet, but you should follow your tastebuds. The reason I use a stevia/agave mix is that I find pure stevia to be rather bitter, while all agave can get a little too sugary. Using a mix is a nice way to balance it out, but you can certainly use all of one or the other depending on your needs. Date paste would work well, too!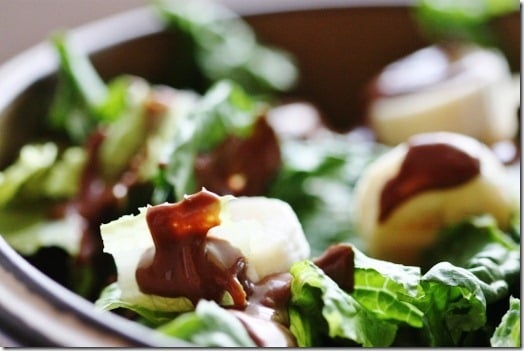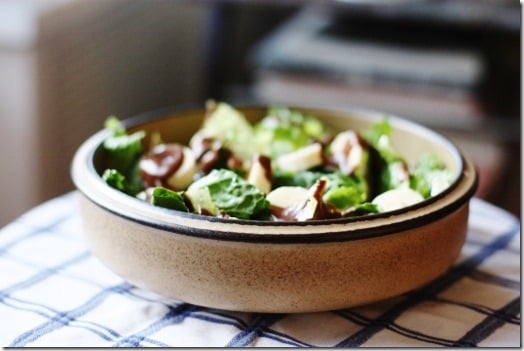 Now, breakfasts salads are all well and good, but if you're like me, you may find that banana+avo+greens is not quite filling enough. For that reason, feel free to add nuts, to serve it with some toast, or to sprinkle it with granola, as I did! Low fat apple cinnamon raisin graw-nola, to be precise:
That's fruit, nutrient rich buckwheat, healthy polyunsaturated fats from avocado, and a whole bowl of greens, all before 9 am. Breakfast salads are revolutionary!
Speaking of salad, I had the pleasure of sharing lunch with one of my dearest blogger friends yesterday. JL, whom I met for the first time at Vida Vegan Con, and I met at Pure Food and Wine for a scrumptious raw lunch. It has been so long since I had the pleasure of dining there, and I was so excited!
I began with a "thai greens"—cilantro, pineapple, cucumber, and celery.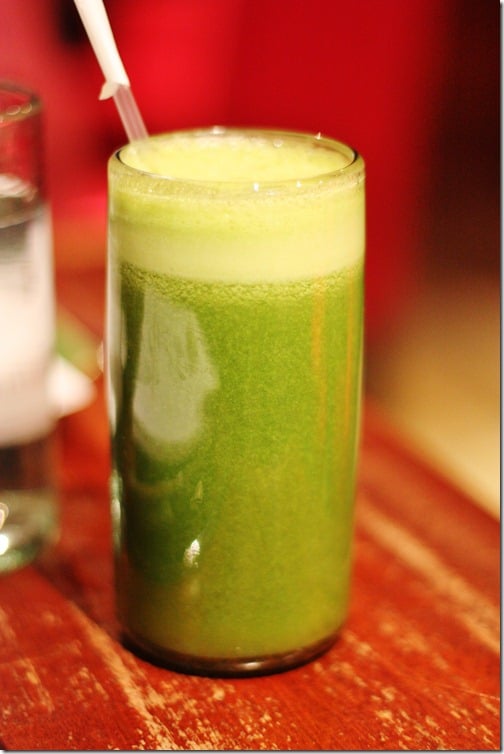 Next came appetizers. The original plan was to split one: the raw nori rolls, which contain jicama rice, avocado, and mirin soaked mushrooms (quite possibly my favorite Pure dish). So that happened.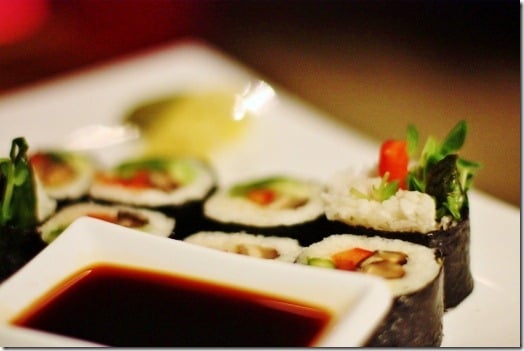 But who were JL and I kidding? One appetizer? I think not. A caesar salad was in order, too: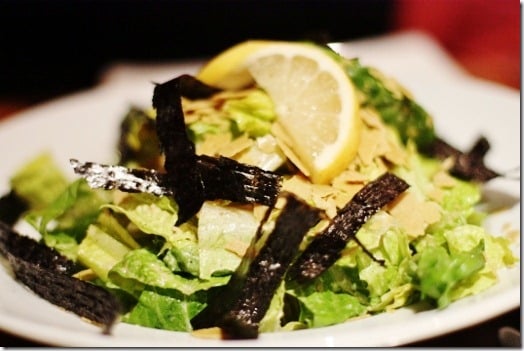 The Pure caesar is a thing of beauty: delicious raw parm, a tangy, lemony dressing, and crisp nori strips. I love it.
For my entrée, I got a "make your own" salad with beets, carrots, cucumbers, dulse, tomato, avocado, jicama, basil, and the restaurant's famous rosemary "quackers." I always feel a little bad ordering salad at Pure, but salad's my favorite thing, and no one does it better than they do. Finest and most giant salads around. Just look at my mountain: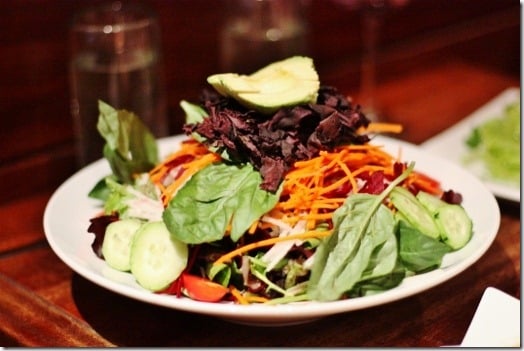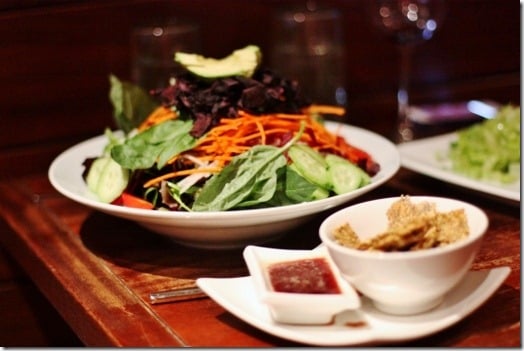 JL got a little more creative, and went with the fantastic raw hemp burger: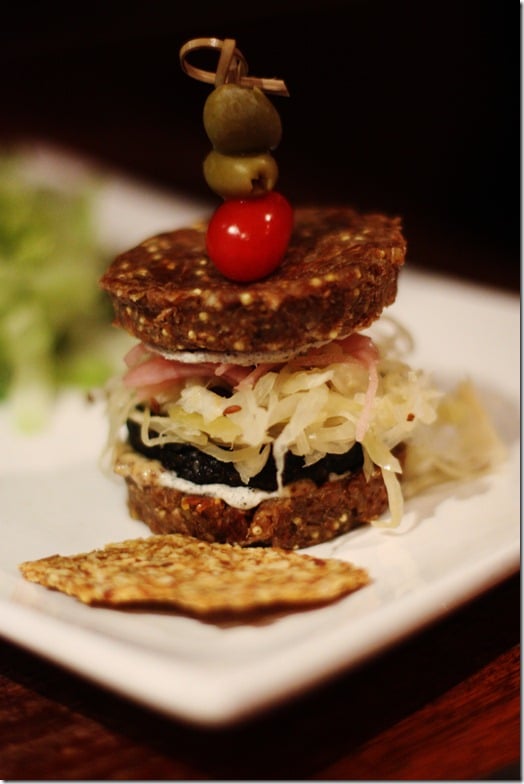 You can always count on Pure for fantastic food and exquisite presentation. Sarma, we thank you!!!
JL is truly one of my favorite people: so wise, so whip smart, so generous in every way. She is the embodiment of warmth. I cherish my time with her, and can't wait for our next hang.
Before I go: thanks for the good feedback yesterday. I'm glad that many of you found the Tara Parker-Pope article interesting. I think it certainly has implications for the ED-recovered: as I'm sure a great many of you have experienced the consequences of metabolic adjustment from weight loss, and if you have, you know that they can feel terribly frustrating, and compound the fear of food, as my friend Elizabeth aptly remarked today. With all of that said, I want to also point out that it is possible for even a temporarily "injured" metabolism to become balanced again: certainly I'm living proof of that. And if you are contemplating necessary weight loss this year (that is, if you need to lose weight for health reasons), you can rest assured that many people do manage to successfully lose enormous amounts of weight, and maintain it. And the vegan and raw communities are particularly full of such stories.
xo