My readers with a sweet tooth will be glad to hear that they're in luck this week! I didn't have much time to cook before I left for New York last week, so I combined freezer leftovers with what produce was left in my fridge to produce some very tasty, but not very blog-able, meals. Since there are always a lot of nuts and dates in my home, however, I was able to produce some sweets and nut milks, as well as a recipe or two for Halloween (more of those soon). In the next few days, I'll be sharing the fruits of my labors.
First up is this delicious nut milk. It's a new recipe for me, my first time using maca in a nut milk, and I was pleased with the results. Maca, for those readers who aren't familiar, is a root vegetable native to the Andes of Peru. It's what's called an "adaptogen"–a name given to ingredients that are thought to help balance hormones and stress. It's also said to boost sexual desire and improve mood. While some of these claims are likely overstated, there are at least a few studies that suggest maca's efficacy in stabilizing depression after menopause and increasing libido in men. Perhaps there's something to the lore!
Maca can be found online (Amazon, Vitacost, Sunfoods) or at most health food stores. It's expensive, but the serving size is small, so you can treat the purchase as a pretty lengthy investment. I'm fairly sensitive to the taste of maca (which is unfortunately very hard to put into words–I guess I'd call it "earthy"?), so I tend to use modest portions. Two teaspoons, which is what is called for in this recipe, is about as much as I've ever used at once. You can add maca to smoothies, puddings, nut milks, or chia seed concoctions. Right now, I'm enjoying gelatinized maca from local D.C. company Sacha Vida, whose oils I've blogged about in the past. Sacha Vida always makes high quality, ethically sourced products, and this maca is no exception.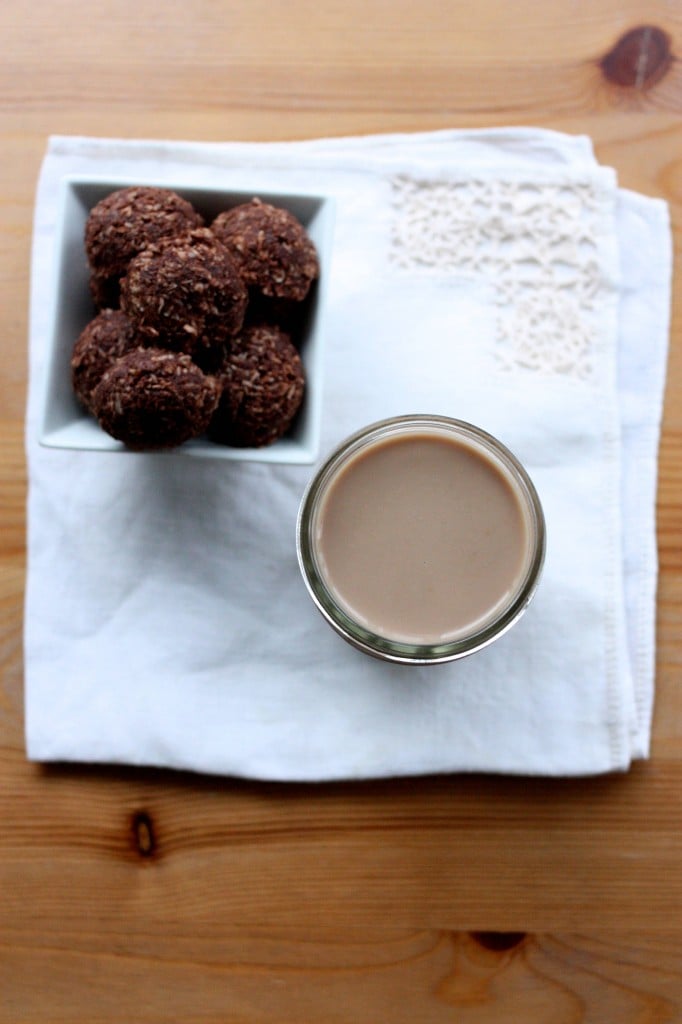 | | | |
| --- | --- | --- |
| Chocolate Maca Almond Milk | | Print |
Ingredients
1 cup almonds, soaked overnight and drained
4 cups filtered water
4 pitted Medjool dates
Seeds of 1 vanilla bean or 1 teaspoon vanilla extract
2 teaspoons maca powder
¼ cup cacao nibs or 4 tablespoons raw cacao powder
Pinch sea salt
Instructions
1. Blend all ingredients together in a high speed blender for 1-2 minutes, or until completely smooth.
2. Lay a double layer of cheesecloth or a nut milk bag over the mouth of a large mason jar or another large container into which you can strain the liquid. Hold the cheesecloth or nut milk bag in place with a rubber band by slipping the rubber band over the cloth, and around the mouth of the container.
3. Pour the nut milk through the cheesecloth or nut milk bag, and into the container. You may need to work in batches. Allow it to strain for 1-2 hours. Transfer the nut milk to an airtight container. It will keep in the fridge for 2-3 days. Reserve the pulp for some almond pulp porridge, or the macaroon recipe below!
Makes about 3 or 3½ cups.
As always, you can discard the pulp if you like, use it as part of a breakfast porridge, or you can get fancy, and make  macaroons! For those of you with dehydrators, this is a super fun, easy recipe and a great way to take almond pulp off your hands.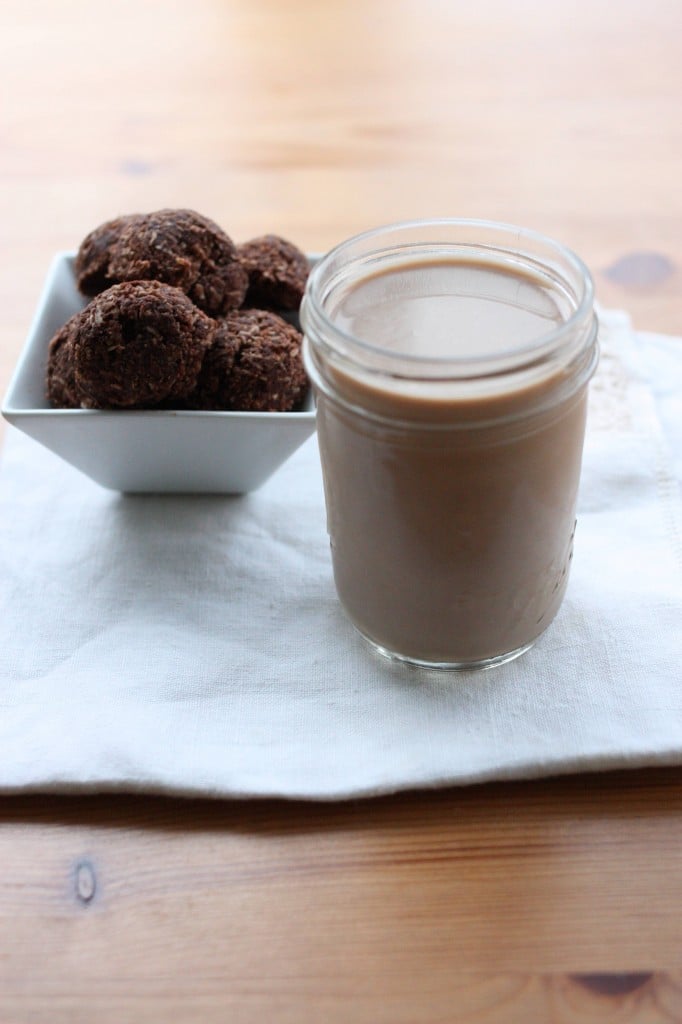 | | | |
| --- | --- | --- |
| Chocolate Maca Macaroons | | Print |
Ingredients
1½ - 2 cups almond pulp (however much you have left)
2 cups shredded, unsweetened coconut
¼ - ⅓ cup agave, coconut nectar, or maple syrup (to taste)
1 teaspoon vanilla extract or the seeds of 1 vanilla bean
Pinch sea salt
¼ cup raw cacao powder
2-3 tbsp almond milk
Instructions
1. Use a food processor fitted with the "S" blade to mix all ingredients together. You should have a thick "dough" that's easy to shape, not too sticky, and definitely not too "wet." You can add more almond milk to make it more pliable, and you can also add more coconut to make it drier.
2. Use a tablespoon to shape the mixture into macaroons. Arrange them on a Teflex-lined dehydrator sheet. Dehydrate 8 hours, or overnight.
Stored in the fridge, macaroons will keep for about a week.
Of course, you can add maca to regular, vanilla almond milk–no need for the chocolate here. But there's something about the combination of maca and chocolate that makes it far more palatable to me. If maca isn't your thing at all, or you don't happen to have any on hand, don't wait to make the chocolate almond milk. It's dreamy.
Till tomorrow, friends!
xo