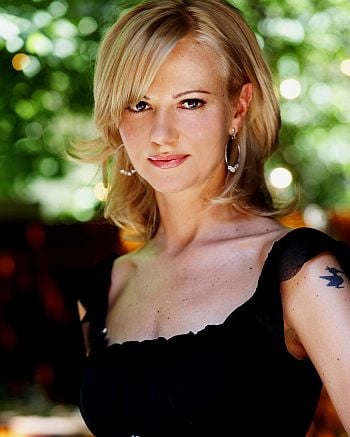 (Erica Michelsen)
Boy, do I have a treat for you guys tonight!
Few New York City institutions are more cherished than the neighborhood restaurant. Most everyone has one: a beloved dining spot downstairs or around the corner that they can depend on. This restaurant is rarely adored for its cuisine; if anything, most neighborhood restaurants are fairly average. They're likely to be a run-of-the-mill French bistro, or a tiny Italian spot with ten tables, or a diner that happens to be open late. What keeps us coming back to these restaurants again and again is not the food, per se, but the reliability. We may never credit our neighborhood restaurant with the best meal we ever had, or the most innovative, but we can count on it for consistency: we know what it offers, what we're going to get (because most of us have a favorite dish on the menu) and we know that it will be good.
Truth be told, most restaurants are the same to me: high-end or modest, Italian or French, innovative or traditional, there's a good chance I'm going to be ordering a giant salad and some steamed, grilled, or sautéed vegetables (maybe with a nice vegan sauce or dressing). This doesn't sadden me: I don't expect restaurants to carry an abundance of raw, vegan food. Raw vegans are a tiny part of the New York dining population (and an even smaller part of the national one), and there's no reason why restaurants can or should cater directly to us. Sure, I think that restaurants should try harder to come up with innovative meals without animal proteins, and I believe they should begin waking up about local, organic, whole foods (some already are are). But I don't expect all restaurants, especially modest neighborhood mainstays, to accommodate me to perfection.
Still, restaurant dining is a huge part of New York City culture. And it does sometimes feel like a secret language I don't speak: all this worship of certain chefs and dining spots, this excitement about trying the latest branch of the Momofuku empire or the latest steakhouse, this ardor for flipping through New York  Magazine each week and eying new spots to savor. Thankfully, though, there is one part of the restaurant culture that I don't have to miss out on. Within the last few years, I've found my own neighborhood restaurant—it just doesn't happen to be in my residential neighborhood!
Pure Food and Wine, a mere three blocks from my office, is everything to me that a neighborhood restaurant should be. It's inviting. It's fun. It's friendly. It's reliable; I can count on Pure for the same consistency and quality that most people attribute to their neighborhood favorites. And best of all, it's vegan. And raw. What more could a girl ask for??
(Ryu Kodama)
Unlike other neighborhood restaurants, Pure Food and Wine is notable for its cuisine. And I can say with assurance that I have had both the best and most innovative meals of my life there.
I like to preach the gospel of simplicity on this blog, and rightly so; I think that keeping food preparation simple is an integral part of success with a raw lifestyle. That said, I am no different from any other restaurant diner in wanting the occasional dazzling entrée or elaborate dessert—something I couldn't, and wouldn't, make at home. And this is where Pure comes in. It's the place I can take family and friends to show them the true potential of vegan dining, or to prove that raw cuisine, like any other cuisine, is a blank canvas for culinary artistry.
So Pure has become for me a classier, more exciting version of what the neighborhood restaurant is for most people: on the one hand, it's where I go when I want to be stunned with innovative raw cuisine. On the other, it's the place I go when the thought of throwing dinner together seems like a drag; a place where I can smile and greet the wait staff by name; a place where I can always rely on my favorite rotation of dishes. The takeaway spot, One Lucky Duck, has become my go-to spot for midday treats, a great place to meet clients, and a shopping destination for raw goodies (they stock everything from prepared foods to raw oils and nut butters to my favorite facial wash).
(Carina Salvi)
My adoration of Pure is only compounded by my admiration for its founder, businesswoman extraordinaire (and total raw hottie) Sarma Melngailis. Sarma is a powerhouse: an entrepreneur (she is the founder, CEO, and proud mother of One Lucky Duck), a restaurateur (the co-founder and owner of Pure), and talented writer (the co-author of Raw Food Real World and author of Living Raw Food). If that isn't enough, Sarma is also a blogger, a huge presence in the raw community, and a living, breathing embodiment of that ubiquitous "glow." How Sarma manages to balance all of these tasks is beyond me; all I can say is that she does balance them, with her spirits and her glow intact!
Recently, this very busy lady was kind enough to agree to answer a few of my burning questions for you very lucky Choosing Raw readers. I was curious about Sarma's experience as a businesswoman, her thoughts on the raw lifestyle, and her personal faves on the Pure menu. And I was thrilled with her answers. I love what Sarma has to say about the pressures of being a businessperson (though the scope of my business is much smaller than hers, I can relate!). And I think you're all going to love what Sarma has to say about her raw lifestyle.
When I began Choosing Raw, my goal was to present the raw lifestyle in a welcoming voice, without espousing absolutes or judgments. This is the voice Sarma speaks with, and I hope you'll all enjoy it!!
1)   I know that you covered the details of your raw transition in Raw Food, Real World, but could you recap the basics for us? What inspired you to try the raw lifestyle, and why did you continue?
I first heard about raw in the summer of 2003. I was reluctantly brought to a small raw café thinking it was going to completely suck. I was bummed out that we weren't going to the fancy new Jean-Georges restaurant instead. Everything changed in that dinner. The philosophy/rationale (whatever you'd call it) behind eating raw was being explained to me while I was eating (a lot) of yummy food that was so much better than I thought it was going to be, and I felt really good—a noticeable contrast vs. the heavy, want-to-take-a-nap-now feeling that I normally felt after a big restaurant dinner. I was completely intrigued and excited. After that I read as much as I could about raw food while on what I thought was going to be a two-week raw food experiment. I figured it would be hard to endure, that I'd be going crazy wanting a hamburger, chicken, cheese and bread. I didn't want any of those things, and I felt so amazing in a way I didn't even know was possible. After only a few days I realized the experiment had become a permanent shift.
2)      A lot of food bloggers lately seem to feel pressured to "go raw" overnight or more quickly than they're really ready for. Which is why I think they might find it comforting to hear that you don't flash around the "100% raw" label; you, like me, make room for some cooked foods in your diet, right? What's the balance that works for you?
I don't really look for a specific balance of raw vs. cooked. When I'm working in a regular routine I'm usually eating all raw all the time. Admittedly it's incredibly easy for me when I have my restaurant, our juice bar/takeaway, and One Lucky Duck snacks available whenever I want. But then when I come home and my boyfriend happens to have been inspired at the greenmarket by fresh beets and decided he was going to make a huge pot of borscht, then, I'll eat a bowl of borscht. (It was really good by the way—full of beets, potatoes, carrots, cannellini beans, cabbage, yum). But then I did feel like I wanted to take a nap immediately. Maybe that ended up being half of what I ate that day. So then I was only half raw. I just never think about percentages, or looking for a balance. I love food, and I like trying other foods and flavors.
And I love nice restaurants. I'm busy so I don't go out a lot, but if I end up in a really nice restaurant that uses good ingredients, I'll try just about anything. It just depends whether it feels worth it to me. In Tokyo I was taken to probably one of the best sushi places in that whole city. I ate whatever the chef put in front of me, including teeny whole squids. Eiw. (But it actually tasted really good, once I didn't have to look at it anymore). There are probably some vegans that would be appalled at what I eat once in a while… but it's only once in a while.
Otherwise, my diversions are usually still vegan at least. Sometimes I get these odd crazy cravings for chickpeas. I can't get chickpeas out of my brain. So, I'll get a can of organic chick peas, dump it into a bowl and toss it with macadamia oil (my favorite), lime juice, and sea salt. Or, put them in a salad. Black beans too. If beans and chickpeas are my diversions from raw, I don't think that's anything to worry about. What makes me feel deprived is if I have to go too long without a green shake, or a green juice. I love green shakes (there's a recipe on my blog and in Living Raw Food) and I love eating mostly raw most of the time!
3)      It goes without saying—or at least, it will come as no surprise to any of my blog readers—that I consider Pure Food and Wine the absolute epitome of fine dining. Part of what I love about Pure is that, unlike some other vegan or healthy restaurants, it feels like a sexy, elegant, urban dining experience. Could you say a few words about the ethos of the restaurant, and how it has grown?
Well, you said it nicely that the restaurant feels sexy and elegant. That's what we've always been going for, in addition to really comfortable and warm. I like having high service standards, but delivered in a friendly way. I want everyone to feel extremely welcome and for that reason we actually don't hire many raw/vegans (if any at all!). I'd like to get people who otherwise wouldn't visit this sort of restaurant to come and so I especially don't ever want anyone to come in and feel judged, or different. I've always wanted it to be this way and I think that's stayed the same. What I see having grown is that more and more people coming in have already heard of raw food and know of the restaurant before—that's nice.
(Ryu Kodama)
4)      Raw Food, Real World, is a classic in my own cookbook library, so I'm thrilled to dig into Living Raw Food. Could you say a few words about how the new book differs from the last? How has your culinary approach changed since you wrote the first book?
Like the first book, the new book is full of recipes from Pure Food and Wine, but this time they're divided in two sections: easier recipes for which you don't need as much time and equipment, and more ambitious recipes that require a bit more planning. The recipes come almost entirely from the staff at the restaurant, so it's less a reflection of my own culinary approach vs. the restaurant's culinary development. At this point we have more than enough recipes for a third book and I'd love to do a dessert book too.
Aside from the recipes, Raw Food Real World is more of a beginner's perspective. My co-author and I described how we felt after our overnight transition from eating absolutely everything to eating only (or, mostly only) raw plant foods. This time I wrote the book alone, and it's more about what it's been like for me after five years on mostly raw (now it's been six, but it was five at the time I wrote it). I also really wanted to address some of the more common questions I've been asked over the years, which includes issues related to emotional detox and people's struggle to "stick with it".
5)      As a book editor (my other, non-blogging life!), I really relish the intelligence and clarity you bring to your writing. I've also noticed that the new book is much more of a book, and less of a cookbook, than the first. How was it being a bit more visible as a narrator this time around?
To the extent that this book is a lot more personal, it was definitely nerve-wracking to put out. I kept thinking maybe I was sharing too much, or putting forth some kind of less than desirable impression, or worst of all just that no one would care. But then I just figure, F-it, as long as it's honest then there's nothing really to regret. My publisher wouldn't like to know I'm saying this, but the cover makes me really squeamish! It looks too sales-y to me—like I'm pitching a Hawaiian vacation with that cocktail in my hand! I'm not good at posing for photos. Candid photos feel much more genuine. I love my publisher but we definitely fought over the cover and since they have ultimate control, they win. [Editor's honest note: Yeeeah. We publishers need to work on our book cover savvy.]
But back to the writing… I was really happy that they let me write what I wanted without censoring it, even when I wrote goofy things. I really want to write another book that has no recipes—I've been writing it in my head for a long time. I can let our chefs put out more recipe books, and I'll write this other one. I just need to find the time!
6)      As a restaurateur, a writer, and a small business owner (One Lucky Duck), you are quite an entrepreneur. How do you balance all of your projects without losing your mind? What are some of the pressures that come with being at the helm of so many incredible organizations?
Sometimes I do lose my mind. I probably ought to meditate and do yoga and all that. Instead I just keep letting my mind run and run until it overloads and crashes, and then I'll have to spend half a day (usually a Sunday) in broken down mode. This happens once in a while! I'd prefer if I could go lie on a beach once in a while, but for now this is how it goes. It's okay. I think almost all people that have built really big businesses (and I plan for mine to be really big!) will say that there was a period of time where it's all about survival and pushing forward with every ounce of effort. At some point we'll reach a cruising altitude and then hopefully I can step back a bit, take more time to relax (which of course will only make me more focused and productive) and be able to create the things I want to create.
I think the biggest pressure comes from knowing so many people rely on you. Not that I want to, but I can't decide to flake out and move to Hawaii. There are 70 (or so) people working for me. They're all amazing. But I can't let them, or anyone else, down. There's a lot to take care of, a lot at stake, and hence, quite a bit of pressure. I try not to think about that part and just keep moving along. I'm kind of a perfectionist, so when I look at things I see what's not right, and what needs fixing, updating, etc. Even at other restaurants, if there's a typo on the menu I'll spot it right away. I also know what we have planned, so when I look at oneluckyduck.com it's hard for me to see all the things that aren't there yet, that aren't the way I'd like them to be. But I'm guessing it'll always be like this. And it makes it really fun and satisfying when we make progress.
7)      OK. The question I've been dying to ask you! What are some of your favorite recipes from the new book? And what are some classic items on the Pure menu that have stood the test of time?
From the easier side of the book, I love the Heirloom Tomato, Fennel, and Avocado Pressed Salad with Caper Dressing, Pistachio, and Mint. A lot of my favorite flavors in one dish. It's good to make for a dinner party.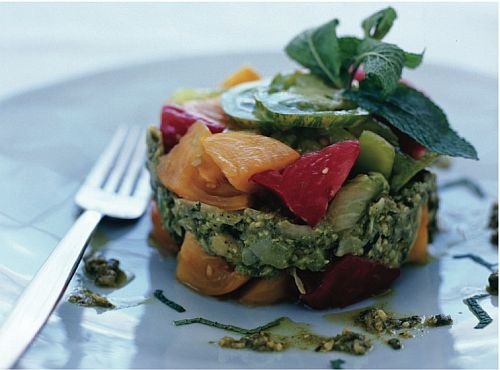 I also love the super-easy Chia Pudding—it really couldn't possibly be easier, it's like the raw equivalent of jello pudding where you just stir the liquid in and wait fifteen minutes. Since there's a recipe called My Favorite Greens Shake, that's definitely another one I love.
From the more ambitious side of the book, I love the Black Trumpet Mushroom Napoleon with Caramelized Shallots, Herbed Cashew Cream and Apricot-Riesling Sauce. That's not written on the menu at the restaurant right now, but we have the same thing in little mini bite sized tarts that you usually get if you order the tasting menu and I always order them to start when I have business dinners there. I also absolutely love the Falafel and Tabouleh which is still (and always will be) on our takeaway menu. Also, the Mint Sundae. Unless you don't like mint, it's hard not to love that one. [Hi again. Um, this is very true.]
The lasagna is the most classic menu item… specifically, the Zucchini and Tomato Lasagna with Pine Nut Ricotta, Sun Dried Tomato Sauce and Basil Pistashio Pesto [This is the dish that converted my Mom to raw food enthusiasm!]. The Tamales are also a popular dish, also in the first book, and also still on the menu now. And finally, you know my favorite thing from the takeaway is the Mallomar (though not in the book) … yummy. That and mint chocolate chip ice cream. OK… now I'm really hungry! 🙂
* * *
Thank you, Sarma, for giving New York the wonderful institution that is Pure. And thank you for giving me the neighborhood restaurant I never had.
I don't doubt that Sarma's musings will inspire so many of you — if only to make some raw ice cream! And to help you in that effort, Sarma has very generously agreed to share a copy of Living Raw Food with one lucky reader! So here's the deal: respond to this post with a comment about one thing you took away from Sarma's fabulous interview. I'll announce the winner two weeks from today, on August 23rd. Good luck to you all!
I also have the winner of my last giveaway to announce! A brand new copy of Born to Run goes to #22: Lorena. I'll be in touch, Lorena, about sending you the book!
And thanks, as always, for stopping by. May you all enjoy a visit to Pure someday — the sooner, the better!
xo
P.S. Everyone head over to my pal Chocolate Covered Katie's blog to read my guest post on veggie pasta!