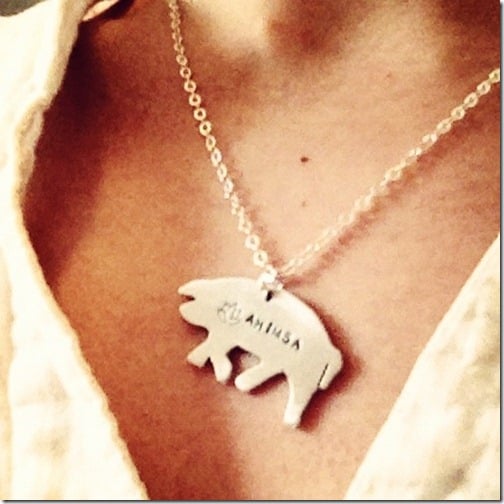 Nice responses to the cauli-millet mash! And to the almond chickpea pate from the day before. I haven't quite found my kitchen groove again since this latest bout of exams, but I'm getting there, and it feels nice.
Today's post, however, is not about food. It's about the Vegan Cuts Marketplace, which is the latest extension of Vegan Cuts, a groupon-esque social buying site that features 100% vegan deals. I met the founders of Vegan Cuts, Jill and John, last summer at Vida Vegan, and again this year at the NYCFF.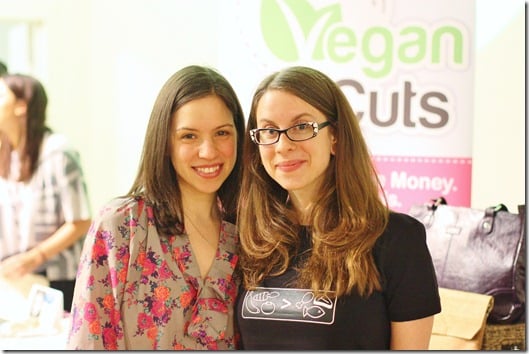 Jill and John began VeganCuts when they both had full time jobs—isn't that amazing? I've led a "double life" for years now–writing CR by night and working or being a student full time by day. At one point, I was doing all three of those things: working 8:30-5:30 at FSG, taking nighttime intro to Organic Chemistry and Nutrition 101 from 6 pm to 10 pm at the Borough of Manhattan community college, coming home to edit for an hour, then writing CR in the wee hours before I crashed. I know all too intimately what it's like to sacrifice every spare moment for a passion project, and I'm so impressed with how this duo was able to get VeganCuts up and running!
Now, Jill has gone full time with the company, and one of her first projects has been to create the Vegan Cuts marketplace, where deals with vegan brands stay open for several days or weeks at a time (rather than a narrowly limited time offer). They have fantastic partnerships with brands like Chiaralascura and Christy Robinson jewelry. When I heard about the new venture, I wanted to be one of the first customers, so I immediately signed on and purchased a container of MuLondon lavender face cream, and a Christy Robinson necklace. I am so glad I did.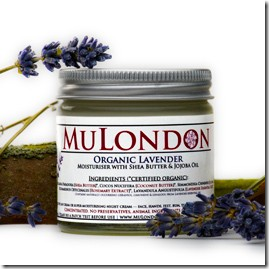 I've told you all about my skincare "regimen" before: basically, I use coconut oil on my face, I wash it with hot water, and that's it. I don't see much truth in the claims of most skincare lines, and I enjoy being low maintenance when it comes to my complexion—in addition to the low-key attitude to products, I also wear as little makeup as I can get away with, at least most of the time.
That said, I do love the fragrance and fun of a new, vegan skincare line, and it's always a treat when I get to test them. The cream above is made primarily of shea butter and jojoba oil; it's got a minimal ingredient list, it's 100% vegan, and it smells amazing. I typically use very moisturizing products on my skin, so the oil and shea butter aren't too heavy for me, but I'm sure you can check out the company website for more oily/combination skin options! This is clearly an excellent line, and I'm so glad I invested in the cream.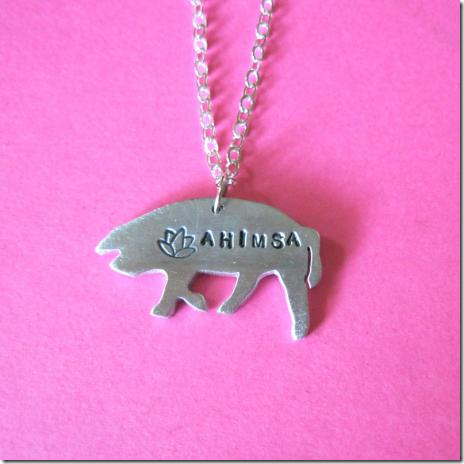 Last year, I received a gold pendant with the letter "V" as a gift from someone dear to me. I loved it because it signified my veganism in a way that was subtle, and because it was just plain beautiful. Then, over the summer, probably in a state of sleep deprivation, I lost the necklace—most likely by taking it off to run on a Georgetown gym treadmill. I was heartbroken to the point of tears, and have vowed to replace the necklace exactly (fortunately, the boutique in NYC where I got it still carries it) for my birthday this year. Until then, I've been hoping to find a reasonably priced pendant that can tide me over, and also serve as a statement of my lifestyle in a way that's tasteful. Though the pendant above is less subtle than my gold "V," it's whimsical and adorable, and I am so glad I got it.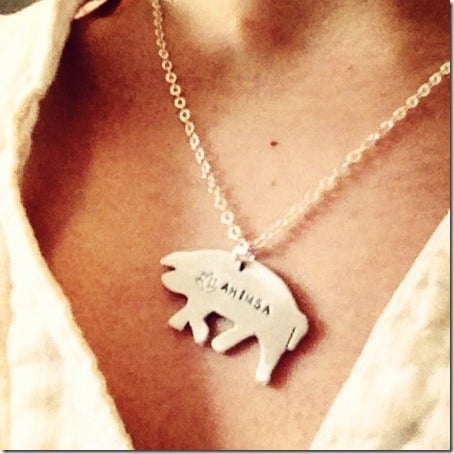 All of Christy Robinson's designs are adorable and priced really fairly: check some of them out!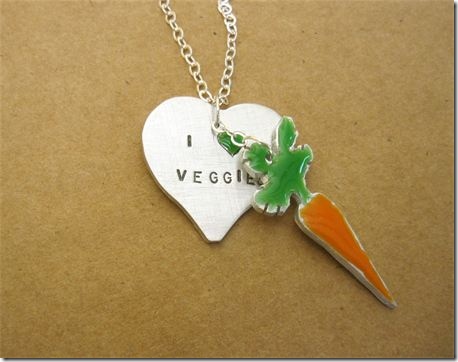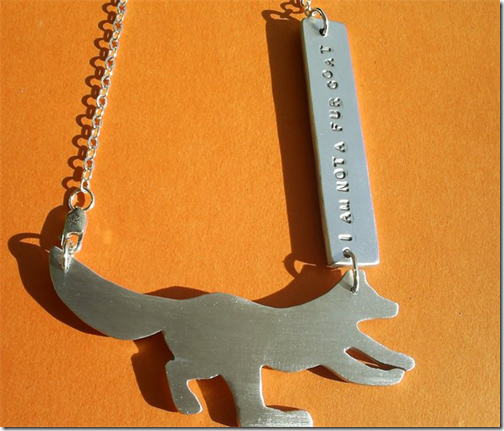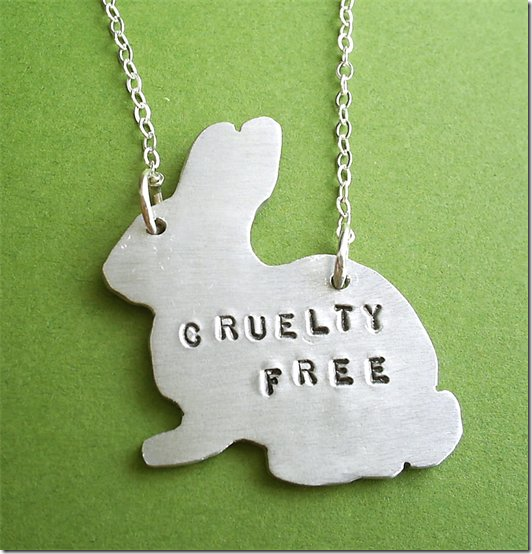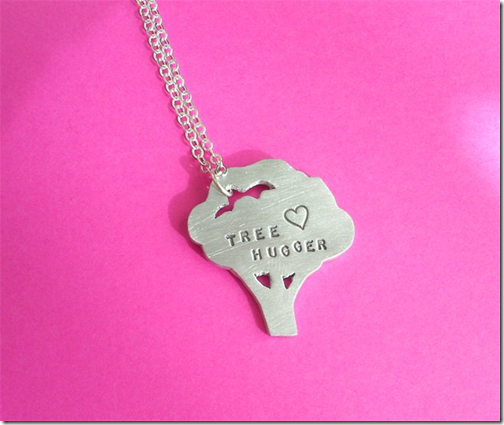 All photos courtesy of Christy Robinson's website.
I love that Christy champions animals in such a creative and beautiful way. I especially love that she asks us all to extend the same compassion we extend to our domesticated animals (dogs and cats) to the billions of American farm animals who suffer and die every year.
I chose a pig necklace for obvious reasons: I help to sponsor a pig named Hamlet at my nearby farm sanctuary, and I have a major soft spot for pigs!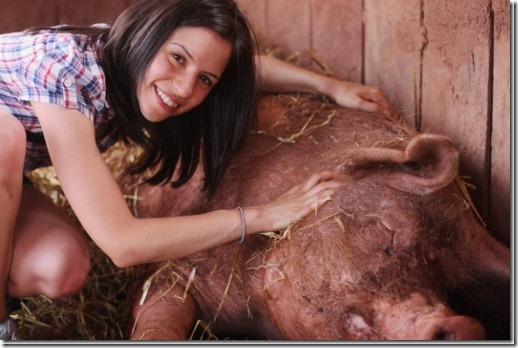 But it was no accident that I chose a necklace with the word "ahimsa" on it, either. "Ahimsa" is a Sanskrit term that means to avoid violence, or (as it is more commonly translated) "do no harm." The word means a lot to me for many reasons: first, it allows me to keep my yoga practice alive and close to me every day (ahimsa is often discussed in yoga classes and studied in yoga schools). Second, though the word is not synonymous with veganism, per se, many yogis who are vegan—such as Sharon Gannen and David Life—believe that the principle of ahimsa is naturally congruous with a vegan lifestyle. My friend Elizabeth has pointed out that there are theories that reconcile ahimsa with non-veganism, and I am sure this is true, but to me, the two concepts are tightly linked.
Practicing non-violence, however, is not only a question of how one treats others. Ahimsa means something deeply personal to me as someone who has lived with an eating disorder, too. Eating disorders, like addictions and many other mental illnesses, are characterized by a tremendous violence toward the body, the physical self. For me, recovery has meant a treating my own body gently and peacefully. Recently—especially the last few weeks—the stress my post-bacc has reminded me that my first impulse when I'm unhappy, under pressure, or experiencing failure is to punish my body. Historically, this has meant going hungry or exercising too much. Fortunately, I'm deep enough into recovery I'm able to resist these urges now, and my love of food keeps me tethered to wellness. But I have no doubt that my undergraduate self would have come close to a relapse by now, if not succumbed entirely.
Practicing ahimsa means that I show compassion to all living beings—animal and human. It also means that I extend compassion to myself, and treat my body with respect and care. One needn't have a piece of jewelry strung around one's neck to remember this, but little tokens can certainly be helpful, and inspiring.
Thanks to VeganCuts for leading me to such wonderful gifts! I hope you all check out the site soon.
Question of the day: obvious! What does "ahimsa" mean to you?
xo