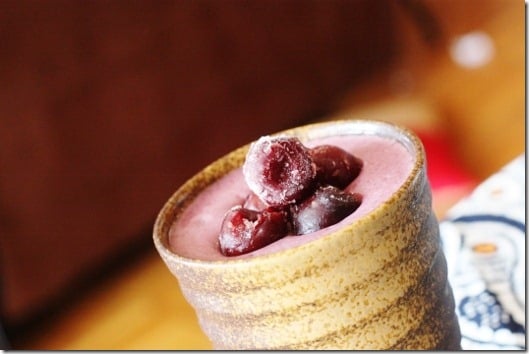 My friend Kristen has a very famous smoothie recipe entitled the "chocolate cherry bomb." This concoction made its way through blogs everywhere a summer or two ago, and with good reason: it's rich, decadent yet healthy, and totally delicious. In fact, it's so delicious that it made me into a lover of cherries, which is something I never could have said before (Elizabeth, I know this is a deep affront to you and your summer cherry love affair!). The following smoothie recipe is entitled the "cinnamon cherry blast," and it's entirely in homage to Kristen. While not quite as decadent as her shake, this smoothie manages to feel equally worthy of a healthy breakfast or a fruity dessert, and it's a wonderful way to take advantage of summer produce.
Now, I know that many of us are on budgets, and that organic cherries are not budget-friendly. For this reason, your really should view this smoothie as a special treat, and something to be savored. Do, though, look out for deals and steals on frozen cherries; they aren't local and seasonal, so your smoothie won't feel quite so virtuously in keeping with the environment as if you were to use pitted, fresh ones from the farmer's market, but you may find a good sale at a health food store or Whole Foods (to wit, I once got three packs of frozen cherries for $4.00 each at my health food store in NYC; good thing I was reading the sale labels!).
No matter what, remember that good food is something to celebrate, especially when it's in season, and so if you happen to take an extra $3 or $4 out of your budget for this or any other cherry recipe, that's OK. The joys of eating for pleasure and health justify the means sometimes.
Cinnamon Cherry Blast (raw, vegan, GF, soy free)
Serves 1
1 small banana (or 1/2 large), frozen
3/4 cup frozen or fresh and pitted cherries
1/2 tbsp coconut butter
2 tsps cinnamon
1 cup almond milk
3-4 ice cubes
Optional add-ins: hemp, pea, or rice protein powder, cocoa powder, spirulina, fresh greens
Blend all ingredients on high till the smoothie is creamy and thick. Serve with fresh or frozen cherries on top!
Delicious. Seriously. Worth making as soon as you can get your hands on some cherries!
Moving on: thank you so much for the incredible outpouring of birthday love yesterday! I was very touched by the tweets and comments, which made celebrating the big almost-30 in a new city a lot less strange and daunting. As I mentioned on Monday, one of the reasons this birthday was particularly nice is that I got to spend it with Chloe and Knud, who are visiting D.C. from New Orleans this week. Chloe made a big point of having dinner together last night, even though I messed up royally in the last two years and missed her birthday date (ack!). That's Chloe—generous, mature, and graceful, even when I'm a scatterbrained mess.
Chloe, Knud, M and I met up at Busboys and Poets, a D.C. institution that I've been dying to try for it's large selection of vegan and vegetarian food. With its funky, eclectic, artsy décor, wide array of salads and vegan appetizers, and fun cocktail menu, this place did not disappoint. There were a few hitches in the meal—Chloe's Greek salad, for example, was not, as our server promised, as much "stuff" as "lettuce," but aside from that, we were all really happy. I began with a yellow tomato gazpacho (raw!):
It was a little salty, but very good, and I liked the avocado garnish!! I then got a big roast pear salad and order of hummus and whole wheat pita. Someone please report me to hummus addicts anonymous? If they don't exist yet, I'll be a founding member.
Chloe got the ful salad, which was a spin on the Egyptian dish Ful Medames—a delectable fava bean salad that I should post a recipe for sometime. It was great:
And the Greek salad with not-enough-stuff:
Knud started with some nachos, and then moved on to a non-vegan dish I'm forgetting (sorry!):
And M dug into a tempeh panini and sweet 'tater fries, which looked great:
Gotta love tasty and cruelty-free comfort food!
So grateful to the special people in my life for a nice day and evening—and that includes you all. Right now, it's time to cram for my daily chem lab, and then some more house-making back in Hobbit-ville. See you back here tomorrow!
xo