Greetings, everyone!
Hope you're enjoying the holiday weekend. I'm catching up on some work, some housekeeping, and some time with friends, but to kick off the first official weekend of the summer, I wanted to share what is undoubtedly my favorite summertime lunch!
The recipe could not be more simple: whip up a batch of guacamole, and serve it however you want. You can eat it with crudites, in lettuce wraps (butter lettuce and romaine leaves are great for this), or scooped atop a giant salad. This meal is quick exit and perfectly combined, so it's ideal for lunch, yet filling enough for a light dinner.
Best of all, if you double or triple the guacamole, this is a wonderful recipe to entertain with. I love having friends over, putting out a huge platter of butter and romaine leaves, crudites, and guacamole, and letting my guests assemble wraps.
I like my guacamole tart and sweet, and without red onion, natch. But I suppose the onion could be added if you like a more traditional flavor 🙂 Here's my version:
Guacamole (serves 1 or 2 — I usually devour the whole recipe!)
1 avocado, pitted and chopped
1/4 red pepper, finely diced
Handful cherry tomatoes, chopped into small pieces
Juice of 1 lemon or lime
1/2 cup cilantro, packed and chopped
1 teaspoon maple syrup or yacon syrup
Sea salt and pepper to taste
Begin my mashing the avocado and lemon or lime juice with a fork, till it's mushy but not entirely without texture. Add the rest of your ingredients and mix again. Voila!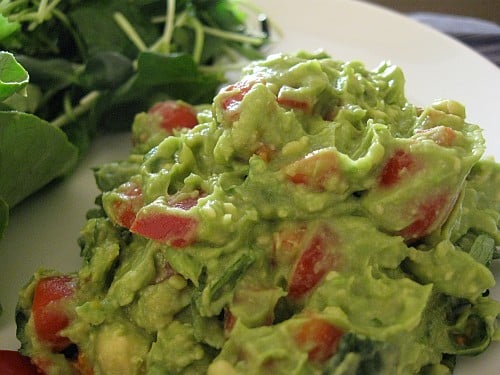 Stuff this into butter leaves for wraps: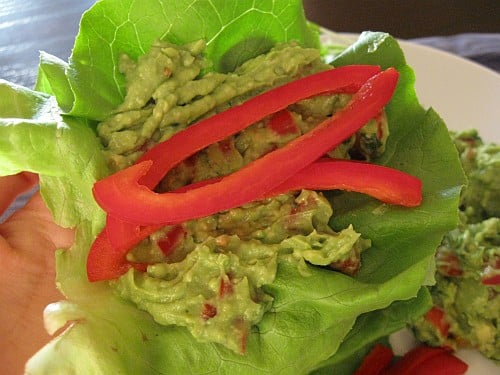 Or simply serve it alongside your salad or veggies.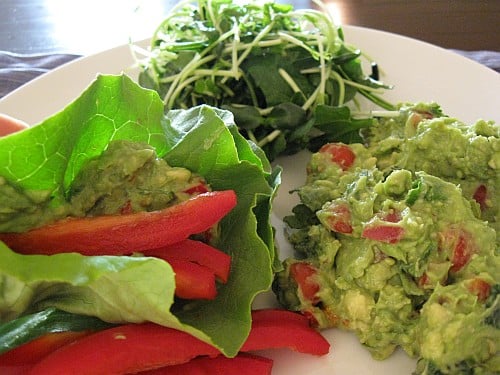 I sometimes add a batch of this recipe to a big bowl of greens and mix it all up as a salad.
I hope you'll all try this light, quick, and delicious–not to mention colorful–recipe as the weather gets warmer! If you do, let me know how you like it.
Enjoy your Sundays, friends.
xo