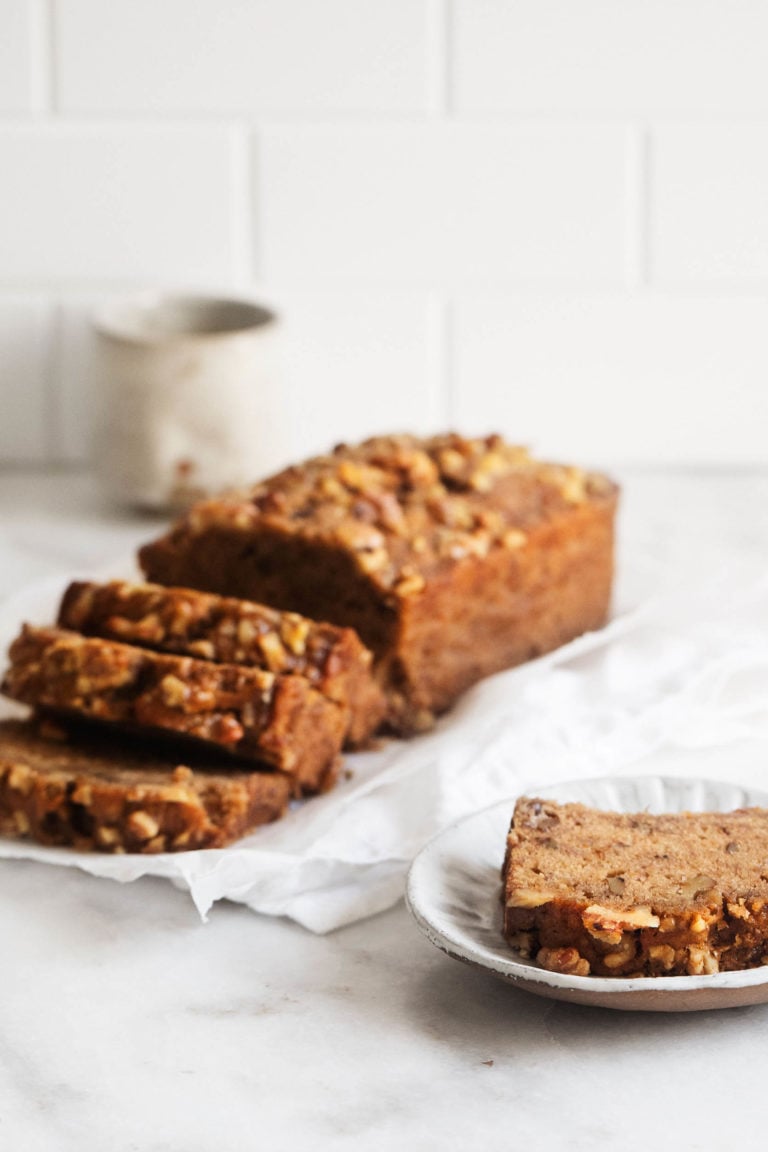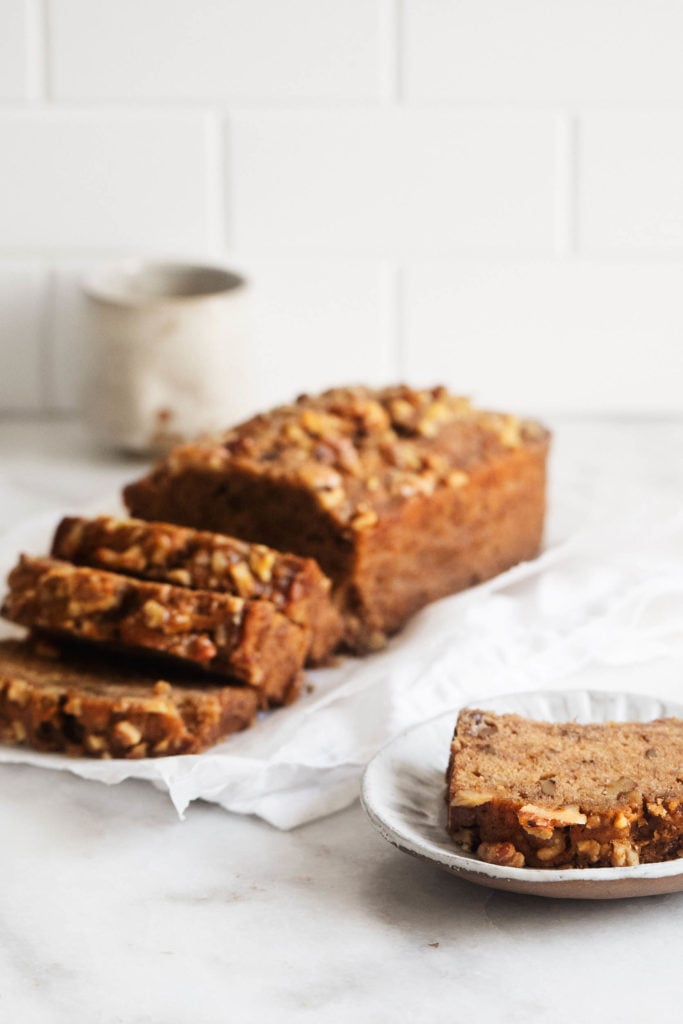 I usually hesitate to label any recipe as best. But I could easily have called this classic vegan banana bread the best vegan banana bread. Or my best vegan banana bread, because that's what it really is.
I've tried many vegan banana bread recipes over the years. In spite of this, I have yet to post a recipe for it on this site. It's time to share this one, which is the banana bread that I always come back to. I've tinkered with the recipe, trying to see if a little more of this or that would be better. The answer is consistently no, which is the sign of a recipe keeper. I've made and cherished it in pretty much every kitchen I've cooked in as an adult.
Key ingredients for classic vegan banana bread
One of the nice things about this recipe is that the ingredients are just about those that you'd expect. In no particular order:
Bananas
Be sure to pick super ripe ones. Blackening, even. That's not a bad thing for banana bread. The darker and more overripe the better, I say! Same rules apply for all of my banana baked goods, including my banana, oat and chia seed muffins, banana chocolate chip muffins, and old-fashioned vegan banana cake.
All-purpose flour
I always use unbleached, all-purpose flour for this recipe. I think it gives the bread the most tender crumb and texture. Instead, you can use a combination of one cup unbleached, all-purpose and one cup light spelt or white whole wheat. To make the recipe gluten-free, use a gluten-free flour blend that you trust. My go-to is King Arthur's.
Walnuts
Chopped walnuts give the classic vegan banana bread a little crunch and nutty flavor. If you'd like the recipe to be a purist's banana bread, you can simply omit the walnuts. You can also make things chocolatey, swapping the nuts for dark chocolate chips (same amount). And if you don't have walnuts, chopped pecans are a great addition, too.
Vegan "buttermilk"
Vegan buttermilk is a mainstay in my baking! I use it in just about everything, from muffins to cake. It's much simpler than you might think to make: simply whisk together non-dairy milk and white vinegar or lemon juice (i.e., a source of acid). The acid helps to activate whatever leavening agent you're using in the recipe.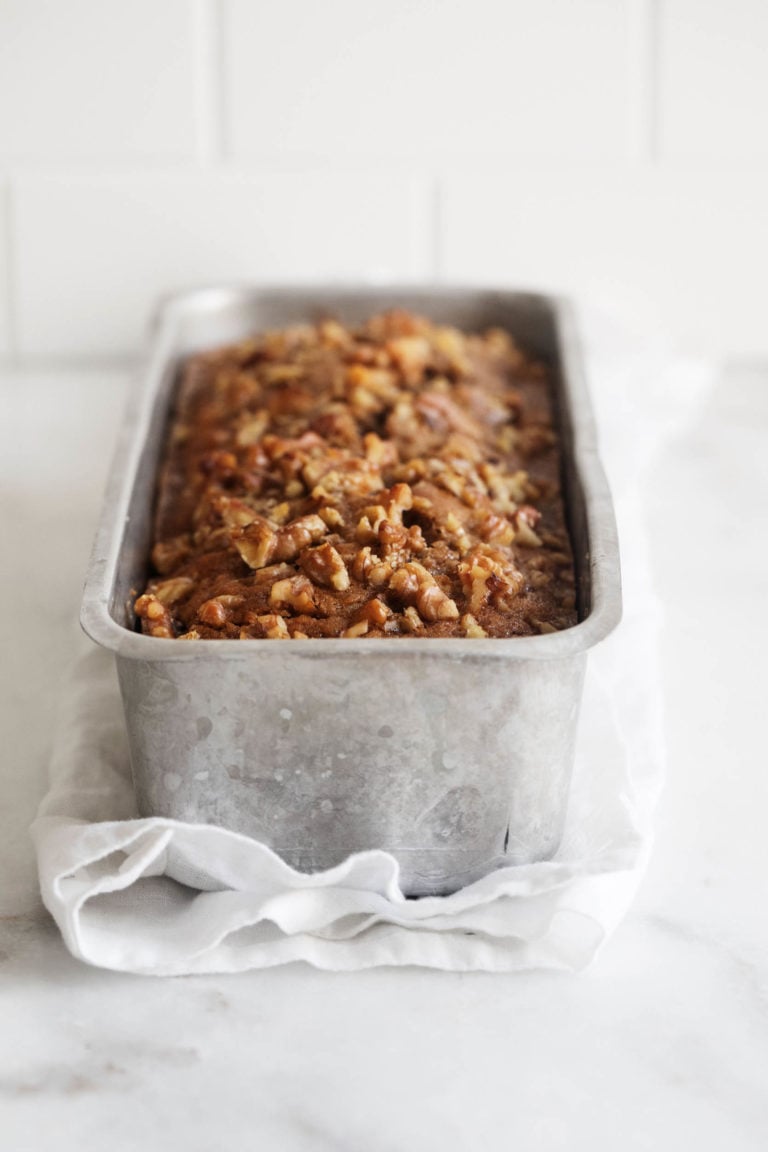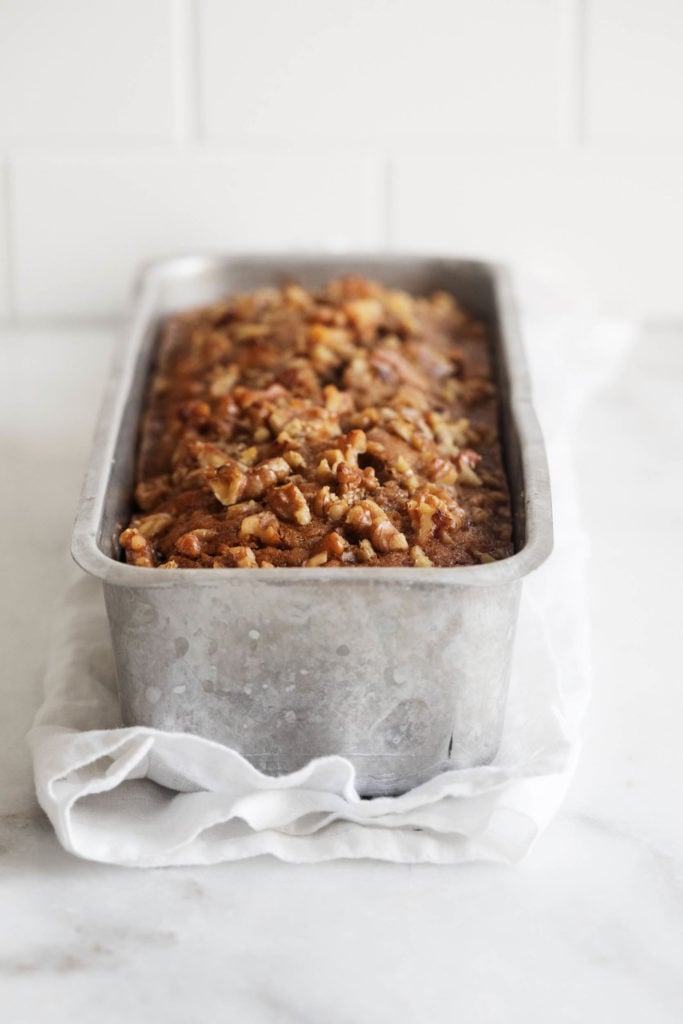 Banana bread tips & tricks
Classic vegan banana bread is a perfect recipe for new bakers, and especially new vegan bakers. It's forgiving and doesn't require a lot of steps. Even so, there are some steps to help make the banana bread turn out perfectly.
Pick truly overripe bananas
Per the above. Make sure they're either very, very spotty or blackening.
Don't over-mix!
There are a few reasons why over-mixing batter can be a buzzkill in making quick breads. The main one is that over-mixing can develop the gluten in the dough too much, resulting in a dense, rubbery finished loaf.
My rule of thumb with a recipe like this (or my zucchini bread, or pumpkin chocolate marble loaf) is to mix until there are no longer any visible streaks of unincorporated flour in the batter, but there are still some small lumps. I mix with a spatula, and I'm gentle as I do it: it's really more folding than mixing.
Bake for a little longer than you think is necessary
If you under-bake the banana bread, you'll run the risk of taking it from the oven before the top is set. This usually results in a banana bread with a sunken top, rather than a nicely domed one. Be patient, and don't be afraid of a long baking time here. The bananas give enough moisture to the bread that it shouldn't dry out.
When the top is domed and firm enough that you can touch it with a finger and feel firmness, it's ready. Be sure to touch gently—you don't want to poke!
How should I store classic vegan banana bread?
I recommend allowing the bread to set and cool for at least a few hours before slicing and eating. Once you do that, you can wrap it in saran wrap or foil and store it in the fridge for about 4 days.
Can I freeze banana bread?
Yes, you can! And if you don't plan to eat the banana bread within 4 days or so, I definitely recommend freezing. The banana bread will stay more tender and fresh tasting if it's frozen, rather than kept in the fridge for an extended period of time.
A good tip for freezing: try slicing the banana bread into slices and wrapping them individually before freezing. This way, you can defrost a single slice at a time, allowing the loaf to last longer.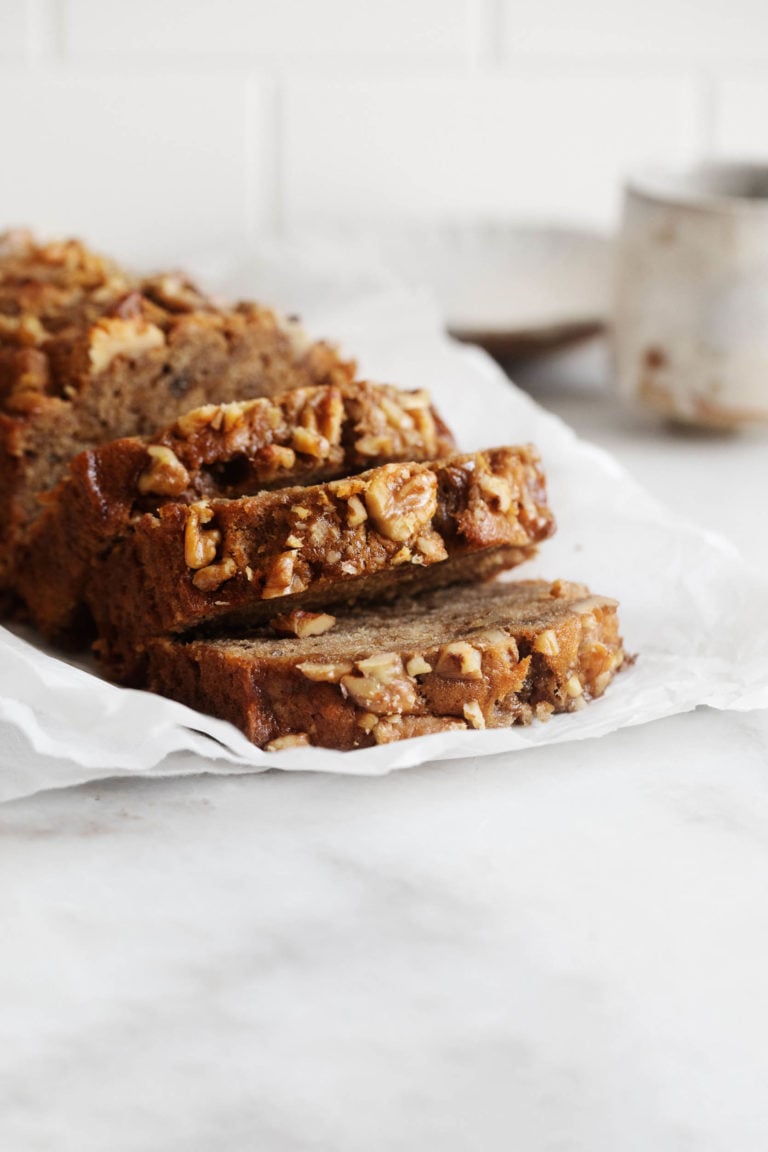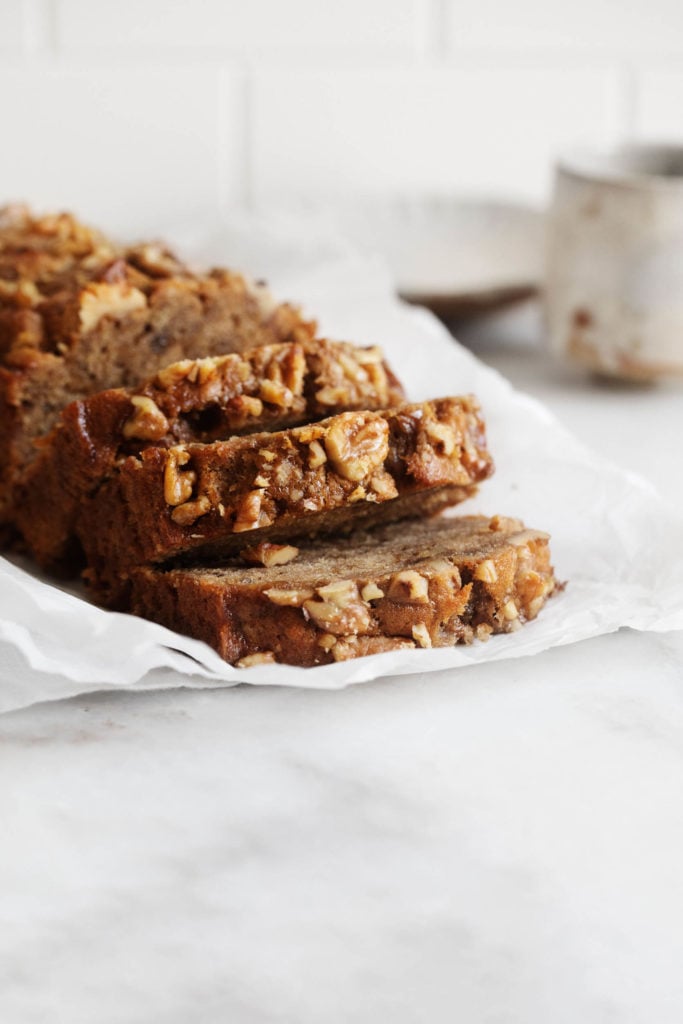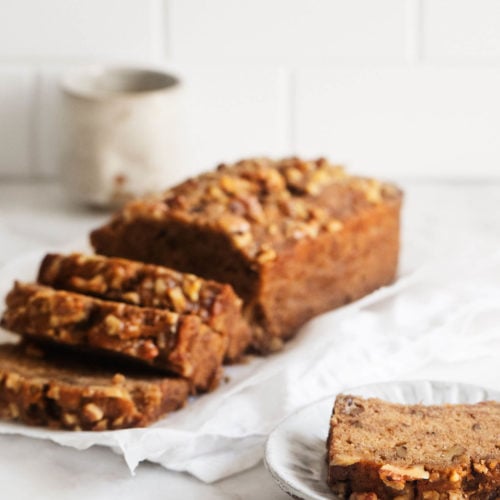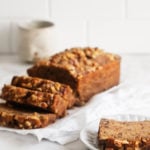 Classic Vegan Banana Bread
Author -
2

cups

(240 g) unbleached, all-purpose flour*

1/2

teaspoon

baking soda

1

teaspoon

baking powder

1/2

teaspoon

salt

1/2

teaspoon

cinnamon

1/2

teaspoon

apple cider vinegar or lemon juice

1/2

cup

(4 oz) soy or almond milk

1/2

cup

(4 oz) vegetable oil (such as grapeseed, safflower, or canola) or 8 tablespoons melted vegan butter

3/4-1

cup

(150-200 g) packed light or dark brown sugar (to taste)

1

(250 g) heaping cup mashed banana (3 medium or 4 small ripe bananas)

1

teaspoon

vanilla extract

Optional: 1/2 cup (60 g) chopped walnuts, plus extra for decorating
Preheat your oven to 350F and lightly oil a standard size loaf pan. Pour the almond or soy milk into a bowl and add the apple cider vinegar.

In a large bowl, mix together the flours, baking soda, baking powder, salt, and cinnamon.

Add the oil, sugar, mashed banana, and vanilla extract to the non-dairy milk and vinegar. Whisk to combine. Add these wet ingredients to the dry ingredients and mix till everything is evenly combined. Don't over-mix; some clumps are OK. Fold in the walnuts, if using.

Pour the batter into your prepared loaf pan. Sprinkle with extra walnuts, if you like. Bake the bread for 50-60 minutes, or until the entire loaf is a deep, golden brown color and a toothpick inserted into the bread comes out mostly clean. The top should be either flat or slightly domed; if it's not there yet, it's not quite ready. Check the bread at 45 minutes for doneness and continue checking until it's fully baked. If you feel that the bread is getting too dark as you bake, you can cover it with tented foil.

Transfer the loaf to a cooling rack and allow it to cool for 20-30 minutes. Gently remove the loaf from the pan and allow it to cool to room temperature before cutting into slices and enjoying.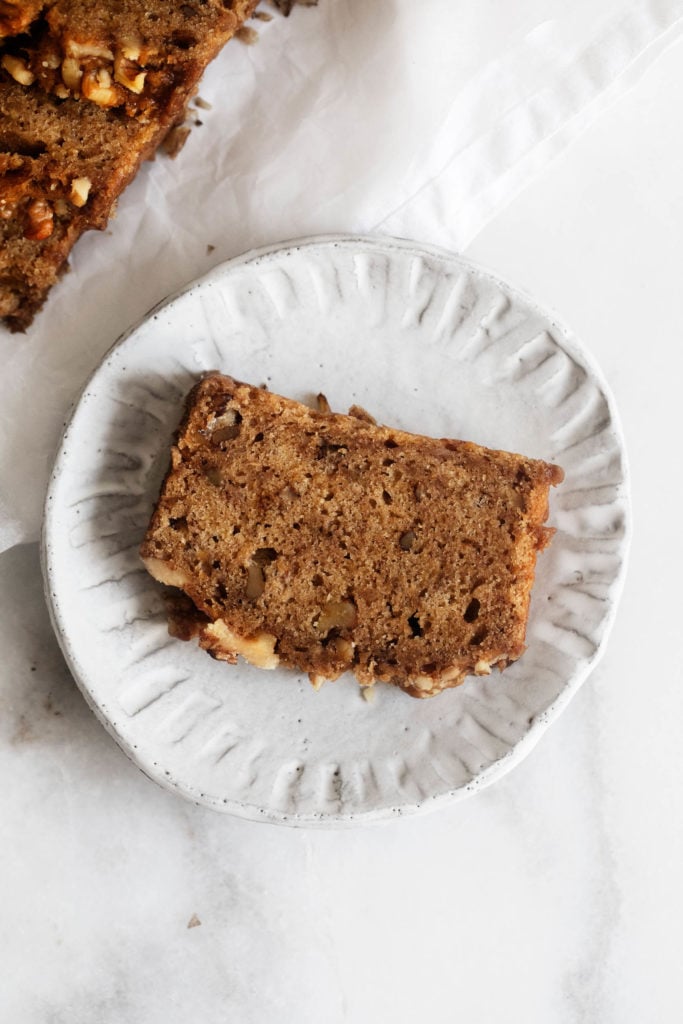 I know that it's bold to call any recipe a classic. None of us can taste all of the iterations of a single type of recipe, and of course taste is subjective.
But we know what tastes best to us. We know when we've turned a particular set of ingredients and quantities into something special. And there's nothing quite like the feeling when multiple attempts to perfect a beloved recipe finally pay off.
So, I can't say for sure if this is the best vegan banana bread you've ever tasted. But I can tell you that it's my favorite. I can promise you that it has served me very well. And I hope it gives you some of the happiness it often gives me.
xo