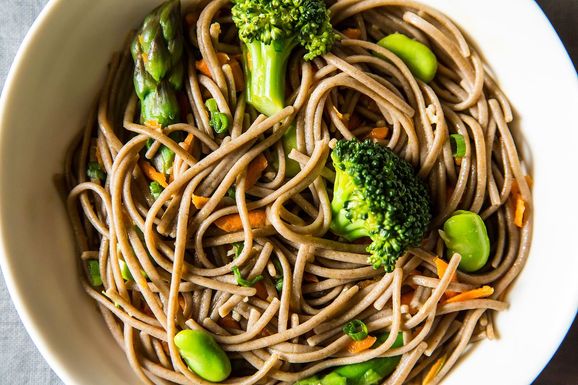 Image courtesy of James Ransom for Food52
Well. I'm not really sure how to say "thank you" for all the love on yesterday's post, so I guess I'll just…say thank you. Thank you so, so much. A bunch of you said that you felt as though you knew me, even though we haven't met. I can assure you that I feel exactly the same way, and consider myself so lucky to be a part of the community of readers and commenters here at CR. I'm really excited to tell you all about the next year of my life. Right now, it feels bizarre to be picking and choosing how I'd like to use my time, because it's been so long since I could do that. More to come.
For now, let's talk about the beautiful dish you see above. This dish is full of contrasts: hearty, earthy buckwheat soba is paired with light spring vegetables. Bright green pops out against golden brown. Soft noodles meet crispy asparagus and chewy fava beans. Warm ingredients are dressed with a cool ingredient, then chilled to perfection. This is a soba noodle salad with spring vegetables, and it's totally delicious.
In today's Food52 column, I tell you all about working with fava beans, one of springtime's most short lived and unique produce offerings. Fava beans add protein and texture to this cold, soba noodle salad.
I'm sure you've had soba noodle salad before–it's sort of a vegan mainstay–but this was my first time enjoying it with unconventional vegetables. Sure, there's some broccoli and carrots, but asparagus? Favas? Unexpected, yet it all works beautifully.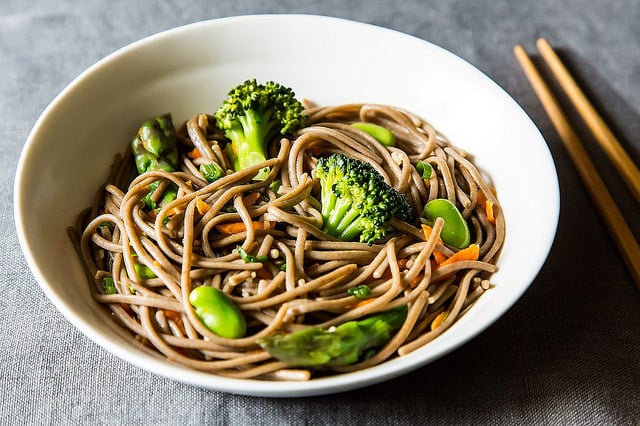 Head on over to The New Veganism at Food52 for the recipe
. And enjoy it!
xo