Lately, I've been making a lot of collard green or Swiss chard wraps. This isn't totally out of the ordinary, as raw wraps are one of my favorite dishes. But the frequency has been notable lately, and that's because of the changes associated with student life. Being in school again means finding more options for eating on the go, and wraps make that really easy: they're neat, portable, and a reliable way to get greens and veggies in without salads, which can be messy to pack up. As you can see, I can't get enough of them these days:
Of course, collard green (or any green) wraps are only useful when they don't fall apart, and they're a little tricky to get right at first. A few of you have been asking me about how I get mine to stay neatly together, so today I figured I'd pause to give you all a little tutorial. Don't worry: I promise this is a lot easier than my physics homework.
Step 1: Select a Good Leaf
You don't want a massive leaf, because you'll end up with too much of it to eat (and raw collards, when we're not enjoying them with a tasty filling, are pretty strong). Choose a flat, even, medium sized leaf, like this one:
Step 2: De-Stem
Flip the leaf over so that the side with the prominent spine is facing up. Using a paring knife, cafefully start to shave off the spine, starting near the bottom, where it begins to protrude most:
Careful as you do this: you don't want to cut so deep that you actually cut through the leaf! Just follow carefully along the spine, slicing away only the thick part of it.
Step 3: Flip the Leaf
…so that the side you didn't cut is facing up.
Step 4: Place a Vertical Column of Filler on One Side of the Leaf's Center
Like so: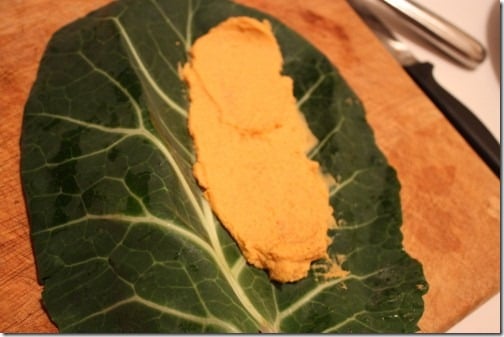 I use hummus, nut pates, sauces, mashed potatoes, and all sorts of fillings! Get creative. I used my new favorite hummus—sweet potato hummus—here. (That recipe's coming atcha soon!) I usually find that 1/4 of a cup is the right amount per leaf.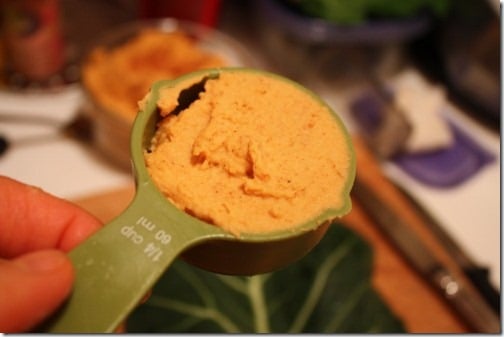 If I'm using a nut pate that I know is very calorically dense, I may use only 2-3 tbsp instead.
Step 5: Pile Veggies Atop Filling
I always have my sliced veggies laid out neatly before I assemble, like so:
And then I lie them vertically on top of the filling: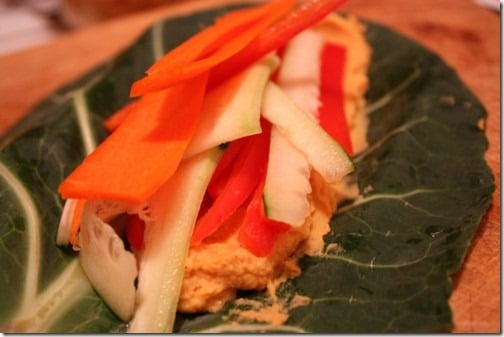 Step 6: Fold the Top and Bottom Flaps of the Collard Leaf Toward the Center
Like so:
Step 7: Fold the Side Closer to the Filling Over the Filling
Step 8: Starting with the Folded Side, Roll the Leaf Up
You'll be rolling from the folded side to the unfolded side, right to left or left to right (I almost just said "along the x-axis." YIKES.)
In this case, I rolled from right to left. And voila!
A neat, perfect little wrap. Slice it on a diagonal:
And serve, or wrap tightly in foil, saran, or cloth to pack up for lunch or dinner on the go.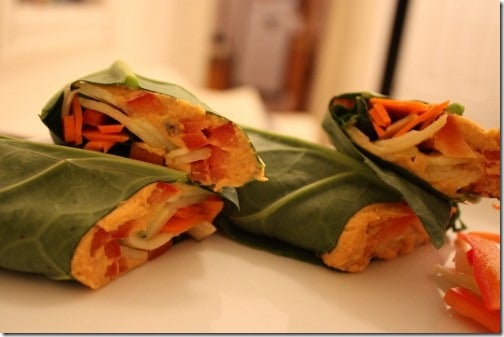 Last night, I served my rolls with some leftover pressure cooker stew (that recipe will go up tomorrow) and some leftover crudites. Simple, semi-raw, and delicious: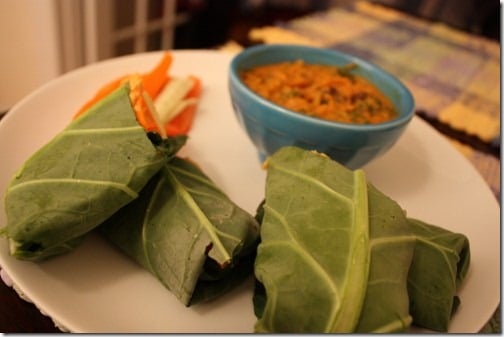 Hope this settles the mystery, guys! It's really not hard at all: just requires a little paint-by-numbers 🙂
If you're suddenly motivated to try a leafy green wrap, let me know what you make! I'll be back tomorrow with a 15 minute stew recipe and a recap of an important community service event. Stay warm!
xo