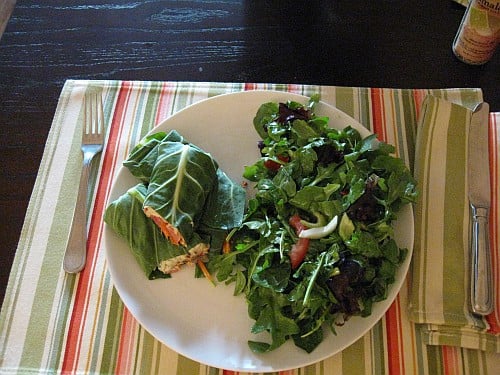 Today, my friends, you are going to learn two very important raw lessons:
1)    How to make nut pates and cheeses
2)    How to make collard wraps
Nut pates are one of the first things I teach new clients (and rawcurious friends) how to make at home. Why? Because they're quick, delicious, and oh-so-versatile: you can use them in everything from wraps to sandwiches to salads to vegetable napoleons. Brimming with heart healthy fats and protein, they're also a fun alternative to other soft spreads, like hummus, cream cheese, or refried beans.
What's the difference between a nut pate and a nut cheese? Not much, except for consistency. I think of thicker mixtures  as pates; when you add more water (and make them softer), I think they begin to resemble cream cheese or even soft goat's cheese.
You can adjust the flavors of these concoctions so that they mimic traditional recipes (I make a mushroom pate, for example, with soaked walnuts and spiced with thyme, that tastes a lot like the classic mushroom pate you might find as an appetizer at a dinner party; I also make a killer pine nut "ricotta").
The basic idea is this: you soak a cup or two of nuts (1-2 hours for cashews, and overnight for almonds), throw them in a food processor with about ¼-1/2 tsp salt per cup nuts, and grind them till they're in a pulp form. Then scrape the sides of the bowl and drizzle water in until the mix comes together and becomes smooth; if you're looking for a chunkier mix, don't process for too long. It's a lot like making hummus in a food processor, and just as fast!
When I make nut cheeses, I always add a lot of lemon; this, to me, brings out the slightly sharp, tart taste I remember from regular cheese (it's been a while, folks, so I'm not sure how accurate that memory is). I also feel free to add herbs, sun dried tomatoes, dill, black pepper, or whatever other kinds of mix-ins I'm in the mood for.
Tonight's cheese recipe was one of my all time favorites: cashew ricotta with sun dried tomatoes and basil–AKA raw pizza cheese! It was Melissa who first noted that this cheese tastes a lot like pizza on a spoon. Pizza is, of course, another food I haven't had in quite a long time, but I suspect she's right. Regardless, this cheese is delicious, easy, and can be served in so many ways: stacked between layers of tomatoes and basil in a "napoleon," in wraps as shown, or on top of zucchini pasta.
The recipe:
Cashew Ricotta with Sun Dried Tomatoes and Basil (AKA Italian "Pizza Cheese")
1 cup cashews, soaked for two hours or more
Juice of one lemon
¼ tsp salt
½ tsp white miso (optional)
4 sundried tomatoes, chopped
¼ cup basil
Throw nuts in a food processor and process till ground well. Add salt, lemon juice, miso if using. Scrape sides of bowl and run processor again, this time drizzling some water in. Keep doing this until the cheese reaches the consistency you like. I aim for mine to look like ricotta:
Add tomatoes and basil and pulse until they are well combined into the cheese. That's it!
Serve as you like! This cheese is also great atop cucumber rounds or tomato slices as an appetizer. Last night I had some collards on hand for juicing that need to be used up, so I decided to make a favorite raw staple: collard wraps.
You may recall my 8 simple swaps post, where I suggested swapping collard leaves for regular old wraps. I can't stress enough how great a tip this is: collard wraps are a light, healthy, and creative alternative to your usual wraps or tortillas. (If you follow food combining, these are a particularly great alternative to Ezekiel wraps because you can stuff them with nuts or proteins, rather than starches.)
A few of you emailed me after that post and asked how, exactly, you make collard wraps work. Here's my trick.
Step one: de-vein the collard leave by slicing off the bottom of the stalk in a V formation and running your knife over the rest of the stalk to flatten the leaf, like so:
 Step two: layer your cheese, pate, hummus, or other filling inside (I used about ¼ cup of the cheese), then pile veggies on top (here I used tomato, carrot, and some basil to complement the Italian flavor):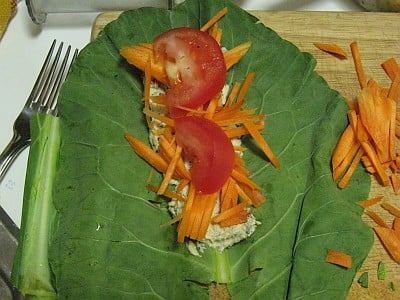 Step three: fold the bottom and top over the filling: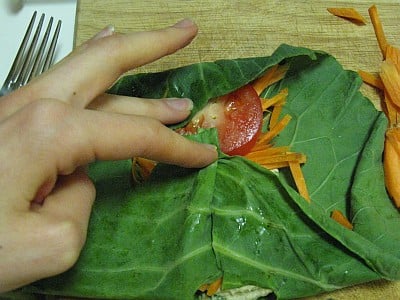 Step four: fold the sides over, wrap, and roll!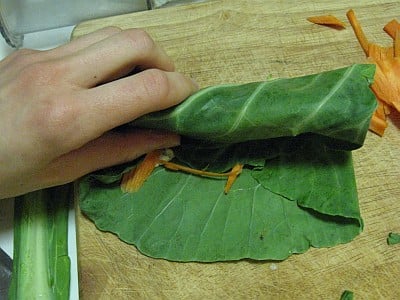 Chop off the tops on a diagonal if you want to look particularly fancy.
Of course you can use this technique for just about any kind of filling: a great recipe I'll share soon is for a variation on Pure's spicy thai lettuce wraps, which are stuffed with cabbage and carrot marinated in a spicy almond sauce. Hate the taste of raw collards? Well, I promise you'll get used to it if you eat them more often! But if you're shy, just go ahead and steam the collards for about two minutes: it'll soften them and take any bitterness out.
I served these three wraps alongside a big salad of arugula, tomato, and lemon vinaigrette. Here's the finished product: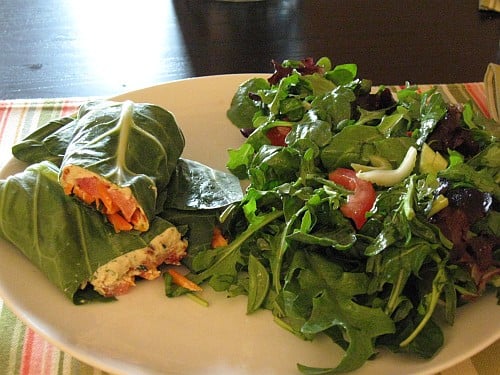 It was a delicious meal!
I really hope you'll all begin experimenting, not only with collard wraps, but with all sorts of nut pates. To move you along, here are a few of my other favorites, which will undoubtedly make an appearance on the blog at some point:
Sunflower Seed Pate (adapted from Nomi Shannon)
1 ½ cup sunflower seeds, soaked 8-12 hours.
1/3-½ cup fresh squeezed lemon juice
Handful chopped scallions
3 Tbs raw tahini
1 Tbsp Nama Shoyu
salt with add'l water, or none at all
¼ cup coarsely chopped parsley
Sprinkle cayenne pepper (or more to taste)
Soak sunflower seeds 8-12 hours, drain, then thoroughly rinse and drain. In a food processor, process the sunflower seeds, lemon juice, scallions, tahini, shoyu, parsley, and cayenne with a drizzle of water until the mixture is a smooth paste.
When thoroughly blended taste and adjust the seasoning.
Ani Phyo's Ginger Almond Pate (from Ani's Raw Food Kitchen)
1 Tablespoon ginger
1 clove garlic
1/2 teaspoon sea salt
1 cup almonds, dry
1 lemon's juice
1/4 cup filtered water
Follow same technique as with other pates: combine all ingredients but water in processor, process, and then add water till desired consistency is reached. Delicious!
Raw Walnut Pate
2 cups walnuts, soaked
2 garlic cloves
2 green onions
1 cup fresh parsley
1 tablespoon oregano
2 stalks celery
2 tablespoons miso
1 tablespoon honey
2 tablespoons olive oil
sea salt
Directions:
Chop all ingredients, then blend to an even consistency in a food processor with water as needed.
Let me know what you create! And have a happy Friday, all.
xo