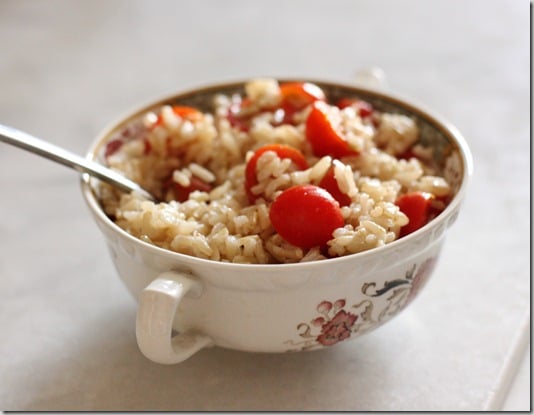 I confess, I came very close not to publishing this dish. It's so painfully simple, so not-really-a-recipe, that I was a bit embarrassed to be writing about it. Then I remembered that my most simple recipes are often the ones that my readers seem to appreciate most (hello, one ingredient banana ice cream), and moreover, this post answers a question I get rather frequently, which is "what do you eat when you don't really have time to cook?" There are all sorts of things I call upon in those moments—big salads, pureed raw soups, among them—but this kind of easy grain bowl is one answer.
The origin of this dish is actually from my childhood. My Greek grandmother—my Yaya—used to make perfect, beautiful rice whenever she roasted chicken. Her roasted chicken always came with roasted tomatoes, and I—burgeoning non-meat-eater that I was—often ate very little of the chicken, but was delighted to scoop the roast tomatoes over the rice. It was sweet, simple, and filling: my kind of comfort food.
I've made the dish with roasted tomatoes, and it's always lovely, but what you see here is my shortcut version, the version I make when I don't have time to roast tomatoes, but do have rice on hand (brown rice is one of the many grains I often make in advance on weekends in my rice cooker, so that I have plenty to use through the week, or freeze as needed). I serve it cold, with a bit of avocado or olive oil and a squeeze of lemon juice. Sometimes, I add nutritional yeast, and sometimes, I add a little dill (which feels quintessentially Greek!). The cherry tomatoes burst with sweetness, the rice is grounding and comforting, and the lemon livens the entire dish up nicely.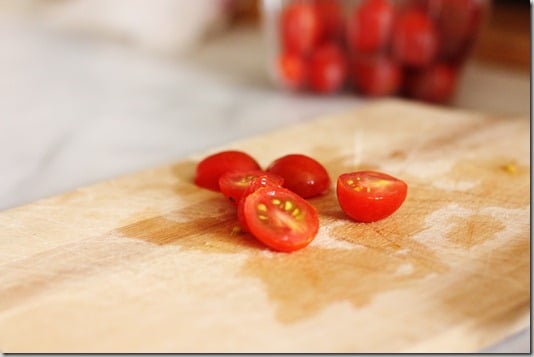 Much to my surprise and delight, I found a recipe quite like this one in Alicia Silverstone's wonderful, macrobiotic inspired cookbook, The Kind Diet. In that book, it's "Hot Rice with Cold Lemon, Basil and Tomato," so the grain is served warm. I like the whole dish cool, and I don't use basil, but the idea is very similar. This kind of comfort food, it seems, spans across many vegan kitchens! If you make this yourself, feel free to serve the rice either hot or cool. It's lovely either way.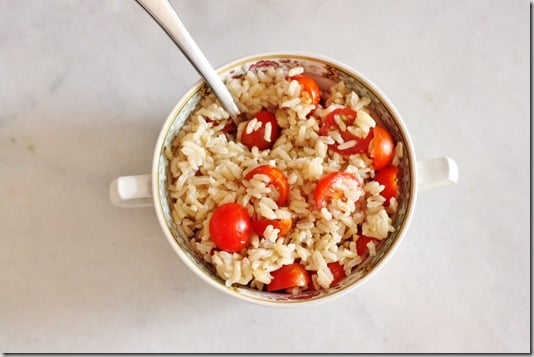 Brown Rice with Cherry Tomatoes and Lemon (vegan, gluten free, soy free)
Serves 4
1 cup brown basmati rice, dry
2 1/4 cups vegetable broth or water and 1/2 tsp sea salt
1 1/2 cups cherry tomatoes, halved
2 tbsp fresh lemon juice
1 1/2 tbsp avocado or olive oil
Optional: 2 tsp dried dill
Optional: 2-3 tbsp nutritional yeast
Sea salt and pepper to taste
1. Bring the rice and water and salt or broth to a boil. Reduce heat to a simmer, and cook for 35-45 minutes, or until rice has absorbed all liquid and is fluffy and soft. Add more liquid as needed if it's getting dry in the last ten minutes. Fluff with a fork and let rice sit for a while. If you're not serving right away, you can keep rice in the fridge for at least two full days, or freeze it and defrost.
2. Combine rice with the cherry tomatoes, the lemon juice, and the oil. If you like, toss in the dill or nutritional yeast. Season to taste with salt and black pepper, and serve.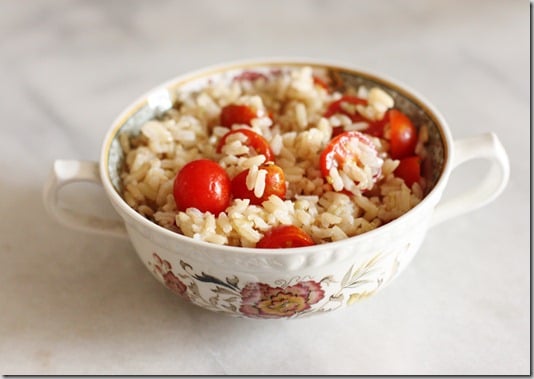 Dishes like this prove just how much can be done with very little in the way of fancy ingredients or effort. I sometimes serve it with a green salad for dinner, but I've also been known to come home from class, get a spoon, and snack on a bowl of this all on its own. It's an especially good wintertime snack, but if you serve it cool, it's nice for pretty much any time of year.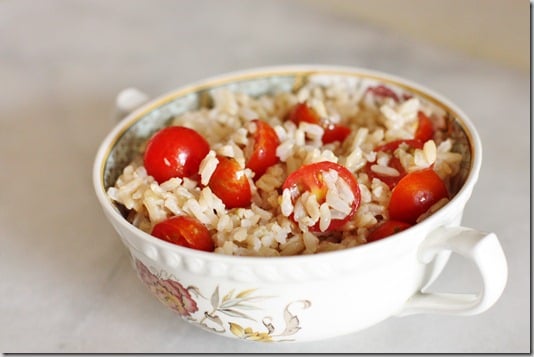 Speaking of after school snacks, I have currently fallen in love once again with my high protein hemp hummus: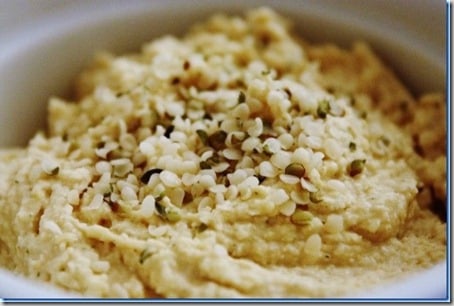 It may be my all time favorite hummus recipe, but I actually hadn't made it in ages until yesterday. At which point I made it, and proceeded to devour it all in about twenty-four hours. So, so good, and such a great, nourishing school year snack!
Which reminds me: I'm getting overwhelming email requests for student-friendly, packable snacks and meals! I'm working on it. And since my new (and final) post-bacc semester begins today, it is only appropriate that I share a special, snack and dessert worthy student treat tomorrow. Stay tuned.
xo