Warning: long post ahead. There is a good point, I promise.
A few weeks ago, my friends over at The Pump let me know about an exciting opportunity to visit and work at the Target Bronx Community Garden. This incredible space, which has been created with the support of the New York Restoration Project, gives meaning to the expression "urban oasis":
It's hard to believe, but this beautiful garden is tucked away in an otherwise busy urban neighborhood—just blocks away from the bustle of Yankees Stadium. You exit here:
Stroll up a few very hilly blocks (Gabi, check out all the PR pride!):
And at the top of these hills you'll be greeted by the sight of this guy:
He's the gatekeeper to a perfectly planted and maintained vegetable garden, which gazes calmly over a busy cityscape:
The contrast is unreal. The eight year old in me was transported immediately back to Frances Hodgson Burnett'sThe Secret Garden. I felt like Mary Lennox, stumbling upon a world of unkempt brambles and rosebeds for the first time. Except that I'm28, American, not an orphan, and not living in an English country manor.
Work with me here, people. Look at these flowers, and tell me you don't understand the comparison.
How about these veggies? Green tomatoes galore.
Try cutting these, dipping them in whole wheat bread crumbs, and baking or pan frying them. YUM.
Also, baby watermelons (so cute!):
Regular tomatoes:
Bell peppers: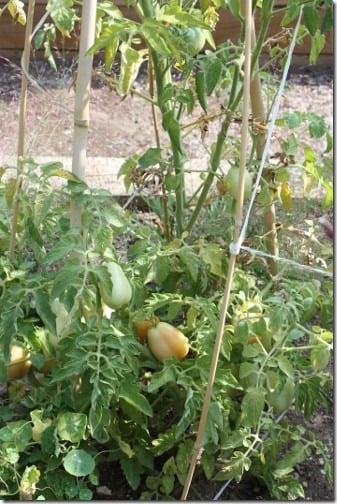 Cabbage:
And eggplant galore!
My mind was full of dinner ideas as I strolled through the lanes of this fertile veggie haven. But recipe development wasn't what I was there to do. My task for the day was to sit down and talk healthy eating with some of the folks who have worked on the garden.
And I couldn't have asked for a more welcoming audience:
Meet the hard working men and women behind the Target Bronx Community Garden. That fellow on the right there is Charlie, my program coordinator for the day's event, who was so kind and welcoming to me. Next to him is a pastor from the local church, who kicked off our discussion by saying that she's trying to incorporate more healthy options into her weekly soup kitchen. Many of her customers, she said, suffer from hypertension and/or diabetes: how to feed them without using too much salt or sugar?
I tried to share the most basic and practical tips I know: always buy soups, beans, and canned foods that are labeled as low-sodium. If you can, buy dried beans and legumes: you'll save money and can cook them without adding too much salt. If you purchase canned tomatoes, tomato paste, or tomato sauce, be sure to also check the sodium count. Never serve processed dessert foods—that includes cookies, cakes, cupcakes, and the like. Try instead to make fruit bowls. If packaged or canned fruit is all you can offer, fine: it's still better than most commercial baked goods (and more and more brands are canning fruit without added fructose).
I mentioned that using frozen vegetables is often a nutritionally superior alternative to canned, and not much costlier. Frozen vegetables are quick, easy, fresh, and they don't have any of the sodium or BPA of canned veggies. They're available year round, and they've been shown in some studies to retain more nutrients (or relatively as many) as fresh vegetables that are slightly past their prime!
And of course, using fresh, local produce is always the most ideal option. This is difficult for residents of low income neighborhoods for so many reasons: cost (fresh vegetables are usually more expensive than packaged foods), availability (a dearth of seasonal produce), habit, and lack of motivation. The Target Bronx Community garden—and other gardens like it—helps to diminish the first two obstacles in a major way.
As for motivation and habit, I often find that people who aren't used to eating vegetables on a regular basis simply lack a basic mental repertoire of dishes and means of preparation. They want to eat more veggies, but they're not sure how, or in what. This is where simple creativity comes in! I reminded the community members that making one fresh green salad daily takes no more than three minutes of rinsing lettuce, and that it's always easy to throw some frozen peas, corn, broccoli or cooked beans into a dish of rice. Tomatoes are delicious plain and sprinkled with salt, and eggplants and zucchini—both growing in abundance in the garden—are easy to grill (many of the community members said they had grill access). I reminded the community members that many of the veggies they eat in abundance already are very healthy, but the preparations they use isn't. Yams, plantains, and lettuce are all great: yam pie, fried plantains, and salads dressed with blue cheese dressing aren't so great! The trick to eating more healthily often lies in cleaning up one's customary preparation methods.
Of course, a few of the people I sat down with had seen my blog, so they were understandably wary of me and my work. Did they have to stop eating meat to be healthier, they asked? Of course not, was my reply. Here on my blog, I speak to an audience of men and women who have at least some interest in eating less animal foods. But I believe firmly that the most dramatic health improvements come from eating less processed foods and more vegetables. Eating less animal foods is hugely important for good health, but it can be a later step in the overall process of greening one's diet. Depending on one's lifestyle, circumstance, culture and custom, it may never be a step at all. But that doesn't mean that huge health improvements can't happen. The important thing is for all of us to eat more produce, local if we can.
And that's what our conversation was all about. Add first; subtract later.
To help inspire the community members to eat more summer veggies, I passed out a few recipes. One was for Susan's black bean and corn salad – a summertime classic that's meat free and high protein, yet also simple and accessible. Another was for sweet potato soup, and it allowed for the use of canned pumpkin if that's what's available in supermarkets. And the last was a printout of Mama Pea's chocolate chip zucchini muffins.
Mama Pea, I figured that you, a veteran of sneaking veggies into your kids' food, would be an excellent resource for the community members who are having a hard time getting those 2.5-3.5 daily cups in. I printed the muffin recipe with a link to your blog – hope some of them stop by to say hey 🙂 Thank you for sharing your veggie sleight of hand with your family, with me, and now, with the people of the Target Community Garden!
After my talk, I had a chance to meet a special member of the community garden. CR readers, meet Duane:
Duane's Grandaddy worked on the garden, and he brought Duane by to see the vegetables:
I ended up having a long conversation with Duane about eggplants: what they are, what to do with them, how they taste. Duane, I hope you try some eggplant soon. I suggest you start easy, and go with a (vegan) parmesan.
At the end of our talk, the members of the group were, miraculously, not fed up with me and my veggie gospel yet. And so we stood for some photos:
Me and Charlie—Charlie, thanks for being awesome!:
Here in the blog world, we get caught up in the minutiae of food and eating. We dissect specialty ingredients, and swap recommendations on where to find them. We trade recipes endlessly, and discuss the slightest modifications as though it's rocket science. We explore the vast sea of nutrition knowledge, sharing information we've gleaned about macronutrients, minerals, and caloric ranges. We deliberate over whether to purchase $7 chia seeds or $14 golden mulberries at Whole Foods. We choose—we choose—to eliminate certain foods from our diets, because they're not healthy, or because we have ethical reservations.
It's great that we make these choices. But it's important that we as a community also be thankful that we have a choice in the first place. With our dollar, we get to uphold our health standards, our tastes, and our ethics. Do I think that people in any socioeconomic range can make the sorts of choices that I see people making in this foodie community? Definitely. As the food zeitgeist evolves, I think that more and more people will learn thateating a produce-heavy diet is accessible, affordable, and fulfilling. But right now, culture, custom and access are still huge barriers. And economic limitations often result in a lack of choice.
For many years of my life, I experienced hunger not because I needed to, but because I was personally compelled to. I picked at my food. I broke it into pieces, played with it, moved it around on my plate, and then walked away. I nibbled at it, and then put it back in the fridge. I stuffed it into napkins under the table, or into my purse, to be discarded later. I tossed it, uneaten, into the trash. Sometimes I fed it to my dog. This was not a choice I made—disordered eating is an illness—but neither did I go hungry because I couldn't afford to eat, which is the reality that so many people in low income communities face every day. I can't get any of the food that I wasted back, but I can be forever grateful for the fact that I have always had the capacity to eat plentifully and well, and with pleasure.
Lucky, lucky me.
Thank you, members of the Target Bronx Community Garden, for letting me come talk leafy greens with you, and for making fresh, nourishing food an option for the people around you. You're doing a wonderful thing, and I hope you guys know it.
For information on donating, volunteering, or becoming a member of the New York Restoration Project, please click here.
xo