This week, mother nature has proven to be a bit of a drama queen.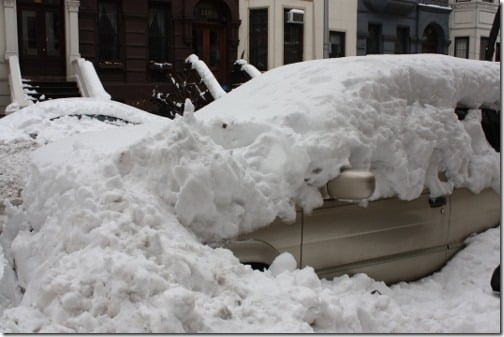 For the third time this winter, NYC has been pummeled with snow. This isn't such a bad thing for winter weather lovers like me. In fact, I've spent the last few days marveling over our January snowscape with my camera, as you can see: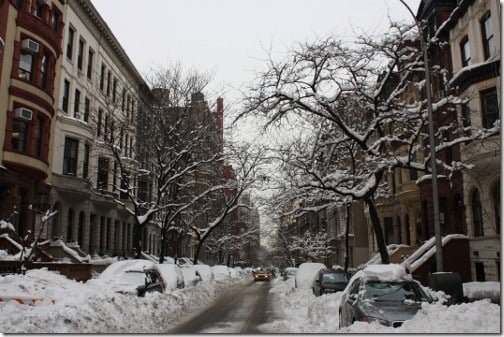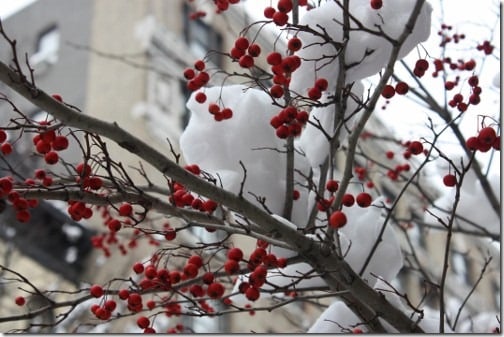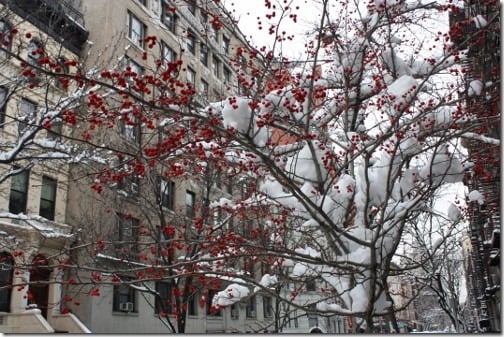 But as fun as it is for me to frolic and snap photos of snow covered branches, I can't help but think about New York's homeless population, and what they experience when the weather is like this. I took a bus out of the city during our first big blizzard, at the end of December, and was so saddened to see how many people had crowded into Port Authority's entranceways during the wee hours of the night. Winter's fury is no laughing matter for those who don't have easy access to heat and shelter.
Just as shelter and warmth are precious, so too is health care—both urgent and long-term. This can be especially true for the elderly in colder months. The plight of America's uninsured is hardly news to any of us, but now that I'm pursuing a career in health care, it's an issue that hits home for me in ways it didn't before. With that in mind, I participated in a wonderful, student-organized initiative this week: a day of free health screenings for the uninsured and undocumented in New York City.
The idea is this: a doctor (in this case, a doctor from St. Luke's Roosevelt) arrives at a local Church (the lovely Church of the Ascension on 107th Street) and offers his or her services for the day. The services are intended to uncover health issues that may be undiscovered, but may also prove to be chronic: high blood pressure, for example, or high blood sugar. Giving patients—whose identities are kept confidential—an early warning will help them to manage these conditions before they become life-threatening. Free clinics and ERs can help to treat heart or manage attacks, diabetes, or hypertension, yes, but the goal here is preventative care. It's a young initiative, and a unique one, and I was proud to be a part of it.
The initiative was put together by my friend Kirk, who's one of the more inspiring fellow post-baccs I've met so far. When he asked if I might be interested in helping out—especially given that there's a healthy eating open forum coming up, and I might be a good person to participate—I said I'd be delighted. On Tuesday, I, along with a bunch of my post-bacc peers, trudged out into slush and snow banks to hand out fliers on street corners advertising the free health screening day. It was cold, and it was predictably hard to grab people's attention (we had some Spanish speaking volunteers in the group, and their success was more robust than ours). Still, we managed to get fliers to a lot of passers by, and many of them seemed interested in coming to the next health screening, which is for diabetes (this week's screening and education was for asthma). In spite of the fact that we were catching people as they marched to and from places they had to be, we managed to bring five or so people into the church for a screening and conversation with our M.D. That's five people who are less likely to ignore or misread the signs of asthma as it's starting out.
In short, it was very, very worth it.
Here are some shots of the church that shelters this wonderful community service: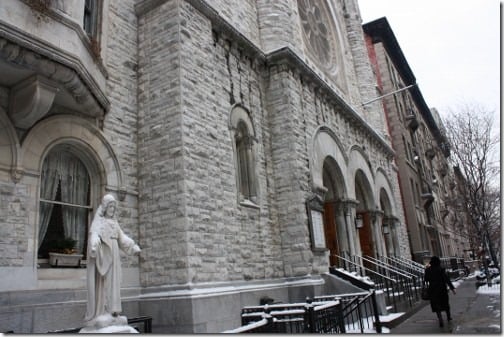 I really hope that projects like this one can be a big part of my life as a post-bacc. As I've said before, I think that becoming vegan gave me far more sensitivity and to human suffering than I had before, and charity and volunteer work is one expression of compassion. With any luck, this was only the first of many opportunities I'll have to give back to my own community as I prepare to practice medicine.
When I came home that night, I felt thankful for many of my blessings. But given the chilly temperatures, I was feeling particularly thankful for
Nourishing Food
Most of my classes get out late this semester, and I'm finding that it's pretty hard to prepare an inspiring dinner at 8 or 8:30pm when I get home. On Tuesday night, after an unusually long day (and much of it standing), I really wanted a soup or stew of some sort, but the prospect of standing and waiting by a simmering pot seemed fairly unlikely. Pressure cooker to the rescue. The following stew took me 15 minutes from start to finish (minus the time I spent bringing the pressure cooker to pressure), and it was absolutely tasty.
15 Minute Kale, Sweet Potato, and Black Bean Stew (serves 3-4)
2 medium yams, peeled and quartered
2 medium carrots, peeled and chopped
1 stalk celery
1/2 tsp ginger powder
1/2 tsp chili powder
1 tsp cinnamon
Vegetable broth
1 tbsp almond butter
1 cup cooked black beans (I used canned, but home cooked are great)
3 cups chopped kale
Salt and pepper to taste
1) Place yams, carrots, and celery in the pressure cooker and add enough broth to almost cover them (almost). Add the spices.
2) Cover the pressure cooker and bring it to pressure; cook on high pressure for about 10 minutes.
3) Let pressure release naturally or use the quick release method on your pressure cooker. Using an immersion blender, puree the mixture till it's very smooth.
4) Stir in almond butter, black beans, and kale. The kale will quickly cook in the warm soup.
Season to taste with salt and pepper, and serve!
There are two important variations on this recipe:
If you don't have a pressure cooker, just follow step one, bring the broth to a boil, and simmer till veggies are tender. Then proceed with steps 3-4.
If you want to use dry black beans, go ahead, but then you'll want to cook the whole thing for about 16-18 minutes and then release pressure.
I served mine with some of my new favorite kale chips and some celery sticks. I was way too tired to come up with better side dishes.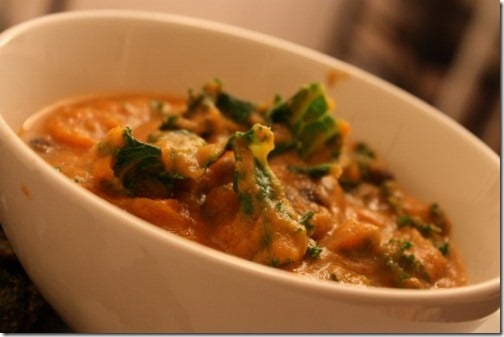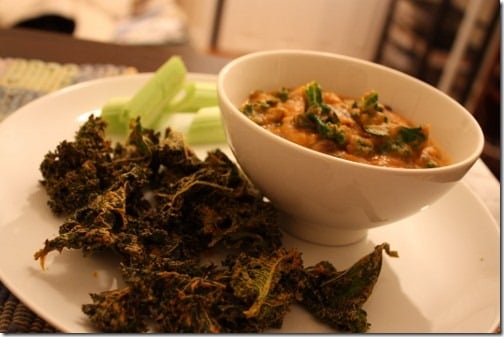 Right now more than ever, let's feel grateful for warm (and raw!) food, for shelter, and—if we're lucky enough to have it—our access to health care.
If you're in NYC and you'd like to get involved with the free community health screening project in conjunction with St. Luke's, please shoot me an email at [email protected]. We need more volunteers, and since the project is in its grassroots phase, we're really open to suggestions, involvement, and initiative. I'd love to tell you more about what's involved!
xo