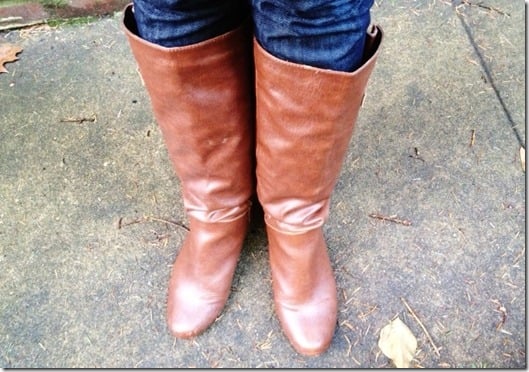 If you listened to my podcast on Our Hen House a few weeks ago, you might have heard me utter these words: "I became vegan for myself. I remain vegan for the animals." Nothing could sum up more succinctly my evolution as a vegan: I originally explored the diet in order to heal my IBS and my relationship with food. Over time, and with the help of a few special farm animals at the Woodstock Farm Animal Sanctuary, I came to admire and respect my animal neighbors, and learned to position myself against their exploitation. You can read the whole story here.
What does all that have to do with today's post? Well, there's a world of difference between a vegan diet and a vegan lifestyle; many people choose to eat 100% plant based diets, but don't necessarily avoid animal products in clothing or cosmetics, whereas a vegan lifestyle, by definition, excludes animal products in personal care and attire as well as food. In truth, I found it relatively easy to transition to a vegan diet, but building a vegan wardrobe took me a very, very long time, and was more of a struggle for me. I'm a work in progress when it comes to my vegan lifestyle—not nearly as consistent as I want to be, but trying every day to evolve.
Last year, I put quite a bit of time and effort into finding a vegan parka—most parkas, as you probably know, are made of down. This year, the main wardrobe focus for me was to find more vegan footwear.
A few years ago, my policy was to keep wearing all of my pre-vegan clothing and shoes, but to only purchase new items that were vegan. Nowadays, I've actively worked to donate my non-vegan items. This may not be a choice that all of you would want to make, but it feels right to me. Why? Because, when I get a compliment on a pair of shoes or a blouse, I can say, "thanks! They're faux leather from _________." I get to set an example with my vegan wardrobe, and perhaps persuade others to explore faux leather, along with alternatives to silk, wool, and down.
So, with great trepidation and a little sadness, I donated about four pairs of my boot collection this winter: not all of my old boots (I wish I could say I'd been courageous enough to do that; I'm still very attached to two pairs), but most of them. And I invested in two new pairs of vegan boots, one brown and one black. Today, I'd love to give you a few tips on how to shop for vegan footwear, based on what I learned!
As a consumer of vegan footwear, I face two major dilemmas: 1) sometimes vegan footwear isn't to my taste, and 2) a lot of the materials used in synthetic leather aren't as environmentally friendly as I'd like them to be. Let's address these two issues, one at a time.
If you've spent any time searching for vegan boots/shoes, you may have noticed that a lot of them look either like this: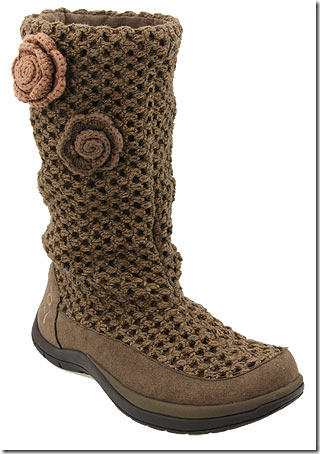 Or like this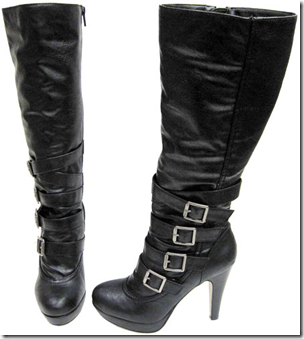 Both cute, but neither look is precisely my style. I don't tend to love round-toed or knit footwear, and I really don't love super high, pointy-heeled creations (I almost never wear high heels, and avoid them pretty much whenever I can!). The boots that tend to appeal to me are really in the "riding boot" style du jour: flat, sturdy, slightly tapered toe. Simple.
These aren't particularly easy to find in the vegan realm, at least not within my budget. But this year, I made two good finds. The first was this pair of vegan buckled boots from Target: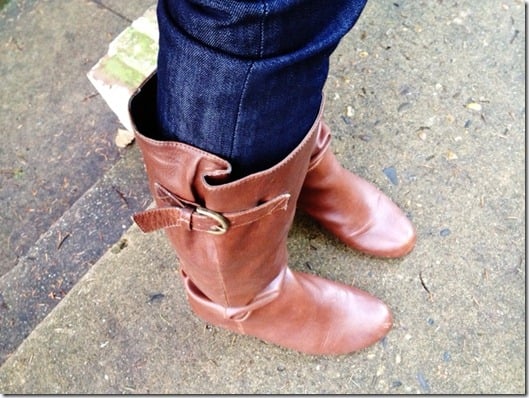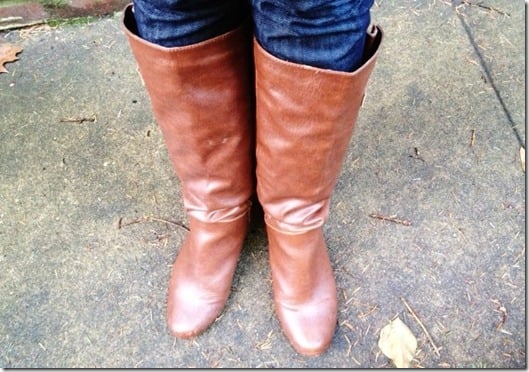 The second (not pictured on me) were these black boots from American Eagle:
Both totally faux leather, both totally "Gena." And both less than $59.00 retail, and even less used on eBay.
Yes, eBay! That's my solution to dilemma number two, which is the slight feeling of eco-guilt that comes from purchasing synthetic materials, and/or supporting a chain, instead of an independent vegan shoe maker. Some vegans feel that purchasing vintage/used leather is better than purchasing new synthetics for environmental reasons; I see both sides of the argument, but in my effort to call attention to vegan fashion, I prefer to purchased used synthetics on eBay or Etsy. If you search for "faux leather" or "vegan boot" on either site, you'll get a ton of hits, and can sort through them according to your own personal style. I highly recommend it!
One important lesson I've learned when it comes to vegan footwear is that you don't always have to search on vegan sites; many mass market clothing companies (Old Navy, American Eagle, Payless, Target) make cute, stylish faux leather shoes. I do not think that supporting these behemoths is superior to supporting small, vegan labels. But if you purchase them used, you can alleviate some of the guilt that comes from opting for mass market goods over independent ones. And you might find that the styles are a little more "mainstream"—and the prices quite a bit lower—than some of the vegan specialty brands. Again, I urge you to support vegan shoe makers, but if you're resisting vegan footwear because you don't love many of the expressly vegan styles, shopping mainstream may be the motivation you need. And you can, and should, purchase them secondhand!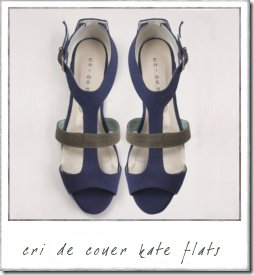 Meanwhile, I guarantee you there are vegan labels you'll fall in love with. Check out Olsen Haus, Cri de Couer, Novacas, and Beyond Skin. Also check out some of my all time favorite vegan-specialized shopping sites, including Alternative Outfitters, Cosmo's, and Lulu's. All have fantastic, and increasingly fashion forward, options.
I resisted vegan clothing and shoes for a long time. This was, of course, absurd: I make every effort to avoid putting any animal products on my plate; how could I possibly justify wearing animal skin on my feet? The leather industry is enabled by the factory farming system, and drives it forward in a terrible cycle. If you're taking steps toward a vegan diet, I really urge you to think just as hard about your footwear and clothing. I know it's not easy—I've been there—but it's really rewarding.
When I look back, I realize that my resistance to vegan attire had to do with insecurity about how I'd be perceived. I don't like admitting this, because I pride myself on being a person who doesn't put unnecessary stock in other peoples' opinions, but that's what was going on. I didn't feel that vegan options were as fashionable or trendy as non-vegan ones. And I knew that I'd be stepping outside of the mainstream fashion dialog, as it were—the latest and hottest labels, the coolest brands—if I started shopping exclusively vegan. I'd never really had the money for fashionista status, but I did spend every spare penny on my wardrobe back when I worked in publishing. I've come to care much less about my wardrobe as I get older, but more importantly, I've learned not to care whether or not I'm perceived as being fashion forward, if that comes at the expense of my values. I'd so much rather be perceived as someone whose clothing and footwear choices are in keeping with my ideals.
Of course, there's nothing wrong with priding yourself on being fashion-conscious! Fashion is just like food: it can be art, it can be a form of personal expression, and it can (and should) be fun! Part of what held me back from vegan shopping was that I simply didn't know about the amazing world of cruelty-free fashion alternatives; now I do. And I also know that some of the unfortunate tradeoffs inherent to vegan shopping—such as less environmentally friendly materials—can be offset by secondhand shopping. Win, win. You do not have to sacrifice your fashion-savvy image to enjoy the peace of mind that comes from a vegan lifestyle; you just have to get a little creative.
In the coming months, I plan on doing posts like this one on wool alternatives, silk alternatives, and so on—provided you find them helpful. So, tell me, do you? Are you interested in hearing more about vegan fashion? What kinds of topics would you find helpful? Is there more to say about vegan footwear?
And of course, I'd also love to hear how you navigate conscious shopping in your own lives.
Before I go, I thought I would link to this very useful link on the Humane Society's Animal's & Politics blog. In about ten months, many of us will be voting; this "congress scorecard" is a handy way to see if your federal elected officials are voting to protect animals or not! Check it out if you have a moment.
xo