Happy Thursday! I cannot wait to put this week to bed.
Those of you who keep up with my Twitter feed know that I write a weekly blog post for the very awesome Whole Living Daily blog. This blog, which is a companion to Whole Living Magazine online, features a slew of daily entries on green living, food, yoga, mindfulness, organization, stress management, and nutrition, all from experts in those fields. It's updated every few hours, and very fun to read.
My post this week, which you can find here, was on a hot-button topic: orthorexia. I'm sure that you've all read plenty about this "new" eating disorder, and most of you probably have opinions on it. I have a great deal to say about it myself; my presentation at the Healthy Living Summit this summer will touch on some of my thoughts, and it will offer practical suggestions for coping with the condition. This post was to-the-point summary of my feelings, so I encourage you to check it out and chime in (here or there) with your feedback!
Let's get to another topic: shoes. Though it's often assumed that a young, savvy NYC woman will inevitably love footwear, I don't fit the bill. If I happen to have some spending money for my closet, I will choose clothes over shoes any day (in part because shoes that don't fall into the "sensible" category really hurt my footsies). I therefore purchase new shoes only once or twice yearly, and usually out of necessity. Last week, though, I stumbled on an online boutique called Kind, and promptly fell in love with these guys: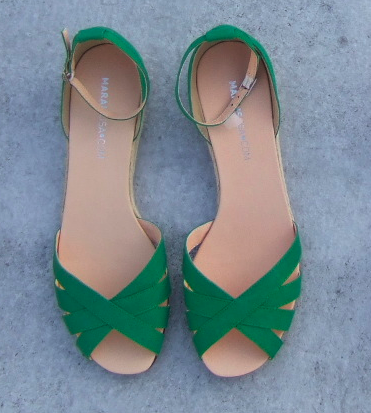 Summery espadrilles from Marais. Aren't they cute? On sale, too! They came in a sweet package with a handwritten note (thank you, Kind boutique!):
They fit like a glove:
In comparison with my habits as an eater, my habits as a shopper fall short of highly evolved consciousness. Here's a list of things I do at least a few times yearly:
I purchase mass-produced clothing from giant retailers
I purchase items made abroad and with unethical labor practices
I purchase cheap items that are often donated to thrift shops a year later
These aren't habits I'm proud of, and my discomfort with them is growing.
There are also some things I do right. I do have many sturdy, quality pieces of clothing that have lasted me years; I've cared for and cherished the same Theory work pants, for example, for eight years, and I love my favorite jeans so much that I'll patch and mend them countless times before ever parting with them. My favorite jeans have been in my closet for over a decade now, and still get plenty of wear. I make an effort to support independent boutiques and vintage stores whenever I can. I have boots re-soled each year, rather than throwing them out, and I do try harder than ever to invest in high-quality, timeless garments, rather than throwing away money on trendy and flimsy pieces.
This year, it's my goal to not only shop more consciously, but also to shop with a stronger vegan ethos. As I've mentioned before, finding my way to vegan lifestyle habits has taken me longer than it did to immerse myself in vegan food. But this year, I've made an effort never to purchase new leather or down; I do purchase pre-worn items in thrift stores and on eBay (which explains why so many of my shoes are scuffed up, a fact my mother notes with admonition). In the coming year, my goal is to begin supporting more vegan and eco-friendly designers; I want to set an example with what I wear.
I also want to support fledgling vegan designers with my dollar. Take Marais. Their shoes are made in the USA and designed by industrious young women who live locally (right here in Brooklyn). Most of their designs use cloth and faux leather (which means that, though they're not a fully vegan label, they are offering consumers many vegan options), and they price their shoes at a decent price point. I couldn't possibly feel better about supporting them.
I'm not a fully enlightened shopper, and there's much room for improvement. But I'm evolving. And I like it.
I encourage you to check out Marais and other independent vegan designers. Tell me what you find! And tell me more about your shopping habits. How would you describe your "consciousness" as a shopper?
Have a great day!!
xo