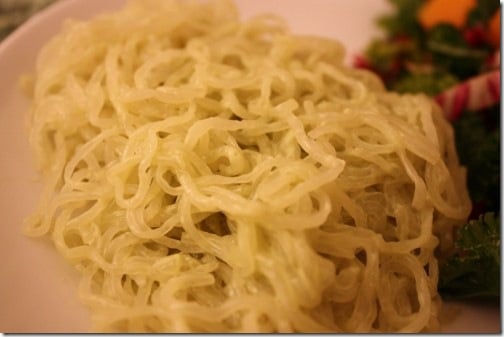 For the most part, I'm an "open book" kinda gal. There's very little I won't blurt out to the world—I suppose this makes me well suited to blogging—and seldom do I feel remorse for sharing something intimate. Every time I write about my family, though, I have a kneejerk moment of regret—did I share something too private? Did I betray anyone's confidence? That's certainly how I felt yesterday, after pressing "publish." Moments later, my fears were assuaged: your awesome comments reminded me that I'm ashamed of nothing, and that personal experience is often the best entree into a great conversation.
In yesterday's post, I also mentioned that this week might offer up nothing more than slapdash salads. I'm proud to say I managed something a little more complex than salad tonight: another spin on kelp noodles (for a little 411 on these guys, check out last week's post). What I had on hand for sauce was either a) the last of a jar of hempseed butter, or b) avocado. After scratching my head in debate, I thought, why choose? I love avocado, I love hemp, but I've never married them in a recipe.
Clearly, I was overdo: this sauce is delicious, easy, and very nourishing. It's vying with my red pepper hemp sauce as my favorite of the moment!
Creamy Avocado Hemp Sauce (yields 1 1/4 cups)
1/2 large avocado
2 tbsp hempseed butter
3/4 cup almond or rice milk
1-2 tbsp lemon juice
1/4-1/2 tsp salt (use your judgment)
Dash pepper
Blend all ingredients in a food processor or high speed blender till very smooth. Serve over pasta, salad, as a dip, or even as a sandwich spread.Yum!
I'm confident that this luscious, yet simple sauce would work really nicely with almond butter, cashew butter, or macadamia butter. Give it a try in as many varieties as you like!
It's a dreamy, creamy pasta sauce:
And, along with a kale salad and some steamed butternut squash (not all of it goes into smoothies), it was a perfect dinner.
Before I hit the hay, an announcement! You guys may have noted that there's a new icon next to my twitter and feedburner icons at the top right: facebook! CR has made one stride closer toward technological proficiency, and joined Facebook. The page isn't done, and I don't know how much time I'll have to devote to it…but that's what I said about Twitter, too. Hmmm.
None of this would have been possible without the help of my brother-in-law (Chloe's husband), Knud. Knud is the founder of Knudr, a company that specializes in optimizing internet presences and creating and executing social media strategies for businesses and individuals. Knud shows his clients ways to attract new customers and generate more business from existing ones: this includes creating social media properties, claiming directory entries, and buying Facebook ads and Google AdWords. For someone like me, his services might simply amount to setting up a Facebook page!
Bloggers like to chat over the ether ad infinitum about how they increase their internet presence. I think it's great: I'm all about running a biz-savvy blog, and of course I like to draw attention to my counseling practice, but I simply have so little time to devote to the endless duties of tweeting, buzzing, liking, sharing, and so on. I have two jobs! Facebook might be user friendly, but for someone with my schedule, even getting it set up feels like an insurmountable task.
That Knud was able to set up a Facebook presence for me instantly is a testament to his savvy, and it was clear from the start that he has a really nuanced understanding of what my blog is all about. This—understanding who his client is and what she wants—is no doubt what makes him good at what he does.
If any of you have small businesses you'd like to promote, or social media goals you've felt too daunted to achieve, I really encourage you to call upon Knudr for a little help. And to sweeten the deal, if you write to Knud at [email protected], you'll get a special Choosing Raw discount. It's a great opportunity, so don't wait!
In the meantime, guys, please, um, do whatever it is one does with facebook? Look me up, like me, friend me, and say hello 🙂 I'll be operating my page like a pro soon: all with a little help from my friends.
xo