Rodgers and Hammerstein. Lerner and Loewe. Gilbert and Sullivan. It's always wonderful when two talented people come together to create something beautiful and uplifting. This is as true in the world of culinary arts as it is in the world of musicals and operettas. So it was with great excitement that I first learned that Kris Carr and Chad Sarno—two individuals whose work I admire tremendously—were going to collaborate on a cookbook. Now that I've had a chance to flip through the pages of Crazy Sexy Kitchen and experience the food firsthand, I'm happy to say that it's as inspiring as I always knew it would be.
The subtitle of this book is "150 Plant-Empowered Recipes to Ignite a Mouthwatering Revolution." I love the idea of vegan food as being "plant empowered." So often, people perceive veganism as a noble sacrifice. I can't tell you how often someone says to me (with a look of bewilderment) "wow, I really admire you for doing that. I could never." The fact is that I'm no more disciplined or noble than anyone else. I've given things up to be vegan, and it hasn't always been easy, but on balance I'd say that my life is so much richer because I chose to make the switch. I eat a wider variety of foods, many of them more exotic and interesting than the foods I ate before. I've expanded my repertoire to include global dishes I hadn't tried until I became vegan. I've become more curious and open-minded. Veganism has not made my life feel smaller. It has broadened my horizons, and it has empowered me in every way.
Kris and Chad have come together to create recipes that are very empowering indeed. Some are raw, some are cooked. All revolve around vegetables, grains, legumes, nuts, seeds, fruits, and soy. The recipes are accessible, but elegant; Chad's training as a chef is evident in subtle flavor pairings and the gorgeous presentation in the photos. Here are some highlights of the book—taken directly from Kris's website, where you can learn a lot more:
150 plant-empowered recipes at your fingertips that offer a huge variety of meals, ranging from easy-breezy to fancy-pants, including juices/smoothies, breakfast, lunch, dinner, starters, salads, sammies, snacks, soups, and dessert.
Menu plans for every occasion. You'll find show-stopping maps for your meals, including a sexy Mexi spread, a scrumptious brunch, the perfect picnic, a no-fail family night, and many, many more.
Easy-to-navigate recipes. Each recipe is clearly marked for those with dietary restrictions, health goals, time restrictions and family considerations, featuring symbols for: gluten-free, raw, soy-free, crazy sexy quickie, easy peasy, cheffy and kid-friendly.
Fabulous food that fits your needs. Want to throw a rollicking soiree with orgasmic food? Are you tired and in need of a cleanse? Need to whip up a comforting meal for your whole family? Crazy Sexy Kitchen is here for you.
All-star guest chef recipes. Now you can prepare meals by your favorite chefs and restaurants in your own home–including recipes by Chef Tal Ronnen, the culinary crew at Candle 79, Chef Sarma Melngailis of Pure Food and Wine, and Chef Rich Landau of Vedge.
Savvy, sneaky ways to make your cash and time equal greater health and deeper fulfillment. Crazy Sexy Kitchen's shopping, budgeting, and planning tips will keep your wallet happy, your schedule manageable, and your belly full of nutritious foods.
Spot-on education that sets you up for success. I'll hold your hand and teach you about inflammation, pH, raw foods, juicing, transitioning to plant-passionate diet, eating for prevention and vitality, and so much more.
And as always, we'll grow together through my heart-felt inspiration. In Crazy Sexy Kitchen, you get an even deeper look at the path that brought me to the kitchen–to heal, thrive, and discover true love for myself and her family.
As you can see, Kris' characteristic energy, spunk, and sense of humor is on full display, too.It was hard to pick out recipes to test from the book, but in keeping with my zany study schedule, I went for some of the easier ones. I started with the crazy sexy breakfast tacos: easy, homemade refried pinto beans with salsa, greens, and avocado, all wrapped up in an Ezekiel sprouted grain wrap (you could use a brown rice wrap for a GF variation):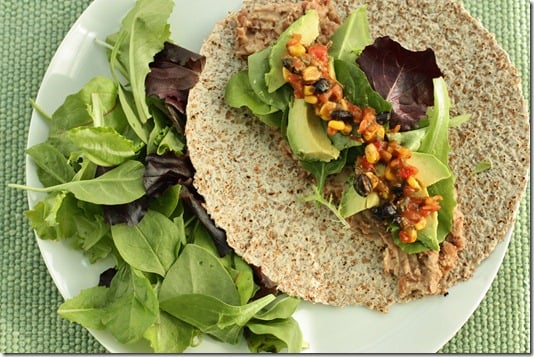 I loved the combination of spiciness from the salsa, creamy cool avocado, and filling legumes! What a hearty and delicious way to start the day.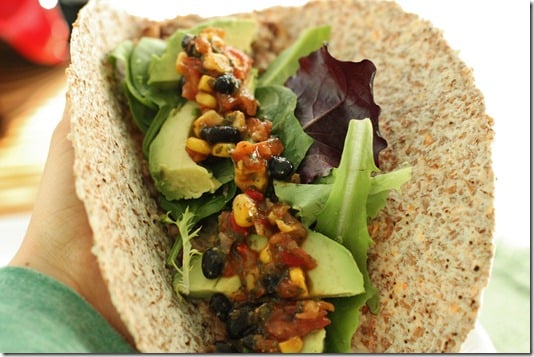 In keeping with the Tex-Mex theme, I next sampled the black bean and sweet potato burger. Holy yum.
This burger is subtly and perfectly spiced. The combination of rice, beans, and sweet potato makes it nice and filling, and though I did have to add a little rice to get there, the texture was spot on. I'll definitely be making this burger again!
Finally, I had to try the kale salad. But which kale salad to try?! There were two: one a simple kale and avocado salad, the other a warm (lightly steamed) kale salad with quinoa, pine nuts, and currants. I wanted to try the latter but I prefer my kale raw, so I merged the recipes. And I wasn't sorry. I ended up with a raw kale salad with quinoa, pine nuts, and currents a la Chad, and it was amazing.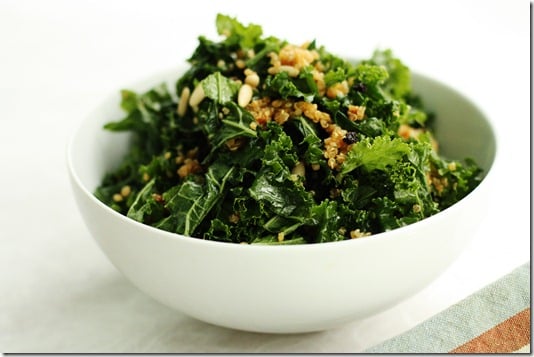 With the amount of kale salad I eat, you'd think I would max out on the stuff, and cease to be amazed. Nope. Never ever.
I wasn't surprised that I liked the food, of course: I've been a huge fan of Chad's work for ages. In fact, one of the reasons I was so excited to review this book for my blog is that I have so many good things to say about the two people behind it. I first met Chad when we did a VegNews twitter chat on raw foods together. I was struck by his warmth and kindness, and also by the fact that he kept emphasizing that, even though his raw food technique is what he's best known for, he's a "foodie," and he'll eat any delicious food so long as it's vegan. In the raw world, there's often a subtle, underlying attitude that eating is a concession we make, and that food is a necessary evil. The ideal is to move away from it as much as we can, climbing some ladder toward a life of only juices, greens, and air. I find this viewpoint deeply depressing, not to mention disordered. So it's always wonderful to connect with other raw foodies who really and truly and unabashedly love food. Chad is one of them.
I met Kris about four years ago now, just as I was starting to blog. I was immediately struck by her warmth and generosity to me. We bonded over a mutual interest in health and in medicine, and we've stayed close ever since. She was keen on having me give my nutritionist's eye to Crazy Sexy Diet, when it came out, and I did. We loved collaborating. When I told Kris I was getting my post-bacc, she couldn't have been more supportive and enthusiastic. And every time I've doubted myself along the way—and I have doubted myself, so many times—she's both cheered me on, telling me that I can do things that feel impossible, and she's also reminded me that I didn't choose to do this for myself alone. I'm doing it for the many people I hope to help one day. Wise words, and the reminder I need to push forward.
In general, I think that passion and good intentions give any endeavor—be it a book, a blog, a piece of writing, or a plate of food—more richness. Kris and Chad's passion for animals and for healthy living are evident everywhere in this soulful book. If you're looking for an inclusive, welcoming, and fun cookbook with which to enhance your vegan cuisine, I really recommend checking it out. Thank you, Kris and Chad, for the inspiration!
xo