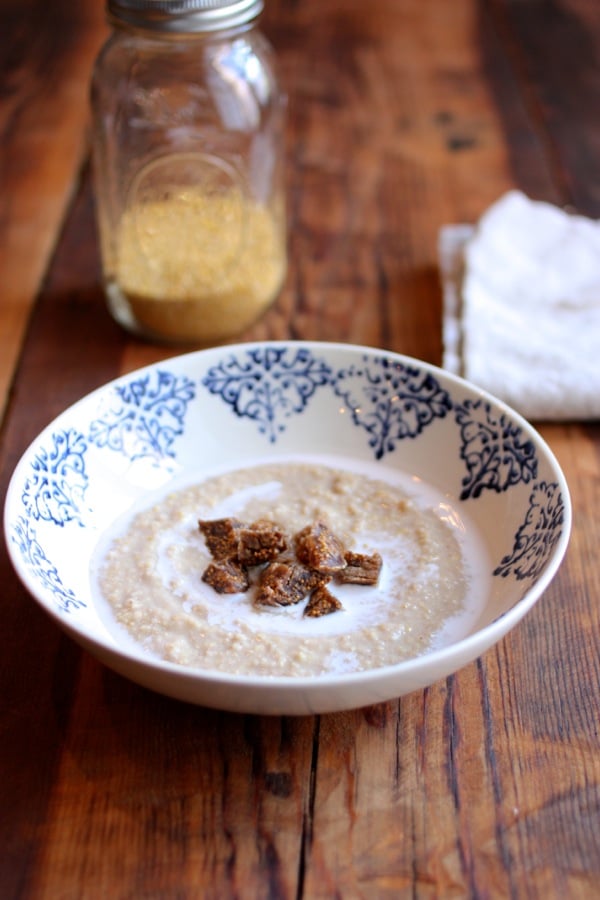 Warm, breakfast cereals–which, let's face it, sound so much cozier and more appealing when we label them as "porridges"–are one of my favorite features of fall. I enjoy oats year round, but they're most appealing as cold weather moves in. At this time of year, I like to experiment with all sorts of warm grains in the morning. I've tried amaranth and quinoa, quinoa on its own, and rice (my own recipes, and those from friends!). Until recently, I hadn't tried millet, which is one of my favorite grains to use in savory dishes. So why not?
As it turns out, millet is a perfect for breakfast, thanks in part to its natural sweetness. The challenge of using millet is always the grain's natural tendency to get dry quickly. In this recipe, I decided to grind the millet up and cook it almost as you would cream of wheat. This created a lovely, rich texture, and it also helped to keep the millet moist–even for leftovers a few days later.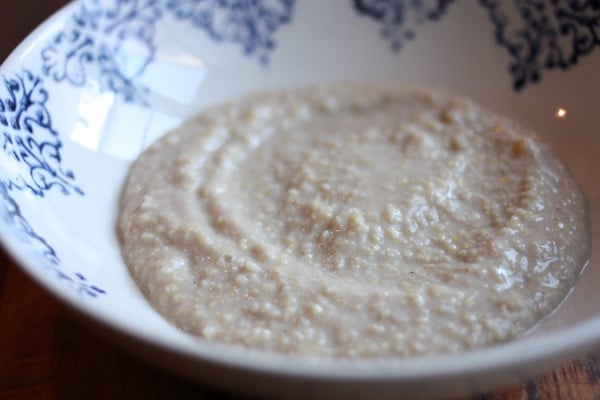 To grind the millet up, I used a coffee grinder (I have two; one is for coffee, the other for grains and flax). You can use a food processor or a grain mill, too.
Using ground millet makes this porridge unique to begin with, but the addition of coconut milk and grated ginger elevates it breakfast perfection. This one's destined to be a regular morning meal for me.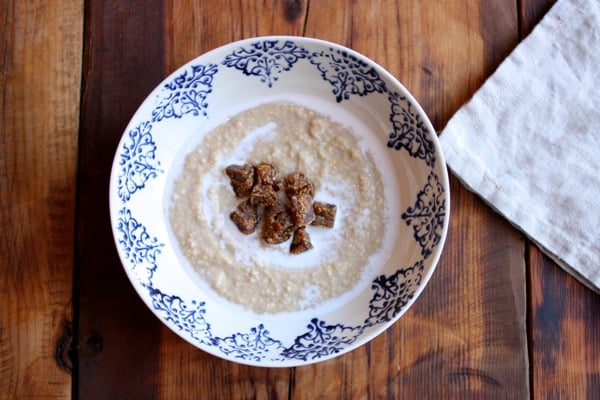 Cream of Millet, Coconut, and Ginger Porridge
Author -
1

cup

millet

ground roughly in a coffee mill, food processor, Vitamix, or grain mill (you don't want to grind it into flour; just grind it roughly, so that some of it resembles flour and a few kernels are still visible)

1 1/2

cups

water

1/2

cup

full fat coconut milk

from the can, plus extra for topping

1

inch

knob ginger

grated (about a rounded tablespoon)

3/4

teaspoon

cinnamon

1

teaspoon

vanilla extract

2

tablespoons

maple syrup

Topping options: Dried figs

toasted almonds, pumpkin seeds, toasted walnuts, cacao nibs, goji berries, almond butter, fresh fruit, baked fruit -- basically anything!
Place the millet into a medium saucepan with the water, milk, ginger, cinnamon, and vanilla. Bring it to a boil and reduce to a simmer. Cook, stirring frequently, for about 15-18 minutes, or until the millet tastes a little sweet (if it's still undercooked, it will taste noticeably bland and starchy). You may need to add water as you go along; the ground millet is super absorbent.

When the millet is ready, stir in the maple syrup. Divide the porridge into three or four bowls. Drizzle each with a little bit of extra coconut milk, and then top the bowls with your toppings of choice. (Figs are lovely here!) Serve.
Porridge leftovers keep nicely in the fridge for up to three full days. When you're ready to reheat, add a little more liquid.
This is such a lovely, nourishing breakfast for cool weather (or any time of year, really). Grinding the grain means that it's also not too time consuming, which is always a treat. If you haven't yet found a way to enjoy millet, or you don't find the grain appealing, then I challenge you to try this. Cream of millet is the bomb.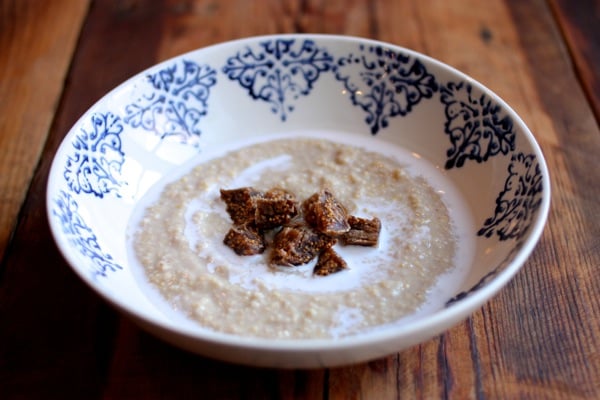 I hope you've all had nice weeks. I'm headed to New Orleans with the boy tomorrow, where we'll be staying with my bestie. I can't wait to get back to The Big Easy, and no doubt will share a photographic record of my doings (and eats!) on Instagram. In the meantime, Happy Halloween!!!
I'll be back for weekend reading.
xo