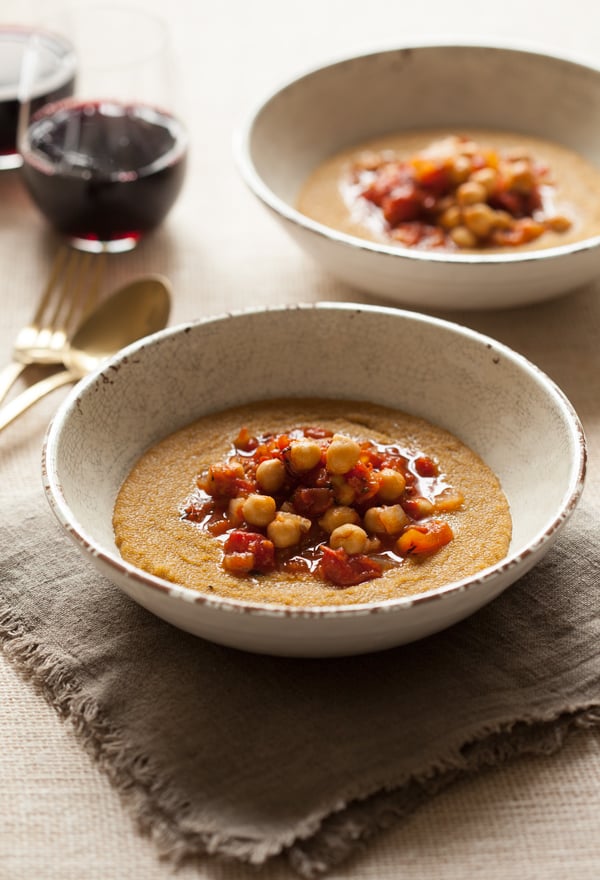 If you've got a date night planned at home this year for Valentine's Day, then allow me to suggest this creamy amaranth polenta and chickpea marinara as your main event. It's easy to prepare, but it has the aroma and flavor of something slow-simmered and traditional. Best of all, it's a wonderful way to showcase amaranth, a more unconventional, yet highly nutritious, whole grain.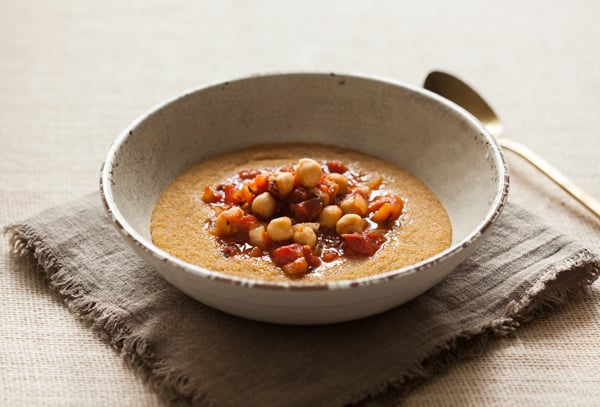 I created this dish with Steven in mind, as he's a huge fan of any type of polenta. We enjoy it often at home and in many ways: grilled, baked, simmered on the stovetop, or cut into croutons. We've made it with millet, cornmeal, and even quinoa. Amaranth lends itself perfectly to a polenta preparation because it's so finely textured, not unlike cornmeal. The resulting dish has just the slightest bit of chew (amaranth grains have character, in spite of their tiny size), as well as a creaminess and heft. It's a hearty, surprisingly satisfying take on a classic.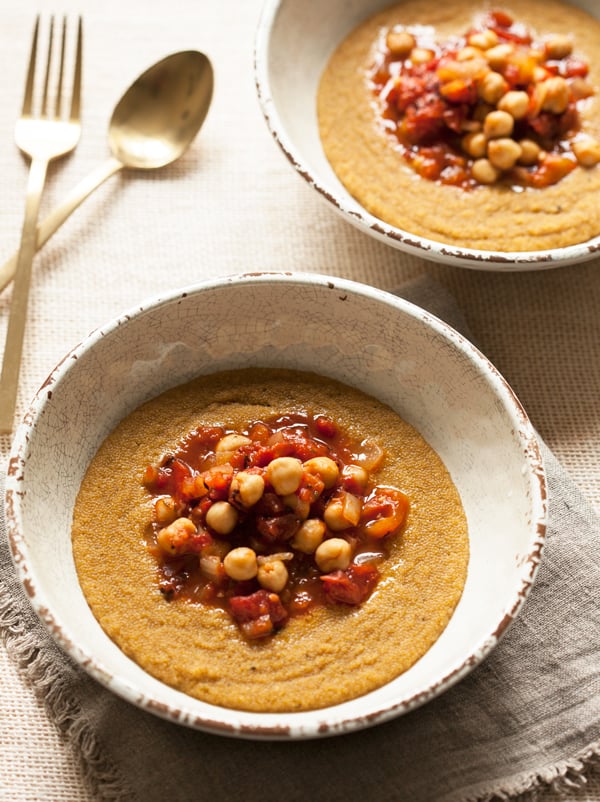 This dish isn't only about the polenta, though: it's also a perfect vehicle for what may be my new favorite pasta sauce, grain topper, etc. The chickpea marinara here comes together in a snap using pantry ingredients, which means that it's perfect for cold weather, for last-minute entertaining, or simply for creating an easy, economical, and highly flavorful all-purpose sauce. I can't wait to enjoy the leftovers over rice or quinoa, or as a topping for penne.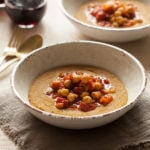 Creamy Amaranth Polenta and Chickpea Marinara
Author -
For the chickpea marinara:
1

tablespoon

olive oil

1

small white or yellow onion

diced

1

tablespoon

sugar

4

cloves

garlic

minced

1/2

teaspoon

dried oregano

1/2

teaspoon

crushed thyme

1/4

teaspoon

salt

more to taste

Dash crushed red pepper

1 28-

ounce

can fire-roasted

diced tomatoes (or regular diced tomatoes)

1/4

cup

tomato paste

1 1/2

cups

cooked chickpeas

or 1 can chickpeas, drained and rinsed
For the polenta:
3

cups

low-sodium vegetable broth

1/2

teaspoon

salt

1 1/2

cups

amaranth

2/3

cups

almond or soy milk

2

heaping tablespoons nutritional yeast

1/2

teaspoon

garlic powder

Black pepper to taste
To make the marinara, heat the olive oil in a medium pot over medium-high heat. Add the onion and sugar. Saute and brown the onions for 5-7 minutes, or until they're golden. (Add a few tablespoons of water as you go if the onions start to stick to the bottom of the pot.) Add the garlic and saute for two minutes. Stir in the oregano, thyme, salt, red pepper, tomatoes, tomato paste, and chickpeas. Simmer, uncovered, for 10 minutes. Remove from heat.

To prepare the polenta, bring the broth and salt to boil in a medium sized pot. When it boils, whisk in the amaranth and reduce the heat to medium low. Cook, uncovered, stirring frequently for 20-25 minutes, or until the mixture is thick and a bit bubbly. Stir in the plant-based milk, nutritional yeast, garlic, and pepper. Simmer for another 5 minutes, or until the polenta has a thick texture and the amaranth is chewy yet tender, adding an extra splash of milk if it becomes overly thick.

Divide the amaranth into four bowls and top each with a cup of chickpea marinara. Serve.
Leftover marinara will keep in an airtight container in the fridge for up to 5 days.
This is the first preparation I've found for amaranth that makes it highly enjoyable without the need to mix it with other grains. I often find the texture of amaranth to be too gummy, but here, that texture really works, and the fact that the grain is stirred with broth and a touch of plant milk right until serving keeps it light and creamy. Amaranth is relatively high in both protein and calcium, as well as magnesium and potassium, so it's most definitely a nutrient dense grain to include in your diet–and a great option for gluten-free folks.
Of course, if you don't have amaranth or you don't care for it, regular polenta will work perfectly in the recipe (follow your usual cooking method and prepare the sauce alongside), and you can also use the chickpea marinara to top a bowl of regular pasta.
I hope you'll enjoy the dish no matter how you plate it!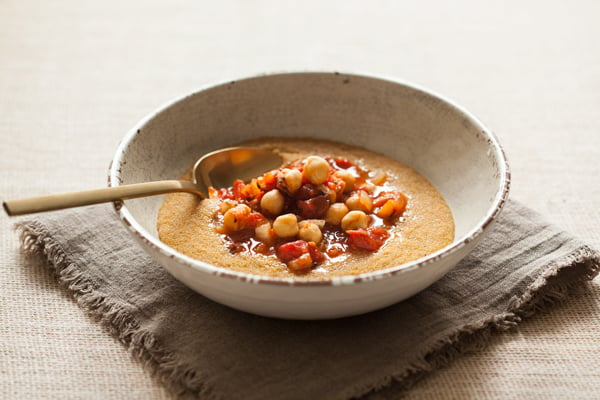 Tomorrow I'll be sharing a terrific recipe from my friend Jess Nadel's creative new cookbook, Superfoods 24/7, and hosting a giveaway as well. I hope to see you then!
xo