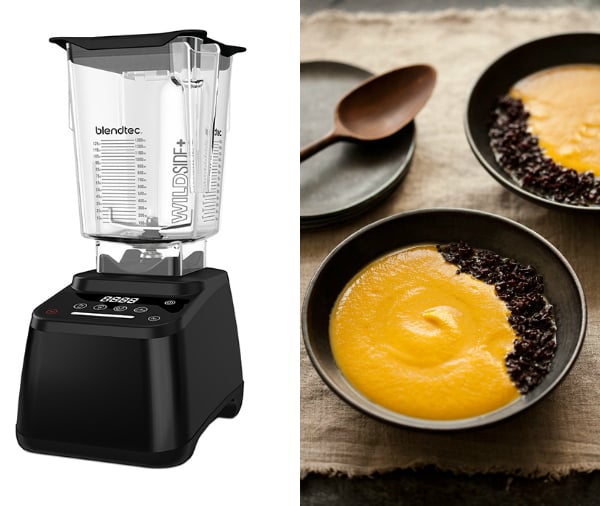 As I was writing this post, I realized that I actually have very few butternut squash soups on the blog. It's a strange oversight, because I love squash soup, and it's probably my most reliable "go-to" when it comes to an easy fall or winter appetizer. This creamy butternut squash and five spice soup features a unique flavor addition of star anise, cloves, cinnamon, Sichuan pepper, and fennel seeds–the characteristic blend known as Chinese five-spice powder.
I purchased a bottle of Chinese five-spice this past fall, prompted by my best friend and her husband, who traveled to China last year and returned home with lots of culinary inspiration (and quite a few bags of spices and peppers). I've fallen in love with the stuff; it's a perfect compliment to sweet and savory dishes, and as many longtime readers of this blog know, I have a weakness for those!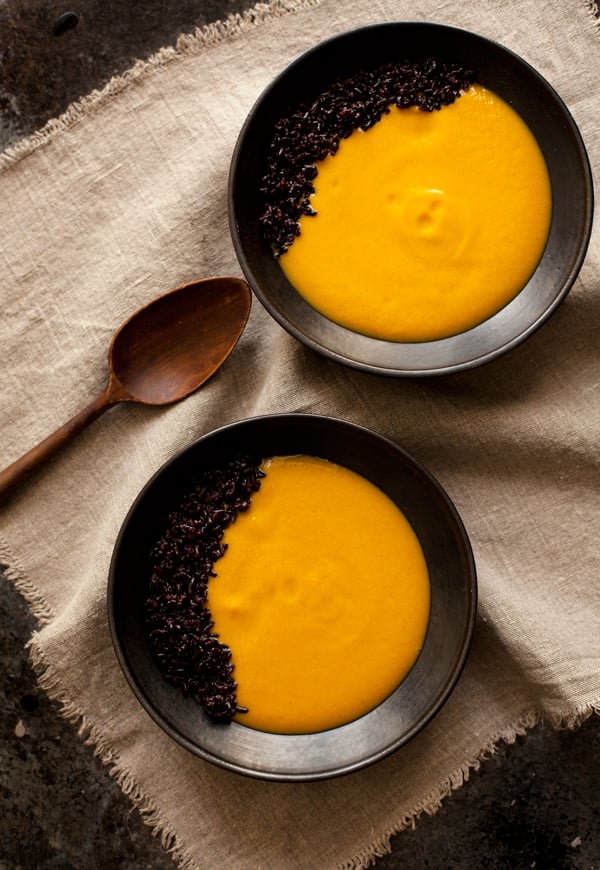 The silky smooth texture of this soup is thanks to a new kitchen asset: the Blendtec Designer 625 high speed blender.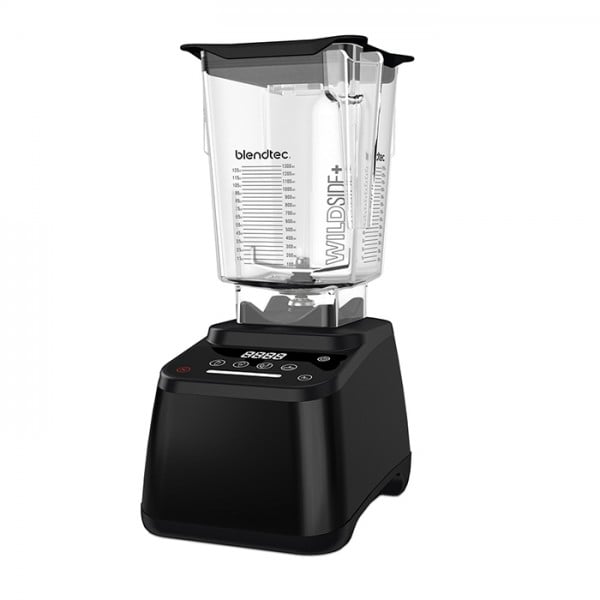 When the folks at Blendtec reached out to me about an opportunity to share a brand new Designer 625 blender with one of my readers, I was thrilled. I've been personally curious about the Blendtec for a long time; I know it's one of the most powerful high speed blenders on the market, and I've heard awesome things about both its lightweight quality and also the variable settings (which make it easy to blend for an appropriate time, based on what sort of recipe you're creating).
Now that I've had a chance to use the Blendtec Designer 625 for several weeks, I've been thrilled with it. I've owned a Vitamix for a long time, and it's also a wonderful machine, but I think the Blendtec has a few features that make it really unique within the high-speed blender market.
First, it's lightweight, which means that it's easy to keep in a cabinet or hutch and then effortlessly carry to the countertop when you're ready to cook. This is a huge advantage for those of us who don't have enough counter space to house a sizeable blender permanently. It's also shorter and wider than other high speed blenders, which means that it can fit under a cabinet on your countertop if you do wish to store it there. The wide, square bottom means that it's seriously easy to clean (much easier than any blender I've ever used)–no more awkwardly trying to scrub at the blade. Finally, it features a super attractive, illuminated surface that lights up in response to touch and has a few programed cycles: smoothie, ice cream, whole juice, hot soup. You can use these cycles as a guide for blending, and as you blend, the touch screen will actually show you how many more seconds or minutes is advisable for the dish you're making.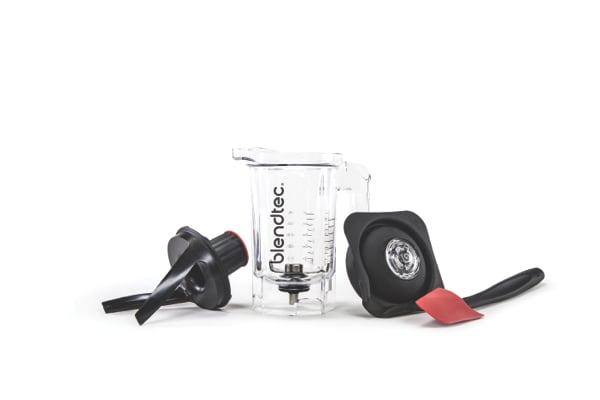 The folks at Blendtec also shared with me their special twister jar, which is designed for blending thicker mixtures, including homemade nut butters, nut cheeses, hummus, and single serve ice cream. I'm sure that some of you have experienced a common blender pitfall, which is that you have to add a lot of water to the machine to get hummus or cashew cheese blending. This can dilute the recipe more than is desirable. The twist jar allows you to grind denser foods without making them overly watery, and it's a really handy tool to have around.
I'll be offering a Blendtec Designer 625 and Twister Jar to one luck reader at the end of this post, so stay tuned for details!
But in the meantime, let's get back to this soup business. As you can see, I topped the soup with a small scoop of seasoned black rice. It was a wonderful way to add texture (which is important when it comes to blended soups) and some extra satiety to the dish. You can definitely omit the rice from the recipe, but if you make it, you'll probably be glad you did, and you'll have some leftover rice for salads, bowls, and other meals. I've included instructions for both the rice and the soup.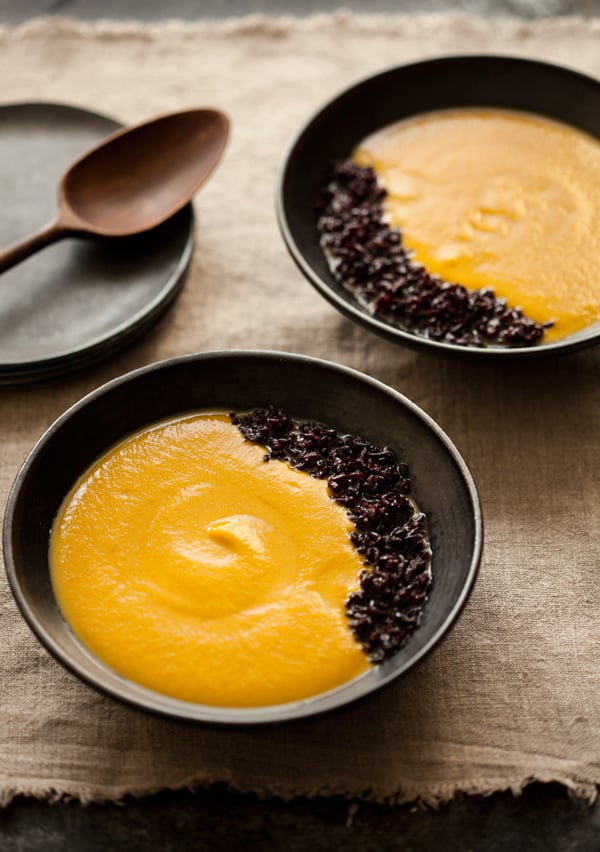 Creamy Butternut Squash and Five-Spice Soup
Author -
For the creamy butternut squash and five-spice soup:
1

tablespoon

olive oil

1

large onion

chopped

3

carrots

peeled and chopped

2

celery sticks

chopped

3

cloves

garlic

minced

1

tablespoon

grated ginger

2

teaspoons

Chinese 5-Spice powder

Dash crushed red pepper

1

teaspoons

salt

2

pounds

peeled and cubed butternut squash

1

tablespoon

maple syrup

optional

4

cups

low-sodium vegetable broth

1

cup

water

1/2

cup

coconut milk
For the black rice (optional, for adding to bowls):
To make the soup, heat the olive oil over medium high heat in a large soup pot. Add the onion, carrot, and celery. Saute for 5 minutes, stirring frequently, or until the onions appear soft and clear. Stir in the garlic and ginger. Saute for another 2-3 minutes, adding a few tablespoons of water as needed to prevent the veggies from sticking or burning.

Stir in the five spice powder, red pepper, and salt, and give everything a good stir. Add the butternut squash, syrup, broth, and water. Bring the mixture to a boil, cover, and reduce heat to a simmer. Simmer for 30-40 minutes, or until the squash is very tender.

Transfer the soup to a blender in two batches and blend on high speed until it's completely smooth, being very careful to keep the lid on tight (hot liquids will spatter). Alternately, you can use an immersion blender to puree the soup. Transfer the blended soup back to your pot and stir in the coconut milk. Check the soup for seasoning and adjust spices to taste.

To make the black rice topping, bring 1 cup of black rice and 2 cups of water to a boil in a medium saucepan while your soup is simmering. Reduce the heat to a simmer, cover, and simmer for 20-30 minutes, or until all of the water has been absorbed. Fluff the rice, cover, and allow it to rest for a few minutes. Then, stir in the tamari, sesame oil, and mirin or rice vinegar. Serve the soup with about a quarter cup of rice topping per bowl.
Leftover soup will keep in an airtight container in the fridge for up to five days and can be frozen for up to one month. Leftover black rice will keep for up to three days.
Now that I've tried this squash and five-spice combination, I have a lot of other ideas for ways that I might pair them! But for now, I'm happy to have soup leftovers in my fridge and a few portions already tucked away in my freezer. The soup is perfect for this time of year–nourishing, creamy, warming–and I'm happy to have discovered it. (The leftover black rice is great in lunchbowls, too–you can see an example from my Instagram feed yesterday below!)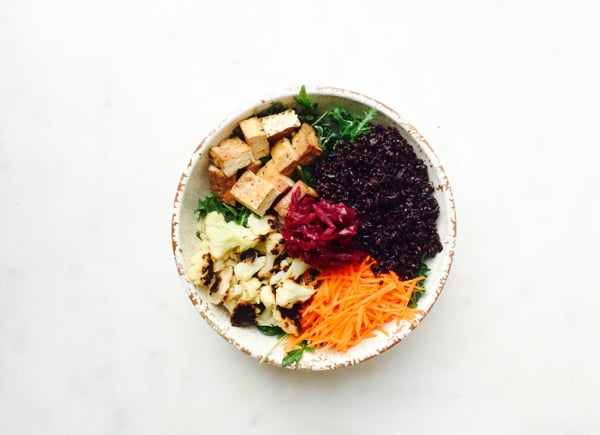 Blendtec Designer 625 & Twister Jar Giveaway
Here are the details: Blendtec will be sending one lucky US or Canadian reader a Blendtec Designer 625. The package includes:
●Designer 625 motor base
●BPA-free jar with vented Gripper™ lid
●Blending 101 quick-start guide and recipes
●Twister jar with patented Twister lid
I'll be running this giveaway for two weeks, until February 15, and you can enter to win below. Good luck! I can't wait to share the gift of powerful blending 😉
Good luck with the giveaway, friends, and I hope you can all cozy up to a warm, vibrant bowl of soup very soon.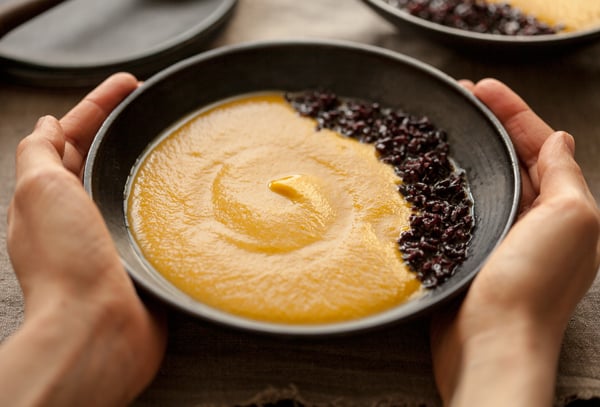 xo