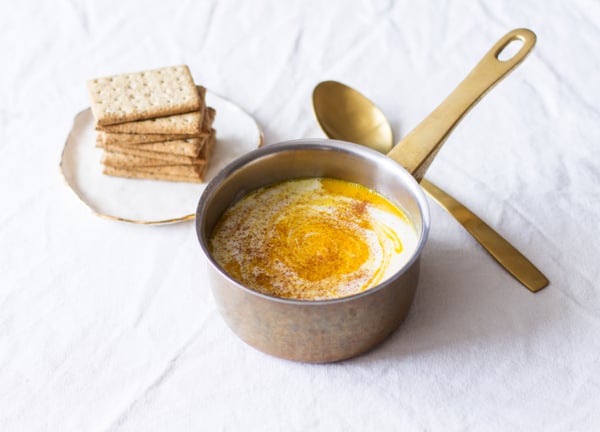 On Friday night, I made a simple supper for my friend Tom, and this creamy carrot ginger and coconut soup was the highlight.
Tom and I pretty different eaters. He's an enthusiastic carnivore, and I'm an outspoken vegan. But we see eye to eye on a few foodie matters. Tom's father is a farmer and, by Tom's account, a "hippie." Each fall, Tom brings back bushels of the most delicious Macoun apples and giant carrots from his dad's place, and, when I'm lucky, he shares them with me. I've never seen Tom put a bit of processed food into his mouth—not a thing. He makes the best saffron risotto on earth, and he's willing to veganize it for special guests. And most importantly, we have a couple of mutual foodie obsessions: hummus and raw veggies, perfectly cooked brown rice, roast veggies with vinaigrette, and anything that calls for cumin, coriander, saffron, or cinnamon. Tom spent some time in the peace corps working in Madagascar, and perhaps these spices remind him of his time there.
One spice we haven't discussed yet is ginger. But it's one of my favorite spices, and so I suspect—I hope—that it might be one of Tom's favorites, too. I didn't need to think very hard about what to make for me and Tom on Friday: roast veggies and couscous, hummus and babaganoush, and raw veggies for crunch are our custom. But I did want to throw something new into the rotation. And since Tom and I are equally keen on carrots, I thought I'd make a soup from one of the food world's most divine pairings: carrot and ginger.
Perhaps some of you have tried my carrot avocado bisque. If you haven't, do: it's the delicious, sixty second version of what you're about to see here. But if you want a cooked version of carrot ginger soup that's easy as pie to prepare and easier still to devour, try this recipe on for size. It's fast, flavorful, crowd-pleasing, and easy to modify, too. I always add a bit of coconut milk at the end for richness. But you could lower the fat by using soy milk, and you could also use cashew cream.
Creamy Carrot Ginger and Coconut Soup
Cuisine:
vegan, gluten free, soy free
Author:
Prep time:
Cook time:
Total time:
1 tablespoon olive oil
1 small white or yellow onion, chopped (about 1 cup)
1 stalk celery, chopped
2 cloves garlic, minced
2 inch piece of ginger, peeled and grated or minced
4 cups low sodium vegetable broth
1 small white or sweet potato, peeled and chopped
1 1/4 pounds carrots, peeled and coarsely chopped
3/4 teaspoon salt (adjust to taste)
1/2 teaspoon curry powder
1/2 cup full fat coconut milk, plus a few extra tablespoons for serving
Black pepper to taste
Heat the olive oil in a soup pot or Dutch oven over medium heat. Add the onion and celery and sauté for 5-7 minutes, or until the onions are clear. Add the garlic and ginger. Sauté, stirring frequently, for another 2 minutes, or until the ginger is very fragrant.
Add the broth, potato, carrots, salt, and curry to the pot. Bring the mixture to a boil, then reduce the heat to medium low. Cover and simmer the soup for twenty minutes, or until the carrots are very tender.
Using an immersion blender or an upright blender*, blend the soup till smooth. If you use an upright blender, you may want to work in batches, as blending too much soup at once can cause the blender to spatter. Return the soup to the pot and stir in the coconut milk and black pepper to taste. Adjust seasonings to taste. If you like, swirl an extra tablespoon of coconut milk into the soup before serving.
Leftover soup will keep for up to 4 days in an airtight container in the fridge, and it can be frozen for up to a month.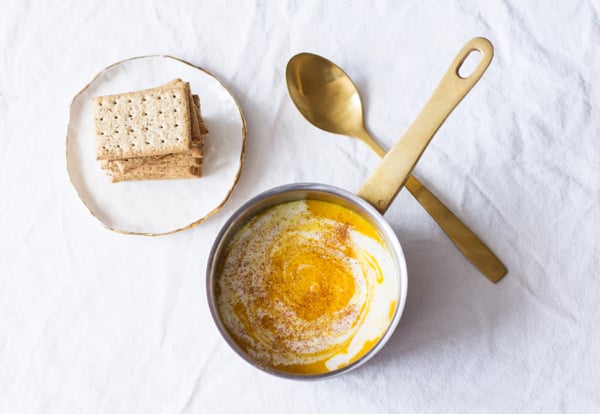 Whenever I make more than 4 cups of soup, I immediately freeze half; I'll never gobble up the leftovers quickly enough, and I love having frozen soup for dinner in a pinch. I had two full cups of soup left after dinner with Tom, and so I enjoyed a heaping cup for lunch on Sunday. It was delicious.
If you're looking for an easy, low stress soup that happens to feature warming spices, this one is a perfect option, and it's good enough to share with friends. I hope you love it!
xo
Images courtesy of Lighter.