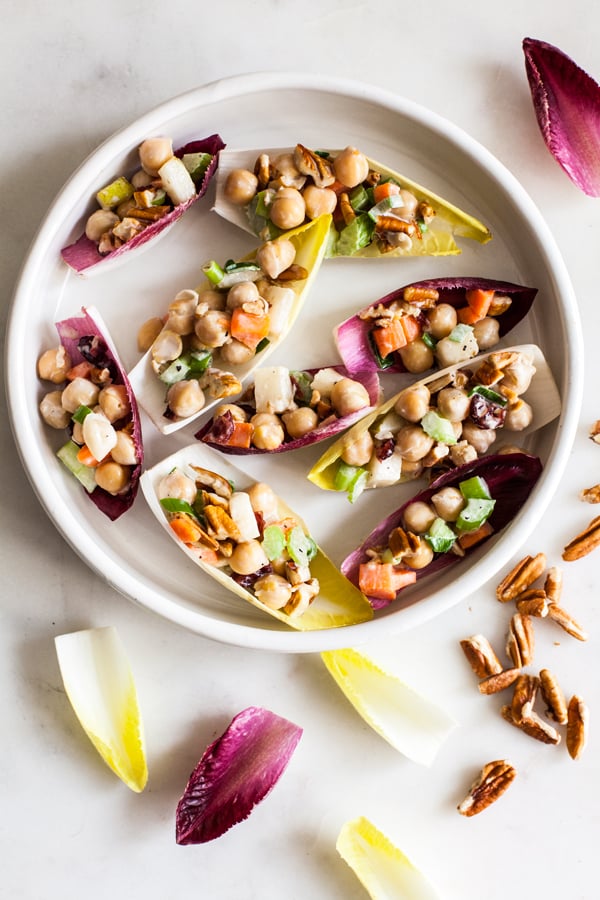 It's been a while since I whipped up some sort of chopped lunch salad—you know, the super-versatile kind you can stuff into a wrap, pile onto toast, eat with crackers, or pile onto salad—but this creamy chopped chickpea pecan salad has become an instant new favorite. Having grown accustomed to smashed chickpea salads, I'm loving the texture of whole chickpeas here, along with crisp vegetables and nutty pecans.
An additional benefit of the salad is that it's so quick to make: the dressing is easy to whisk by hand, and unlike a lot of my favorite winter salads, there are no roasted veggies or other ingredients that demand a couple steps. You need to cook up some chickpeas first, but if you use canned or frozen, this is an almost-instant lunch or appetizer. If you serve it as the latter, it's really nice to scoop it up in endive leaves, lettuce cups, or radicchio cups for some color contrast.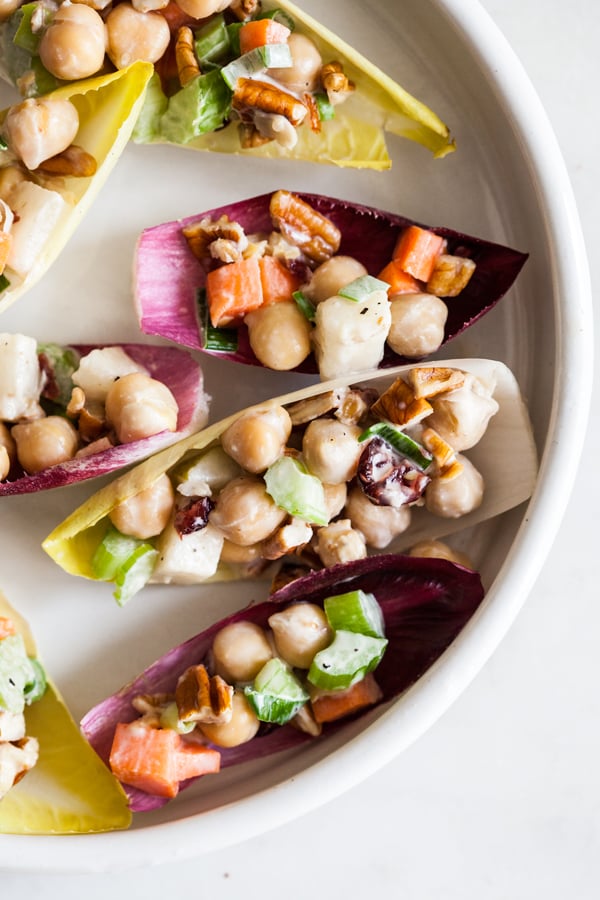 The dressing is creamy and tangy, and the apple and currants give the salad plenty of sweetness. It's all nicely offset by the crunchy pecan pieces. Like a lot of home cooks, I've often used pecans in pie or banana bread or other sweets. But they're also one of my favorite nuts for use in savory dishes, too. I love their subtle sweetness and buttery texture. I also think it's cool that pecans are the only major tree nut indigenous to America, and that most pecans sold in the United States are still grown here.
Pecans are super nutrient dense: a handful of pecans—about 19 halves—is a good source of fiber, thiamin, and zinc, and an excellent source of copper and manganese. Pecans are also among the highest nut in those "good" monounsaturated fats, plus they provide protein, flavonoids, and plant sterols.
You can jazz up the salad with a different type of dried fruit, additional chopped veggies (like carrots or radishes), and any herbs you like. (I'm excited to try it with dill, of course!)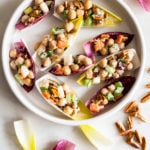 Creamy Chopped Chickpea Pecan Salad
Author -
For the salad:
1 1/2

cups

cooked chickpeas

1 can, drained and rinsed

1/2

cup

finely chopped celery

1/2

cup

finely chopped carrots

1/2

cup

finely chopped apple

2/3

cup

pecan pieces

1/4

cup

chopped raisins or dried cranberries or currants

3

green onions

tops only, thinly sliced
For the dressing:
6

tablespoons

vegan mayonnaise of choice

homemade or store-bought

2

tablespoons

apple cider vinegar

1

tablespoon

lemon juice

1

tablespoon

Dijon mustard

1/2

teaspoon

salt

1/4

cup

water

Generous pinch freshly ground black pepper

Optional: chopped fresh or dried dill or parsley

1/4 teaspoon garlic or onion powder
To make the dressing, whisk all ingredients together in a small mixing bowl and set aside.

Combine all salad ingredients in a large mixing bowl. Toss them together with the dressing, mix well, and serve or store. Salad will keep in an airtight container in the fridge for up to 3 days.
I'm excited to stuff the salad into a pita and serve it up with a side of soup tomorrow, then serve it as light bite to some friends later this week!
I so appreciate everyone's kind words on Sunday's post. There is so much to be grateful for, and I'll see you for another reading roundup this weekend.
xo
This post was sponsored by the American Pecan Council. All opinions are my own. Thanks for your support!