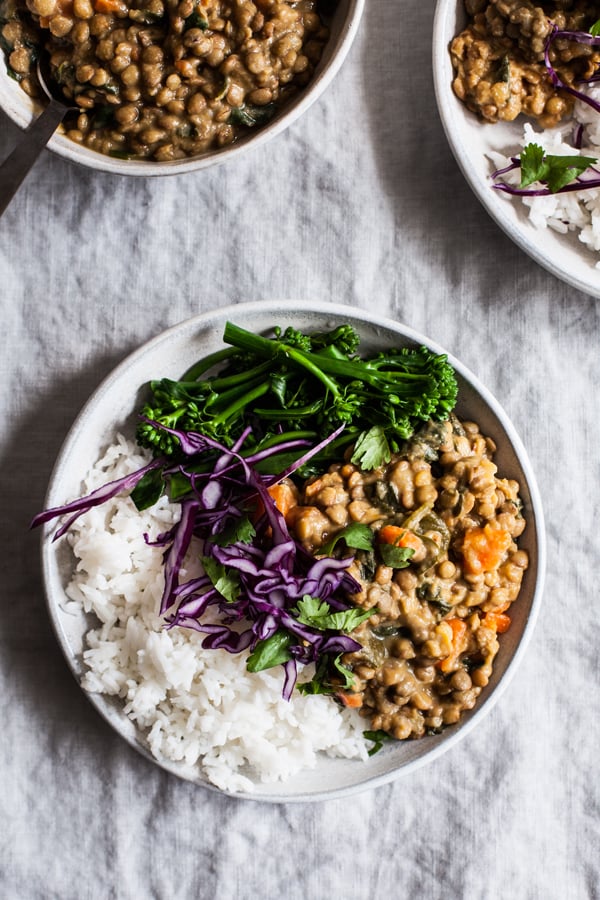 This is one of those recipes that began as one thing and became another. Prompted by a pound of green lentils that needed using, I started off with the intention of making a big pot of curried green lentil soup. As it was cooking I found myself hesitant to add more liquid; I kept thinking about my masala lentils and how much I love their dense, creamy texture. I also thought about my friend Ali's tribute to Julia Turshen's lentils with coconut milk, and how I've had that recipe bookmarked for a while.
In the end, I let the mixture stay more stew-like than soupy, and I'm not sorry about it. These creamy coconut curried green lentils are so versatile: you can serve them like soup if you want to (even adding a splash of water or coconut milk to loosen them up), but you can also serve them over rice, pile them into a bowl, or scoop them up with naan or flatbread.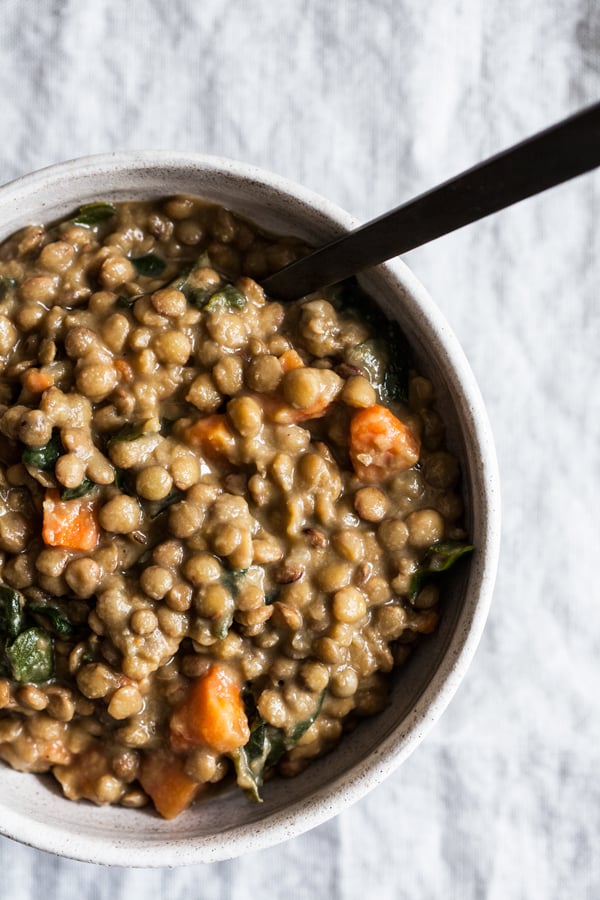 Usually when I make a big 'ole pot of lentils, I'm aiming to have leftovers. So, as with most of my soup and stew recipes, this one makes a lot. I'd say it's about 8 servings. It's totally freezer friendly, though, and the leftovers will keep in the fridge for up to 5 days, so it's not a bad thing to make and store for the weeks and months ahead. NYC has been battling a cold snap and snow for the last few days, and I've taken a lot of comfort in simple, flavorful bowls of lentils and rice.
I'm sort of ashamed to say that I didn't use homemade green curry paste here. But if you'd like to make your own, which is certainly worth doing, I really recommend Lisa and Nicole's recipe from DIY Vegan. (I recommend that book in general for homemade vegan pantry staples and condiments—it's an incredible resource!)
You'll notice that I mention soaking the lentils prior to cooking. I never used to do this, but lately I've experienced a lot of variation in cooking time with green lentils (just a function of how old my lentils are, where I buy them, etc.), and so I've started soaking them for a few hours prior to cooking. I find it to be a helpful step, a way of ensuring that you don't end up stuck with a batch that won't seem to get tender, no matter how long you simmer it for. You can skip the soak if you like, but know that your cooking time could vary a bit. If you do choose to soak, you can do so for up to 8 hours, or for as few as two.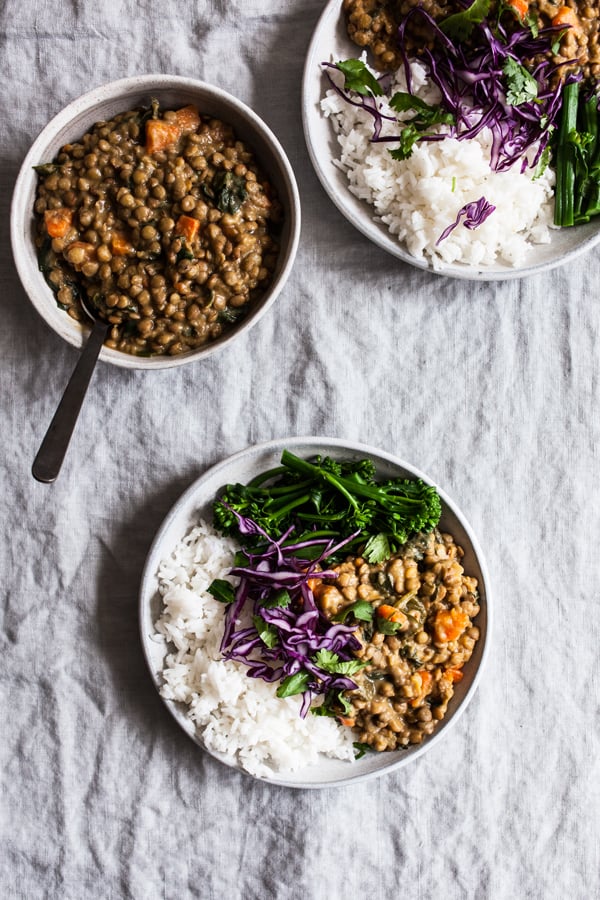 Creamy Coconut Curried Green Lentils (& Bowls)
Author -
2

teaspoons

vegetable oil

1

large or 2 small yellow onions

diced

3

carrots

peeled and diced

3

cloves

garlic

finely minced

1

tablespoon

finely minced fresh ginger

or 1 teaspoon ground ginger

1/4

cup

green curry paste

homemade or store-bought, plus extra to suit your taste

1/2

teaspoon

salt

1

lb

about 2 1/4 cups green lentils, soaked for a few hours prior and drained prior to cooking*

4

cups

low sodium vegetable broth + 1 cup water

1

cup

full-fat coconut milk

substitute cashew cream

6

cups

finely chopped spinach or baby spinach

Fresh lime juice

to taste

Crushed red pepper flakes

to taste

For serving or bowls: Cooked jasmine or long-grain brown rice

shredded cabbage, steamed greens, toasted cashews or peanuts, sriracha
Heat the vegetable oil in a large stock pot over medium heat. Add the onion and carrots and cook for 5-7 minutes, or until clear and tender, stirring often. Add the garlic, ginger, and green curry paste and cook for another minute, stirring constantly.

Add the salt, lentils, broth, and water to the pot. Bring to a boil. Reduce the heat to medium low, cover, and simmer for 30-35 minutes, or until the lentils are tender (more time may be needed, depending on whether you have time to soak your lentils first). Uncover and add the coconut milk and spinach. Cook for 10 more minutes, uncovered, or until the spinach is tender. Add lime juice and crushed red pepper to taste, and adjust salt as needed.

You can scoop the curried lentils over cooked rice, or you can serve them bowl style (as pictured!) by serving them with rice, steamed vegetables, and some crunchy toppings. The lentils are also great with flatbread.
*Soaking isn't necessary, but it can help to reduce cooking time.
Leftover lentils will keep in an airtight container in the fridge for up to 5 days or in the freezer for up to 1 month. Recipe can be cut in half for a smaller yield.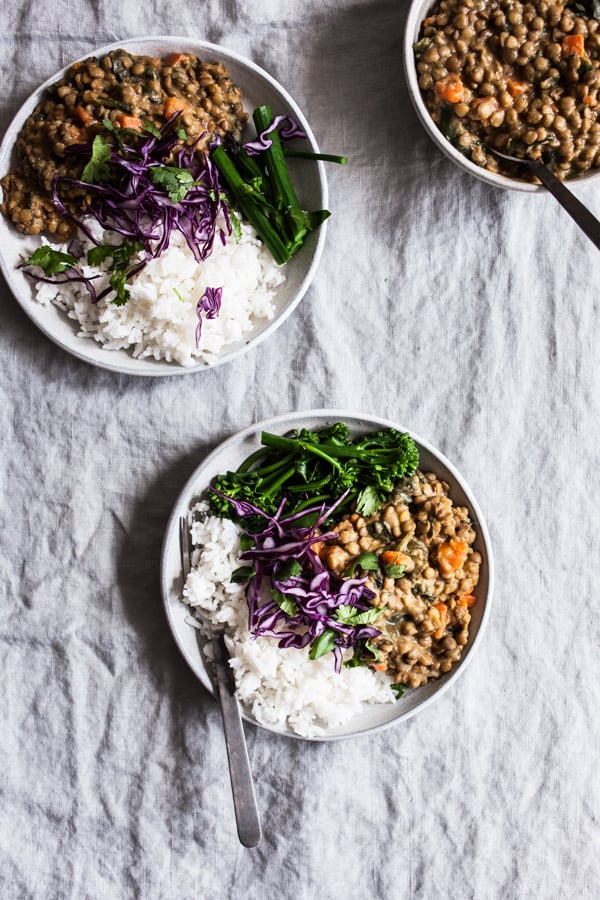 As you can see, I've been serving the lentils bowl style, with cooked jasmine rice, steamed greens, and a crunchy topping of shredded purple cabbage and freshly chopped cilantro. A squeeze of sriracha or a little handful of chopped nuts is really nice, too.
If the recipe yield is too much, you can certainly cut the whole recipe in half for fewer portions. You can also use brown lentils in place of green, and I'm guessing that black lentils and French lentils would work nicely, too (red lentils would create a soupier mixture, but they'd still taste great). If you'd like to substitute cashew cream or light coconut milk for the full-fat coconut milk, go for it: there's not too much coconut milk in the recipe, at least not in proportion to all of the other stuff, so I didn't mind the richness of the regular variety here.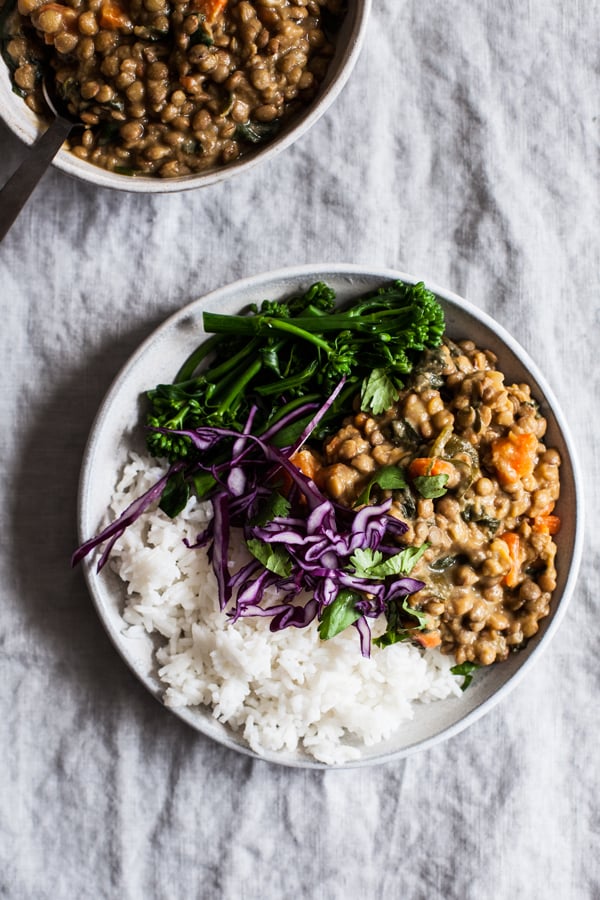 There's something so comforting about having a giant batch of cooked legumes on hand for a week's worth of meals, especially when it's cold outside. I hope you'll enjoy this simple, generous batch of food as much as I have.
xo