In spite of the fact that we are now very officially transitioning into spring, I've been on a soup kick lately. I usually whip up a bowl pot of something on Saturday in the late afternoon, which Steven and I enjoy for dinner on Saturday night, along with some sort of hearty salad. It's an easy, low-fuss weekend meal, and it also means that we get soup leftovers for lunch on Sunday (and sometimes Monday, too). Sunday is my big food prep day for the week ahead, which makes it especially nice to have something quick and easy to heat up for lunch.
I haven't yet made any of the usual spring soups (asparagus, green soups, pea soup, and the like), but those will happen soon, no doubt. For now, I'm sharing a soup I made a few weekends ago with no real intention of blog sharing. I had a head of cauliflower at home that needed to be used, and it was my hope that I could turn it into something great using only what I had in the fridge and pantry. This is what resulted, and it was so good that I made another batch this past Friday night. Steven counts it among his favorite of my soups, and now I do, too.
This soup has just a little spice and heat from the curry powder, but it's subtle enough to please anyone's palate. I don't have a high tolerance for spice, so I use between 1 1/2-2 tablespoons of red curry paste in the recipe. If you dig spice/heat, you're more than welcome to increase the quantity–but keep in mind that curry paste is a bold ingredient. I've given an option to use curry powder in the recipe, too, but curry paste will give you much better results. And it's a nice ingredient to keep at home, anyway, for easy weeknight curry dinners (I love this tofu and kabocha curry, which I made for Food52 in 2013).
I love thick, pureed soups, but I do find that they cry out for a little added texture, so you'll pretty much always see me sprinkle some sort of tasty garnish into a soup like this. This time, I had some extra roasted cauliflower as well as the soup (I'd gone a little cauli-crazy at the market that week), so I decided to use my last few florets as well as some pomegranate seeds as garnish. Roasted chickpeas (as in this recipe) or toasted nuts/seeds will be perfect, too. But I do love the splash of color that the pomegranate arils add to the dish!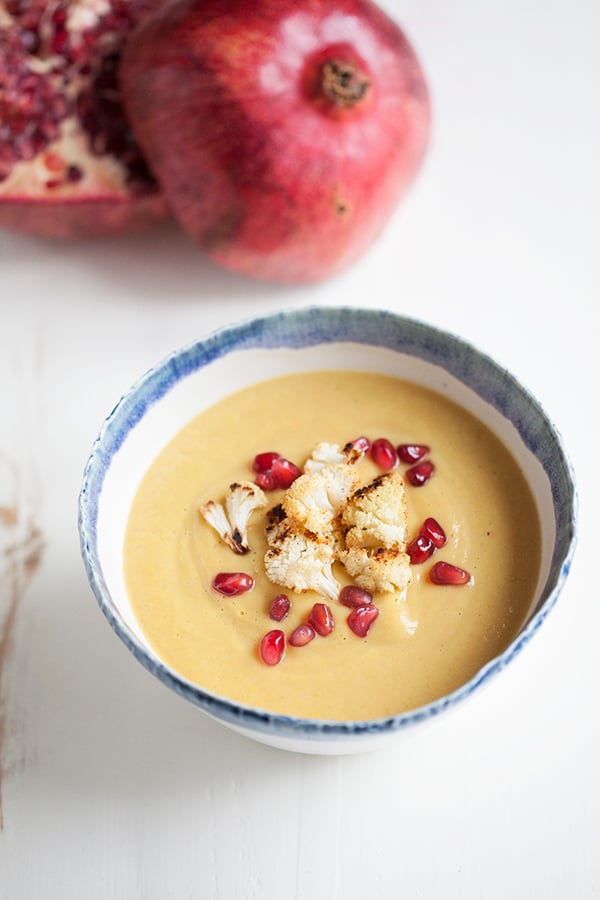 Try it, and prepared to be amazed at how satisfying a simple dish like this can be. It's perfect along with a hearty salad (our accompanying dinner salad had roasted beets, quinoa, and cashew cheese) or with some avocado toast.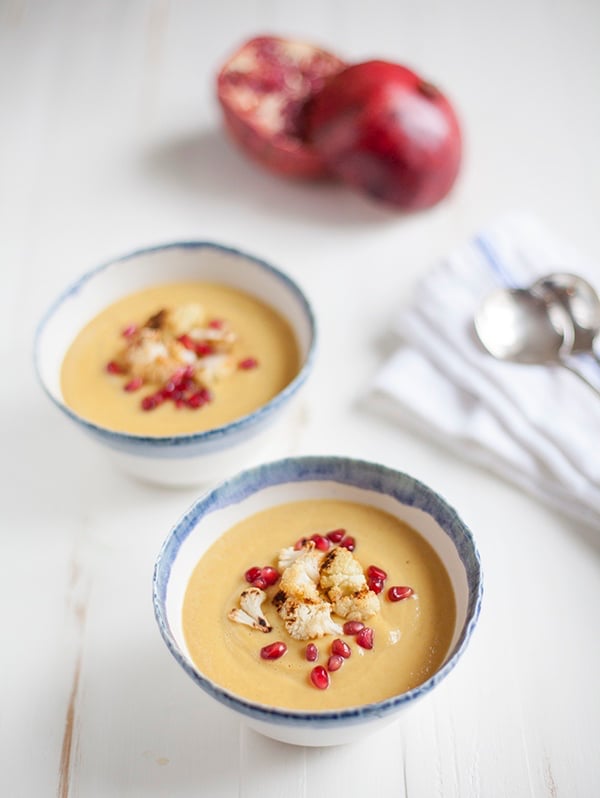 Creamy Curried Cauliflower Soup (gluten free)
Author -
Yields:
4
generous servings
1

tablespoon

olive oil

1

yellow onion

chopped

3

cloves

garlic

minced

1/2

teaspoon

turmeric

ground

1

teaspoon

coriander

ground

1/2

teaspoon

salt

1 ½ -2

tablespoons

red curry paste

or to taste (if you're in a bind and don't have any curry paste, you can use 2 teaspoons of curry powder, but the taste will be different)

1

medium head cauliflower

cut into florets (6-8 cups)

4-5

cups

low sodium vegetable broth

1/2

cup

canned coconut milk or cashew cream

I prefer the latter, but the former is a little simpler

1

tablespoon

lime juice

For garnish: toasted pumpkin seeds, chopped cilantro, or roasted chickpeas
Heat the olive oil in a Dutch oven or a large, heavy bottomed pot over a medium flame. Add the onions and sauté for 5-7 minutes, or until the onions are clear and soft. Add a few tablespoons of water as you cook them if necessary to prevent sticking. Add the garlic and cook for 2 more minutes, until the garlic is fragrant but not burning.

Add the turmeric, coriander, salt, and red curry paste to the soup. Mix the spices up with the onions and garlic until everything is well incorporated.

Add the cauliflower florets and vegetable broth. Bring the mixture to a boil and lower to a simmer. Simmer for 25-30 minutes, or until the cauliflower is entirely tender.

Use an immersion blender to blend the soup until it's totally smooth, or transfer it in batches to your blender to do the job (I prefer a standing blender here, but it's a little more work). If you do use the blender, be careful, as hot soups tend to spatter aggressively.

Return the blended soup to the pot and stir in the coconut milk or

cashew cream

and the lime juice. Check the soup for seasoning and adjust the seasonings as needed. Garnish and serve. The soup will keep for up to five days in the fridge, and it can be frozen for up to a month.
And there you have it: a beautiful, warming soup that's perfect for drizzly spring (or autumn, or winter) nights. I hope you fall in love with it the way that we did.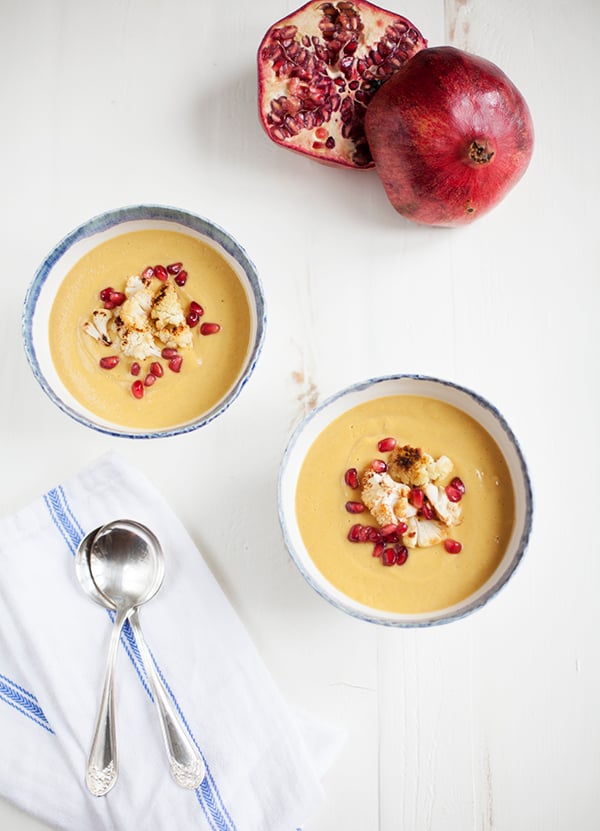 Here's what's ahead this week on the blog: on Wednesday, a new sweet treat/snack that's as simple as it is tasty. And, on Thursday, a new green recovery story. I think it's amazing, and I know that you will, too. I can't wait to publish it, and I encourage you all to tune in.
Happy Monday,
xo