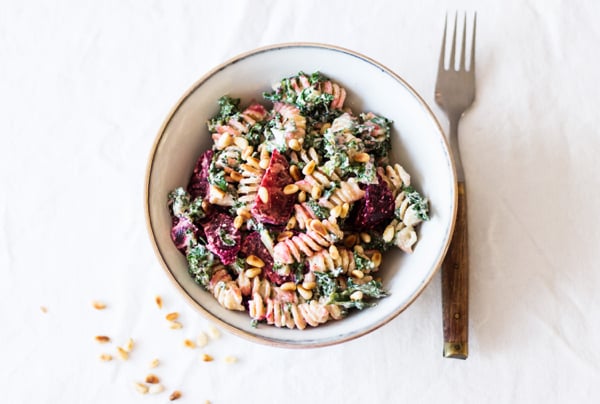 This creamy fusilli with beets, kale, and toasted pine nuts is my kinda pasta. It's brightly colored, bursting with healthful vegetables (including some leafy greens), and it shows off a creamy, dreamy, cashew-based sauce.
The pasta was originally going to be even more minimalist: sauteed kale, roasted beets, toasted pine nuts, and olive oil—maybe a spot of pesto. But it was a drizzly, cold early winter day, and I was craving something a little heartier and creamier. All purpose cashew cream to the rescue! A tiny bit of cashew cream goes a long way in dishes. So the idea was to use just a thin coating of cashew cream and let the veggies do the rest of the talking.
It worked. This pasta bowl hits the perfect sweet spot between hearty and light. You'll feel satisfied, warm, and content, but you won't feel as though your creamy pasta dinner has pushed you into a coma. It's an ideal weeknight supper as the weather gets colder, and best of all, it harnesses the health properties of a few of nature's most nutritious plants!
Look at all of the texture and color here. Wouldn't be a bad choice for the holiday season, by the by–Christmas colors!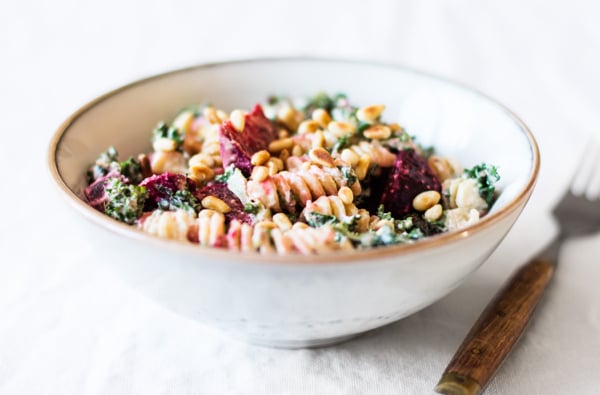 Creamy Fusilli with Beets, Kale, and Toasted Pine Nuts
Recipe Type
:
entree, main dish
Cuisine:
vegan, gluten free option, soy free
Author:
Prep time:
Cook time:
Total time:
8 ounces fusilli pasta of choice (substitute penne or rotini)
1/4 cup pine nuts
2 large (or 4 small) red beets, trimmed of stems and roots
4 cups tightly packed, washed and chopped kale
1-2 cloves garlic, thinly sliced
2 teaspoons olive oil, separated
3/4 cup [url href="http://www.thefullhelping.com/purpose-cashew-cream-recipe/" target="_blank"]cashew cream[/url]
2 tablespoons nutritional yeast
Heat oven to 400 degrees. Wrap each beet in foil. Roast for 40-45 minutes, or until beets are fork tender. Remove beets from oven.
Run the beets under very cold water and slip off their skins (this should be easy, but use a peeler to get any stubborn pieces). Chop them and set them aside.
Place pine nuts in a small frying pan and toast for a few minutes, or until they're just barely golden (they'll keep cooking after you remove them from heat, so you have to watch this carefully). Set the pine nuts aside.
Bring a large pot of salted water to a boil. Add the pasta and cook according to package instructions. Drain pasta, toss with 1 teaspoon olive oil, and set aside momentarily, while your greens finish cooking.
While pasta is cooking, heat 1 teaspoon oil in a large sauté pan. When it's hot, add the garlic and let it sizzle for a minute. Add the kale, along with a few tablespoons of water and a nice pinch of salt, and allow the greens to cook and steam, stirring occasionally, for about 5 minutes. The kale should be soft and bright green.
Place cooked pasta, kale, and roast beets in a large serving bowl. Pour the cashew cream over the pasta and veggies, add the nutritional yeast, and mix well. Season to taste with extra salt and pepper. Top with toasted pine nuts and serve.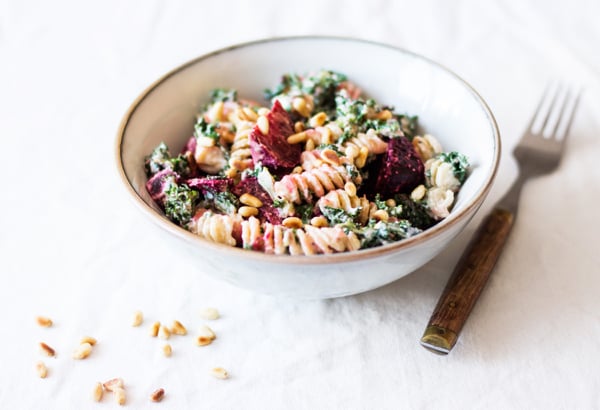 Brown rice and quinoa pasta are my personal favorites, and that's what I used here. I find them a lot more tender than whole wheat pasta, but they still add a bit of whole grain goodness to the dish. You're welcome to use any pasta of choice here!
This recipe sounds a little complex, but believe me when I say that it's very easy if you roast the beets ahead of time, or even skip toasting your pine nuts. If you're really pressed for time, you can use canned beets, or some of the cool vacuumed packed and pre-cooked ones they sell at health stores now. And the nutrition here makes cooking all of the veggies well worth it: kale is packed with iron, protein, and vitamins A & K, while beets offer phytonutrients with anti-inflammatory properties. Even pine nuts, tiny though they are, are nutritionally fascinating: they contain some of the same compounds that regulate appetite and satiety in human beings, which means that some have postulated that they're useful for hunger management.
Regardless of what drives you to this colorful supper—the Christmas tones, the nutrition, or the creamy taste—I hope you enjoy it.
I'll probably be taking tomorrow off, as my giant biology final is on Saturday at 8 am. So I'll see you back here after my test!
xo