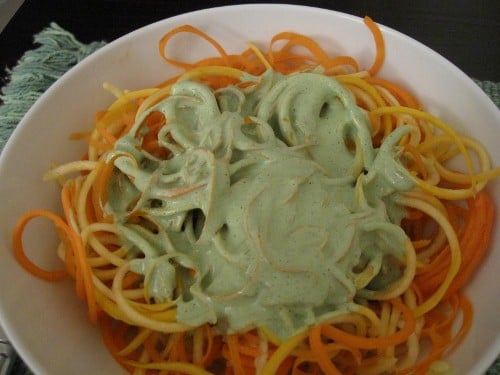 Hi guys!
I'm back, and in spite of the fact that I have officially disgusted all of my coworkers with nose blowing, I'm all better! Thanks for the good wishes 🙂
On Sunday, I hinted at a new sauce I'd be sharing this week. Well, mystery revealed: it's a creamy hemp basil sauce, and it is delicious!
Every now and then, a recipe that I don't expect to be stellar ends up becoming a favorite of mine. I suspect that this is soon to be true of hemp basil sauce. It began on a whim, and it was a happy, yet unanticipated success. There's no reason I shouldn't have expected it to be great: it involves hemp (a favorite ingredient of mine), basil (probably my favorite herb), and I modeled it on my cashew alfredo, which I love. But I wasn't sure that the delicate flavors of basil and oregano would pair well with the nutty, distinctive hemp. Fortunately, they did!
The key ingredient in this recipe is hemp butter. What is hemp butter? Well, it's just like almond butter or any other nut butter, but the base is hemp seeds (so in this regard I guess it's a cousin of tahini, another seed spread). I don't think I need to sing the praises of hemp seeds to most of you blog readers: thought of as the most nutritious seed on the planet, hemp (and hemp butter) is high in protein, amino acids, and essential fatty acids. It's also an eco-friendly industrial crop that lends itself to numerous products (from clothing to concrete), and it's worthy of major consumer support.
For these many reasons, I consider hemp butter a terrific alternative to typical nut butters. The taste is less immediately accessible—it's less sweet—but as soon as you grow accustomed to it, I think you'll find (as I have) that it's delicious. Unfortunately, hemp butter is tough to find. There are a few brands on the market: Manitoba Harvest makes one, and you can always make your own. Recently, I discovered a new brand, and I'm so glad I did. The maker is Rejuvinative Foods, and hemp butter is but one of many incredible products they offer.
What makes Rejuvinative Foods so special? To start, all of their nut butters are unheated and processed at low temperatures. Even more exciting, Rejuvinative uses nut and seed bases that go far beyond the typical almond or hazelnut. These include black sesame tahini; sunflower and pumpkin seed butters; cashew butter; ambrosia (a delicious mixture of brazil nuts, coconut, raisins, pistachios, almonds, sesame seeds, hazlenuts, poppy seeds, pecans, cinnamon, nutmeg); and luscious chocolate, which is a combination of almond and sunflower seed butters and chocolate. Holy. Yum.
As soon as I stumbled on the Rejuvinative website, I couldn't wait to have a taste. And the kind people at rejuvinative were kind enough to oblige me! A few days ago, I received this generous assortment of treats:
That's hemp seed butter, pumpkin seed butter, luscious chocolate, hazelnut butter, and ambrosia. Wow.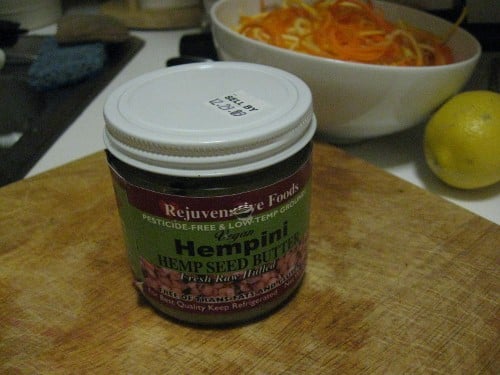 Since it was the first product that interested me, the hempseed butter was the first product I tried. I had been planning to use it in a dessert sauce, but I quickly realized that the relatively un-sweet hemp flavor might easily lend itself to a savory recipe. And with that, creamy hemp basil sauce was born.


Creamy Hemp Basil Sauce (yields about 1 1/2 cups — possibly a bit less)
½ cup hemp butter
½ cup water
1 tsp lemon
1-2 dates (pitted)
1 tsp oregano, dry
½ tsp thyme, dry
¼ cup fresh basil, packed
¼-1/2 tsp salt (start with ¼ and then adjust to your taste)
1 tbsp olive oil

Procedure:
Blend all ingredients in a blender, food processor, magic bullet, or Vitamix until well mixed. Adjust water if you'd like it thinner—but keep in mind that it will thicken in the fridge.
I served this sauce over spiralized carrots and zucchini (I recommend using 1/4 cup per person as a "pasta" sauce), but it would be equally scrumptious served over kelp noodles, over steamed or grilled vegetables, or as an alternative to mayonnaise in wraps, sandwiches, and slaws (I think carrot and cabbage slaw would be incredible with this stuff). It's sweet and rich, but the basil keeps it light. It paired especially well with the carrots!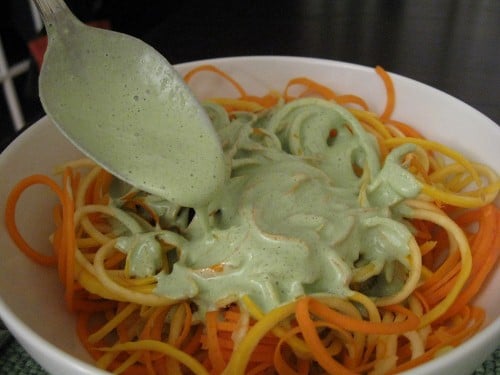 I tossed and served alongside a big 'ole salad:
Since the meal above, I've opened a few other Rejuvinative samples. Faves thus far are the ambrosia and the Luscious Chocolate, which are both amazing. The chocolate spread, in particular, is total decadence, and I cann't gush enough about it! Scooped on some medjool dates, or on top of some banana soft serve, it makes for a heavenly dessert.
Hope you'll all check out the Rejuvinative website and support their raw, homemade, and extraordinary products. Nut butters are versatile and nutritious, and when they're made with this much integrity and love, a worthy investment in a high-raw diet.
Night all.
xo
P.S. Have you tried carrot fries yet?