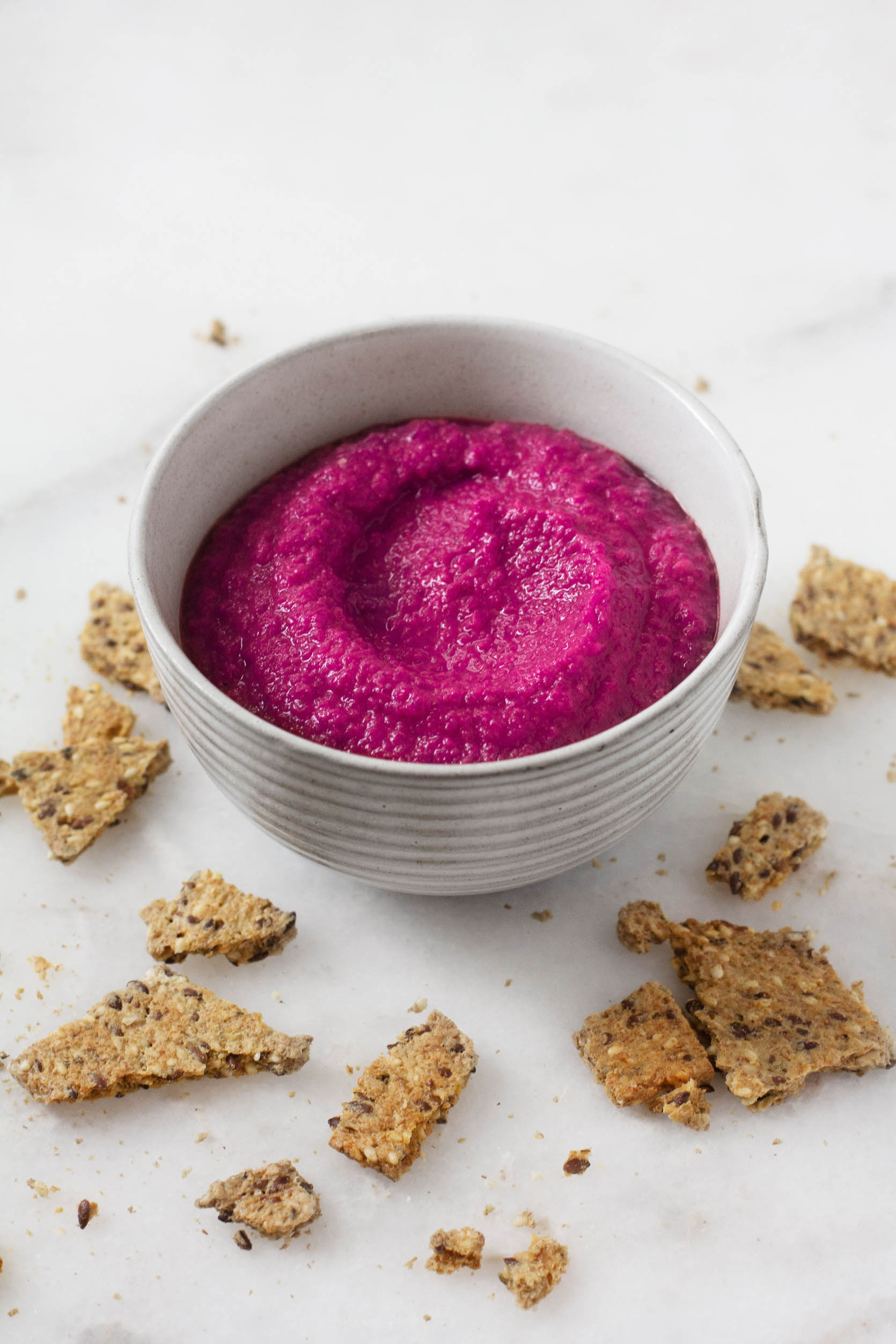 This creamy roasted beet hummus is the prettiest and most vibrant hummus variety I've ever made! And I love the subtle sweetness that beets add to an otherwise familiar recipe.
The other night, my friend Chris and I went to dinner at a local restaurant in D.C.. I was happily surprised to find a lot of vegan options on the menu. One of the dishes we decided to order was the roasted beet hummus. It's a dish that I'd seen recipes for but had never actually made myself. It was delicious: tangy, sweet savory, and of course a beautiful pink color.
Funnily enough, one of my blog readers emailed me soon after to say that she'd tried the same dish and wanted to replicate it at home. I said I thought one might simply roast the beets and then blend them in in the food processor, and as it turns out, that's about right.
How to Make Creamy Roasted Beet Hummus
As you can see, the texture of this creamy roasted beet hummus isn't quite as silky smooth as other hummus recipes I've shared. That's just the effect of adding beets to the chickpeas in the recipe. If you make the recipe in a food processor, which is how I usually make hummus, yours will look similar.
If you're intent on an ultra-creamy texture, you can use a Vitamix (or another high speed blender) to make the recipe. That will give you a smooth consistency. No matter which appliance you use to make the hummus, the flavor will be the same! Lemony, sweet/savory, and with a hint of rosemary, if desired.
Which beets should I use for beet hummus?
I love using red beets in my creamy beet hummus because the electric pink color of the finished hummus is just so stunning. But golden beets (or even candy-striped beets!) will also work well in the recipe.
Prepping & roasting your beets
I pretty much always roast my beets the same way: wrapped in foil, for 45-60 minutes at 425F. I trim them prior to roasting, but I leave the skins on. One they're very tender (a fork or knife should pierce each beet easily), I allow them to cool. Then, I run them under cold running water and slip the skins off. I find that this is much, much easier than peeling them while they're raw.
I recently started rubbing or spraying them lightly with olive oil before roasting. It's a tip that I got from Amanda Hesser's lovely beets and herbs salad, and I like it: the skins seem to slip off even more easily when I do that. Having an olive oil spray at home makes it easy to give the beets a very light coating.
You may notice that smaller beets become completely tender before larger beets do. This is fine! Just remove them from your oven and allow the larger beets to continue roasting for as long as is needed.
Storing creamy roasted beet hummus
The creamy roasted beet hummus can last up to five days in an airtight container in the fridge. It's both a lovely dip and also a nice spread for sandwiches and wraps! I think it's a great component to include in weekly meal prep or batch cooking.
I've often wondered whether you can freeze hummus, and I recently learned that yes, you can! So don't hesitate to make it far in advance and freeze it before using, or to freeze a portion of it once it's ready.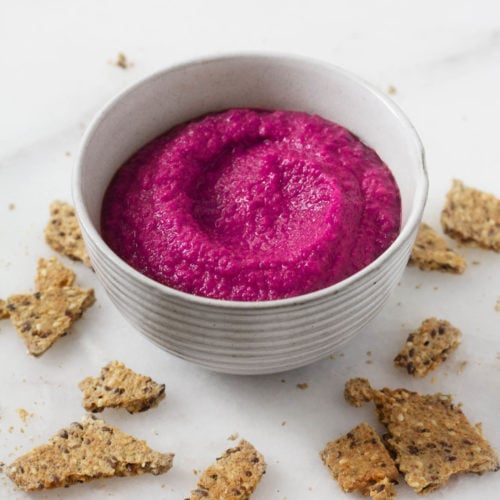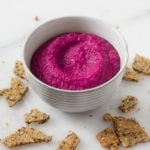 Creamy Roasted Beet Hummus
Author -
2

medium sized beets, scrubbed and trimmed

olive oil

1 1/2

cups

cooked chickpeas (1 can chickpeas, rinsed and drained)

1

small clove garlic, roughly chopped (optional)

1/2

teaspoon

fine salt

3

tablespoons

tahini

2

tablespoons

freshly squeezed lemon juice

2

tablespoons

water

2

tablespoons

fresh rosemary (optional)

freshly ground black pepper, to taste
Preheat oven to 425 degrees. Lightly spray or rub each beet in olive oil. Wrap each beet tightly in tin foil or parchment paper. Roast the beets for 45-60 minutes, or until they can be easily pierced with a knife. Allow the beets to cool at room temperature for about 20-30 minutes. Then, run them under cold water, slipping the skins off with your fingers. Chop the beets and set them aside.

Place the beets, chickpeas, and garlic in a food processor fitted with the S blade. Pulse to combine. Add the salt, tahini, lemon, and water. Process the mixture for a full 3-4 minutes, or until the hummus is super creamy, stopping to scrape down the bowl now and then. Alternately, you can add all of the hummus ingredients to a high-speed blender and process till smooth.

Pulse in the rosemary (optional) and freshly ground black pepper to taste. Serve the hummus with crackers, crudités, pita wedges, or however you like!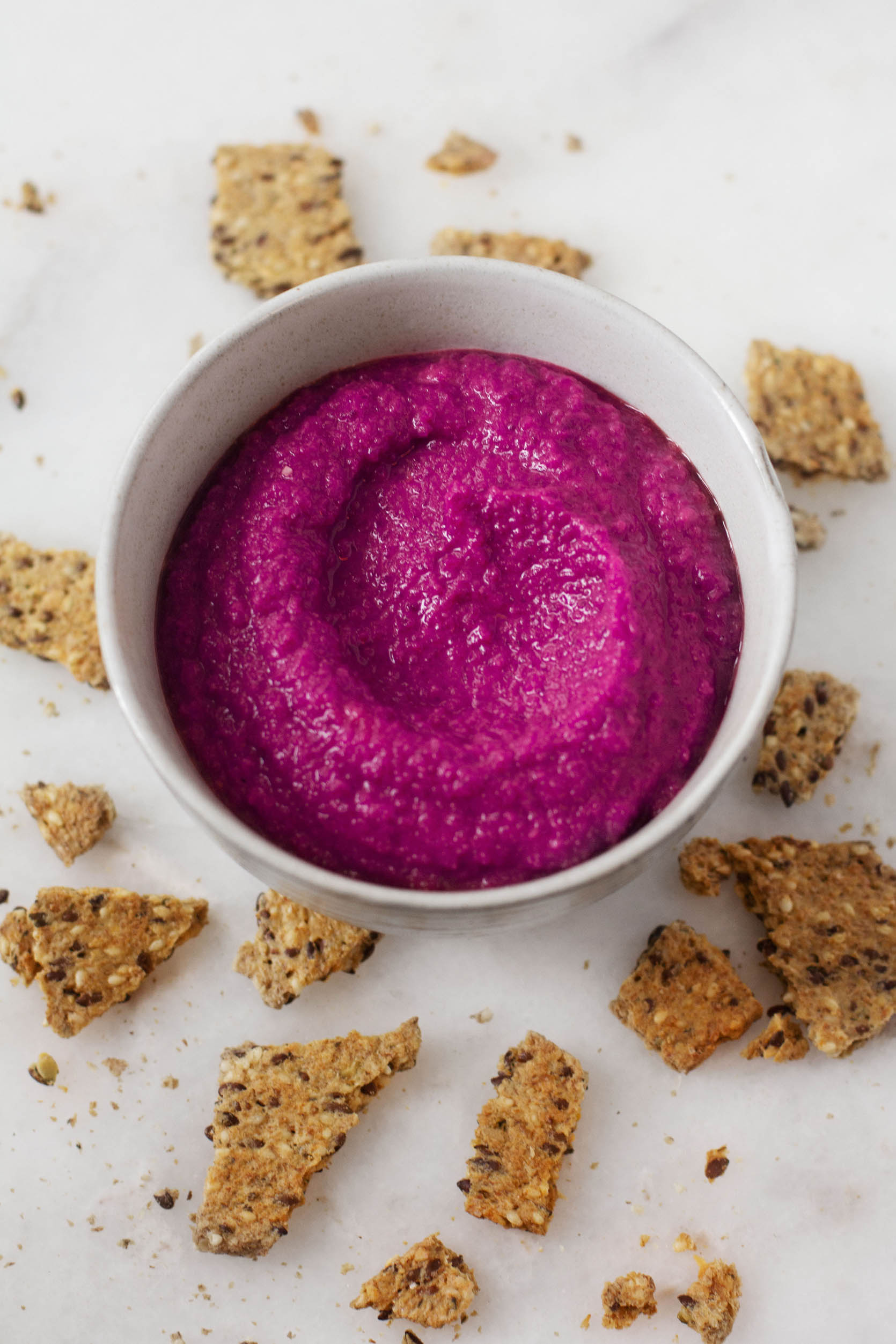 I love a batch of classic, no frills hummus. But I've learned that I also love adding roasted vegetables to hummus as well. My roasted carrot hummus and sweet potato hummus are two of my all time favorite hummus varieties! And for something lighter and more spring-like, this sweet green pea hummus is also an old favorite.
One of the nice things about incorporating any vegetable to hummus is that it's an extra dose of nutrients as well as a new and different flavor. Beets are especially nutrient-dense. They're packed with anthocyanins, plant pigments that give them their vibrant color along with disease fighting properties. They may also have anti-inflammatory and anti-hypertensive properties (the latter just a fancy way of saying that they may be beneficial for blood pressure control). They're healthful in addition to being sweet and lovely to eat.
Perhaps a batch of creamy roasted beet hummus is in your near future, too. If so, hope you'll enjoy this recipe as much as I have. I've already learned that I love adding a little extra protein to my hummus in the form of hemp seeds, so I'm excited to sprinkle a few into this recipe, too. We'll see what happens!
xo