Happy Raw Wednesday!
How is everyone? Un-cooking some fantastic food, I hope.
As a New Yorker, I've always been a bit spoiled when it comes to having old friends nearby. Sure, we all scattered for college (except for those of us who were too hopelessly New York-centric to leave, and went to Columbia instead…), but I could always bask in the knowledge that my friends would return home for holidays, and I was fairly secure that we'd all end up here to pursue our careers.
For the most part, I was right. So of course it saddens me that Chloe, who is nothing short of a sister to me, has settled down south. Over time, I've come to terms with our separation by telling myself that she's given me a good excuse to visit another great American city, and for this I'm very grateful. I've now visited New Orleans seven times, and I've come to love it as much as I can love any city that isn't New York. Like my home town, it has a culture that's vibrant and unmistakably its own; very few places can actually claim to be unique, but New Orleans is unlike any other place you'll visit. Jubilant, beautiful, gritty, eerie–it's all those things, and more.
In the years since Katrina, I've seen New Orleans regain so much of its spirit, and yet it remains haunted by that calamity and so many other problems: racial inequity, poverty, alcoholism. But what great city isn't a hodgepodge of beautiful and ugly? None that I can think of. I've never been one for clean streets and pristine neighborhoods and picket fences; too much serenity makes me nervous.
My father likes to tell me that New Orleans is "wasted" on me because I can't dig into crab etouffee and shrimp remoulade and guzzle hurricanes till daylight. He's sort of right: I can't really appreciate the nightlife or les bon temps like your average Jane, and certainly the drinking would grate on my nerves if I were down there permanently. I'm also not the sort of person who eats differently when I travel: I stick to high raw, all vegan, regardless of where I am (unless it's virtually impossible). I like to remind my father, though, that the real New Orleans–the city that's known to those who make lives there–bears little resemblance to the party town that greets tourists. New Orleaneans may party a bit more than the rest of us, but for the most part their lives are quite a bit like ours.
And to those who have financial means (which is to say, comfortably middle class people who can afford it), New Orleans offers Whole Foods, gyms, organic farmers markets, and so on. It offers, in other words, all of the staples of a healthy lifestyle. So there's no reason why one should be confined to sazeracs and gumbo–unless, of course, one chooses to be!
And here's one lovely benefit to living in NOLA–or in many cities outside of NYC. You can live in a house. Not a tiny studio, not a cramped one bedroom, not an overpriced closet. A house.
Behold, my best friend's lovely dwelling: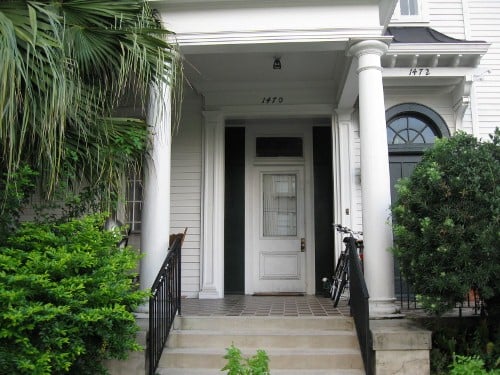 And check out this magnificent kitchen!
After Chloe picked me up from the airport, we decided to hit up Whole Foods. Fortunately, Chloe and I are alike in that we both prefer to dine in than dine out. I purchased some Gena staples:
You know a raw foodist is crashing at your place when…
Yup. Thai coconuts and juice.
Where did you get the juice, you ask?
Well, Chloe and I also paid a visit to the lovely Mid-City farmer's market. This tiny enterprise is run by a few devoted farmers and food makers. It featured the usual rundown of produce (greens, tomatoes) and lots of great prepared foods: homemade fudge and candy (I picked some up for my coworkers); Middle Eastern food (Chloe got some really tasty hummus and lentil patties); and a terrific juice stand! The stuff is called Amanda's juice, and it's amaaazing! I tried a watermelon flavor that was delicious, and I brought some beet lemonade (also delicious) home with me. Thank you to the kind maker of the juices and his wife!
Here I am, juice in hand.
And yeah, if you're wondering, that's a One Lucky Duck t-shirt. I'm a dork.
It was wonderful to see farmer's markets alive and thriving in other cities. Here in NYC, where farmer's markets and health food stores abound, it's easy to forget that healthy food is (sadly) a geographical luxury. Thank God for the farmers and food makers who are bringing healthy, organic fare to every corner of the country.
On Friday, I woke up to the sweet sight of Chloe's juicer:
And treated us to some jucie. Then, I got to experience fitness, NOLA style, at Chloe's gym:
What a nice gym it was! Thanks to the folks at the Y for my guest pass. (Audobon Park, which is near Chloe's home, also makes for some great morning runs when I visit).
For the most part, my eats this weekend resembled my eats when I'm home. Kale salads, guac, root veggies, a nut pate or two, tons of ripe heirlooms and squash and broccoli. A Larabar or two as snacks. Yummy, but nothing y'all aren't used to. So rather than sharing my own meals, I'll show off Chloe's badass kitchen skills. A pescatarian, Chloe sticks to a mostly plant-based diet in a city where plant-based options can be tricky to find. Someday soon, she's going to write a post for me about clean eating in the dirty south (yes, shmoopie, you are), but for now, I'll only show you the sorts of amazing meals she routinely cooks up for friends at home.
First, she whipped up a giant ramen noodle pancake, which was finished with sesame and peanut oils in the oven:
Then, she steam cooked some bok choy and shitakes in a peanut/sesame oil, veggie broth, ginger, soy, miso reduction:
It was heaven!
She also seared up some tuna with a wasabi butter glaze. I missed the dish on the tray, but caught it on her plate:
And here is my plate, which features two dishes I have yet to share with you all, but will in the future. They included a marinated portobello cap:
On Sunday, Chloe, her fiance and I all decided to take a stroll around the French Quarter in search of antiques. A stop was made for gelato. I had some satsuma and fennel sorbet (sounds weird; tasted amazing) and scored Chloe a free gelato by guessing the mystery quotation by a famous poet (it was Dylan Thomas, for the record). Glad I'm putting that English degree to good use.
Here are some of the flavors we eyed: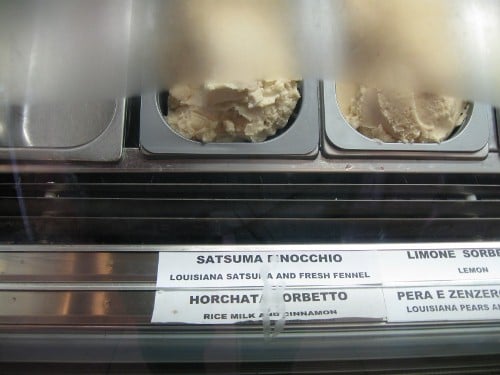 After that, we enjoyed the beauty of the French Quarter. This is the oldest and most famous neighborhood in New Orleans, and it's the home of those lovely, wrought-iron balconies you've seen in photos: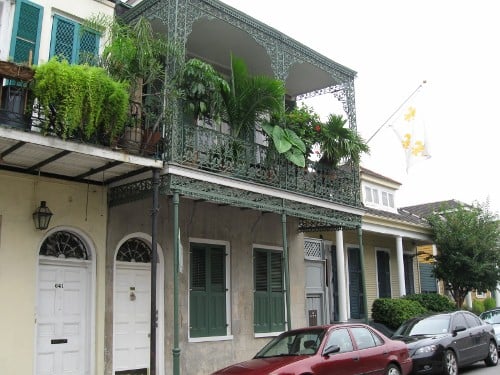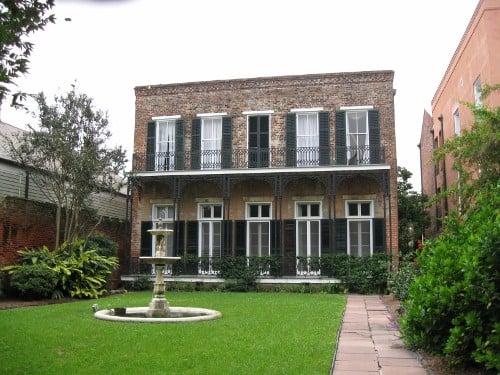 In another life, where I'm not an editor-nutritionist, I'm a historian. I did thesis work on slave history in literature, so being in a city where history feels so alive is a thrill for me.
I'll end my little photo tour with a shot of the Mighty Miss. For all you Yankees who've never seen it (as indeed I hadn't until I was twenty-two), I highly recommend a visit to The Crescent City at some point soon. It's a pretty magical place.
Have a great (raw) day.
xo