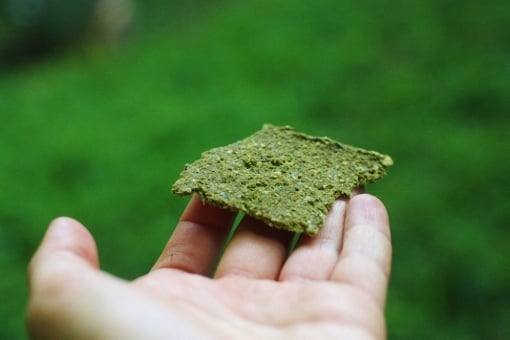 Hey all! Glad you liked my Aloo Gobi wraps. They're mighty delicious, and they've quickly found a place on my "to make again soon" list.
I'm back today with a very different kind of recipe. It is, I'm sorry to say, yet another raw cracker recipe, but I'm taking a break from the usual flax or chia meal/pulp/spice formulation to share something a little heartier and more flavorful. I love the simplicity of my regular old juice pulp crackers (flax or chia variety) but what I'm finding lately is that being in class till noon, on my feet from noon to 3:30, and studying till the wee hours means that I need foods that are higher-fuel than the usual. Flax and pulvarized veggies taste great (to me) but they're not quite high enough in the fats and/or protein I need to keep going over an extended period of time—especially since I don't have much room for food breaks in the summer class schedule.
So that's where these crackers came from. I wanted to keep the basic idea of my juice crackers intact (juice pulp, spices, salt, flax or chia to bind), but add some nuts or seeds for a little extra calorie and nutrient density. I used almonds to make that happen, but keep in mind that you could certainly use cashews, sunflower seeds, or pumpkin seeds, too. They'd all be delicious, and seeds are typically cheaper than tree nuts.
What'll make you happiest about this recipe is that I've included both non-dehydrator and non-juicer recipe variations—this means you can make these crackers even if you don't have raw food appliances at home! I hope it's also a reminder that eating raw is simply a means of preparation; anyone can harness the benefits of plant-based nutrition at home, often with no more than a good knife and a mixing bowl. I use a food processor (my most used kitchen appliance) here, but you could even use a spice mill to grind the nuts and then mix by hand.
What'll make you second happiest is that this recipe is a guaranteed crowd-pleaser: whether it's the ginger and tamari, the thick texture, or the simple goodness of green, it's a recipe tasty enough to appeal even to those of us who'd find regular juice pulp crackers a little bland. You can enjoy them on your own, or share them with anyone: I call that a winning proposition.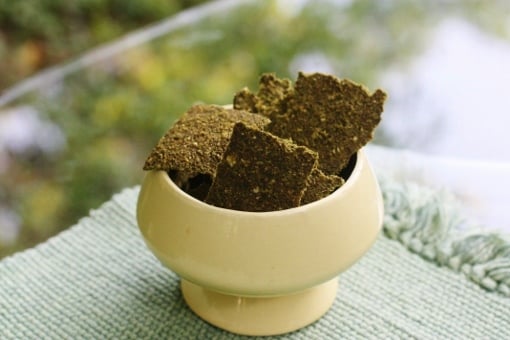 Crowd Pleasing Green Crackers (raw, vegan, gluten free, soy free if you replace tamari with coconut aminos)
Yields 35 crackers
1 cup almonds (not soaked)
1/4 cup chia seed
2 – 2 1/2 cups green juice pulp with ginger (if you don't have juice pulp, use 2 cups grated zucchini and 1 inch grated ginger, along with a fistful of spinach)
3-4 tbsp regular or low sodium tamari (use your own taste here; I like these salty, but you can absolutely modify for a lower-sodium diet)
Black pepper to taste
Juice of 1 lemon
2 cups water
1) Grind almonds and chia seed in a food processor (or coffee grinder, or spice mill) till finely ground.
2) Add the juice pulp or veggies, tamari, black pepper, and lemon juice. Pulse to combine (you'll probably need to work on scraping the bowl as you do this).
3) With motor running, begin adding water. You may not need two full cups; what you want is to keep adding water and scraping the bowl until you have a mixture that's still sticky and thick, but spreadable.
4) When you've created a proper "dough," remove it from the food processor and spread onto a single Teflex dehydrator sheet (you want these crackers relatively thick). Score into cracker shapes.
5) Dehydrate at 115 degrees for 7 or 8 hours. Flip the cracker dough over (you may want to put a new Teflex sheet on top, flip the whole thing, and peel the first Teflex sheet off). Continue to dehydrate for 4-5 hours. Break the crackers apart, and serve.
If you don't have a dehydrator: Line a baking sheet with parchment, and spread the dough onto it evenly. Bake at 350 degrees till nice and crispy: I'd guess this take 40 minutes or so, but use your kitchen intuition to see when it's done.
As I said before: crowd pleasing. Seriously. Hope you try them soon!
And now, a big announcement: I've been nominated for two VegNews Magazine Veggie Awards! I can't believe it! I just found out at the end of last week, and I'm so delighted to share the news with you. Now, I try never to grovel here on my blog, or ask you guys for much (except your killer comments and thoughts), but I'm hereby genuflecting and asking you all to please support me with your vote!
Voting can be done here, and it's very easy: you can either enter your vote for all categories (which I suggest doing, so that you can show support for movers and shakers in our community!) or you can skip ahead by hitting "more veggie awards please" at the bottom, until you get to the "people and media" page. I'm listed under best column ("Raw Done Right") and best blog ("Choosing Raw").
For voting, you qualify to win a year of Luna and Larry's Coconut Bliss Ice cream, a Vitamix, trips around the world, and pounds of vegan chocolate. All for a click of the mouse. And you'll also be doing me a huge personal favor, which is to show your support for CR. It has been very tough to keep up my blog with summer pre-med studies, counseling, and (starting now) MCAT prep, so I really appreciate that I'm still being offered the chance at this award, which is a big honor in the vegan community. I'd be so excited if you all helped me to get there.
With that, back to work. See you all tomorrow!
xo