I have a confession to make: I have a girl crush on Laura Beck.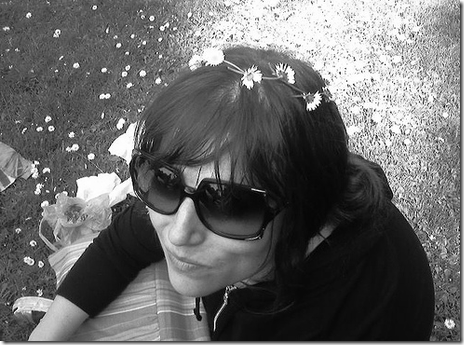 If you don't know who Laura is, I suggest you get to know her NOW. She's one of the masterminds behind Vegansaurus.com, San Fran's totally awesome vegan lifestyle guide (New Yorkers, I think we need to get us one of these), the writer of her own random, opinionated, and shittaciously funny blog, and the webmistress over at VegWeb.com, which is just the largest vegan recipe database in the world. She's also one of the coolest vegans I know: whip smart, hilarious, and passionate. Few vegans are more blunt, outspoken, or vocal about why veganism rocks, but Laura—like all cool vegans—also knows how to be compassionate, encouraging, and to lead by example (rather than with vitriol).
In short, she is my hero.
I'm not only saying this because Laura happens to have featured me in the latest VegWeb newsletter. Yes, I just gave you the link, but don't be lazy: as this issue proves, the VegWeb newsletter is awesome, and you should all go sign up to receive it (at the top of the VegWeb homepage) now. After all, it's free!
Laura and I have spoken at length about raw foodism: the myths, the stereotypes, and the realities. I've shared with her my rather unorthodox approach to eating raw (which you guys already know about: semi-raw, flexible, etc.), and she's shared with me her theories about why many vegans are alienated or put off by raw foods. This theory is pretty simple, and pretty hilarious. To quote Laura in the newsletter:
"Raw food gets a bad rap. Sometimes you get slack for eating vegan, but what's weirder than that? Eating raw. Some vegans even like to point the finger at raw foodists when people accuse them of being odd. Like, look over there! Those people are the real freaks!"
Ha! I'll confess, this attitude isn't one I'm too familiar with. Typically, the people who write to me are vegans who are intent on becoming raw—perhaps even too intent, too quickly! I often find myself explaining to people that, while raw foods offer us myriad benefits, "going raw" isn't the logical extension of veganism, or some sort of special challenge for the hardcore among us. Still, I see Laura's point: I think raw foodies are natural targets for certain unsupportive vegans who enjoy the idea of there being someone out there whose food choices are even less conventional than their own. But, as Laura points out,
" . . . the stigma attached to raw foods is slowly being erased, bit by bit, by the fact that some of the most innovative food coming out of the kitchen isn't even cooked! Adventerous and talented raw-food chefs like Sarma Melngailis, Ani Phyo, and Mathew Kenney are changing the way people think about raw food. Bloggers are helping forge the way, too. My personal favorite is Choosing Raw, a blog maintained by the delightful Gena Hamshaw, who also happens to be VegNews' raw-food columnist! Not only is she a total foodie genius, she's smart and sane, to boot."
OK I didn't really have to include that last bit to prove my point about how raw food is going more mainstream. But it's not every day that I get such sweet, if undeserved, flattery. Thankfully, I get to thank Laura with a big vegan dinner in San Fran when I visit (two weeks!!). If not, I'll just continue to tell her about my girl crush on her until she gets creeped out by me.
Laura asked me to pick a recipe from the VegWeb raw food library to feature in the newsletter. Can you guys take a guess as to what I picked?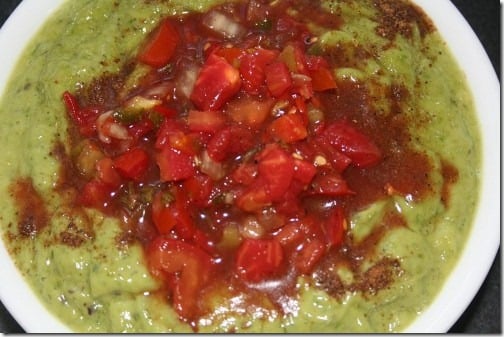 Duh! Raw green soup. Blended salad, con avocado: simple, easy, fresh. Vintage Gena.
While we're on the topic of girl crushes, I was super excited to see that Ms. Katie gave my tofu scramble a spin on her blog this week. It looks as though her batch came out nicely! I was also really touched to see that my former client and friend Elese commented to say that she's been inspired by the pleasure I take in eating (Elese and I have eaten out together in Chicago). When you eat "healthy food"—and especially when you write about it—the assumption is usually that you have a joyless, functional relationship with what you eat. I have to bat down this misconception a lot; to this day, I don't think my ex-boyfriend believes that I really enjoy eating kale (are the 184572 photos of kale salad on my blog not sufficient proof?!?). So I'm always happy when a friend notices the fact that I like food. A lot.
To tie up our themes nicely, my lunch today involved both a girl crush and a raw soup. I used gray, damp weather as an excuse to make my girl Kristen's incredible Harvest Soup, which is hands down one of my favorite raw soups ever. With simple salad, avocado, and pureed, steamed butternut squash (yes, I was feeling autumnal), it was exactly what I craved: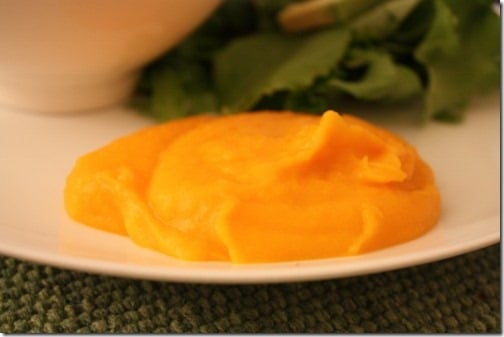 Comfort food for a rainy day.
And now, the usual Sunday night catch up ensues. Before I go, tell me: do you have any blogger girl crushes? Or guy crushes? (Yes, Evan, Matt, and Ian, I am trying to embarrass you.) I would love to hear your personal blogging heroes are, and why.
xo