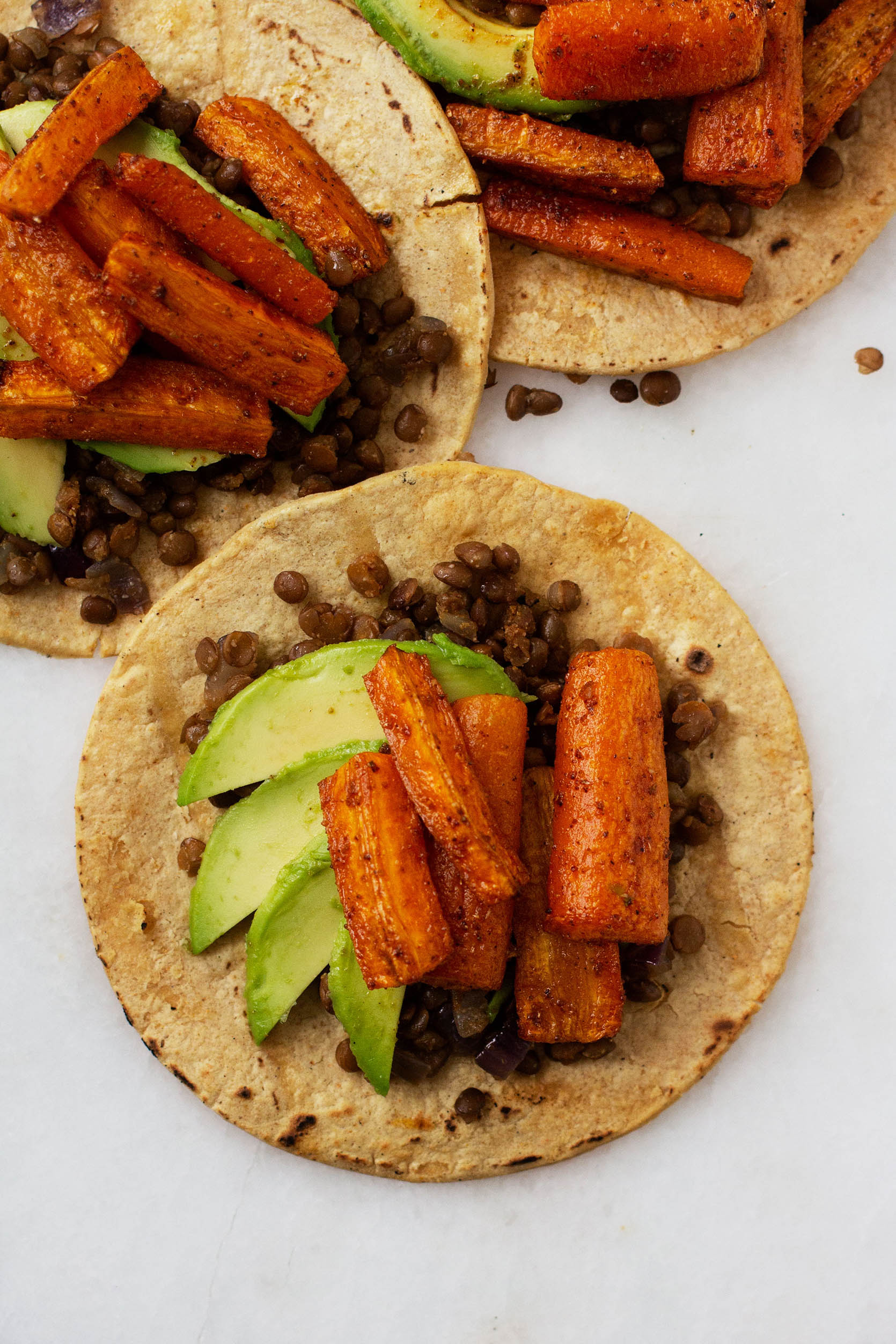 These roasted carrot lentil tacos make for such a flavorful, plant-based meal!
I've been eating a lot of soft taco meals lately. They're a super easy vehicle for veggies and for different vegan proteins. It's fun to come up with creative toppings (even if my usual default is simply to smother them with cashew queso sauce).
These cumin roasted carrot lentil tacos are a departure from my usual toppings (refried beans, guac) in that they feature harissa, as well as cumin, smoked paprika, and coriander. The flavor profile is spicy and savory.
Crafting a perfect vegan taco
There are many different ways to create a hearty filling for vegan tacos. One is to use tofu, tempeh, or seitan for vegan meat replacement. Another is to use veggies that deliver a lot of texture and chew, like crispy cauliflower or mushrooms. I've stuffed my tacos with roasted sweet potato and barbecue zucchini. And I really like loading them up with my slow cooker chipotle lentils.
These tacos also rely on lentils as a cheap, nutritious plant protein source. But they also incorporate crispy, cumin-dusted roasted carrots. Carrots may not come to mind as a traditional taco ingredient, but I'm really impressed with the heartiness they add to this dish. They pair perfectly with the spice blend and the lentil/red onion combination. Slivers of creamy avocado complete the dish, adding healthful fats and a flash of beautiful, bright color.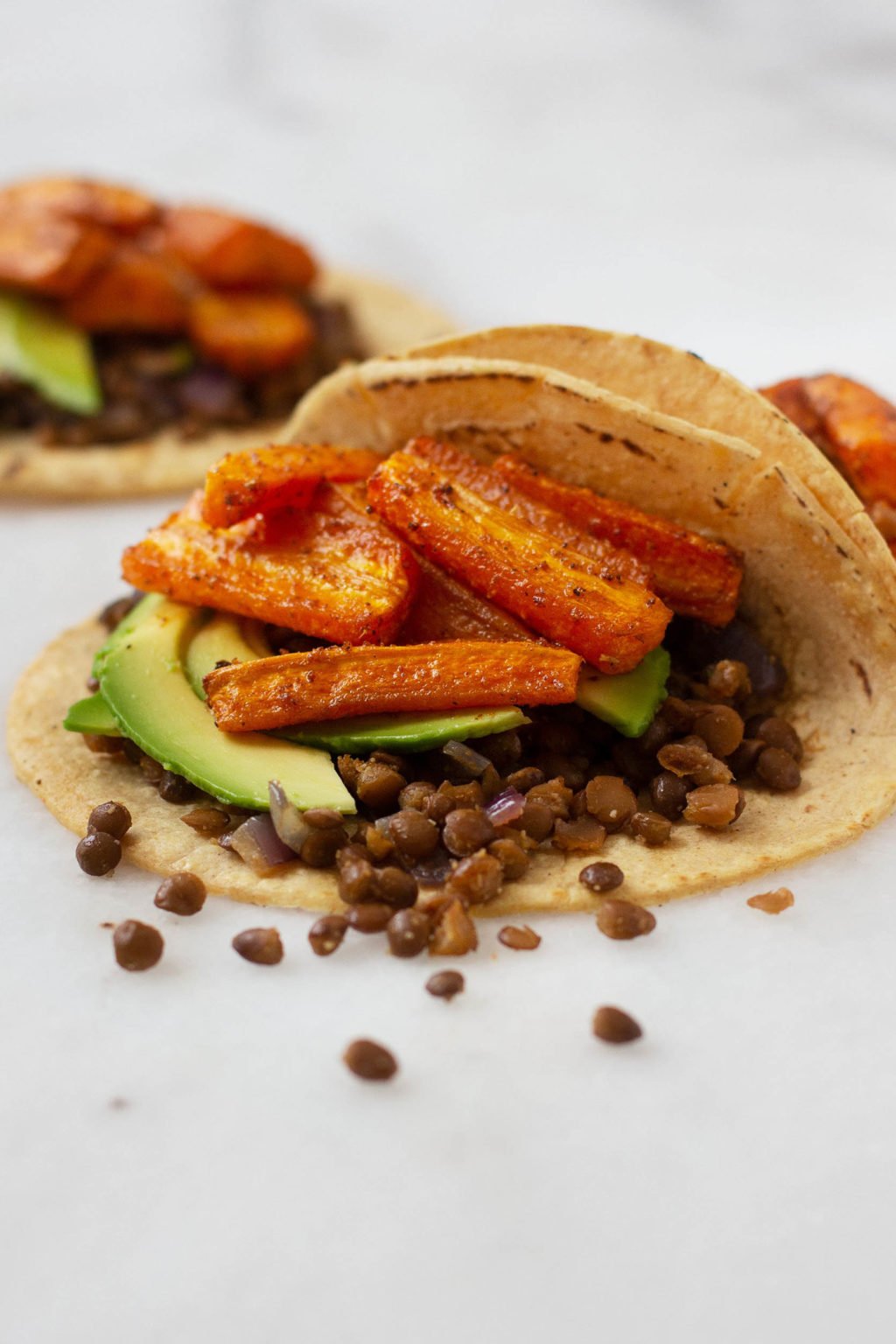 These roasted carrot lentil tacos are part of my year-long celebration of the International Year of Pulses. The UN has named 2016 the year of pulses in recognition of beans, lentils, and dry peas as a sustainable, affordable protein source. I welcome all of you to take the Pulse Pledge with me. It's a low-key commitment to eating pulses once a week for at least ten weeks this calendar year! I know it's not usually hard for plant-based eaters to squeeze in pulses, but this challenge can still serve as a fun and friendly reminder.
And if you're looking for a bold, flavorful recipe to start your pledge with, I recommend starting here!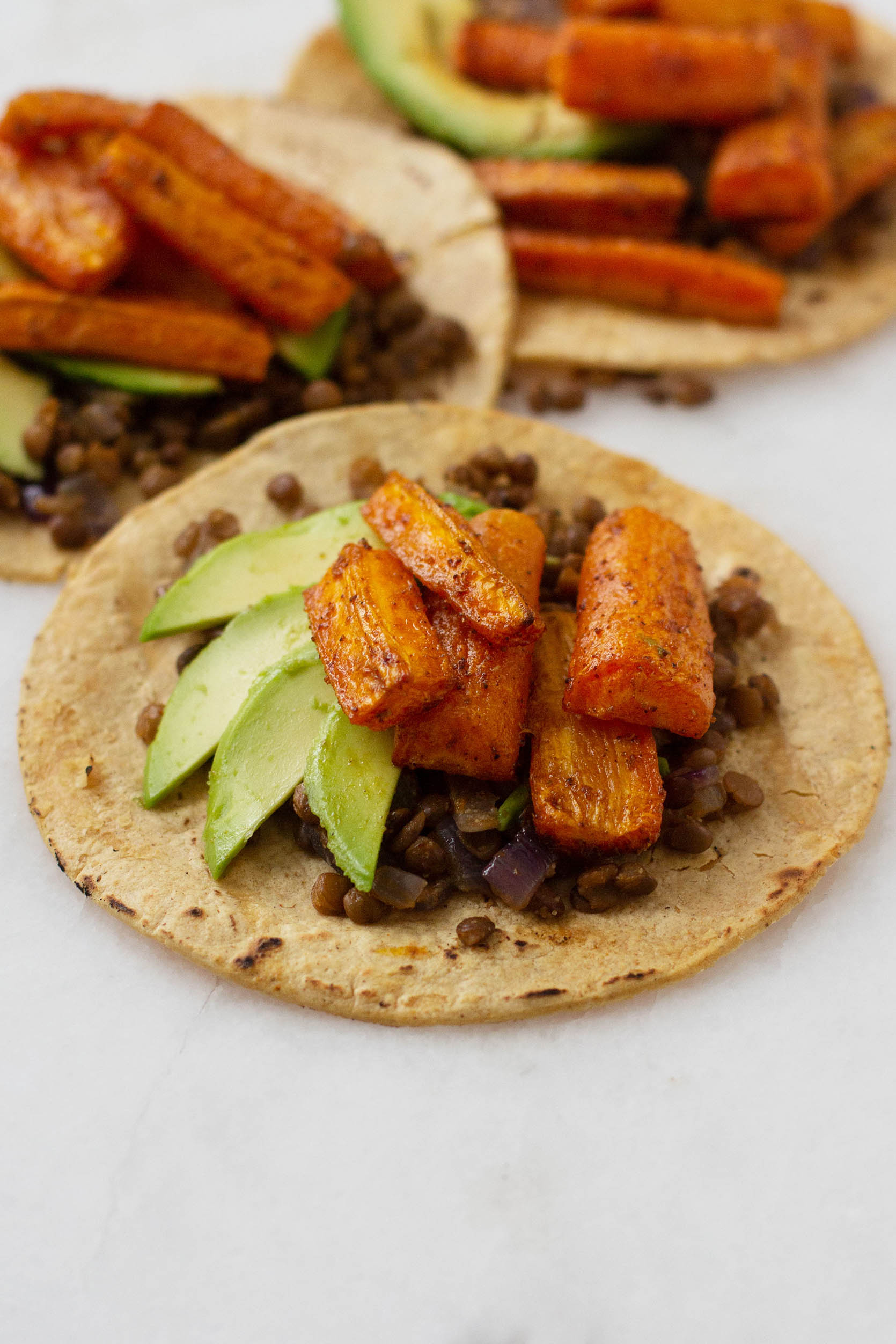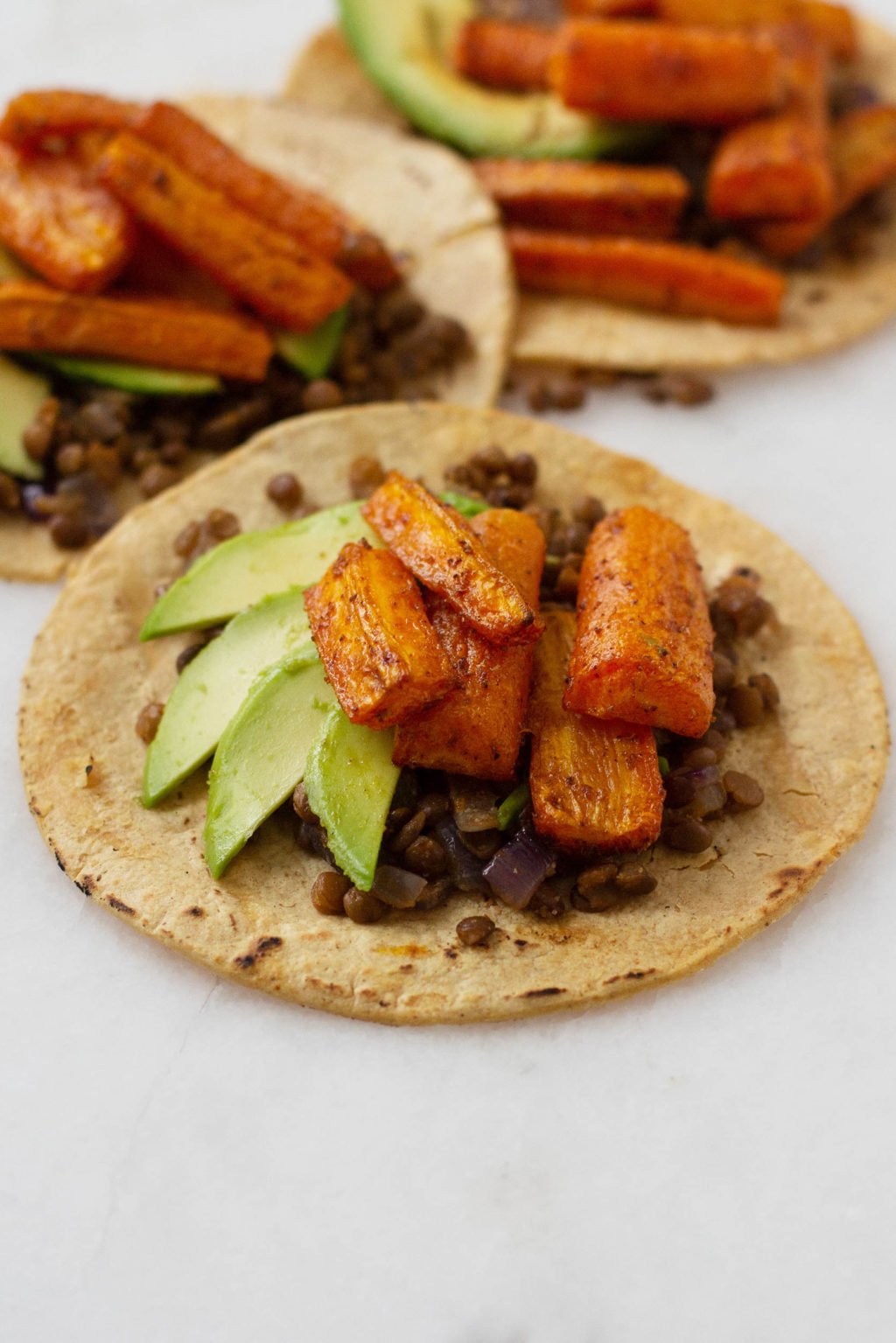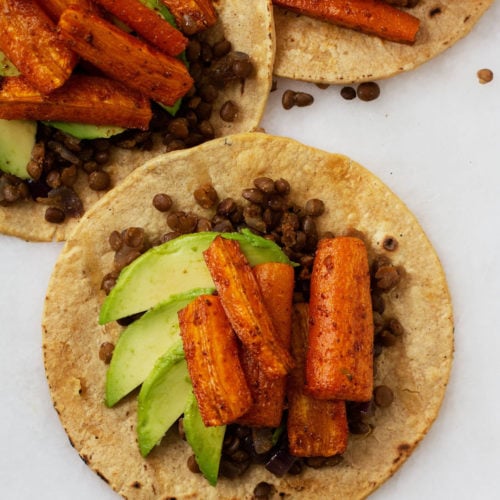 Cumin Roasted Carrot and Lentil Tacos
Author -
3/4

cup

(150 g) brown, green, or pardina lentils (substitute 1 1/2 cups pre-cooked lentils, or 1 can/14.5 ounces cooked lentils)

1

pound

peeled and trimmed carrots (about 8 carrots)

2

tablespoons

+ 2 teaspoons olive oil

1 1/2

teaspoons

ground cumin, divided

1

teaspoon

ground coriander

1/4

teaspoon

smoked paprika

Coarse salt

1

small red onion, chopped

1/2

teaspoon

ground chili powder

1

tablespoon

freshly squeezed lime juice, plus extra for serving

1/2

teaspoon

sea salt, or to taste

Freshly ground black pepper

8

corn or whole wheat soft tacos

2

large Hass avocados
Preheat the oven to 400F. Half or quarter the carrots (depending on how wide they are), then cut them into 1-inch long pieces. Place them in a large mixing bowl with 2 tablespoons olive oil, 1 teaspoon cumin, the coriander, smoked paprika, and the harissa. Toss well to combine. Transfer the carrots to a foil or parchment lined baking sheet and sprinkle with coarse salt. Roast for 30-40 minutes, stirring every 10 minutes, or until the carrots are very tender and a little crispy.

While the carrots roast, heat the remaining 2 teaspoons olive oil in a large skillet. Add the red onion. Sauté for 5 minutes, or until the onion is soft and clear. Add the lentils, the remaining 1/2 teaspoon cumin, the chili powder, lime juice, and salt. Stir to combine everything and heat the lentils up (about 1-2 minutes). Turn off the heat.

Toast the tortillas gently over an open oven burner (about 1 minute per side). Alternately, you can wrap them in foil and place them in a 350F degree oven for about 5 minutes prior to taco assembly.

To assemble tacos, place 1/4 cup lentil mixture, a handful of roasted carrots, and a few avocado slices in each taco. Top with an extra squeeze of lime juice, if desired. Fresh, chopped parsley makes a nice accompaniment, too. Enjoy.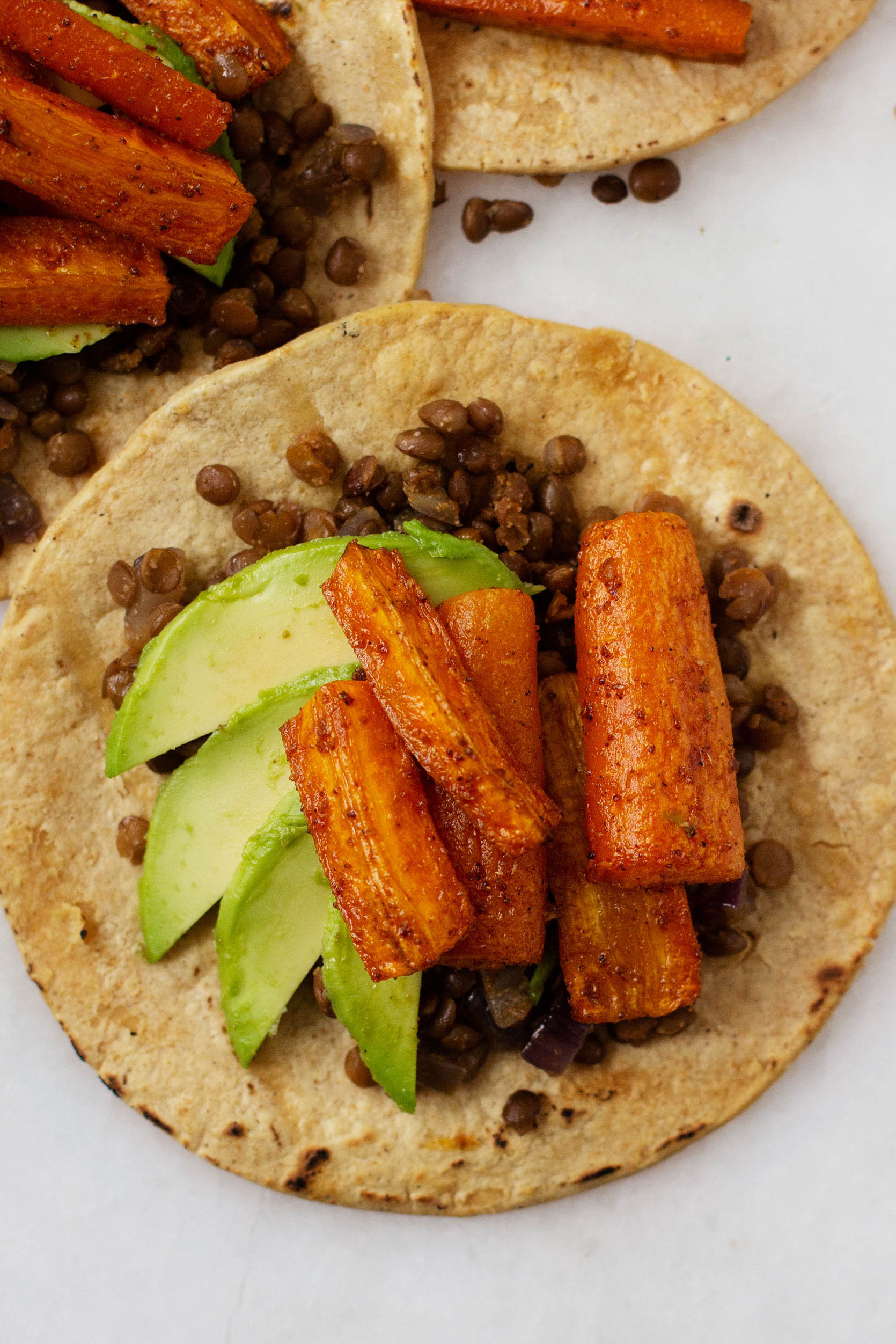 If lentils aren't your pulse of choice, feel free to try roasted chickpeas, kidney beans, or pinto beans in the recipe instead. You can also add some additional vegetables to your tray of carrots before roasting. I'd love to add mushrooms to the recipe sometime soon.
I hope you give these wholesome carrot lentil tacos a try soon. If you make them, I'd love to hear how they turn out!
xo
This post was created in partnership with the USA Dry Pea & Lentil Council. Opinions are my own. Thank you for your continued support! To learn more about the Pulse Pledge and find more bean, lentil, and dry pea recipes, visit www.pulsepledge.com.